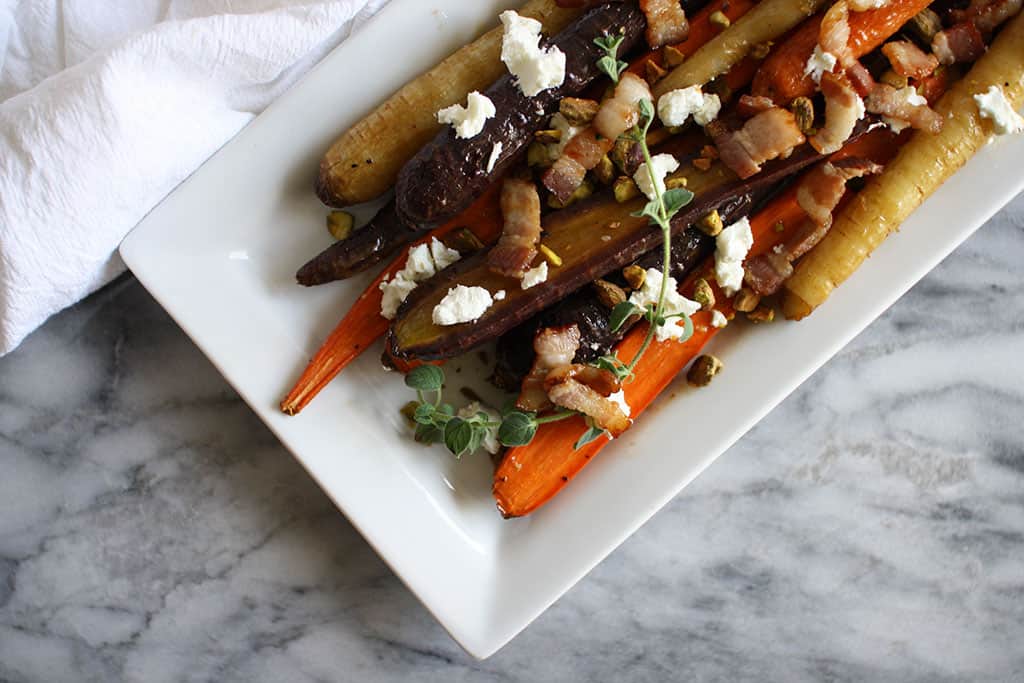 This post is part of a 30th birthday dinner party series. 
A few months ago, I had dinner at Faith & Flower in DTLA and ate some amazing roasted rainbow carrots. I'm not particularly drawn to carrot dishes normally, but the combination of the sweet glaze, bacon lardons, pistachios, and goat cheese hit all the right notes. I recreated my own version of the dish for my dinner party, and although my roasted rainbow carrots were not an exact replica of Faith & Flower's, I think they came quite close!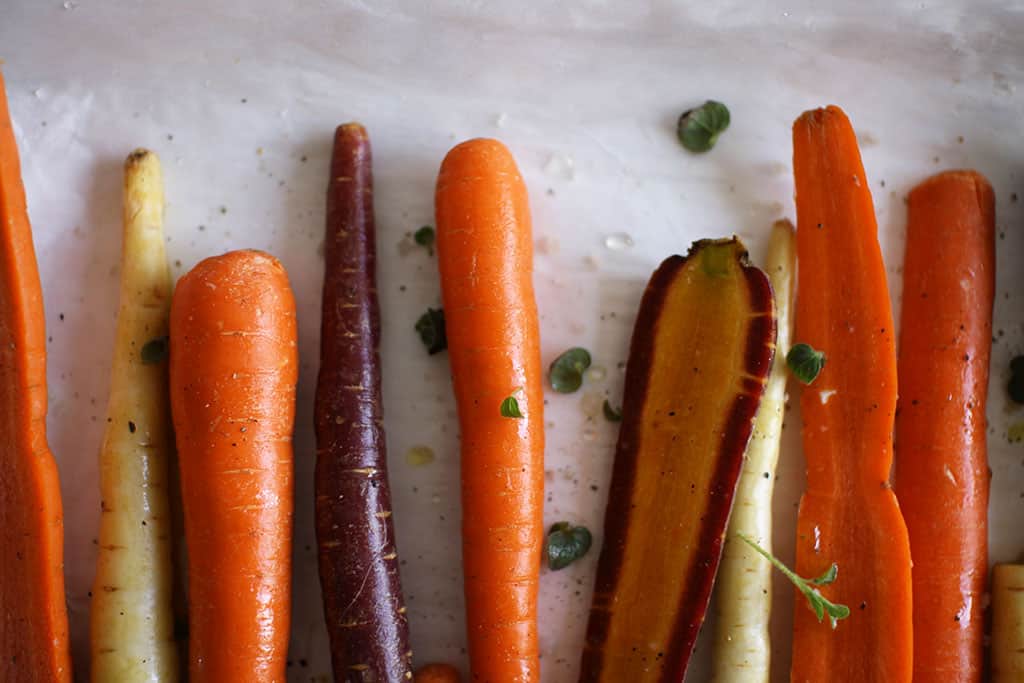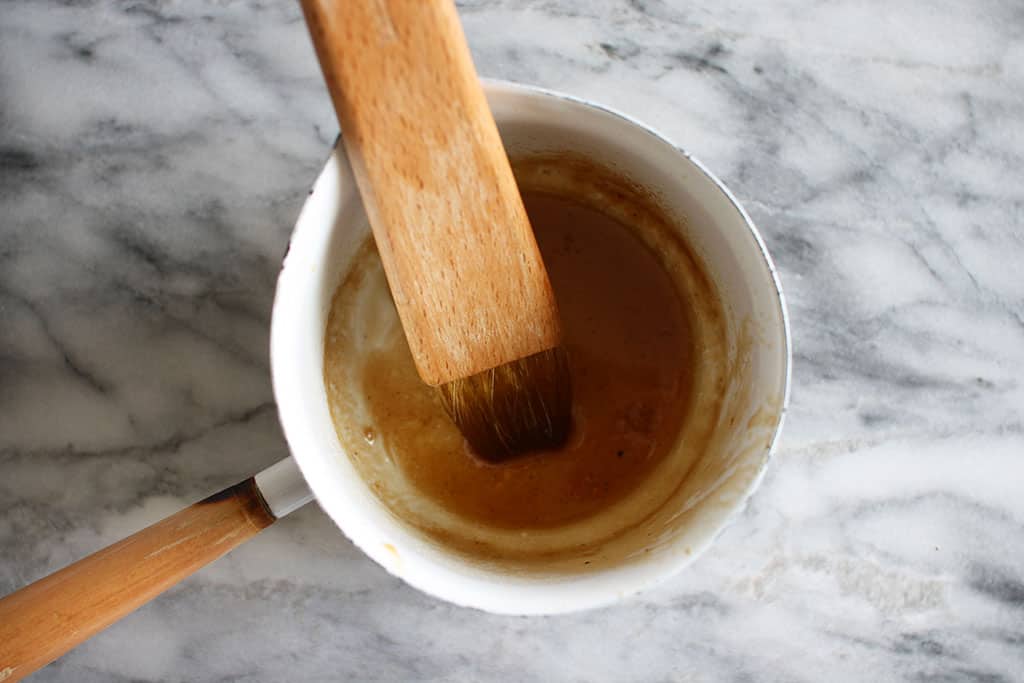 The flavors of this roasted rainbow carrot dish come from the jus and various garnishes. Making a jus can look a little intimidating at first, but believe me it's not as hard as it looks! If you can sweat vegetables (aka cook but not brown), bring liquid to a simmer (just like boiling water!), and have the patience to let it reduce (like watching cookies bake in the oven), then this recipe is definitely doable for you.
For the dinner party, I took cues from my restaurant working days and made as much as I could in advance. The morning of, I washed and prepped the carrots, crisped the bacon, made the jus, and roasted and chopped the pistachios. As the carrots went into the oven to roast, I reheated the jus and bacon on low heat. However, if you don't have any burners to spare, don't worry too much about serving everything hot. A dinner party is not a restaurant! It's ok if things aren't perfect, in fact they shouldn't be. That's what makes it more fun! Plus, this dish is still quite good at room temperature, so no need to worry about the temperature too much.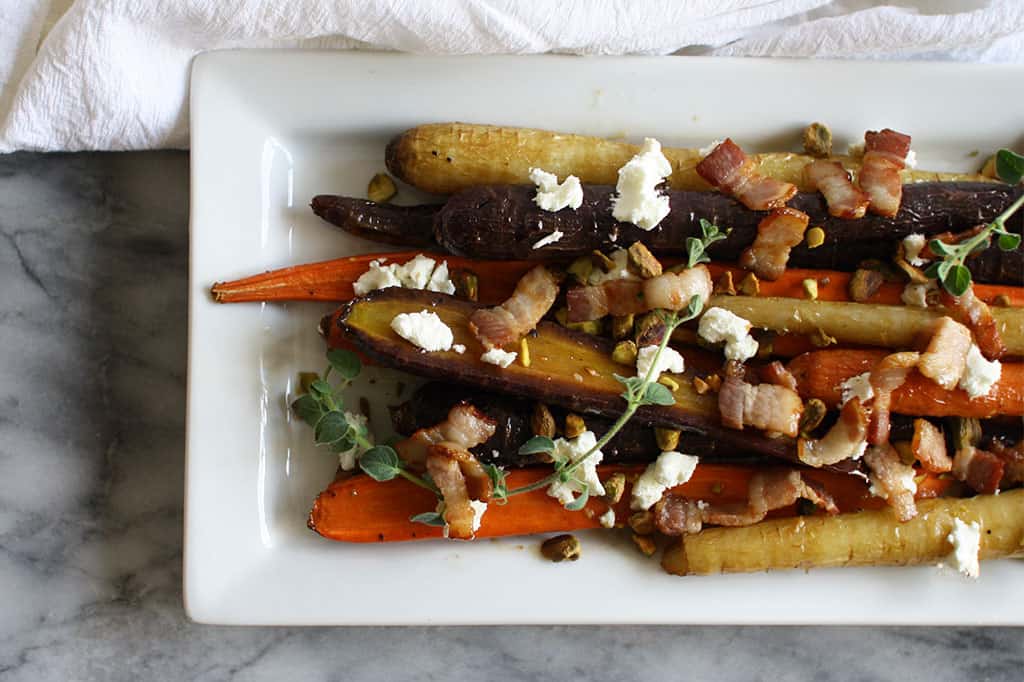 These roasted rainbow carrots are sweet and savory with a lot of textural variety. I paired them with a roast rack of lamb, a hand salad with a Greek yogurt buttermilk dressing, fingerling potatoes with kale pesto, and a chocolate earl grey mascarpone cake, but I think the flavors would work great on a wintery holiday spread (I'm looking at you Thanksgiving!).