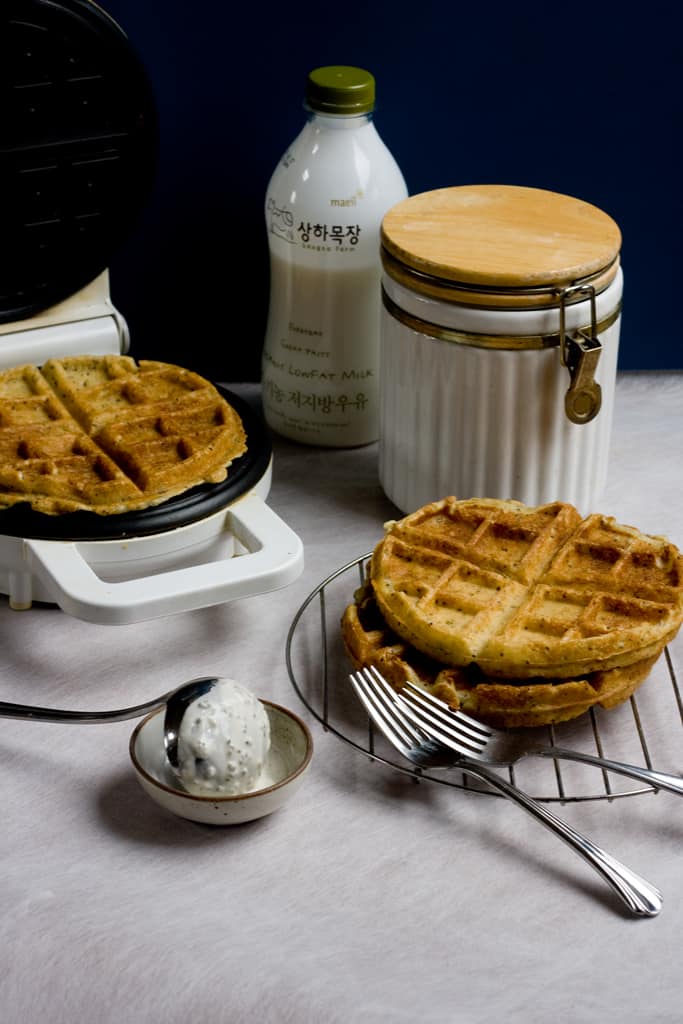 At the beginning of this year I made the easiest stove top granola, full of whole grain goodness and a trail of healthy ingredients.  I love trying out new ingredients, but admit I'm not good about sharing multiple uses for them.  Partly inspired by my sister, who has mentioned a number of times her own concerns about being resourceful, I'm making it a point this year to follow up on ingredients with more new recipes.  To make it super easy, I'm adding a little section at the end of each entry where I'l link to other posts with related materials. This is just the start, so the list of linked recipes will be short, but I'm excited to see how big and intricate this web can grow!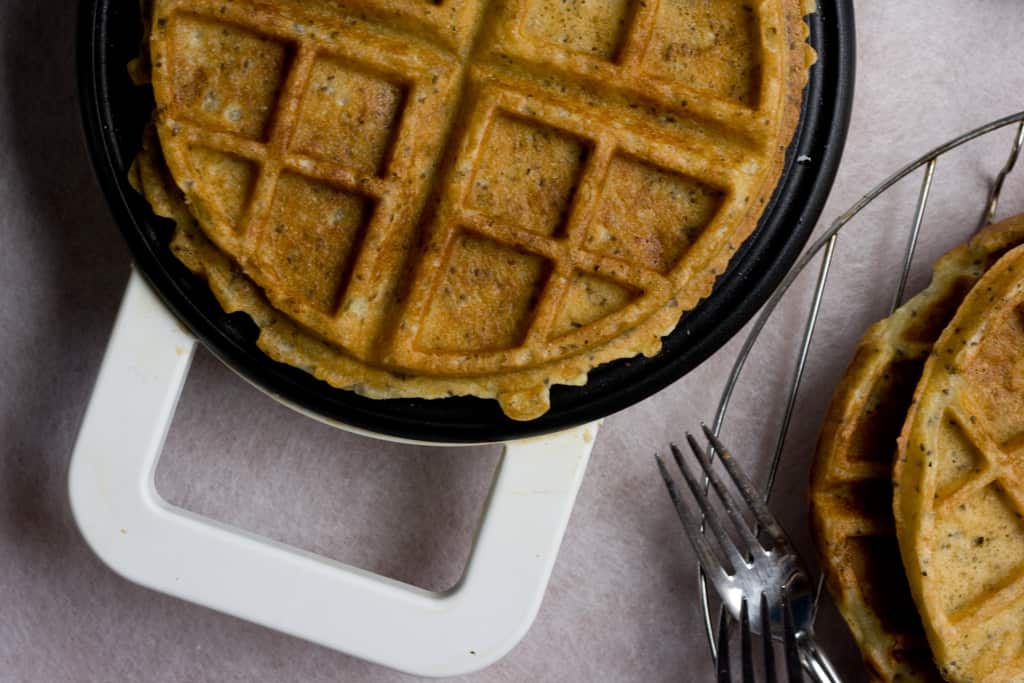 My first formal addition to the recipe web is this chia seed waffle I made last weekend.  I haven't come across many baked goods with chia seeds, so I wasn't sure how they would work in a batter, but they turned out great! Visually, the seeds give the waffles a speckled look, but taste and texture wise the seeds are hardly noticeable.  I was hoping for a little bit of a presence, but just the fact that they add loads of healthy omega-3s, fiber, and protein is a good enough reason to add them in for me.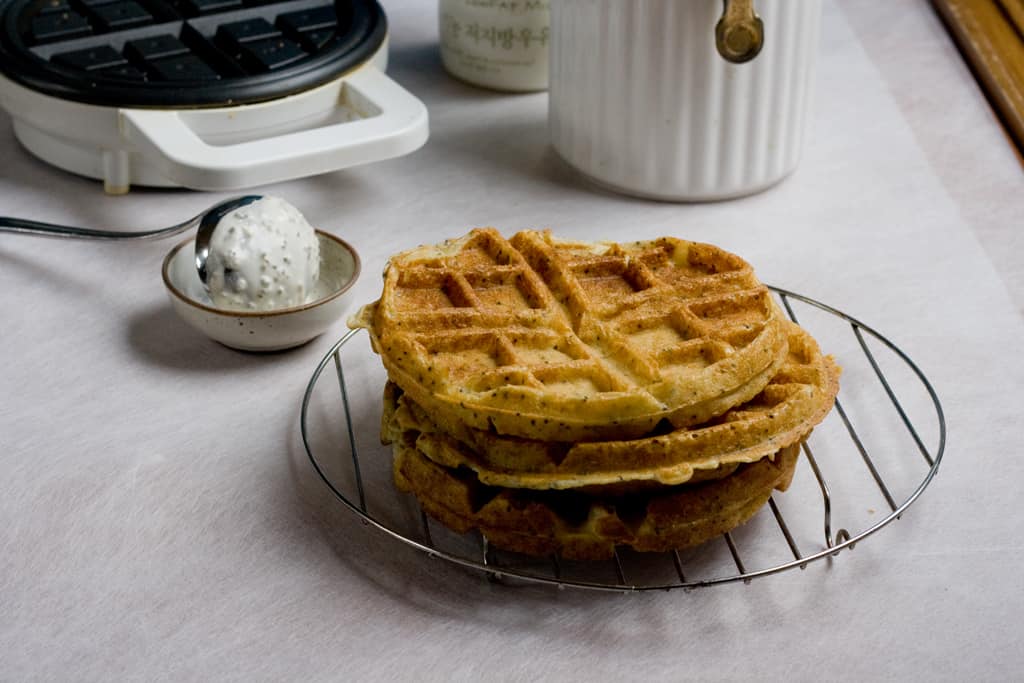 The waffles are also made with some coconut oil.  I recently starting experimenting with it and find coconut oil extremely easy to work with.  An easy substitute for butter or canola oil, it adds the faintest amount of nutty goodness.  I also started using it as part of my beauty routine and find it works great on my hair and skin too!  Definitely a multipurpose ingredient!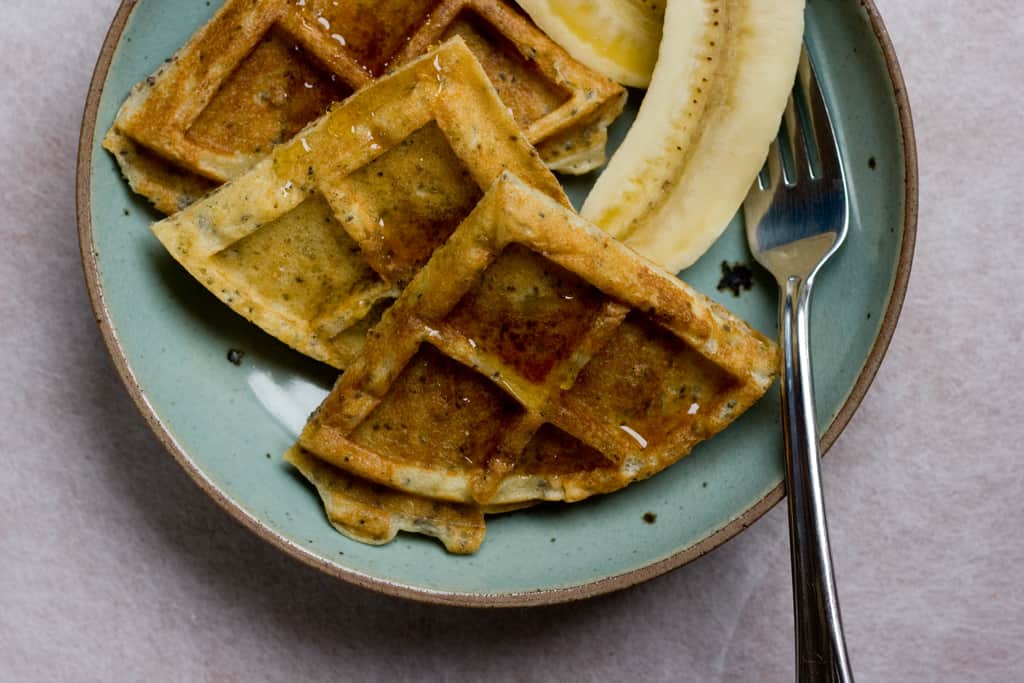 Aside from the chia seeds and coconut oil, this is a great basic waffle recipe. It crisps nicely in the waffle maker but still stays moist at the core. The yogurt (which was buttermilk originally, but I didn't have any so I made my own version with yogurt and milk instead), gives nice depth and weight to the final product. It also comes together really quickly, so is perfect for a lazy weekend brunch!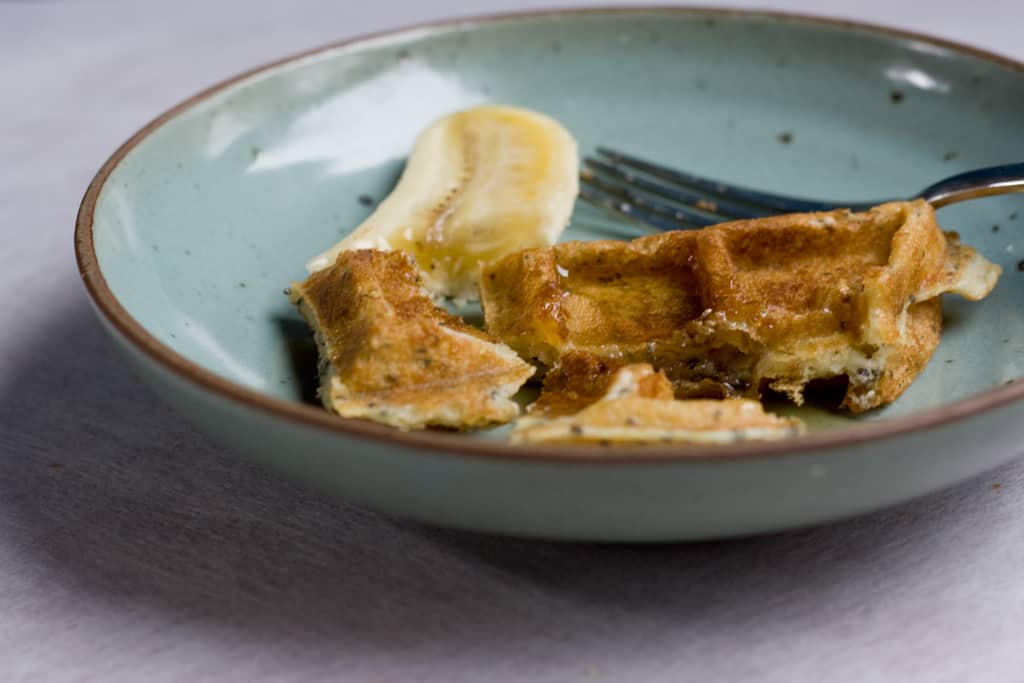 Chia Seed Waffles
Inspired by Aretha Frankenstein's
Makes 4-6 servings
170 g flour
60 g cornstarch
4 g baking powder
4 g baking soda
4 g salt
400 ml milk
100 g yogurt
70 g butter, melted
60 g coconut oil, melted
2 eggs
12 g sugar
Vanilla
30 g chia seeds
Mix flour, cornstarch, baking powder, baking soda, and salt together.  Add milk, yogurt, butter, coconut oil, eggs, sugar, and vanilla. Once combined, add the chia seeds. Let sit for 30 minutes.
Cook in waffle maker. Keep warm in a low temperature oven.
Serve with fresh fruit and maple syrup.
Other Recipes with Chia Seeds and Coconut Oil: 
Easy Stove Top Granola