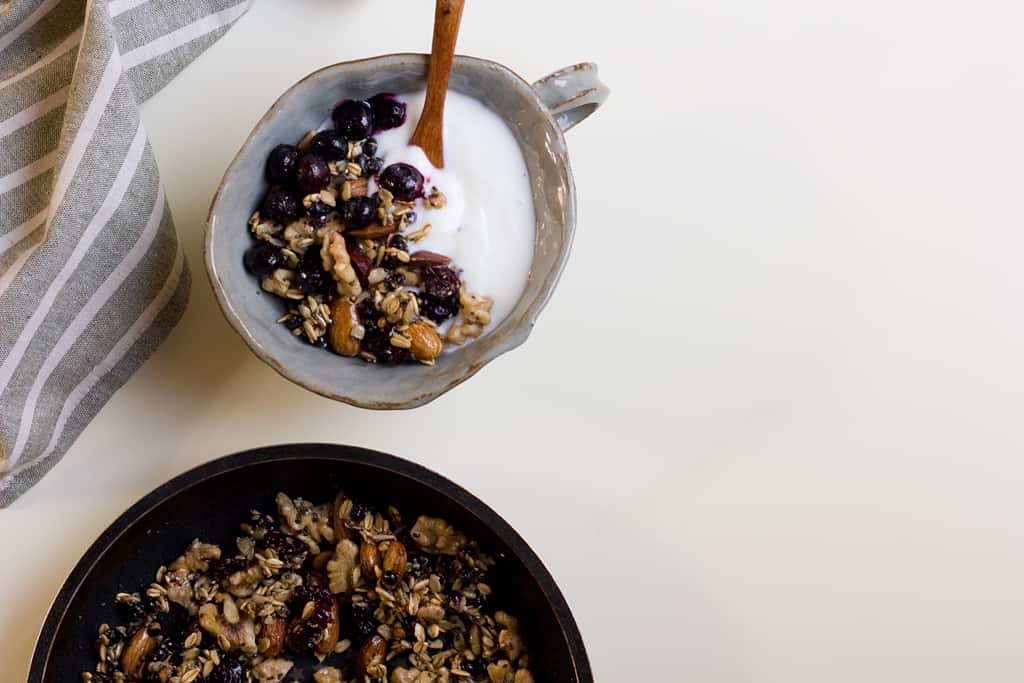 It's a new year, which kind of means a new start, so what better way to kick off than with a really great breakfast? One of my (many, well not THAT many) resolutions this year is to be more adventurous and creative on this site. I'm not necessarily thinking about super hard, crazy difficult recipes with high powered techniques involved…but just a little bit more amusing and possibly even inspiring to others.  Well…the second part is probably reaching too high ha!, but if I can inspire even just my sister to cook more often and try out my recipes I'll consider my 2014 resolution a success!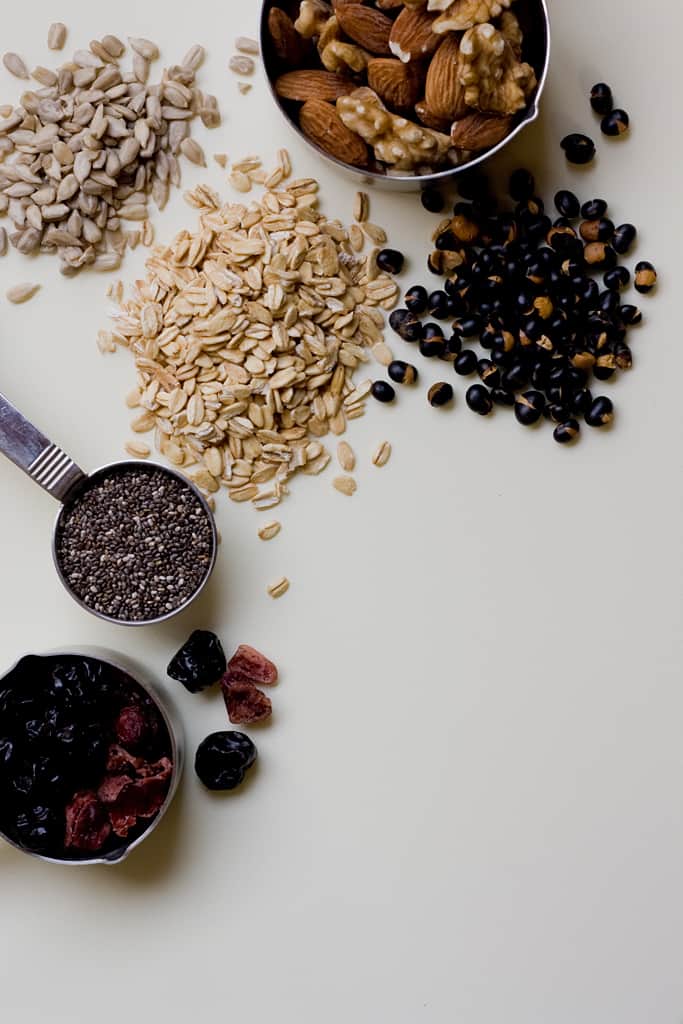 This ordinary looking granola is actually steering towards the unique because 1. It includes chia seeds and coconut oil, both of which are considered to be very healthy and full of every kind of nutrient possible and 2. It's cooked on the stove top instead of baked in the oven, which makes it feel so much more approachable than the latter.  It does use a variety of different ingredients, which I know my sister won't like (short lists and directions are what she's all about!), but the recipe is super flexible and many of the ingredients can just be duplicated or substituted with whatever is on hand.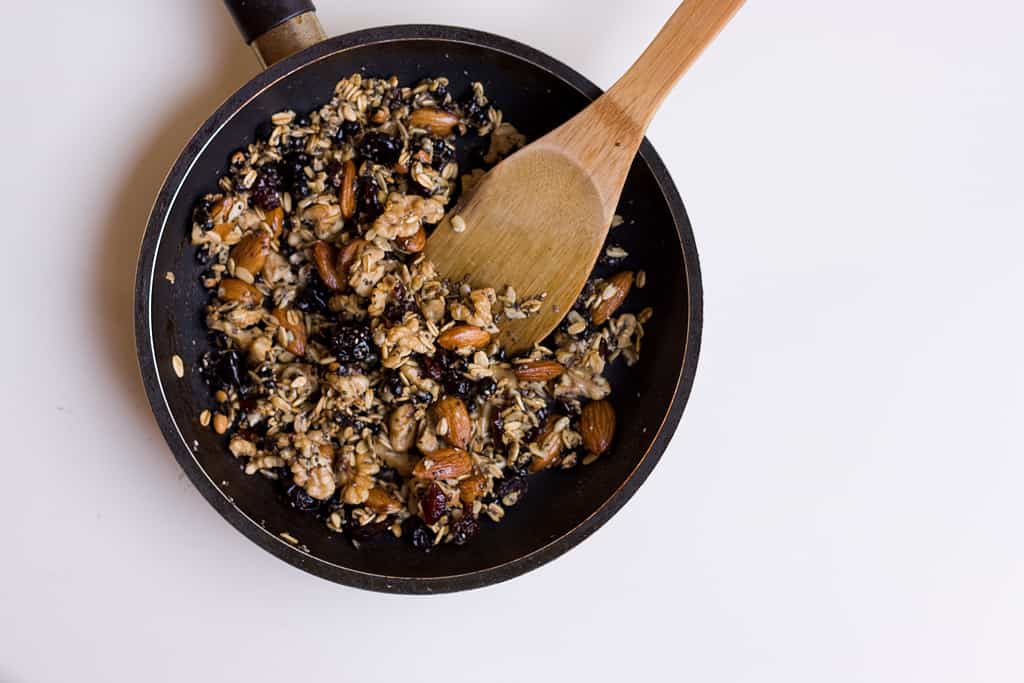 Also, I'm usually not inclined to use cups and spoons when baking because I don't find it accurate at all.  But here, precision really isn't an issue.  Whether the cup is loosely filled or packed, the final result won't change too much.  There really is no reason to be measuring out to the grams for granola.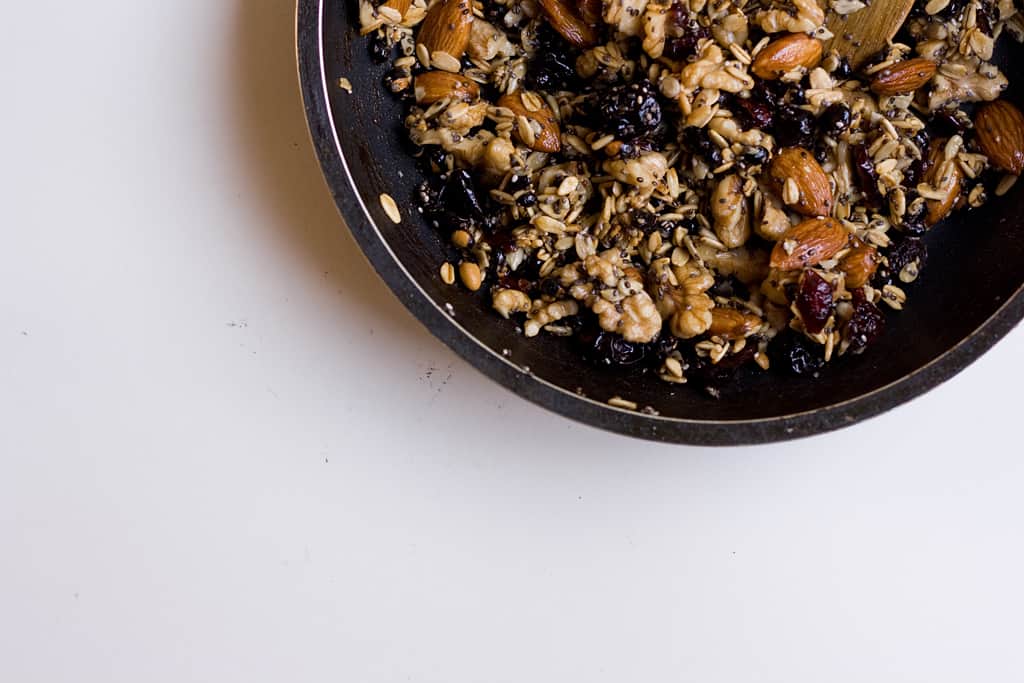 In case anyone was curious, here are some suggestions as to how to change the recipe around:
Rolled oats instead of toasted.
Poppy seeds instead of chia.
Pumpkin seeds over sunflower seeds.
Pistachios and macadamia nuts instead of walnuts and almonds.
Cashews and Peanuts in place of walnuts and almonds.
Peanuts, cashews, macadamia, cashews with walnuts and almonds.
Raisins, sultanas, dried blueberries and pineapples for the dried fruit option.
Agave over honey.
Maple syrup!
Canola oil, olive oil, grape seed oil, or even butter in place of coconut oil.
…and the list can go on.  Did I also mention that whole categories can be completely obliterated?  If you hate chia seeds and poppy seeds or any super small seedling that gets annoyingly stuck in your teeth, there is no reason to include then in your granola mix.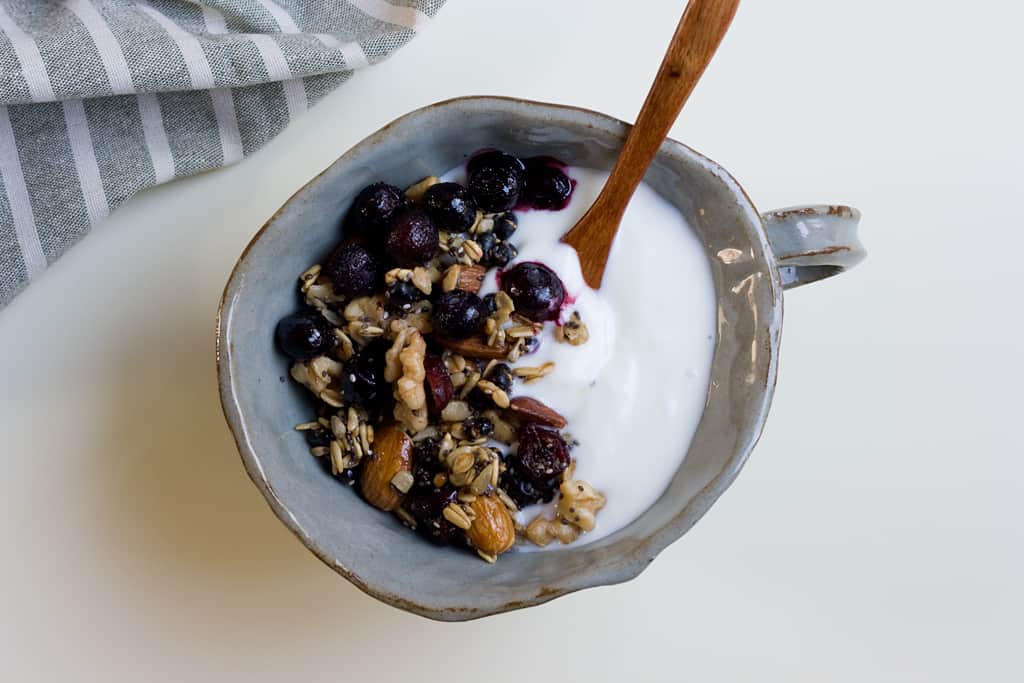 PS: I finally made a facebook page, come check it out!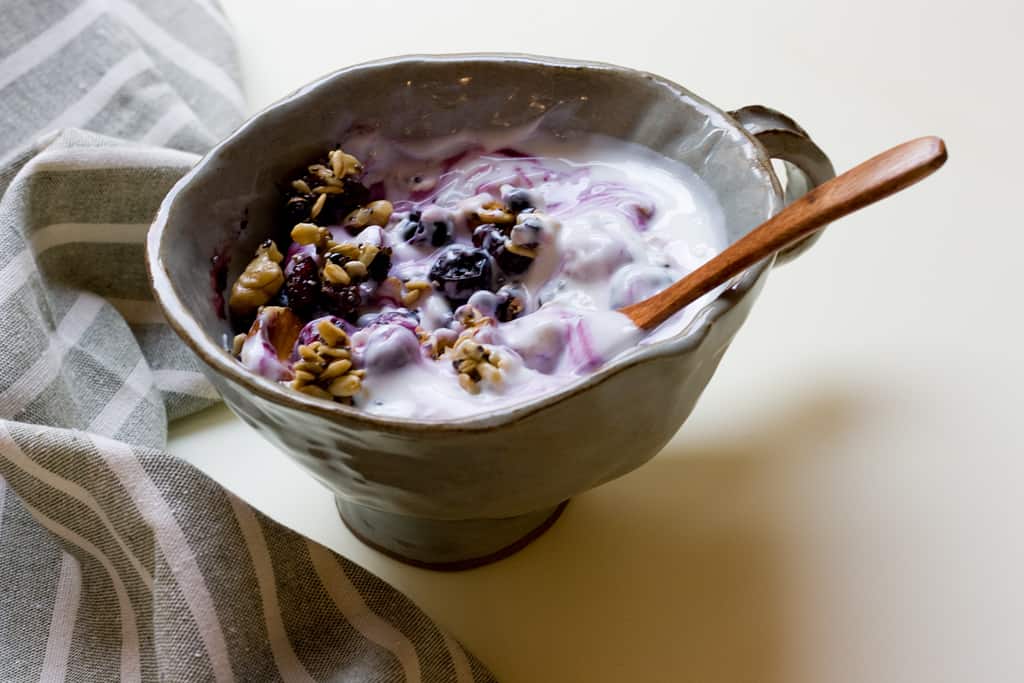 Simple Stove Top Granola
Makes 2-4 servings
1/4 cup toasted oats
2 tablespoons dry roasted, cooked beans*
1 tablespoon chia seeds
1 tablespoon sunflower seeds
1/2 c walnuts and almonds
1/4 cup dried cranberries and cherries
1 tablespoon honey
1 teaspoon coconut oil
*The type I used, rhynchosia volubilis, doesn't seem to be that common in the US.  It is a type of legume, similar looking to the soybean.  You can substitute with more seeds/nuts.
Combine all ingredients into a non stick pan.  Place over medium low heat and stir to mix together.  Continue to stir until fragrant and toasted, 5-10 minutes depending on taste.
Serve with yogurt of milk.  Keep in an airtight container for one week.
Other Recipes with Chia Seeds and Coconut Oil:
Chia Seed Waffles