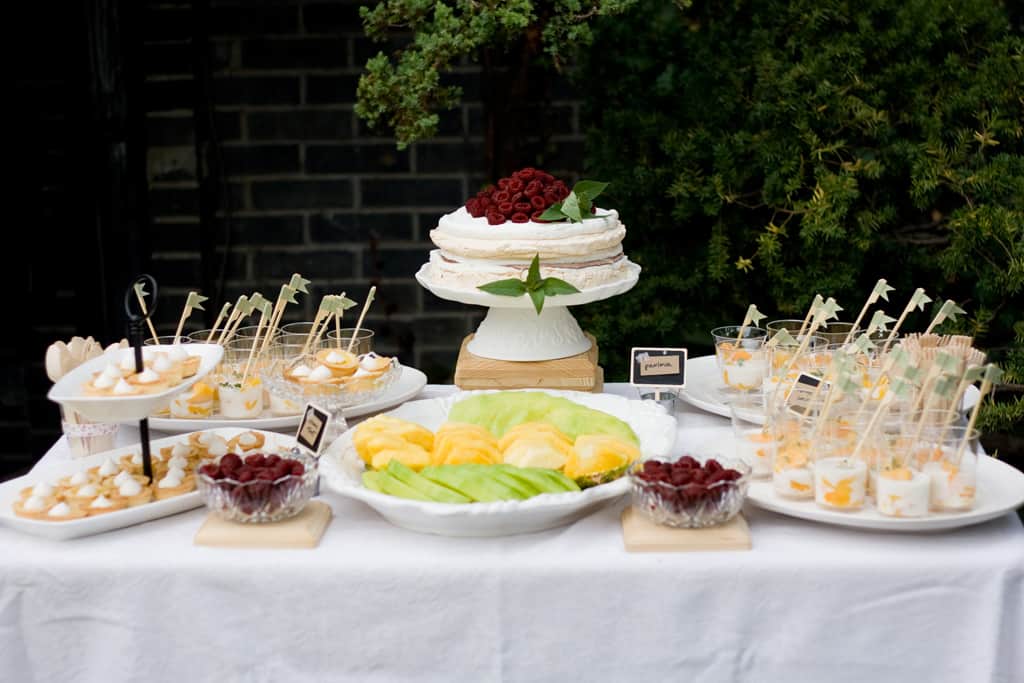 For my sister and her husband's first trip to Korea as a married couple, my parents threw a little backyard party for them.  Not all of my relatives were able to attend the wedding because it was abroad, so it also served as a sort of a mini reception as well.  Working along that spirit, I decided to put together a dessert bar.  It wasn't super fancy or difficult, but it did make the whole place look quite festive!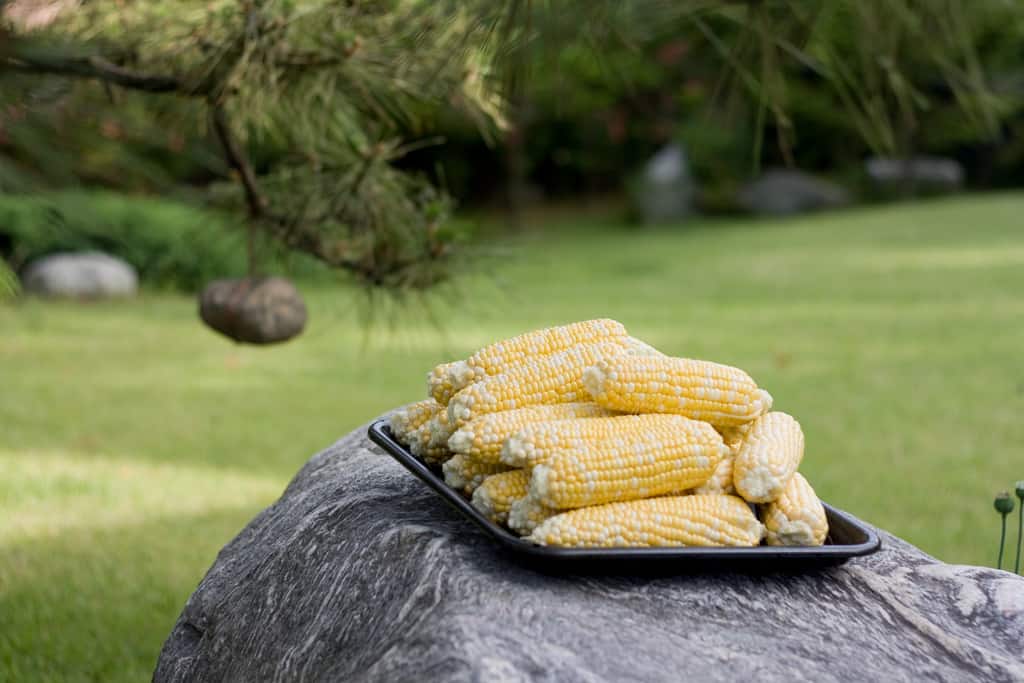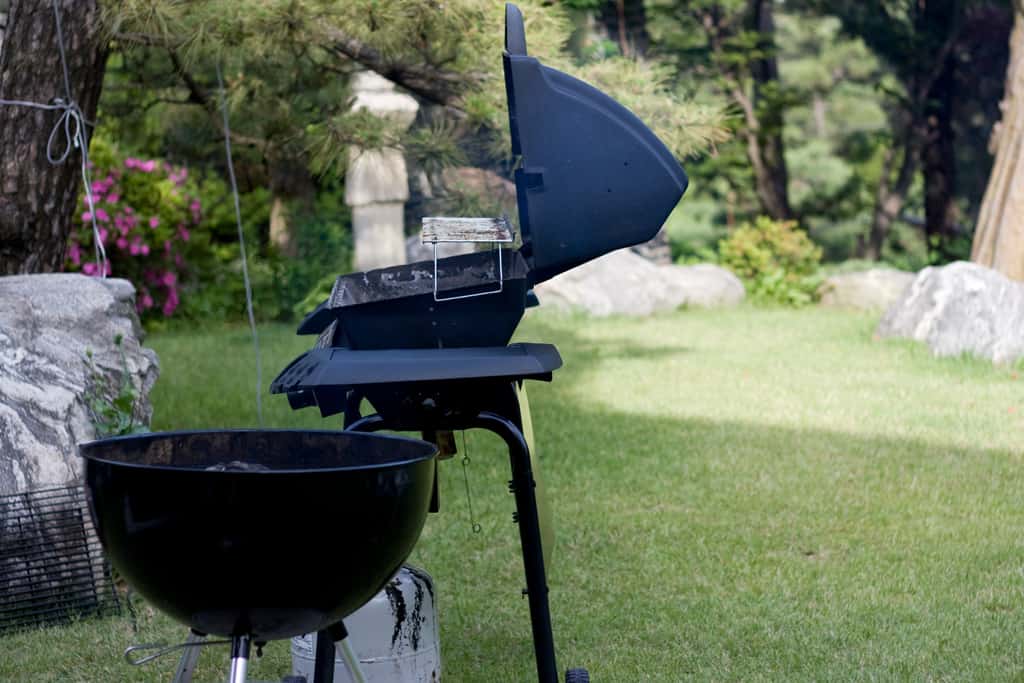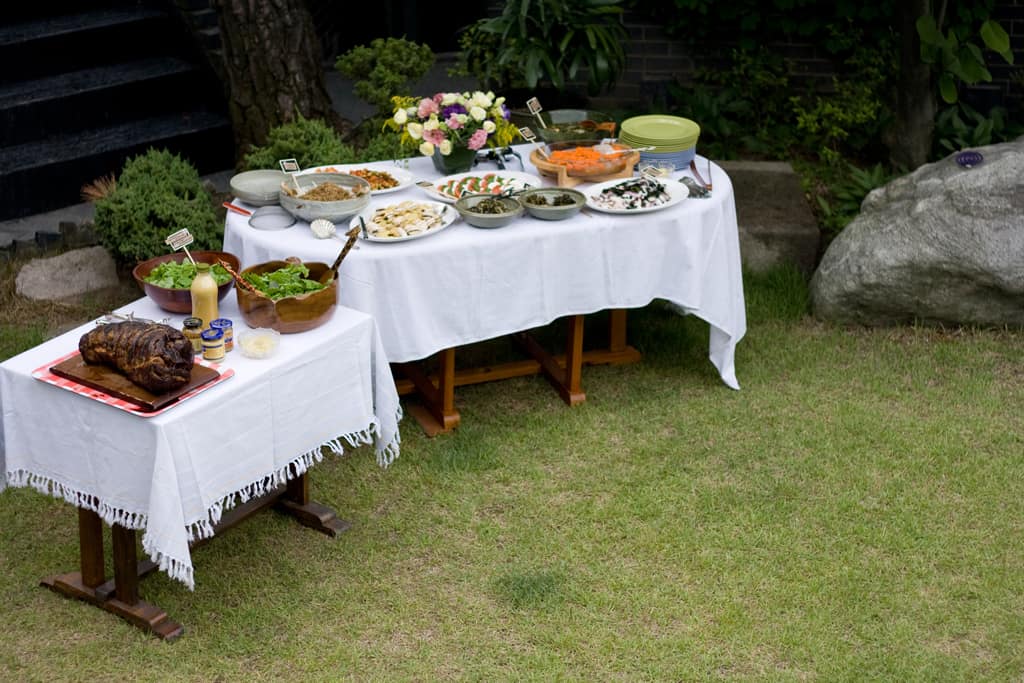 My mom put together all the food, which was amazing!  She is a pro at putting together these dinners. The photo doesn't do justice to how plentiful the whole spread looked.  There were three different types of salads, a whole bunch of cold sides, grilled fish, Korean barbeque, and roast beef…just to name a few. It was quite the feast.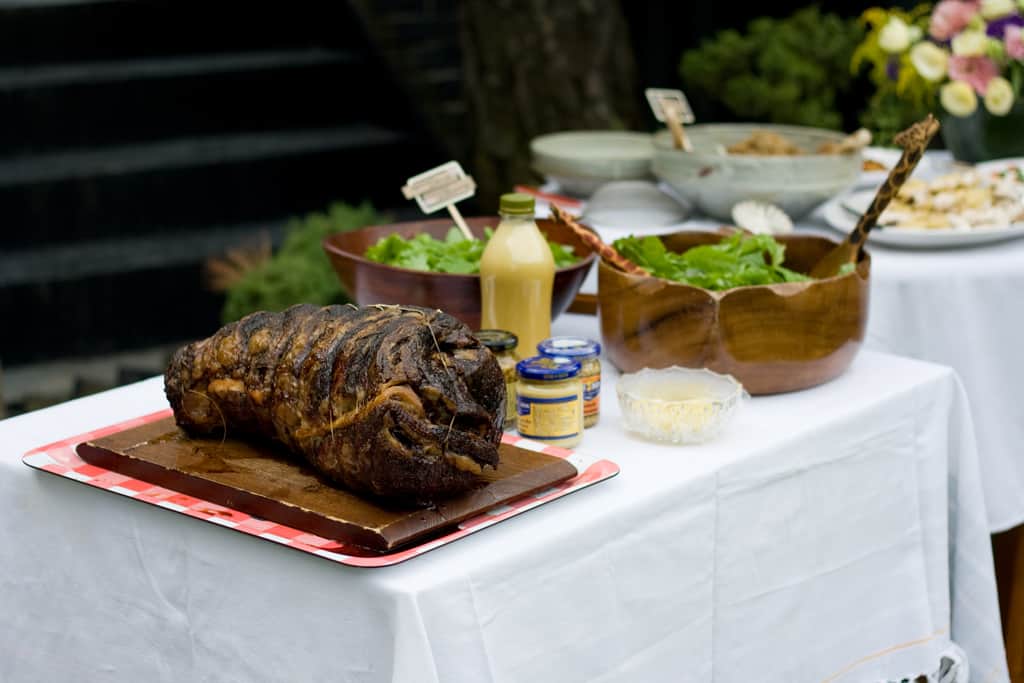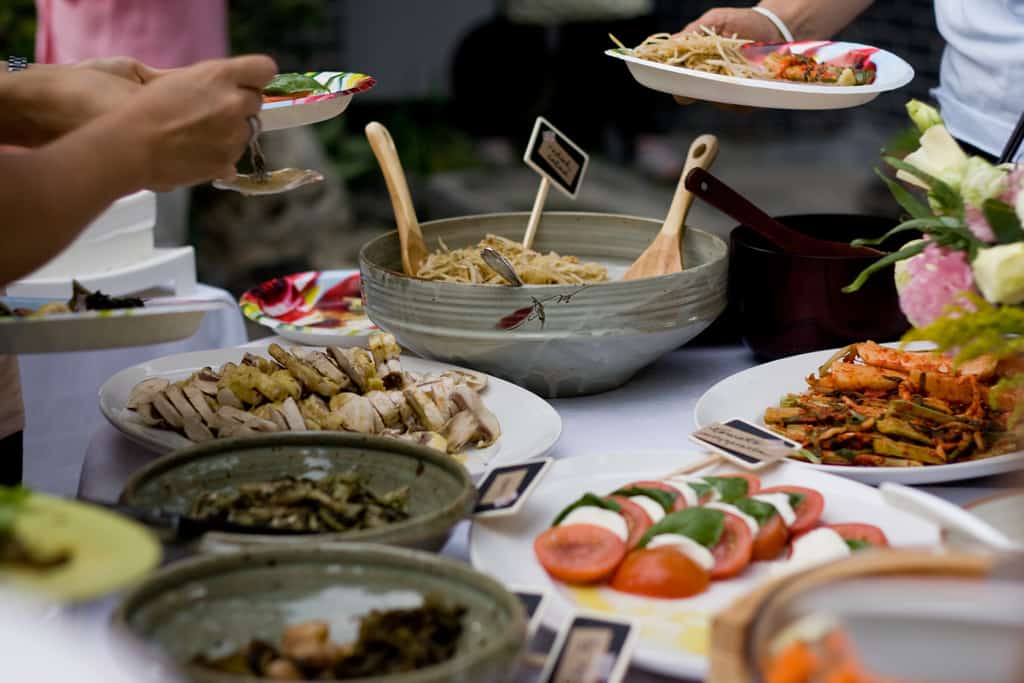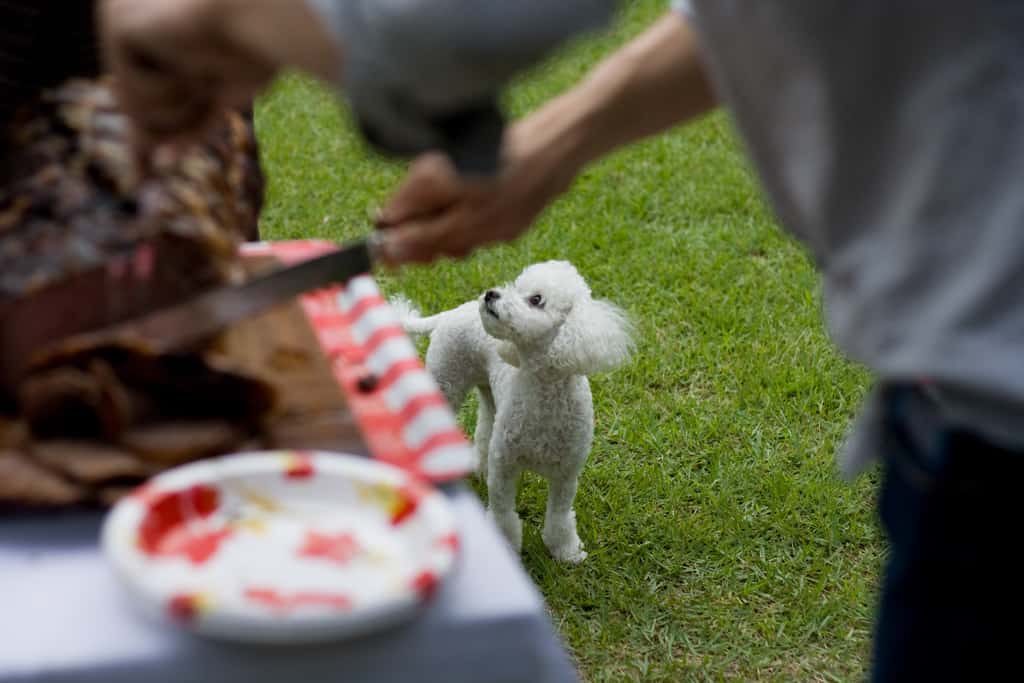 Everyone stood in line for the food, even this little guy.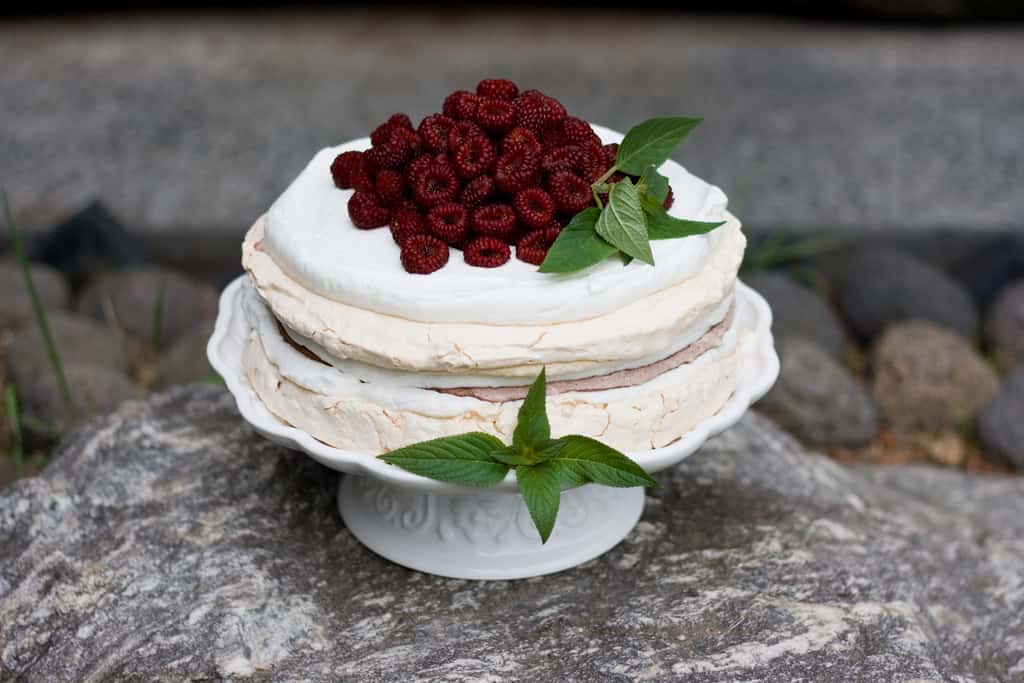 The pavlova was the main centerpiece of the dessert table.  I don't think it's the most professional looking dessert/cake, but it always seems to be a showstopper.  Plus, it sort of appeals to everyone.  The flavors aren't too bold or different that it's very agreeable to everyone. I garnished mine very simply, with unsweetened whipped cream and berries.  The leaves (although they may look like something else…) are pineapple sage.  I didn't add them for flavor, but just for show.  There's actually a "hidden" almond-cocoa pavlova layer that, I think, gave it a little character.  The impact is so subtle, that I wouldn't be surprised if many people didn't realize that it was there!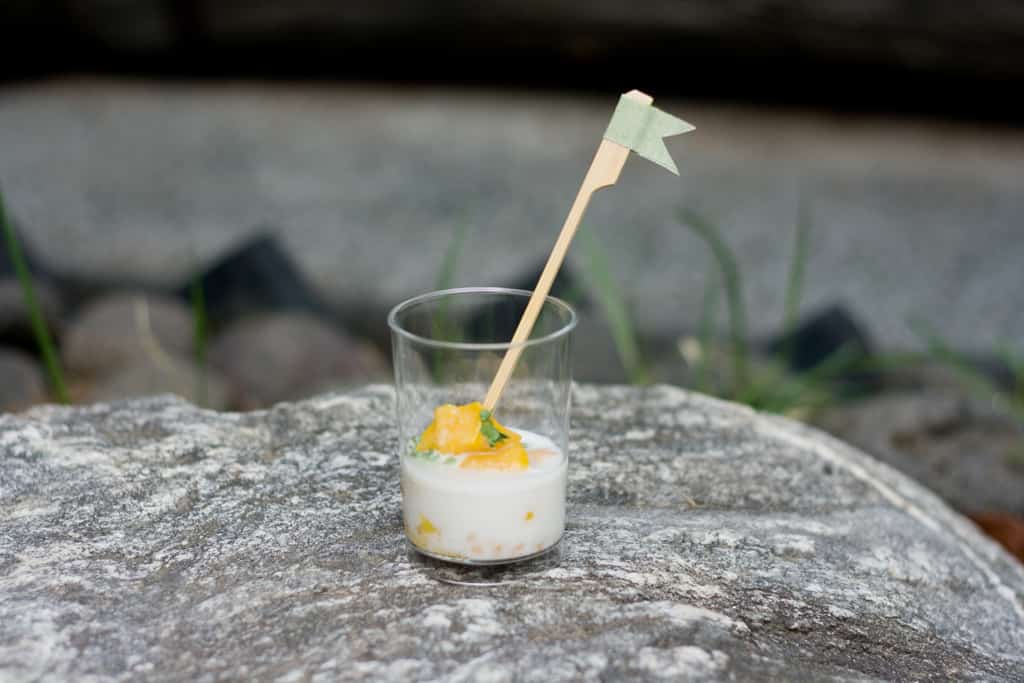 No dessert bar of mine can go without a verrine! This one was inspired by a dessert I made at the restaurant back in Paris.  It was my favorite dessert to make and eat!  My version is a little different, but equally flavorful in my opinion.  To pair with the coconut gelee, I cut fresh mango chunks and a little crumble crunch that I made with leftover tart dough. I also added a little sprig of lemon thyme to give it a little spring.  I think this one was the overall favorite between the guests.
These yellow tartelettes look deceptively like lemon tarts, but they're actually the same custard tarts from my previous post. I just decorated them with meringue I had leftover from the pavlova.
The dessert options weren't long, but along with a variety of fruits, the dessert table was quite full.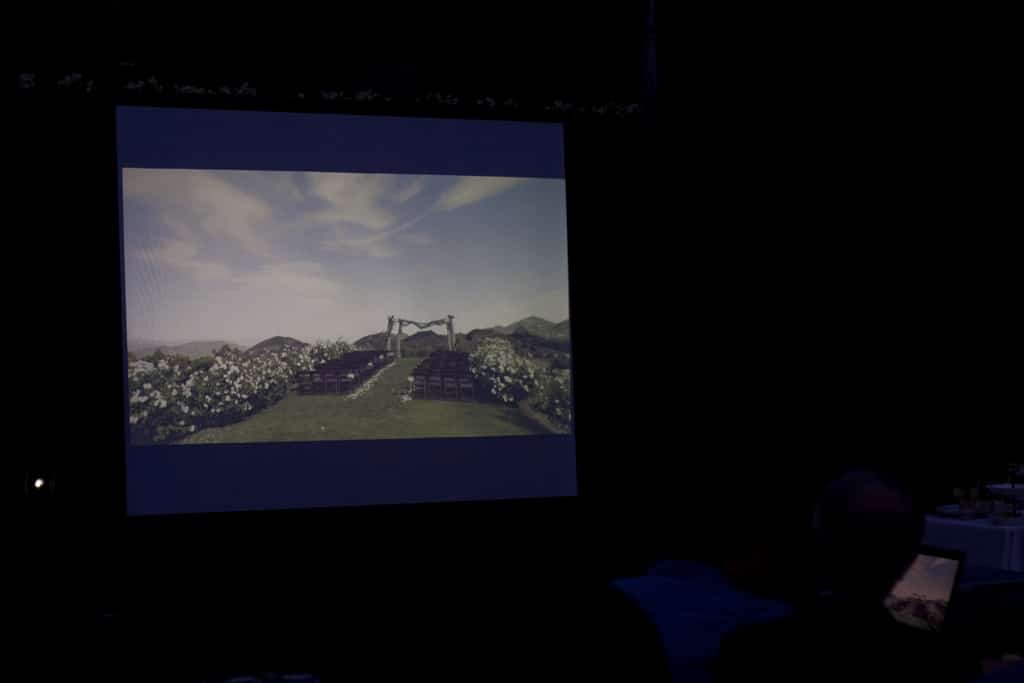 We ended the night with a showing of my sister and her husband's wedding video. I've watched it a million times, but it still makes me tear!
Coconut Gelee
Makes 35 mini portions
200 ml heavy cream
700 g coconut puree
Vanilla
90 g corn syrup
50 g sugar
6 g gelatin
Soak the gelatin in cold water until soft. Remove and squeeze out excess water. In a pot, heat the heavy cream, coconut puree, vanilla, corn syrup and sugar.  Using a whisk, mix once in awhile to avoid burning.  When it comes to just a boil, remove from heat and add the gelatin.  Mix well and pass through a sieve.  Cool and serve.
*The contents may separate after sitting in the fridge.  Use a whisk to bring it back to a homogeneous mixture.
**Serve the gelee with any garnishes you please.  I served mine with fresh mango chunks, a simple crumble, and lemon thyme.