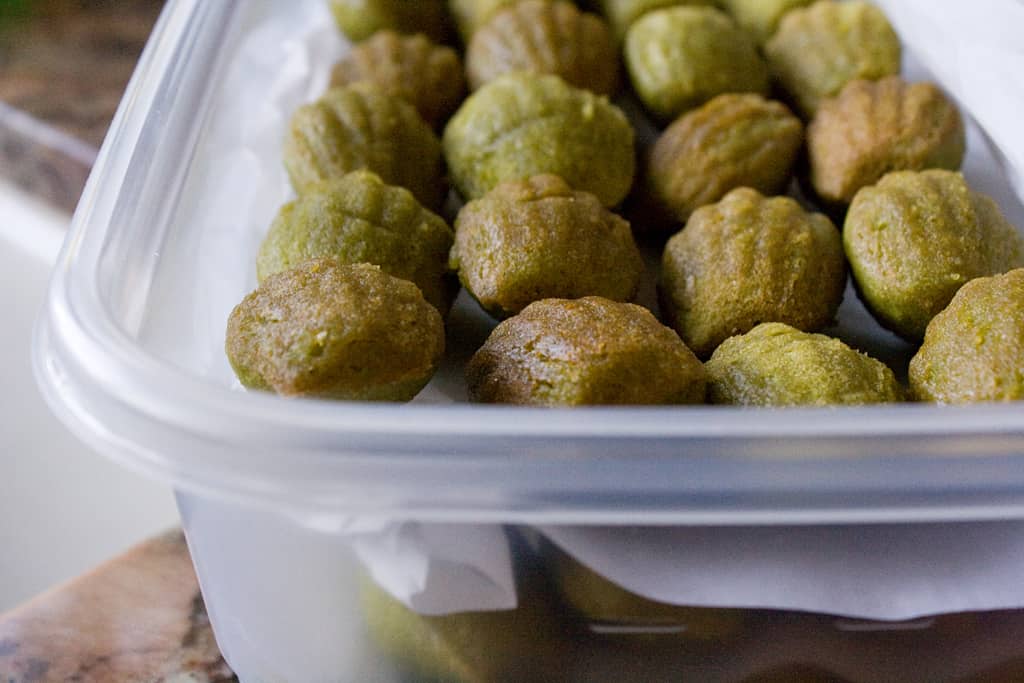 Creating delicious food is important, but the logistics of executing a dessert bar is a big priority as well. Everything needs to be made in advance, so careful thought must go into the timeline of when each dessert is made and how it will be stored.  The key to good organization is to know each dish inside and out. Making each dessert from start to finish in one go is not always the most time efficient, so it helps to look at all the different components as individual parts and plan things this way. Although I've had no professional experience in catering, I did take a lot from the different stages I've done.  It was all those little tips and tricks I learned along the way that helped keep the edges clean and straight.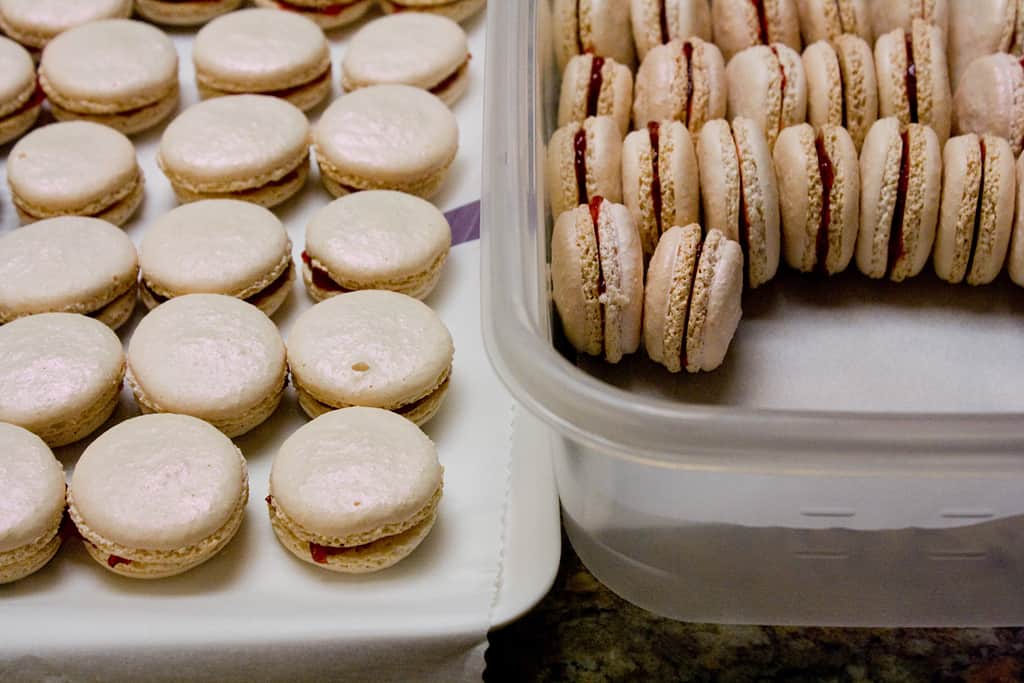 Before starting, I bought plenty of plastic containers of various sizes, rolls of parchment paper, and more than enough cling wrap.  I also made sure there was plenty of space in the freezer and fridge to store all the containers.  Baking started 10 days before the wedding, which gave me plenty of time to screw up, redo, and make unexpected market runs.
All of the desserts were tightly packed between sheets of parchment, thoroughly wrapped in film, and then clearly labeled.  Depending on the dish, some were kept in the freezer until the day of the wedding, while other spent the night in the fridge, or kept at room temperature. Below, I've listed where each dessert was stored.
Chocolate Mascarpone Mousse Cakes –> freezer
Hint of Mint Macarons –> freezer –> night before wedding, fridge
Strawberry-Lemon Jam Macarons –> freezer –> night before wedding, fridge
Green Tea Madeleines –> freezer
Chocolate Tea Bonbons –> room temperature
Florentine Bonbons –> room temperature
Yogurt Mousse Verrines –> fridge
Pistachio Loaf –> freezer
Banana Loaf –> freezer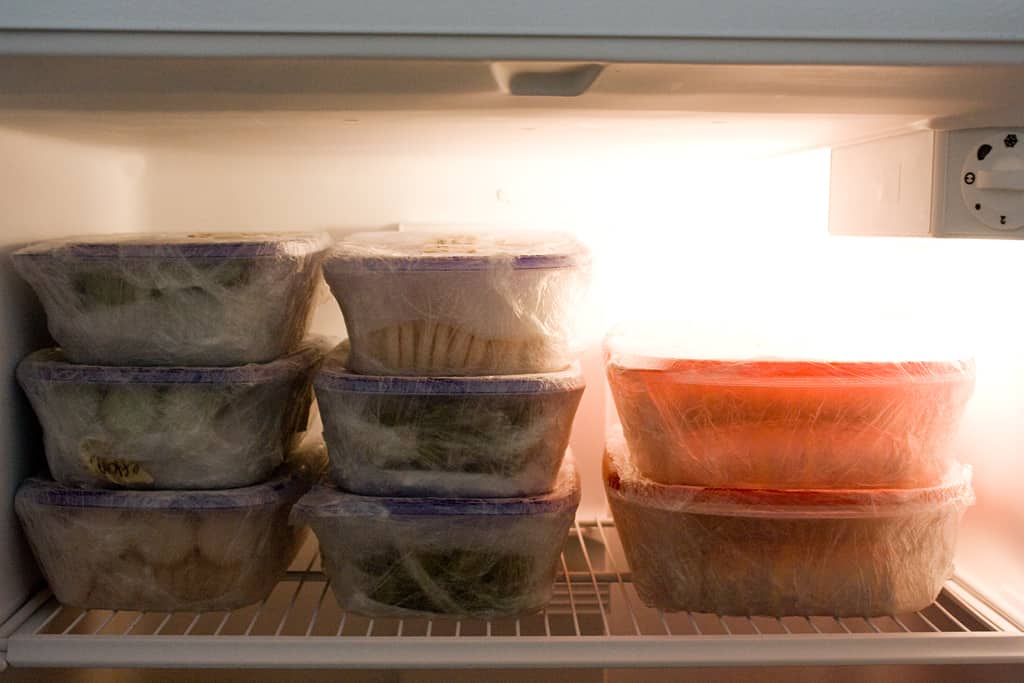 A few days before the wedding, I bought two huge styrofoam ice boxes from Smart & Final (similar to this one) and a couple of ice packs to help transport all the desserts.  Because I was MOH, I wasn't able to do this myself, so instead I wrote a detailed instruction packet and had my relatives "volunteer" their help.
There are a lot of things to think about!  But I hope I've made things a bit clear for anyone who was wondering or thinking about putting a dessert bar themselves.  I've also written out my work progress below, so hopefully that gives a little more insight as well.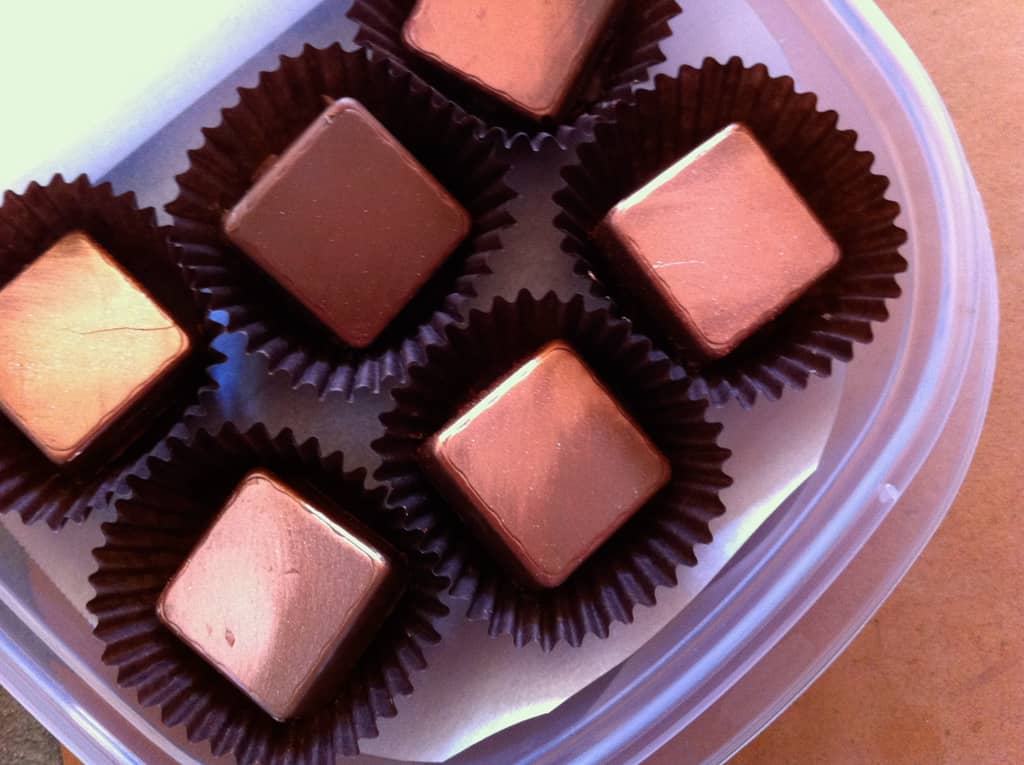 Wednesday, September 19:
– Baked crumble for Yogurt Mousse Verrines –> freezer
– Made florentines for Florentine Bonbons –> room temperature
Thursday, September 20:
– Baked a failed batch of Pistachio Loaf Cakes 
– Prepared Green Tea Madeleine batter –> fridge
Friday, September 21:
– Baked Green Tea Madeleines –> freezer
– Baked biscuit for Yogurt Mousse Verrines –> freezer
– Rebaked Pistachio Loaf Cakes –> freezer
– Baked Caramelized Banana Loaf Cakes –> freezer
Saturday, September 22:
– Dipped florentines in chocolate –> room temperature
– Failed batch of molded Chocolate Tea Bonbons
– Cut biscuit for Yogurt Mousse Verrines into rounds –> freezer
Sunday, September 23:
– Remade Chocolate Tea Bonbons –> room temperature
– Prepared chocolate genoise for Chocolate Mascarpone Mousse Cakes –> room temperature
– Made 1/2 quantity of mascarpone mousse
– Assembled 1/2 of Chocolate Mascarpone Mousse Cakes –> freezer

Monday, September 24:
– Finished making Chocolate Mascarpone Mousse Cakes –> freezer
– Once set, cut Chocolate Mascarpone Mousse Cakes into bit sized pieces –> freezer
– Made mint ganache for Hint of Mint Macarons –> fridge
– Made jam for Strawberry-Lemongrass Macarons –> fridge
– Put finishing touches on Chocolate Tea Bonbons –> room temperature
Tuesday, September 25:
– Made macarons shells
– Assembled all macarons –> fridge –> once set, freezer
– Put final touches on Florentine Bonbons –> room temperature
Wednesday, September 26:
– Filled verrines with crumble and biscuit –> fridge
– Packed all dishes and plates
– Made dessert labels
– Finalized dessert table layout
Thursday, September 27:
– Made yogurt mousse for verrines
– Finished Yogurt Mousse Verrines –> fridge
– Made direction packet
Friday, September 28:
– Dress rehearsal
Saturday, September 29:
– Wedding