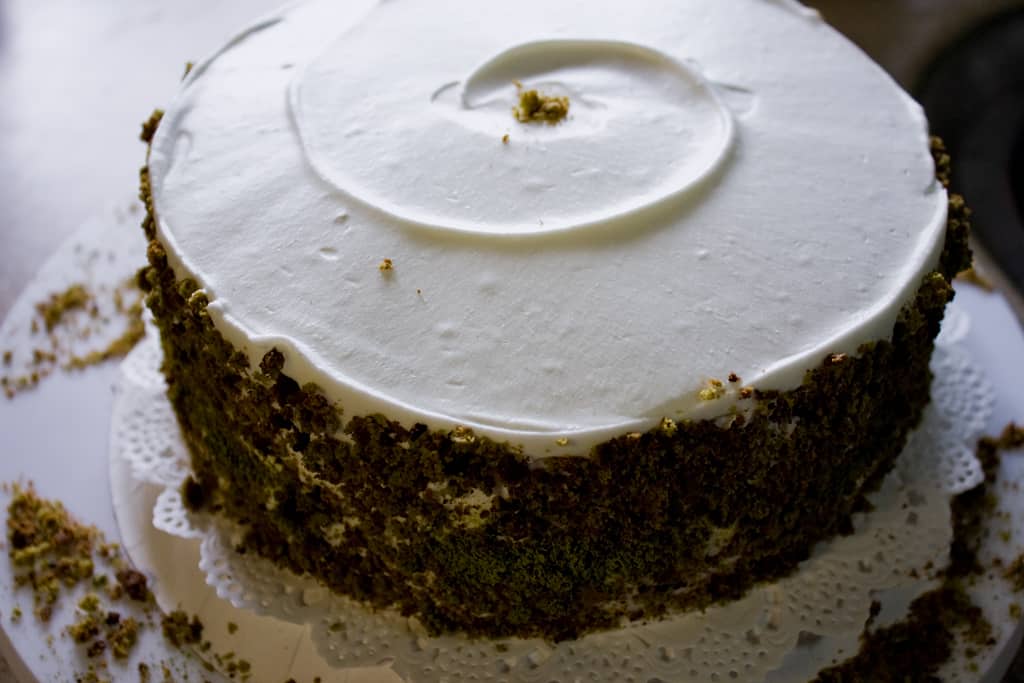 When it comes to dinner parties, I like to make dessert first.  In general, baking takes more time and careful precision than cooking.  So, before the kitchen becomes loud with banging pots and chopping knives, I like to have dessert completed.  The great thing about cakes is that it can be started a day in advance.  Usually, cake layers taste better the next day because the flavors are given time to rest and settle.  While baking is done the day before, I always frost and assemble my cakes in the morning of the day of the party.  I think frosting always tastes best the day it's made.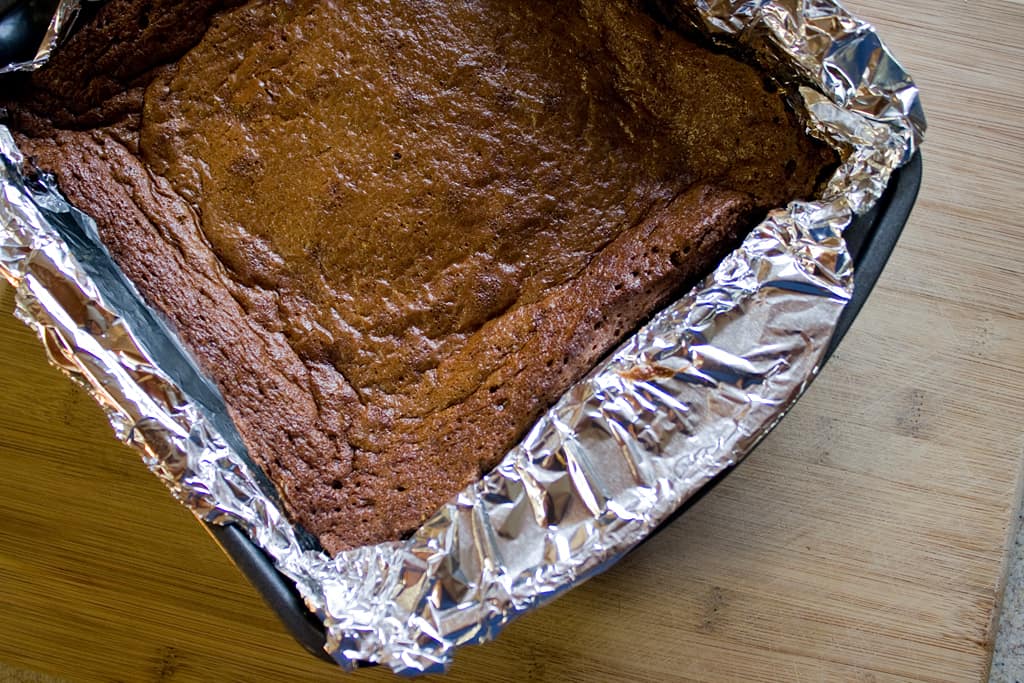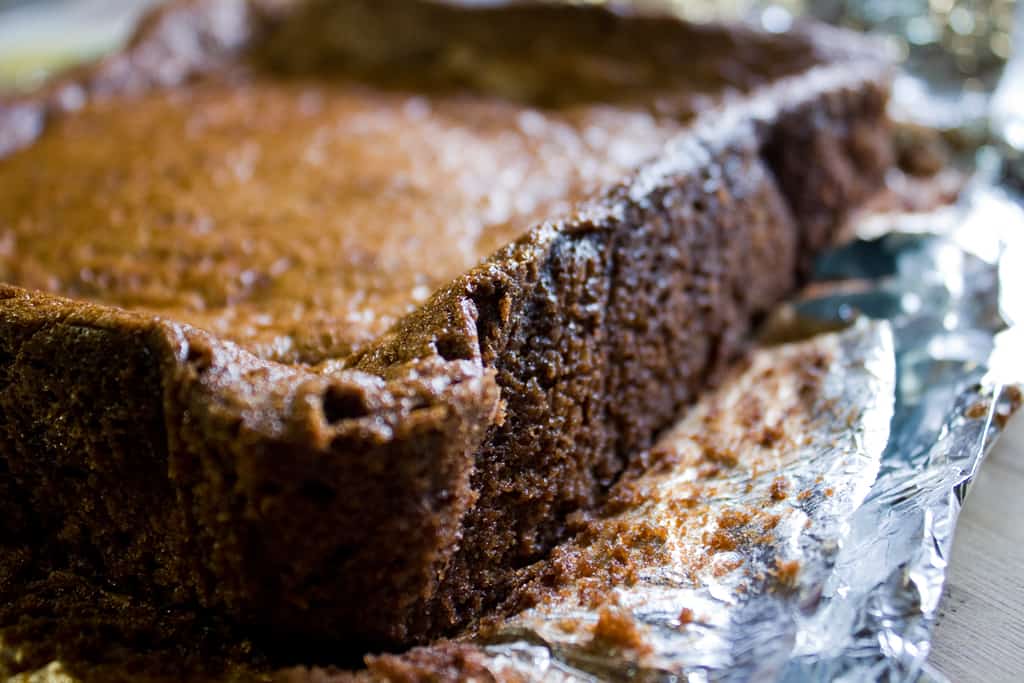 Initially, I only planned on making the green tea layer cake, but decided to include these ginger brownies on a whim.  I was browsing through Dorie Greenspan's Baking: From My Home to Yours while I was waiting for the cake layers to finish in the oven when I noticed the recipe.  I thought the combination of ginger and chocolate was intriguing and different.  I knew it wouldn't be a dessert for everyone, but I thought it could pass as daring and fun.  Ginger also perfectly fit the theme of the party, Asian Fusion, so it all felt very appropriate.  I was actually taking a bit of a risk, not only with the ginger ingredient, but also with the fact that I had never baked brownies before.  I think I under-baked them slightly, but I liked how they were extremely moist, almost fudge-y but not quite.  It was very different texturally and flavor wise from the green tea cake.  In order to make sure the brownie didn't overpower the cake, I made each serving very small.  Half of them were plated for the party and the rest were wrapped and given as favors.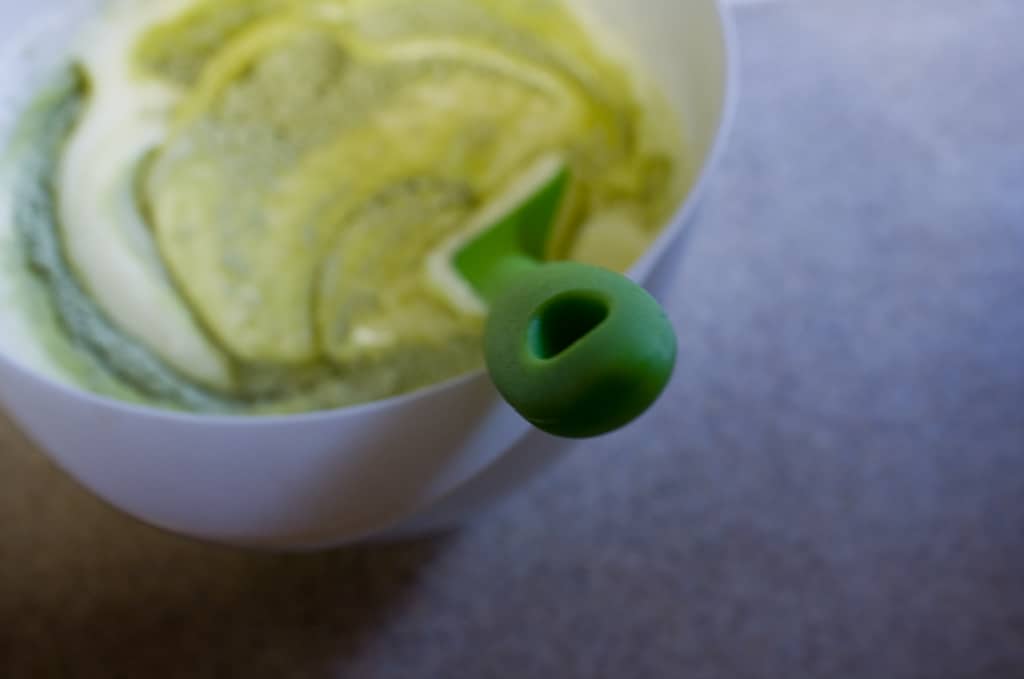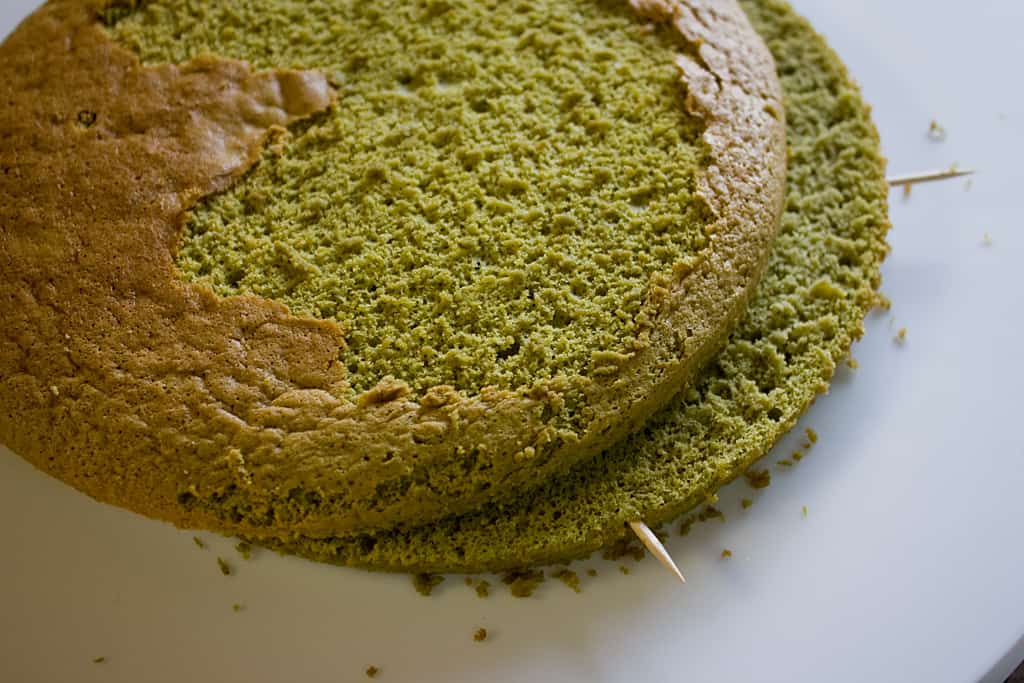 The green tea layer cake is definitely going to be a regular on my repertoire.  It's simple to make but looks impressive.  I also love how it's light and just sweet enough.  It's almost the opposite of American cakes, which I always imagined as rich, dense, and very sweet.  I don't prefer one over the other.  It really depends on my mood and what I'm craving.  Some might say that the flavors are too subtle and not sweet enough to satisfy as a dessert, but I think those are the qualities that make this cake delicious.
I was wary about whether the green tea cake could successfully stand as the main dessert.  Separately, each component of the cake is plain and simple.  The sponge layers are light with a subtle green tea scent and the whipped cream is only slightly sweet.  The two together are nothing spectacular.  However, with the addition of sweetened adzuki beans the cake is spectacular.  All the flavors are still soft and subtle, but the beans give an extra layer, a little punch that makes this cake very lovable.  For some, this cake may not be sweet enough to satisfy that rich dessert craving, however if it is eaten without those expectations I think most will find an appreciation for it.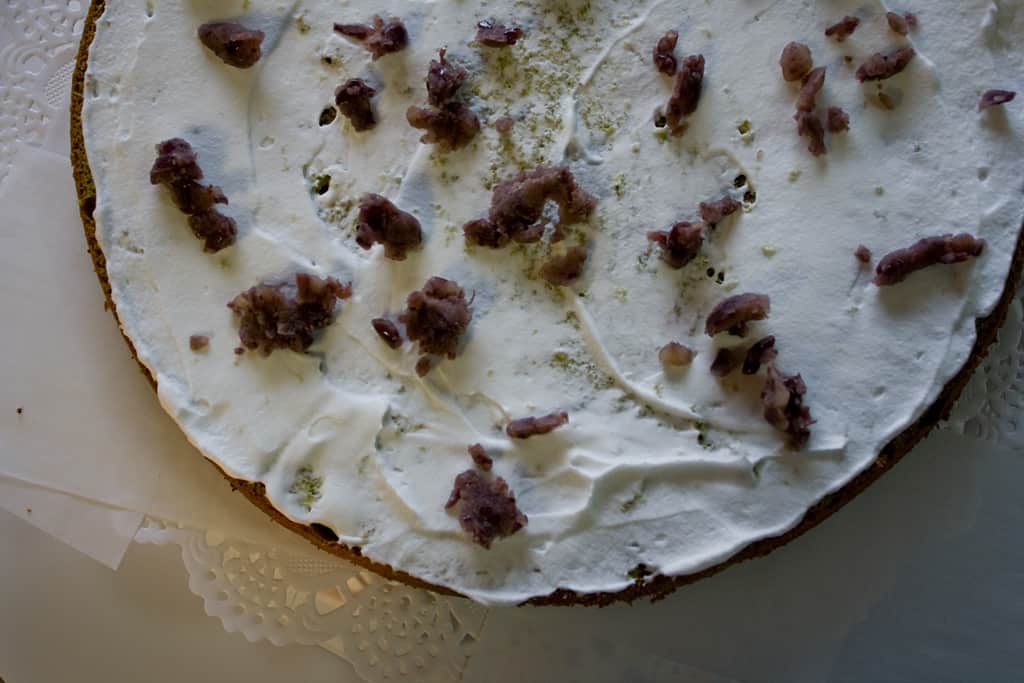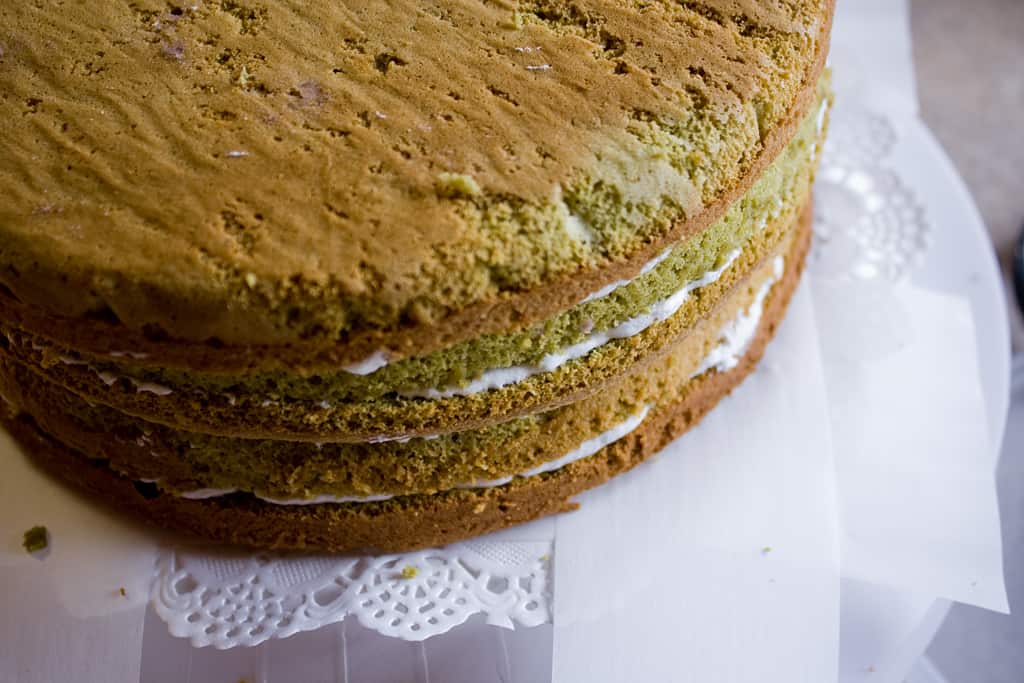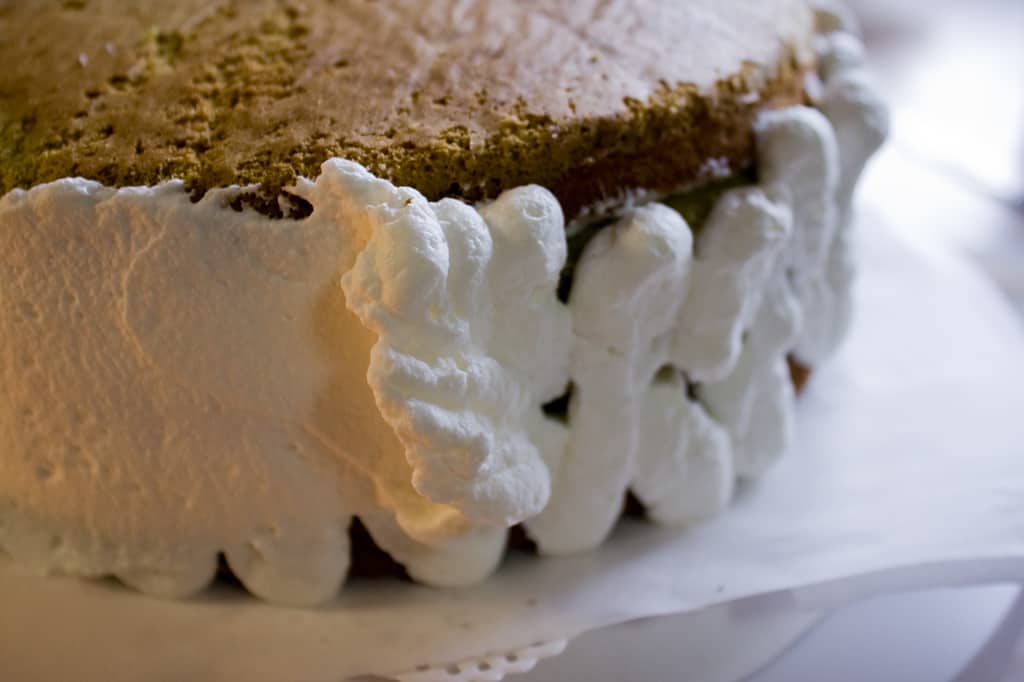 Green Tea Layer Cake
Adapted from 홈베이킹 백과사전
Cake Layers:
6 egg whites
2/3 cup + 1 tablespoon or 160 grams sugar
2 teaspoons vanilla extract
8 egg yolks
1 1/3 cup or 130 grams cake flour
6 teaspoons matcha, green tea powder
3 tablespoons or 40 grams butter, melted and cooled
4 tablespoons or 60 ml milk
Filling & Frosting:
2 cups heavy cream
4 tablespoons sugar
1/3 cup sweetened adzuki beans, homemade or bought
To Make the Cake Layers:
Preheat oven 350 degrees F. Butter and flour three 8-inch round pans.
In a bowl, sift cake flour and green tea powder together.  In another bowl whip the egg whites with a whisk or hand mixer for 30 seconds or until slightly foamy. With the mixer running, slowly add the sugar.  Continue whipping for 3 to 4 minutes or until soft peaks form.  Add the egg yolks one by one.  Mix until the batter becomes thick and creamy.  Add vanilla extract.  With a rubber spatula, fold the sifted flour and green tea powder until just combined.  Last, fold in melted butter and milk.
Divide the batter between the three prepared pans.  Bake for 30 to 35 minutes or until a toothpick inserted comes out clean.  After 5 minutes, remove cake layers from pans and cool on a wire rack.
To Make the Frosting:
Place heavy cream in a large bowl.  Start mixing with a hand mixer.  Slowly add sugar and continue until stiff peaks form.
To Assemble:
If cakes have rounded take a serrated knife and make even. Cut each of the three rounds in half to create 6 layers.  Use toothpicks to help guide knife and ensure even cuts. 5 will be used in the cake and 1 will be crumbled and used as garnish.  Place one cake on a cake stand or plate.  Spread some of the frosting, then sprinkle with 1/4th of the sweetened adzuki. Place a second layer on top and repeat three more times.  After the fifth layer is placed, frost the sides and top with the remaining whipped cream.
With the remaining cake round, crumble into fine crumbs then press into sides of cake.  I toast my crumbles to make crispier.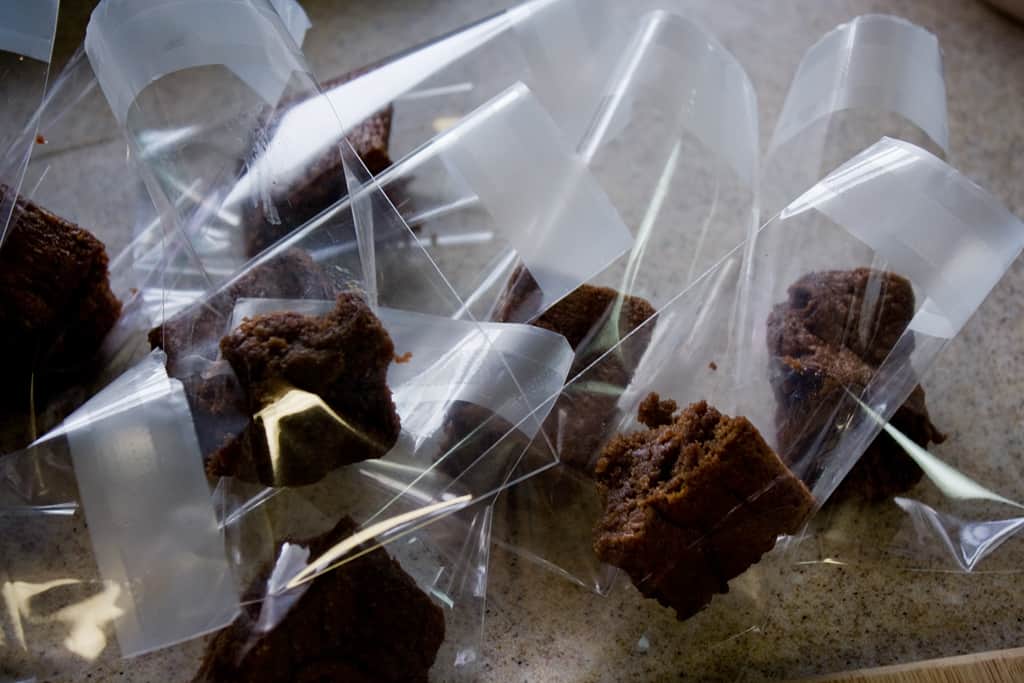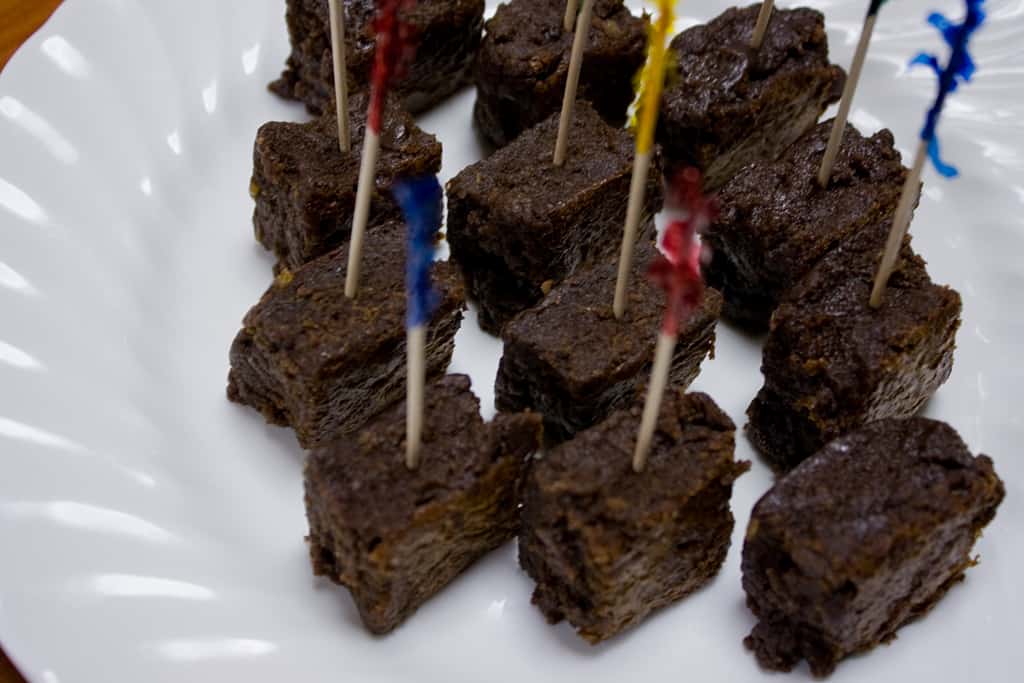 Ginger Brownies
Adapted from Baking: From My Home to Yours
3/4 cup all purpose flour
1/2 teaspoon salt
2 tablespoons finely minced peeled fresh ginger
1 cup plus 1 1/2 tablespoon sugar
4 ounces couverture dark chocolate*
2 ounces couverture milk chocolate*
1 stick, 8 tablespoons unsalted butter, room temperature
1/3 cup corn syrup
1/2 teaspoon vanilla extract
3 large eggs
Preheat oven to 325 degrees F.  Line a 9 inch square baking pan with aluminum foil, then butter foil.
Whisk flour and salt together.
In a small bowl, mix minced ginger and sugar together.  Set aside.  Coarsely chop chocolate and melt using a double boiler or microwave.  Set aside.  Place butter in another bowl and cream with a hand mixer.  Add corn syrup and ginger-sugar and mix.  Beat until smooth, about 2 minutes.  Add vanilla.  Mix eggs in one at a time, making sure each is incorporated before adding the next.  Add the dry ingredients and mix until flour just disappears.  Lastly, using a rubber spatula fold in the melted chocolate and pour into prepared baking pan.
Bake for 30 to 35 minutes or until top forms an even, firm crust and an inserted knife comes out with streaks of fudgy chocolate.
Cool completely before slicing into desired pieces.
*Use a combination of chocolates of choice.