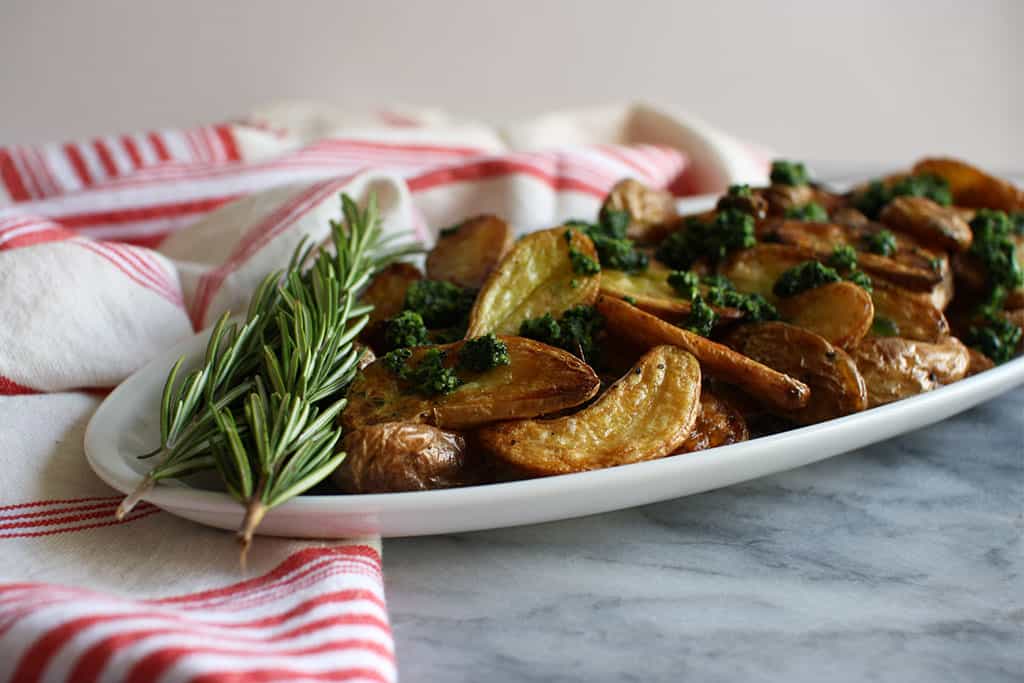 This post is part of a 30th birthday dinner party series. 
When I started developing this roasted potato dish, I was looking to create a super crisp and almost fried-like potato. I came up with a great recipe using a very hot oven, but realized the day before my dinner party that it wasn't the best idea. Crispy potatoes are like fries, they need to be served hot and immediately or else the texture and taste are compromised. With just one oven, there was no way I would be able to serve the roasted potatoes at its prime state! I made a last minute decision to forego the crispiness and instead cook them at a lower temperature. This way I could roast the potatoes and my other veggies at the same time (efficiency!) and not worry about texture too much (aka potatoes can be served warm instead of hot). The dish ended up being a little different than I initially planned, but that's the beauty of hosting your own dinner party! There is always room for flexibility and last minute changes, after all it's your kitchen!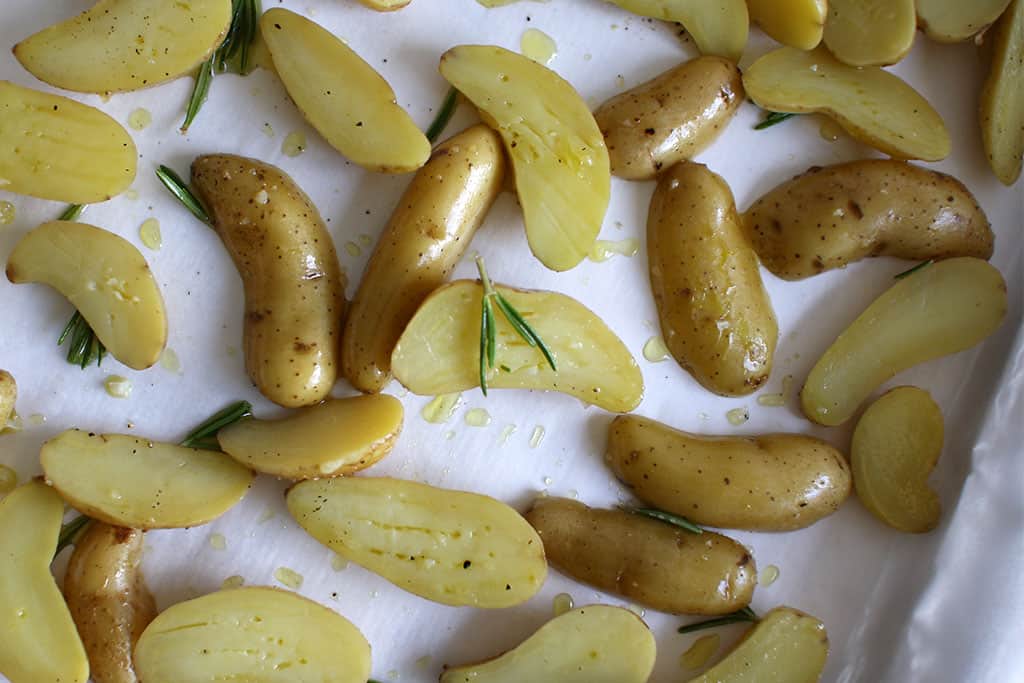 Aside from my crispy miscalculation, this dish is great to make for gatherings. The potatoes are precooked in boiling water first and then roasted. The first step can be done hours in advance and it also saves a lot of time in the oven (prime real estate during a dinner party!).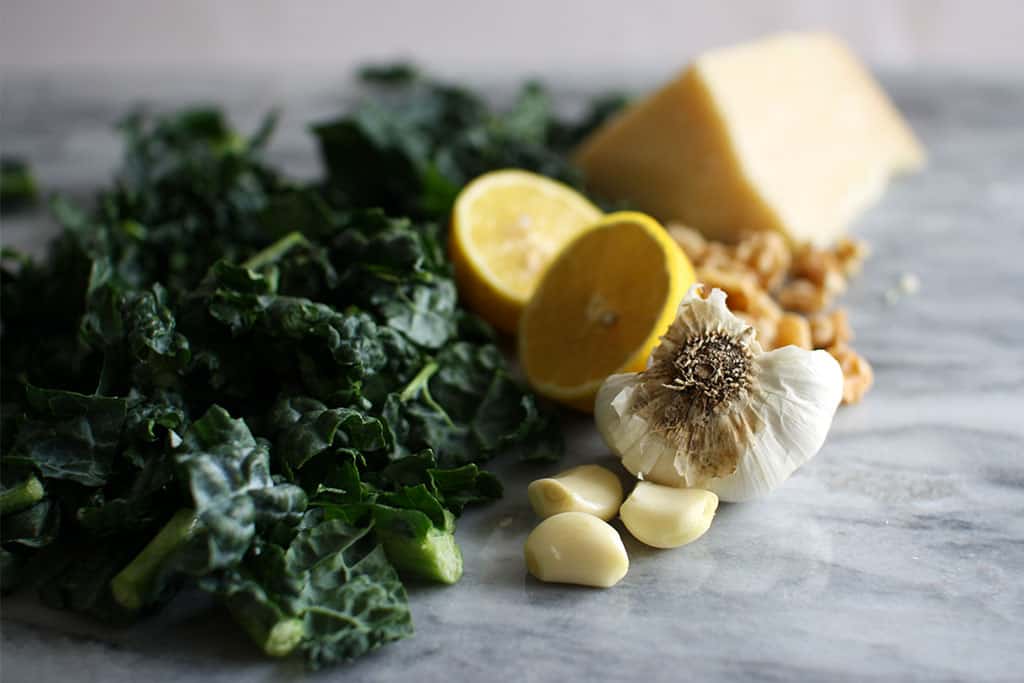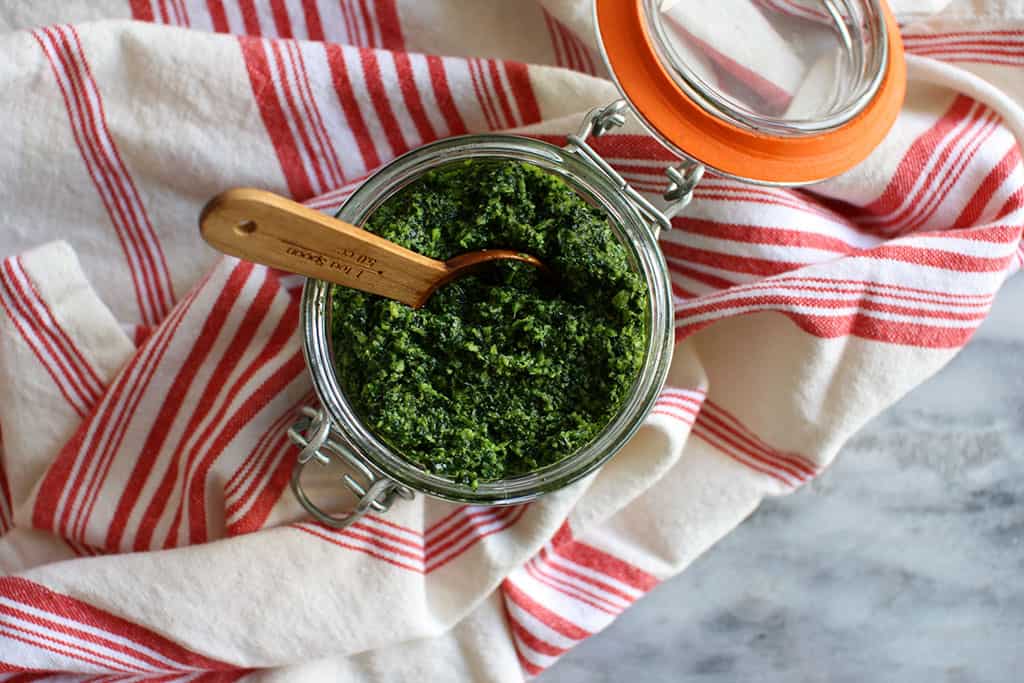 To season the roasted potatoes, I topped them with a kale pesto recipe I created a few years ago. The healthier pesto is made with blanched kale, which means that it can be made and stored way ahead of time (even a week!). I love this recipe a lot and so I usually double the batch eat it with whatever I'm cooking throughout the week. I like to toss it with my favorite bean pasta
, use it as spread on a sandwich, or make my version of green eggs and ham with it. The pesto goes well with anything and everything, including these roasted potatoes!
This dish is warming and perfect for chilly weather. I paired these roasted potatoes with rack of lamb, a hand salad with Greek yogurt buttermilk dressing, roasted rainbow carrots, and an earl grey chocolate cake dessert, but it would work well as part of a fancy Christmas dinner or something as humble as a potluck picnic.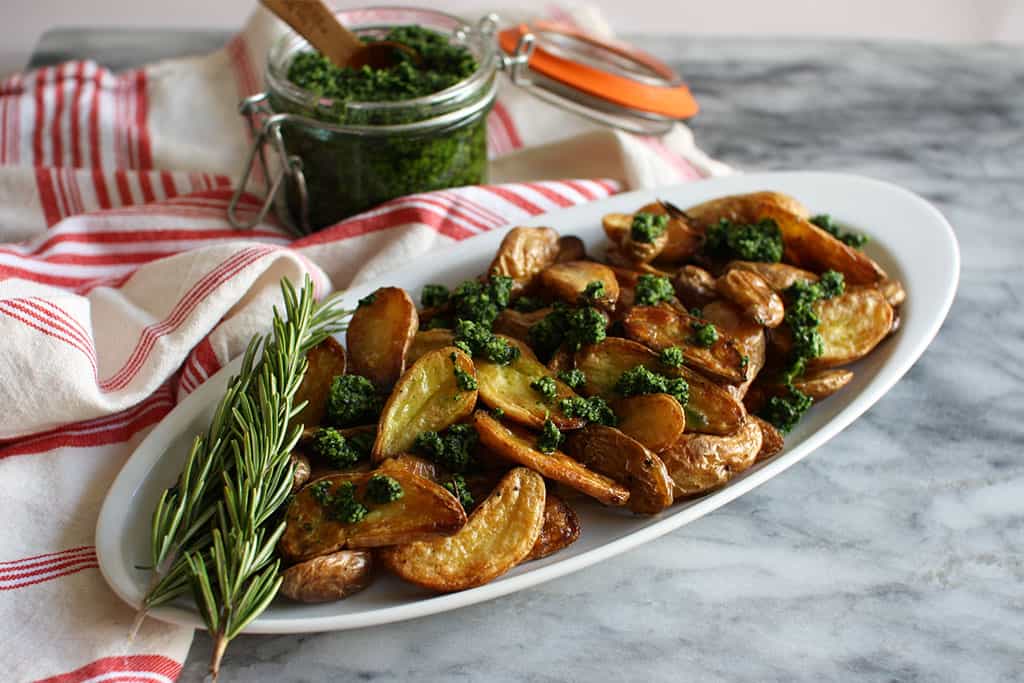 *To note, the pictures throughout this post show the final image of crispy potatoes. The recipe below contains instructions for both crispy and regularly roasted potatoes.