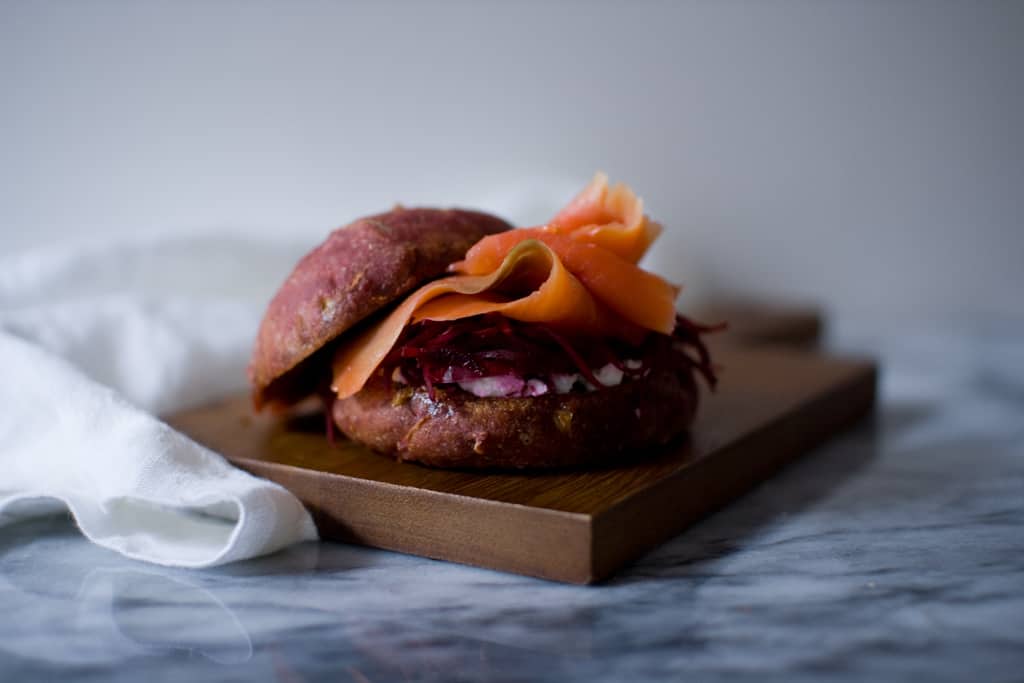 Hello again, it's been awhile.  Seven months seems like a long time to have been away, but it sure did go by fast. The last time I posted I was getting ready to move back to New York, and now here I am! It's been such a whirlwind with so many lovely happenings that I don't even know where to begin.  I can only start by saying I'm really enjoying being back in the city, meeting new people, reuniting with old friends, and learning more about food everyday. It could not be better.  And I'm cooking more!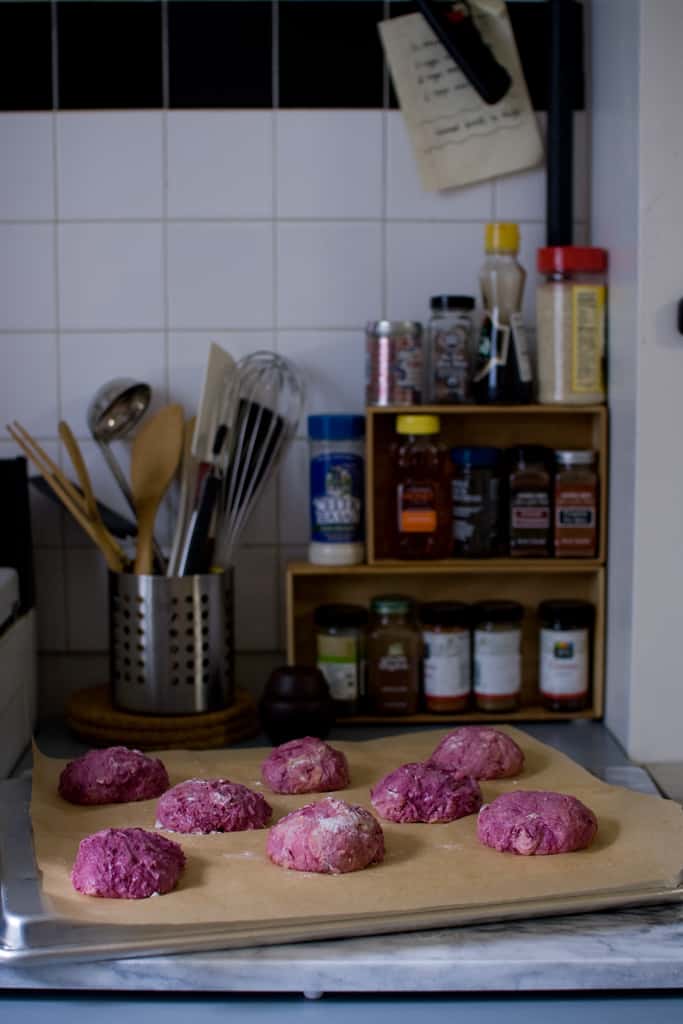 I've started to bake my own bread at home, which really is an excuse to 1. eat more bread and 2. buy several different types of flours at one time. To be honest, I'm a little intimidated by the bread making process, especially the kneading part, so I'm taking the easy route with no knead dough.  Eventually I'll muster up the courage, but for now I'm perfectly happy with this fast alternative.
I came across this beet bun recipe recently and knew immediately that I needed to make it.  Spelt flour with red beets, not to mention Valentine's Day this weekend, what could be more appropriate? The ruby red buns bake beautifully and make the whole house smell like a fully operating restaurant kitchen.  Nutty aromas of caramelizing bread are blanketed with the scent of sweetening onions. The best of both the oven and the stove.
The shredded beets keep the inside crumb moist, while subtle hints of sweet and savory are embedded throughout. They are really delicious eaten plain or with a little slather of cream cheese, however, if you really want to use your buns for some good, make sandwiches with them, one that specifically uses smoked salmon.  Quickly pickle some leftover shredded beets (there are bound to be some that didn't make it into the dough), schmear on some goat cheese, and layer on a few pieces of salmon. Cured fish may not be the best thing to eat before kissing your Valentine, but if you're both consuming it who cares?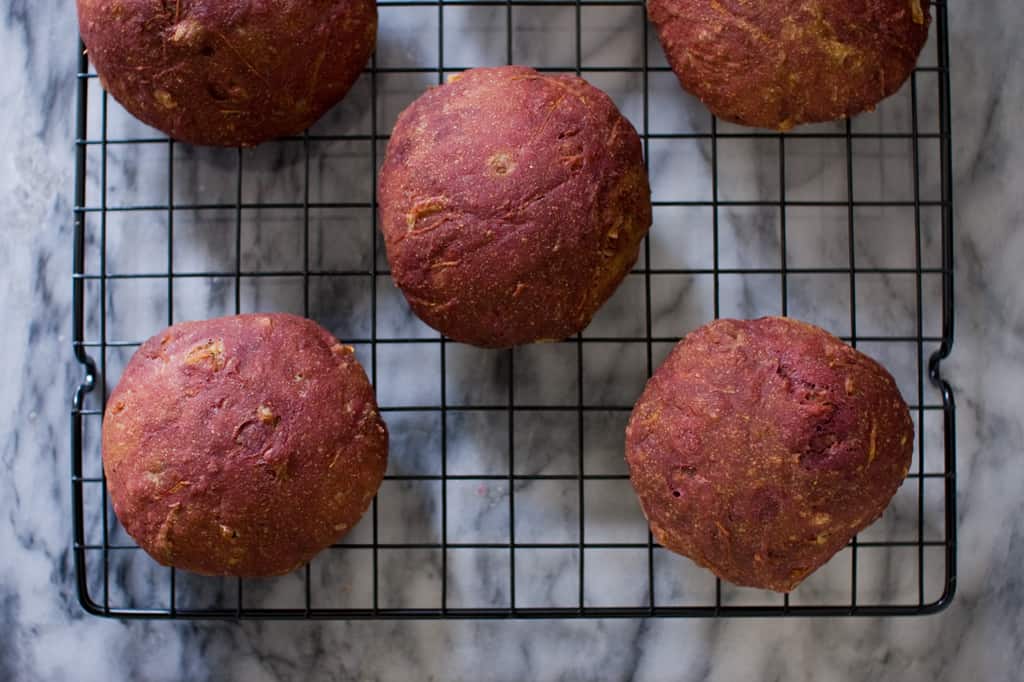 The recipe can easily be doubled and baked buns freeze well.
Beet Buns
Adapted from here
Makes 16
130 grams whole wheat flour
140 grams all purpose flour
195 grams spelt flour
1 pack granulated yeast
1/2 tablespoon kosher salt
18 grams vital wheat gluten
365 milliliters water, lukewarm
100 grams shredded red beets
1/4 white onion, finely chopped
Mix the flours, yeast, salt, and vital wheat gluten together.  Add the water, beets, and onion.  Mix until all the ingredients are incorporated, but do not knead. Cover with plastic wrap and leave at room temperature for about 2 hours or until the dough has risen and flattened out. Place in the fridge and use within a few days.
On baking day, preheat oven to 450 degrees F or 230 degrees C. Place a baking stone or baking sheet in the middle rack.  Then place an empty pan or tray on another shelf.
Dust the dough with flour and shape into a ball, creating a smooth surface on top.  Divide the dough into 16, then shape each into a ball. Place on parchment paper, cover with plastic wrap, and let rest for 40 minutes. When ready, brush with water and slide the parchment paper with bread dough directly onto the baking stone or sheet in the oven.  Place about a cup of hot water into the empty pan and close the oven door shut. Bake for 20 minutes or until brown and firm. Cool on a rack.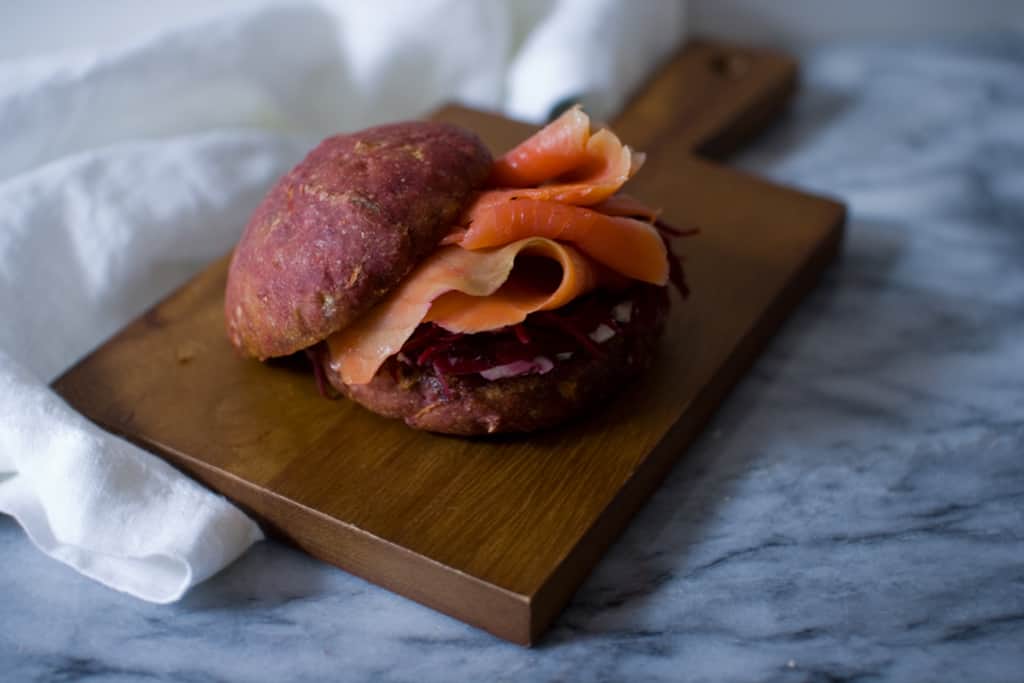 Quickly Pickled Beets
Leftover shredded beets*
250 milliliters water
125 milliliters vinegar of choice
100 grams sugar
2-3 whole peppercorns
1-2 coriander seeds
A little knob of ginger
Put all the ingredients in a small pot and bring to a boil. Pour over the beets and let sit for 20 minutes to an hour. Drain and keep refrigerated in a jar.
*I had about a cup and a half or 100 grams beets.