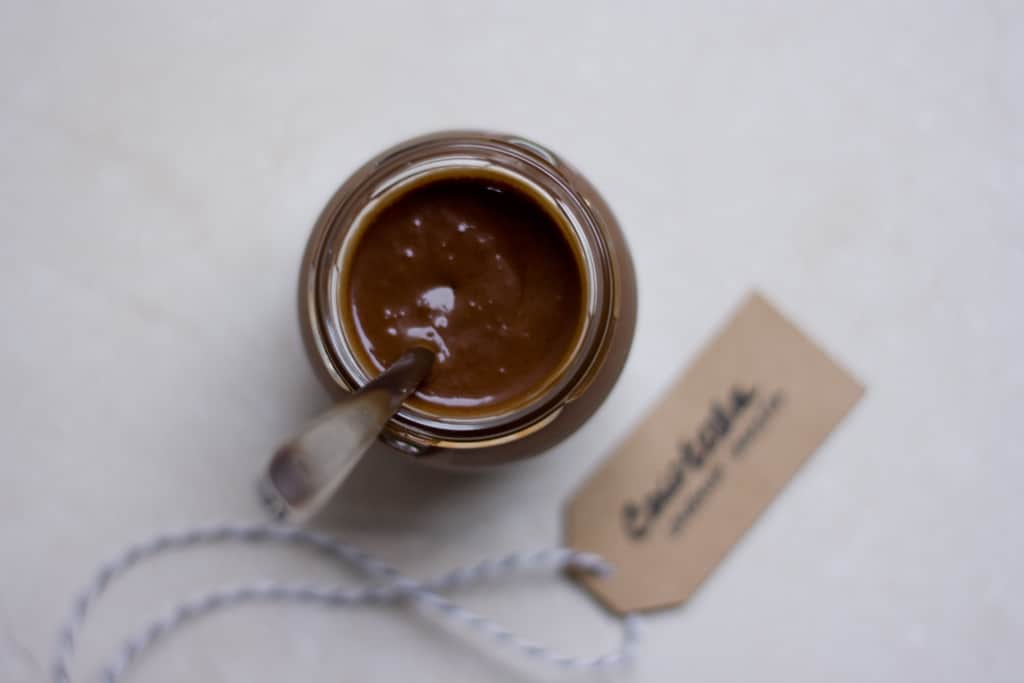 I love getting gifts for people, but am not very good at it.  Someone told me a long time ago that the key to finding a great gift was to get something that you would want for yourself.  Not the best advise for me as I literally like anything that comes tied with ribbon.  I love those teeny tiny notebooks that no one ever knows what to write in, lip gloss in every shape and color (no matter if it doesn't match my skin tone), trinkets and souvenirs that have no use or function, even books I know I'll never read! I just love stuff, a trait I get from my grandpa who rarely ever leaves a store empty handed. There have been, of course, gifts that stand out in my memory, ones that were useful, personal, and more meaningful.  Ample thought was put into those gifts concerning who I am and what I would really like. Those are the gifts I want to give but fail miserably at when I go to a store. The solution that I've come up with is to make something in the kitchen. Within that space, I'm more focused and better at concocting gifts that are not only thoughtful and individualized, but a little more personalized.  Plus, who doesn't love a homemade treat!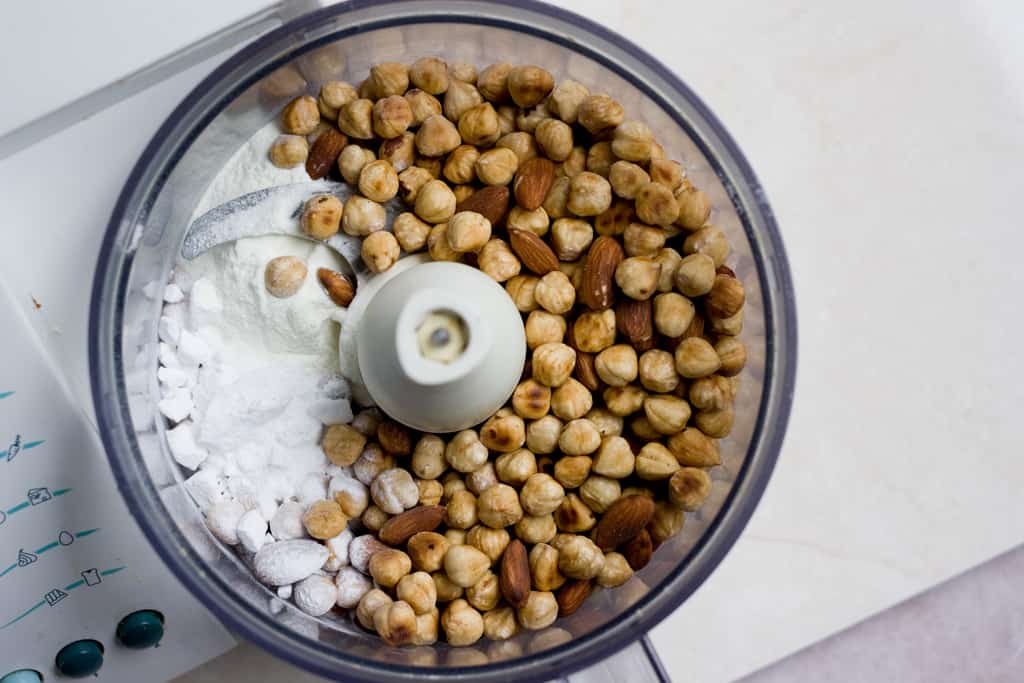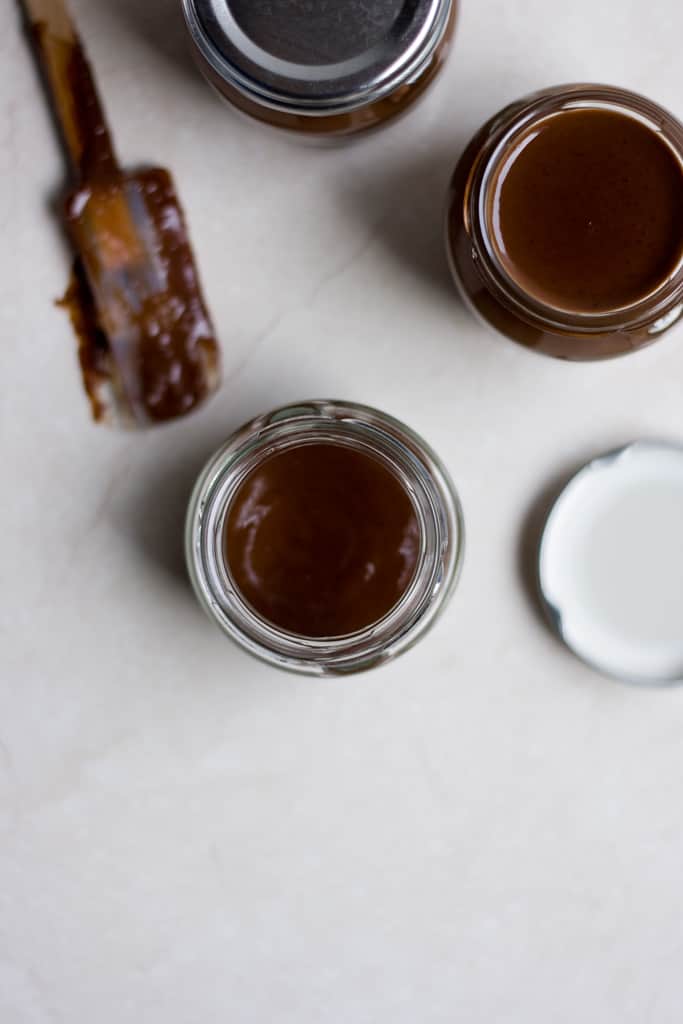 With that mindset, I wanted to make a thank you/goodbye gift for my coworkers before I leave the office. I'm still working for the company but as a free agent, and so won't be seeing everybody everyday anymore. It was hard to figure out what would work as a good gift that anybody/everybody would like. I wanted it to be a little more special than the regular old baked good.  By chance, I came across a homemade nutella article and knew immediately that that was the route I wanted to take. I don't know anyone who doesn't love Nutella and if it's homemade? Even more, right?!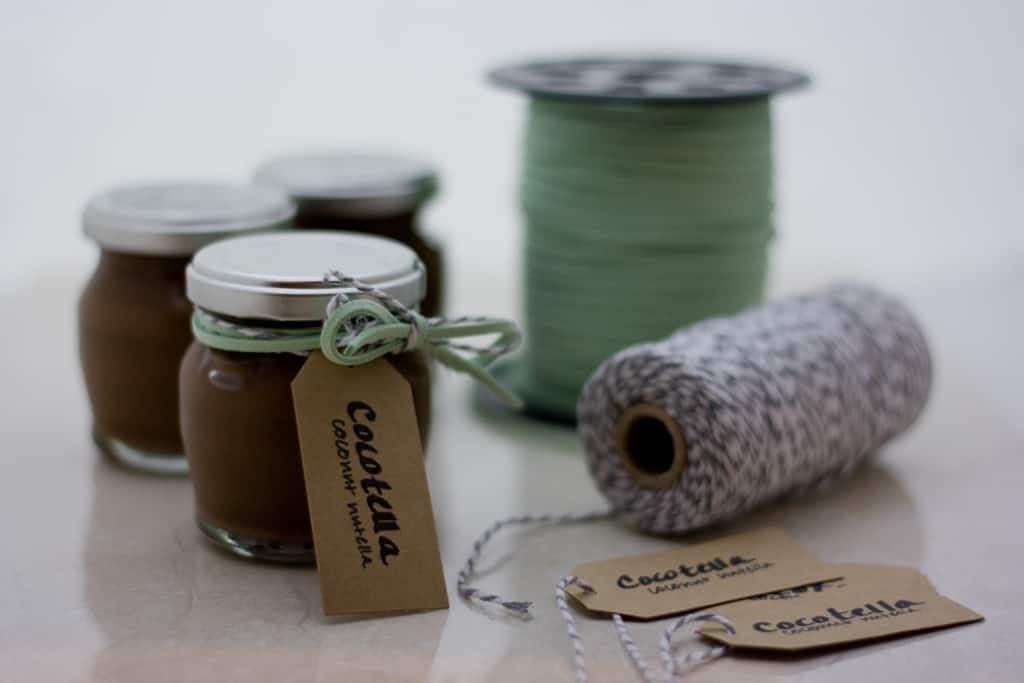 Nothing compares to the world famous original, so I tried making mine different by using coconut milk and a little bit of coconut oil…except it didn't end up tasting that different, haha. The coconut is very subtle, at least to me, and after trying out a few different consistencies I decided I wanted it to be as close to the original as possible: creamy and almost spreadable when refrigerated. It would've been great if it was vegan, at least that part would have made it a little different, but it's not.  I used a little bit of milk powder to enhance the milky flavors, but I'm sure it can be excluded without huge repercussions. I would, however, say that the homemade version tastes more "rustic." Food processors for the domestic kitchen aren't as powerful as industrial ones, so the nuts don't grind as finely.  There are little grains that speckle the spread throughout, but I quite like it. And I'm hoping all my coworkers do too!  Afterall, who doesn't love rustic?!?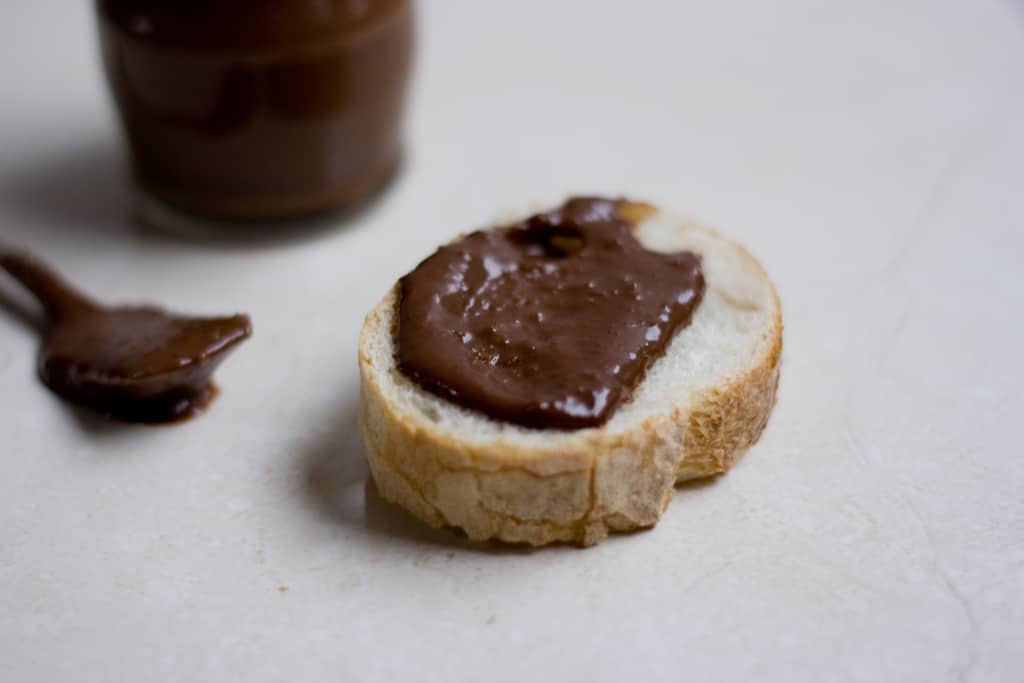 The recipe is easily doubled.  I actually made four times the recipe to make 16 mini jars of about 100 ml in size.
Cocotella
Inspired by here
Makes enough for 1 medium jar
20 g almonds
80 g hazelnuts
8 g confectioners' sugar
8 g powdered milk
Pinch of salt
7 g coconut oil
190 g coconut milk
75 g dark chocolate
75 g milk chocolate
Toast almonds and hazelnuts on the stove top.  Place nuts in a cold pan and heat over medium low heat.  Stir nuts often to ensure even toasting.  The nuts are done when fragrant, about 20 minutes.
Melt the chocolate in a water bath.  In another saucepan, heat coconut milk until it just comes to a simmer.
Place nuts, confectioners' sugar, powdered milk, salt and coconut oil in a food process.  Grind until fine. Add the coconut milk and combine.  Add the melted chocolate and process until thoroughly mixed.  Pour in a clean jar and keep refrigerated for up to 10 days.
Recipe ideas with Chocolate:
Chocolate Speckled Jasmine & Orange Financiers
Goodbye Brownies with Passion Fruit & Toffee
Other recipes with Coconut Oil:
Chia Seed Waffles
Lemon Berry Tart a la Coconut Oil
Simple Stove Top Granola

More Nuts!:
Banana Almond Bread 
Chia Seed Waffles