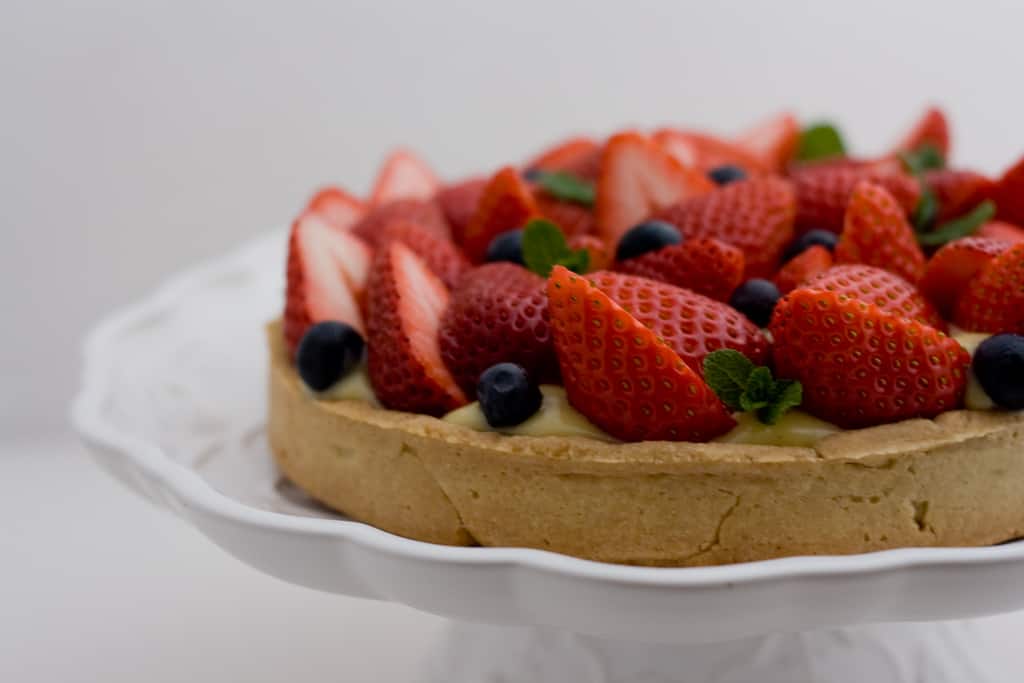 Last weekend we had planned to host a dinner party for family friends, but unexpectedly had to postpone when one of our guests became bedridden with pneumonia. I was totally bummed we had to cancel…obviously because our family friend was sick…but also because I was really looking forward to making this tart.  The lemony crème pâtissière topped with fresh berries is perfectly balanced: not too sweet or cloyingly acidic. I made it on a whim last year and it was one of the most memorable desserts I made in 2013.  I was about to resign to the fact that I would have to write about it another time when I thought, why not make it anyways? Dinner party or no dinner party, everybody could use a sunny pep right now. We're approaching the last bit of winter but spring could use a little beckoning with this zingy dessert.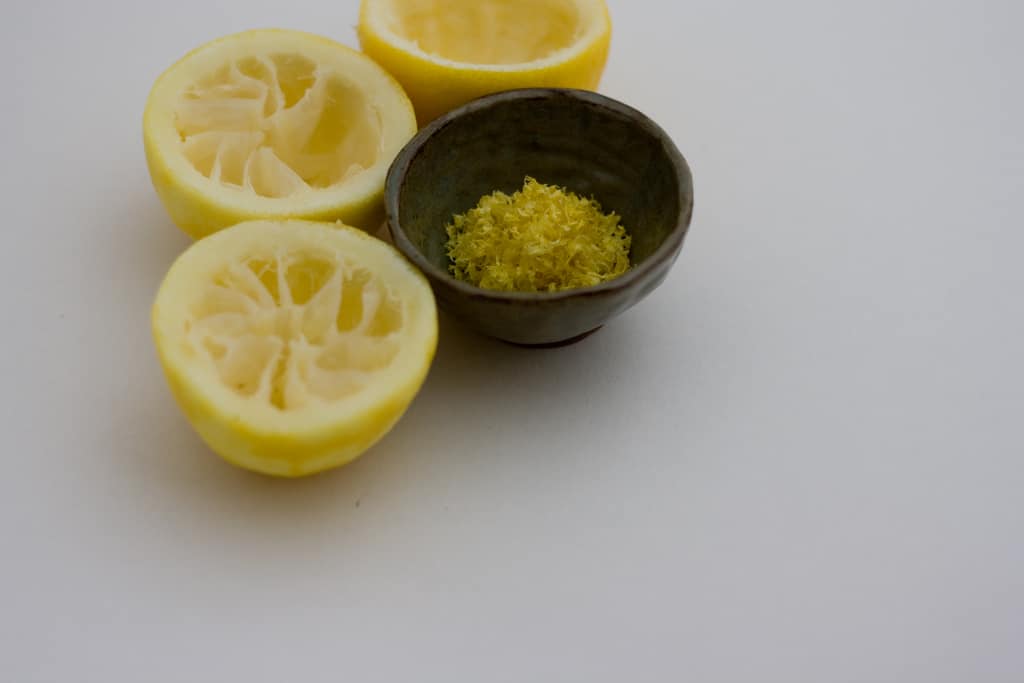 Originally I had planned on making this dish exactly the same as before (stick with something you know when hosting a dinner party!…I wish I could say I follow that rule to a tee, would have saved me a few embarassing moments), but decided to play around with the recipe instead.  I've been hooked on coconut oil (note: this is the third consecutive recipe post featuring C.O.) but haven't seemed to get past the easy substituting into quick batters and stir fries. I had read in a few places that the low melting point made C.O. harder to work with than butter, especially in pastries, but wanted to give it a shot anyways. With no dinner party to uphold, disaster could totally be an option.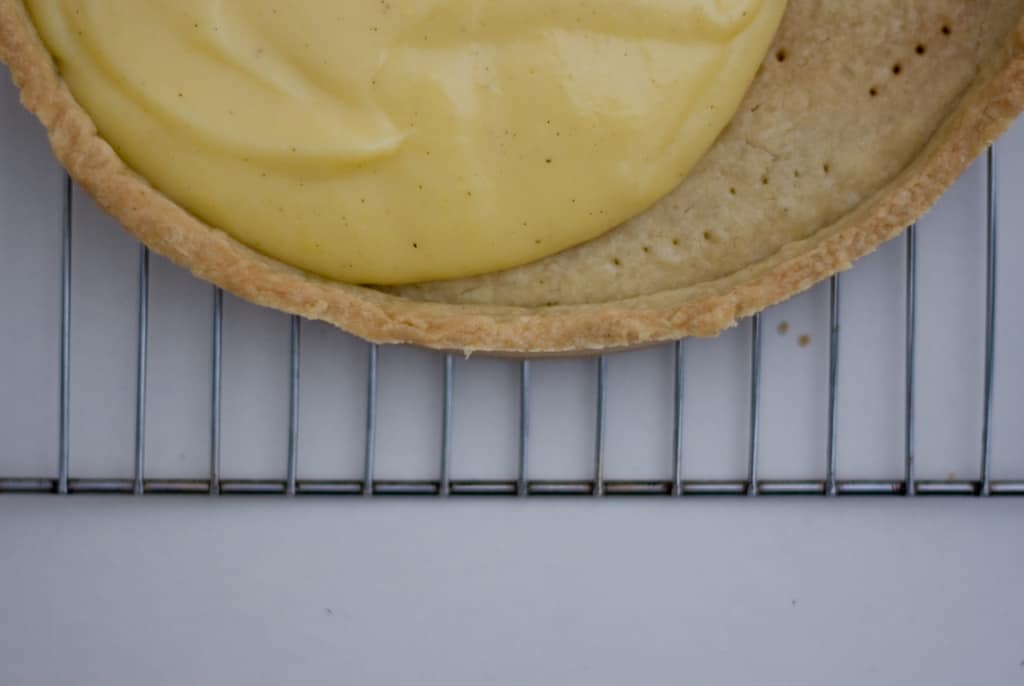 Although confident up front, those internet voices cautioning users against being overzealous with C.O. kept running through my head.  The pâte sucrée is going to be like that time I had to make gateau basque for my pastry exam, and the lemon curd is just not going to taste the same without butter! But to my surprise, everything ran smoothly.  The tart crust was a little finicky, but easily manageable, and the citrus curd superb! Some people got a hint of coconut and others not so much, but everyone raved about how great it tasted. Take that underachieving-C.O.-users!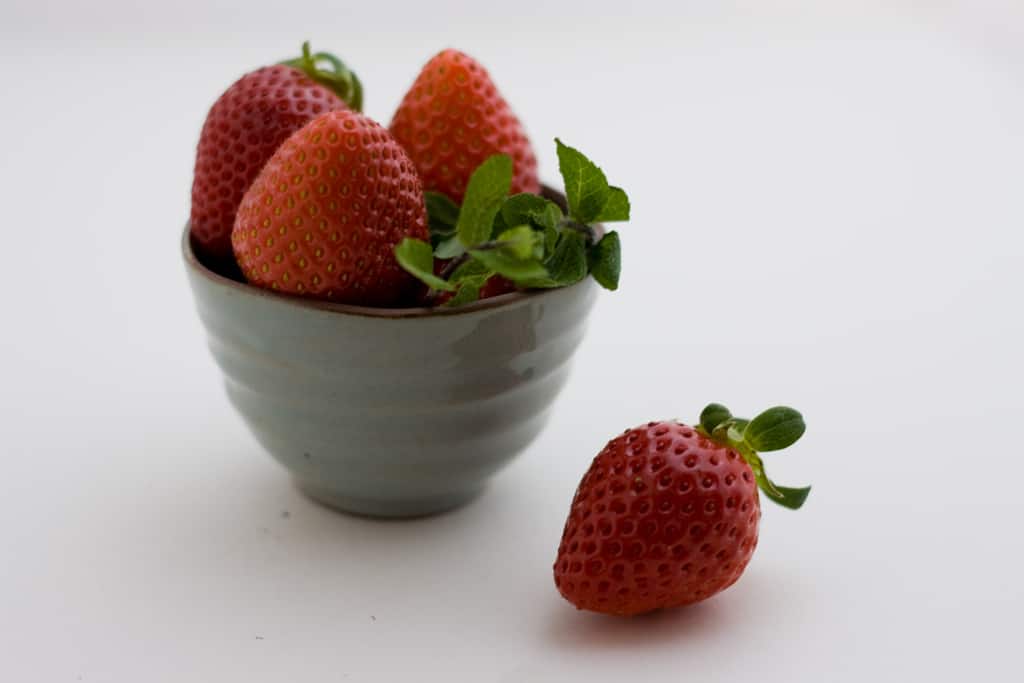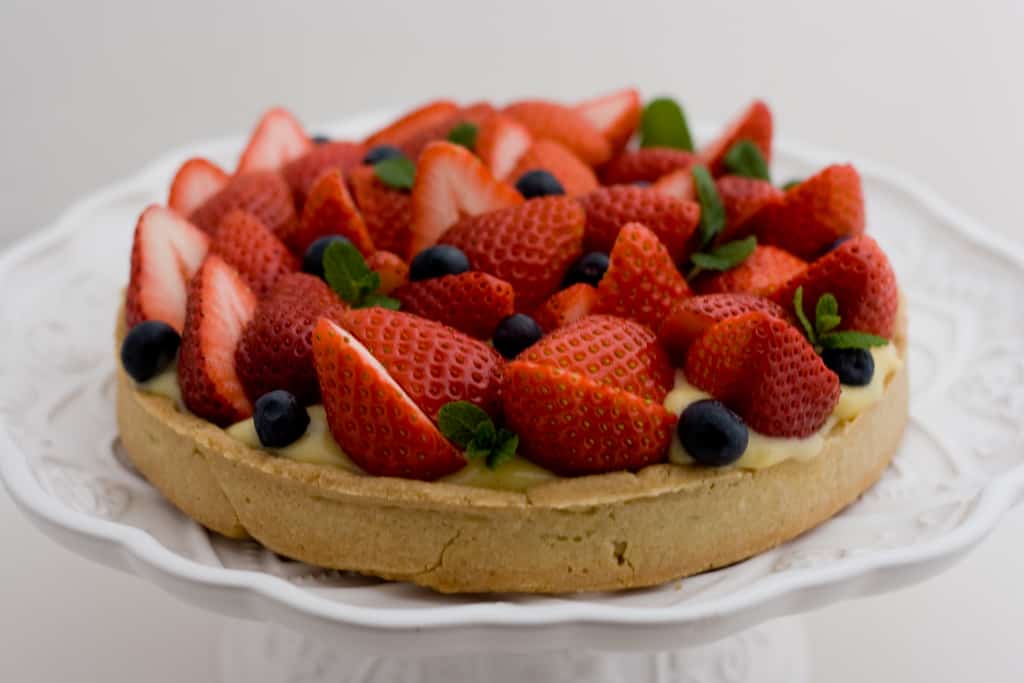 It might still be too early in the year to declare this tart as the dessert of 2014, but I think it will definitely hold strong until the end.  It's too bad our dinner guests didn't get to try this little keeper, but I'm sure I'll have another opportunity to make it for them…or just for me again.  Maybe next time I'll try garnishing with citrus segments…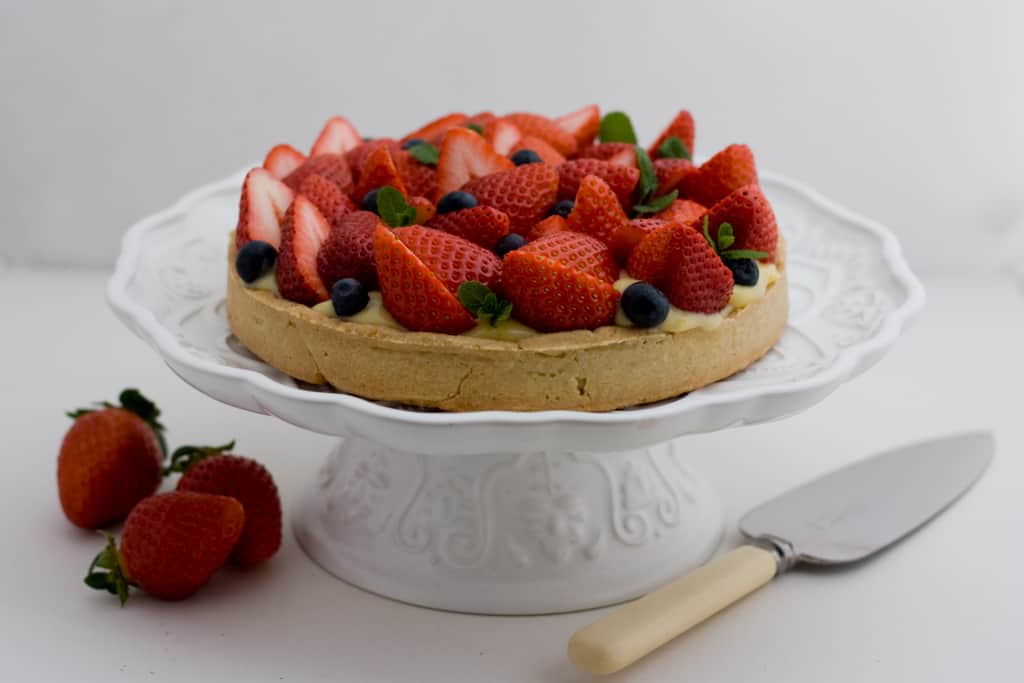 It's not quite strawberry season for the rest of the world, but in Korea berry picking is well under way!  These fruits are mostly raised in greenhouses so the seasons have totally switched from spring/summer to winter/spring
Berry Lemon Tart à la Coconut Oil
Makes 1 tart
Pâte Sucrée a la Coconut Oil:
180 g flour
20 g almond flour
20 g sugar
4 g salt
100 g coconut oil, cold
1 egg
20-30 ml water, cold
Vanilla
Crème Citron (Lemon Curd): adapted from here
35 g coconut oil
1 1/2 lemons- zest 1 lemon, juice 1 1/2 lemons
60 g sugar
2 eggs
4 g cornstarch
Crème Pâtissière: adapted from here
150 ml milk
35 g sugar
1.5 egg yolks
15 g flour
Vanilla
Garnish:
Strawberries
Blueberries
Apple Mint
In a food processor pulse together flour, almond flour, sugar, and salt.  Add coconut oil in small spoonfuls and pulse until sandy.  Add the egg and vanilla and roughly combine. Add the water one teaspoon at a time until the dough forms into a ball. Form into a disc, wrap in plastic, then refrigerate for a few hours or a couple of days.
Preheat oven to 170 degrees C or 340 degrees F.
Butter a tart ring.  Roll the dough out on a floured surface to 3-5mm, and line the tart ring. Prick with a fork then place in the fridge for 10 minutes to set. Once cold, place a sheet of aluminum foil on top of the tart dough and fill with pie weights or dried beans. Bake for 20 minutes, then remove weights and bake for another 15 minutes or until golden brown.
Cool completely.
To make the lemon curd, place coconut oil in a saucepan.  Place on heat.  While coconut oil is melting whisk together the eggs, sugar, and cornstarch.  Add the egg mixture to the melted coconut oil, mix, then add the lemon juice and zest.  Whisk over heat until thickened, about 2-3 minutes. Pass through a sieve into a clean bowl and set aside.
Make the crème pâtissière by heating the milk in a saucepan.  Meanwhile, whisk sugar, yolks, flour, and vanilla together.  Once milk is almost at a simmer, pour over the yolk mixture, mix, and pour back into the saucepan.  Place over medium heat, whisking continuously until thickened, about 4 minutes.
Fold the lemon curd and crème pâtissière with a rub spatula until thoroughly combined and pour into the cooled tart shell.
To finish, garnish with fresh berries and mint.
Other recipes with Coconut Oil:
Chia Seed Waffles
Simple Stove Top Granola