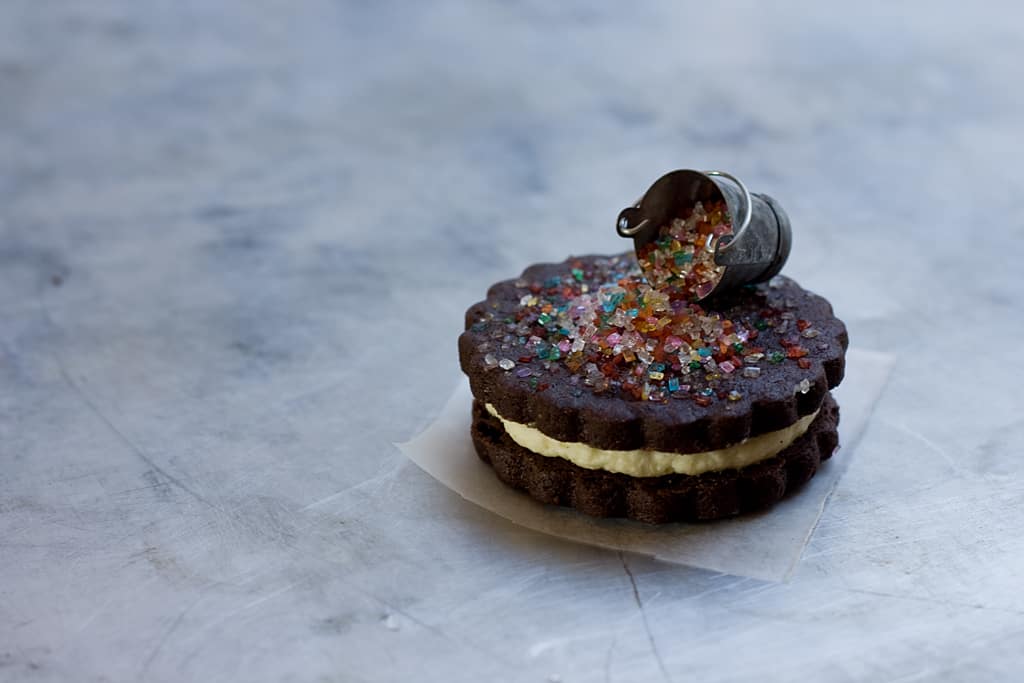 My favorite cover of the now defunct Gourmet magazine is a red December issue featuring a variety of holiday cookies and sweets.  I bought the issue at a time when buying magazines were still a big deal to me.  It wasn't that I didn't have a few extra dollars to spare, but just that I valued the content of a monthly publication just as much as a cookbook worth ten times more.  I'm not as frugal when it comes to purchasing food publications anymore.  I probably buy cookbooks more often now than I bought magazines back then, but I do find that the books and periodicals I took a lot of time pondering over, sometimes for days and weeks at a time, are the ones I come back to most often.  With all the content available online now, the value of holding onto one magazine issue isn't as high as it used to be, but still every winter, right before Christmastime, I go back to this red December issue of Gourmet and find inspiration from it over and over again. This year, the second cookie from my cookie box is the double chocolate cookie featured beautifully as part of the cover spread. I've been tempted to make these for awhile now…more accurately since I first laid eyes on this issue, but not until this year that I muster my way around to it.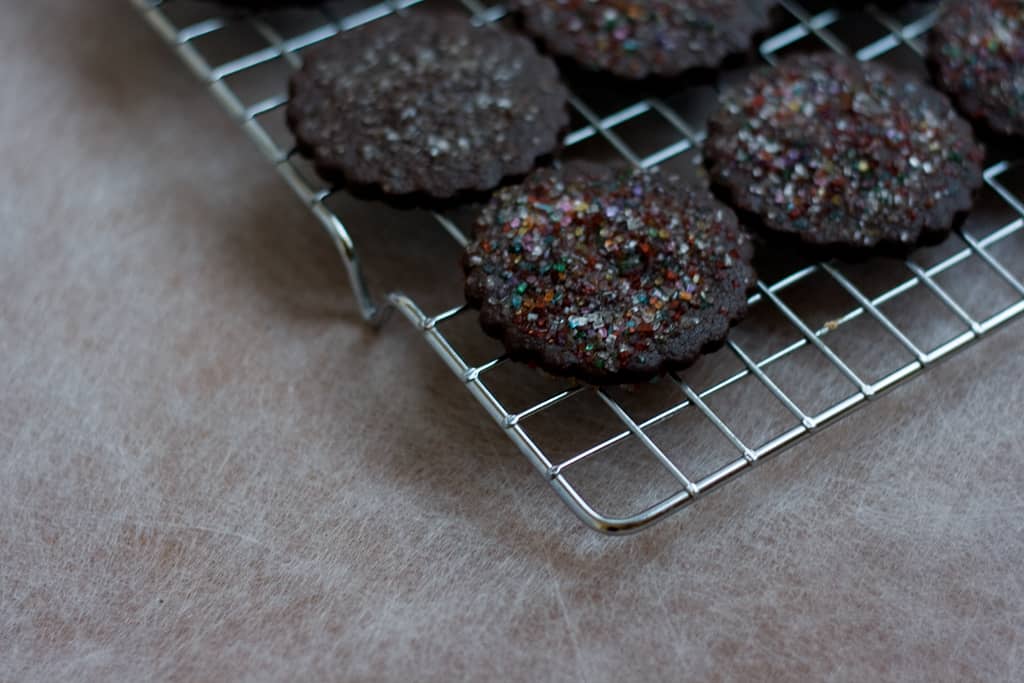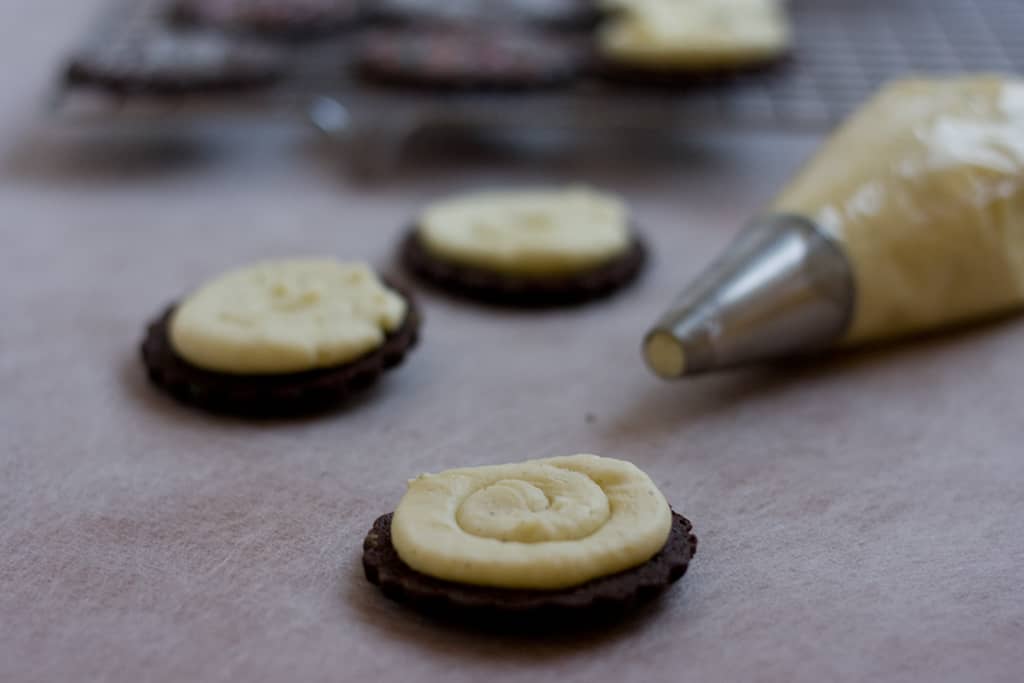 One of the reasons why I think it took me so long to make these goodies was because there are a lot of comments online that warn you about the difficulties in baking these cookies. But I tell you, from experience,  please ignore them all! The recipe is totally doable, and not at all advanced.  There are just a few more steps involved, but nothing a seasoned or novice cookie baker cannot do.  In essence these are just like oreos but jazzed up, the haute version if you may. But aside from all the sparkles and fine ingredients, it really is a very approachable recipe and not at all like what the comments say.  The key is to just take your time and as many "chill" breaks as needed when the dough gets too soft.  If those two rules are followed, these cookies are a piece of cake!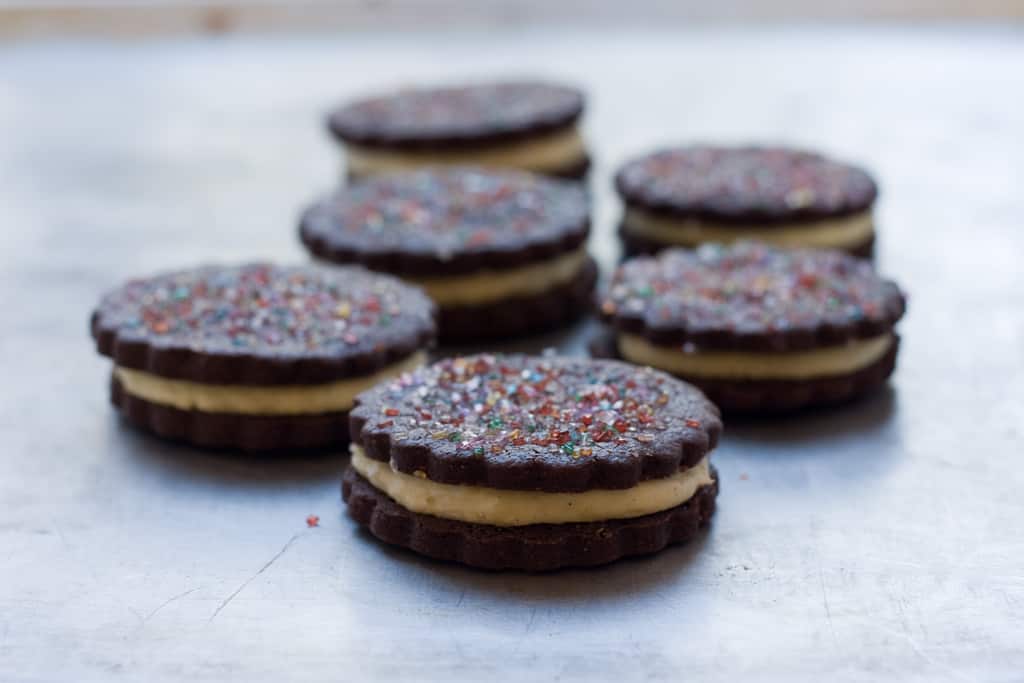 I made mine almost exactly like the Gourmet version, except they are bigger and are decorated with rainbow colored sugar  instead of just red.  I figured, because I made such a huge batch (x5 to be exact!), some, just some might tide me over to New Year's Eve. I might as well make them festive, not just Christmas-y.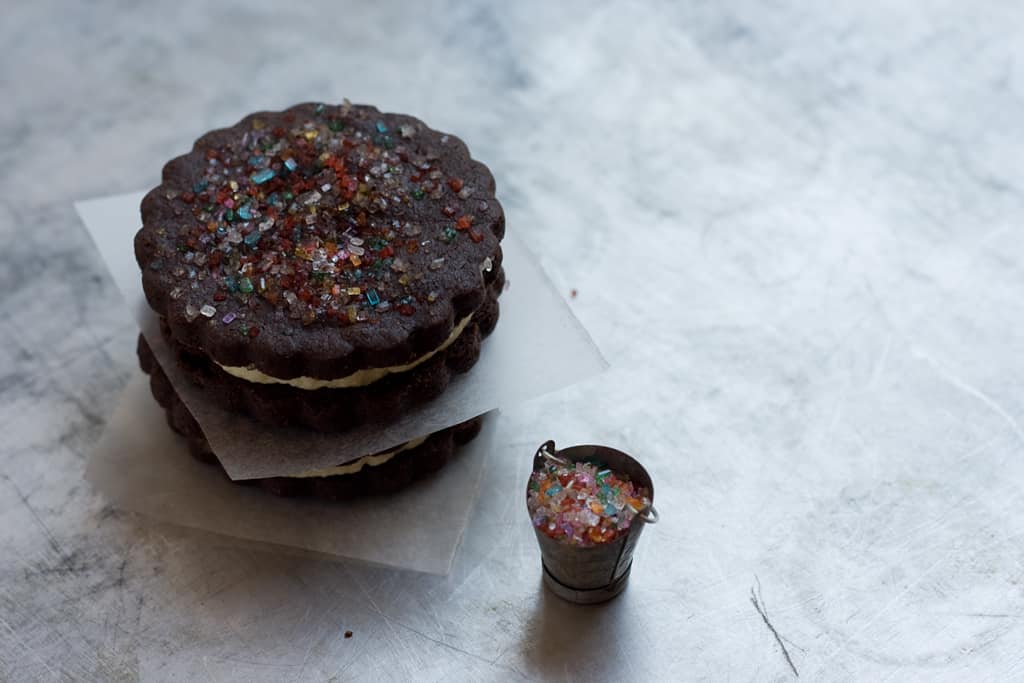 Double Chocolate Sandwich Cookies
Adapted from Gourmet
Makes between 22-42 cookies depending on size
Chocolate Wafers
260 g flour
60 g cocoa powder
2 g baking powder
2.5 g salt
226 g butter, softened
150 g sugar
1 egg yolk
Vanilla to taste
Ganache Filling
80 ml heavy cream
18 g corn syrup
225 g white chocolate melted
18 g butter, softened
Vanilla to taste
To make the chocolate wafers, whisk the flour, cocoa powder, baking powder, and salt together.  In another bowl cream the butter and sugar until light and fluffy. Add the egg yolk and vanilla. Mix until incorporated. Add the flour mixture to the butter and combine until the dough comes together.  Divide the dough into two discs, wrap with plastic, and chill for 2-3 hours, overnight, or up to three days.
Make the ganache by heating cream and corn syrup together.  Once it comes to a simmer, take off heat.  Stir the cream into the melted white chocolate.  Add the butter and vanilla.  Chill for 30 minutes.
Preheat oven to 350 degrees F or 170 degrees C.
Bring cookie dough out of fridge 30 minutes before rolling.  Once workable, roll to 0.3 or 0.4 cm thick. If the dough becomes too soft, move to tray and place in the freezer for a few minutes.  Cut out as many rounds as possible (I used a 6 cm fluted round, Gourmet used a 4.4 cm one) and place on a parchment lined baking sheet.  Combine scraps and form into a ball.  Chill in the fridge for 10 minutes and re-roll one more time.  Repeat with second disc. When the rounds are all ready, chill in the fridge for a few minutes.  Right before baking sprinkle with decorative sugar.  Bake for 10-12 minutes, rotating the baking sheets around in the middle.  Cool completely.
Once the cookies are completely cooled, prepare ganache by beating with an electric beater until light and fluffy.  Place into a piping bag and pipe onto half the cookies.  Sandwich together with the remaining rounds.