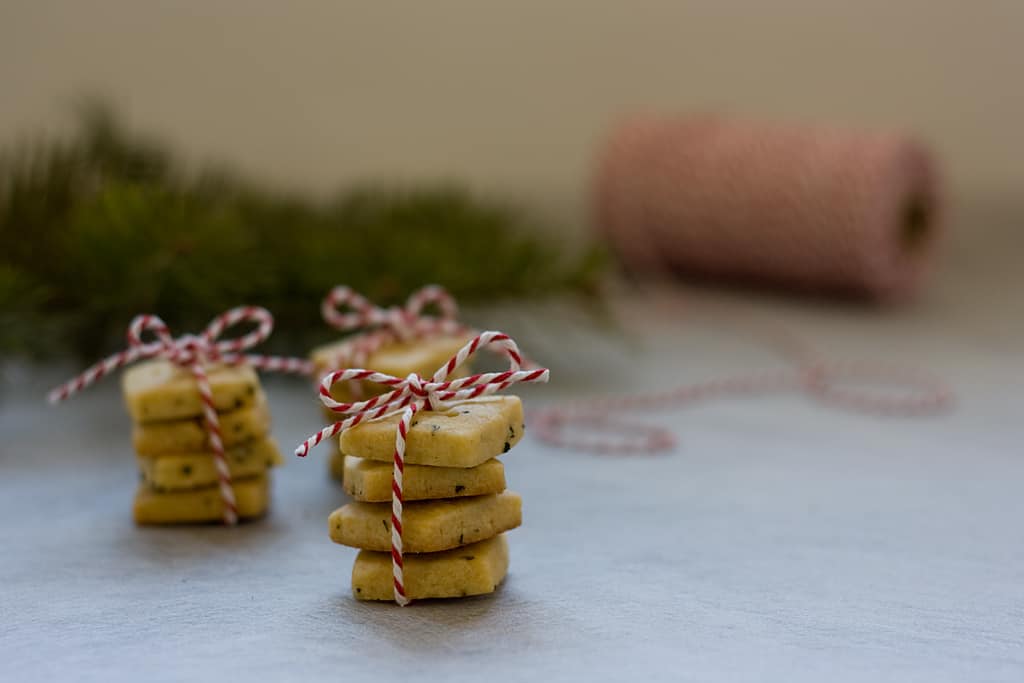 It's become a little tradition of mine to bake Christmas gifts for family and friends. I have to admit, homemade gifts are a lot of time and effort,  but the joy I get from seeing someone enjoy something I've made pales in comparison to the sweat that goes into it!  There are an endless amount of ideas as to what to give for the holidays, but this year I decided to be traditional and make cookies.  During the few days left leading up to Christmas I'll share with you the trio of cookies I made for my gift box.  Here is this first, my favorite rosemary shortbread.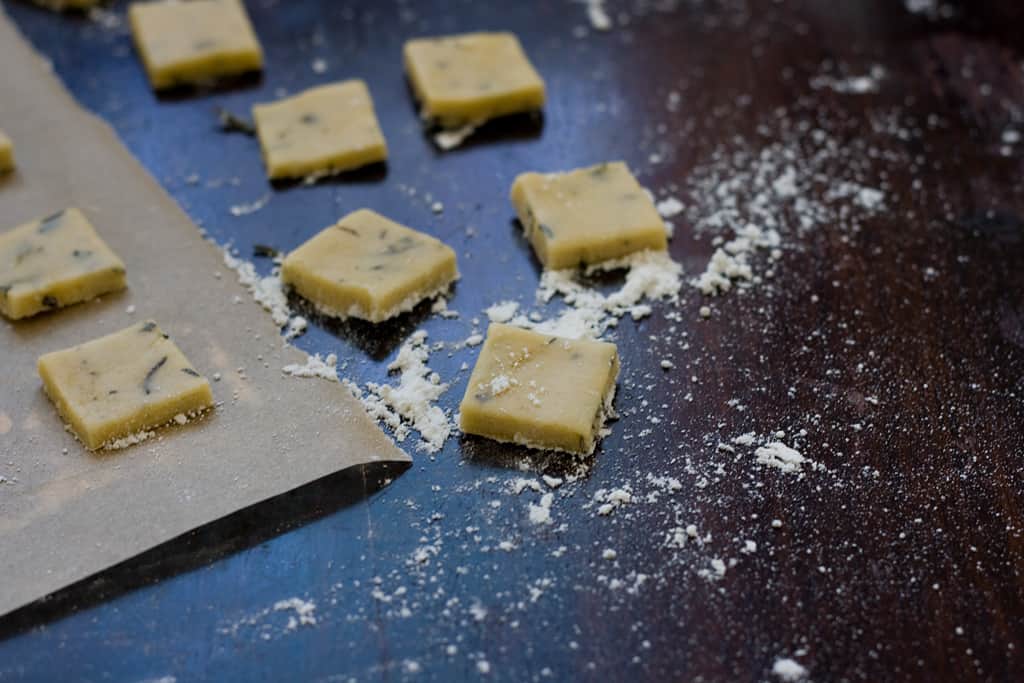 I came across this recipe earlier this year and have made them several times with success since. The shortbread is slightly sweet and pairs nicely with the savory flavors of rosemary. Nutty and fragrant, it's a great inclusion to an otherwise sweet-sweet-sweet cookie box. The dough is easy to put together and can easily made into different shapes. Here I've cut them into small coins, but I've also made them bigger and have also even just pressed into a free-form round, all with great results.  Although I've included them in a cookie box, I also imagine them going well on a cheese plate at a holiday part, or as a light before-meal nibble with drinks. The cookie can stand alone, but can also work well paired with others.  It's versatility and flavor is why I've come back to it so often.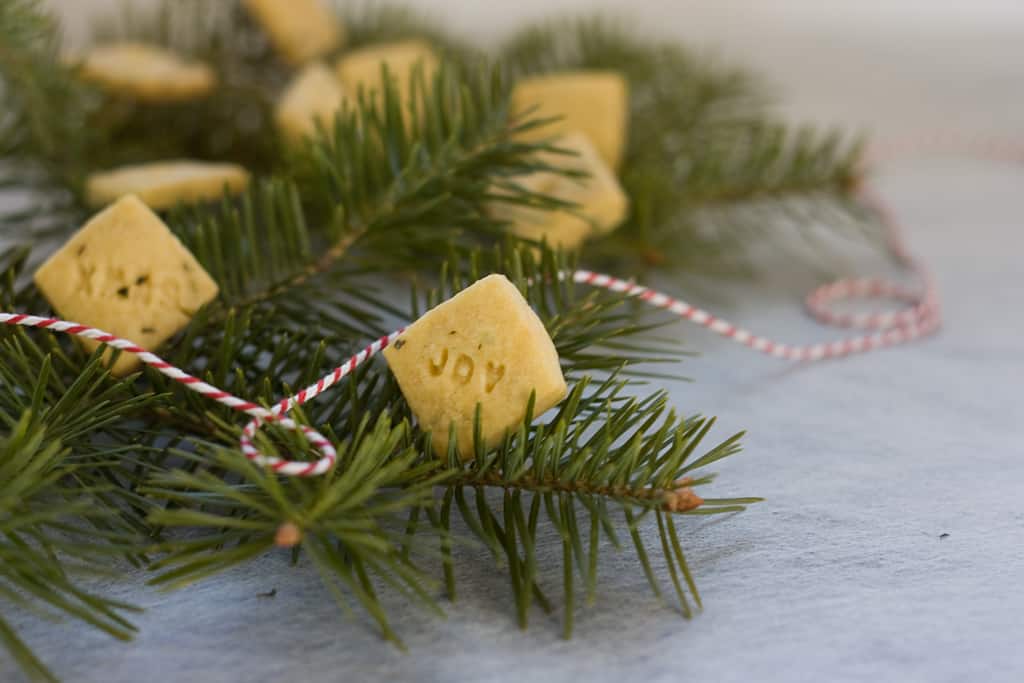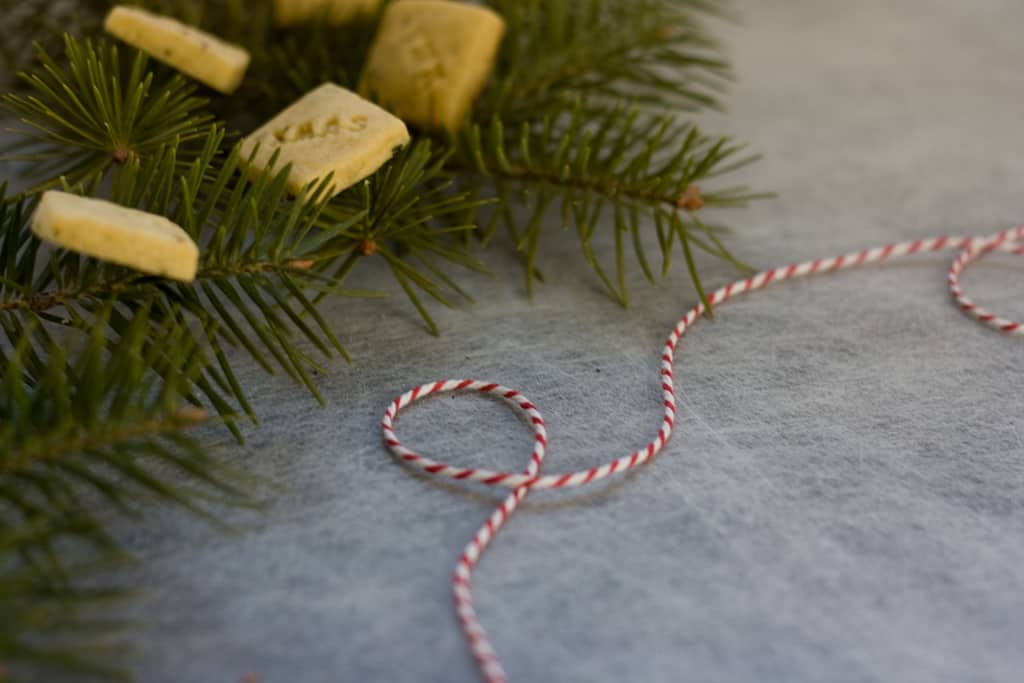 It's such an easy recipe that I hope some of you are inspired to include it to your holiday prep.  It's so simple that, yes!, it can be shimmied in at the last minute three days before Christmas.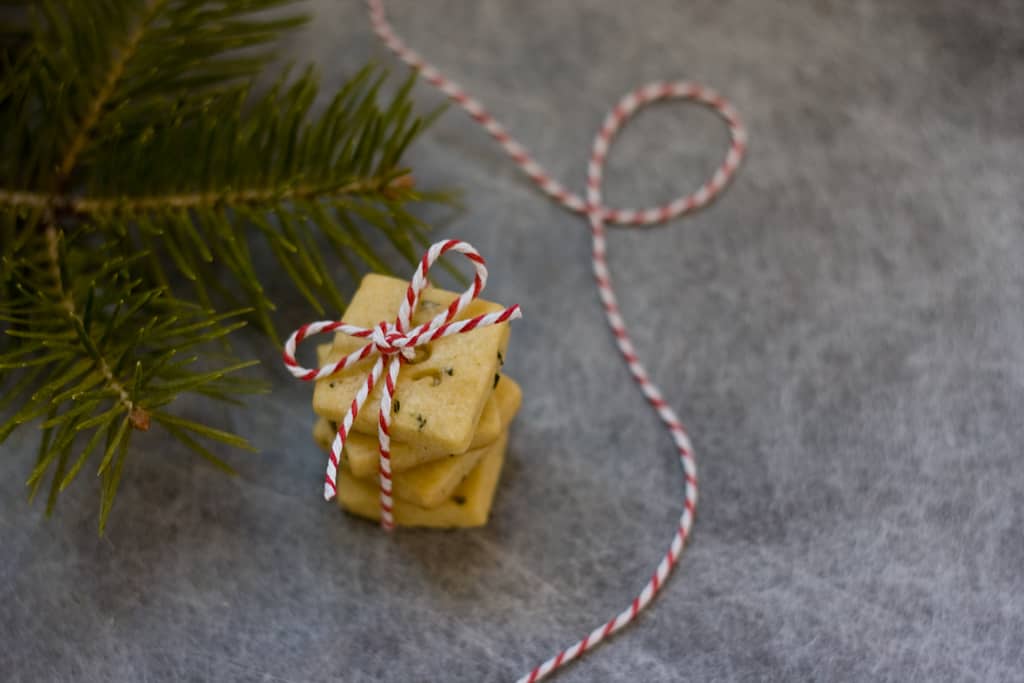 Rosemary Shortbread
Adapted from Home Made
280 g butter, room temperature
100 g sugar
36 g honey
430 g flour
18 g baking powder
5 g salt
19 g rosemary, chopped
Whisk flour, baking powder, salt, and rosemary together. In another bowl cream butter, sugar, and honey. Once the butter is light and fluffy, and the flour mixture to the bowl.  Mix until the dough just comes together. Divide into two rounds. Wrap and chill for 2-3 hours, overnight, or up to 3 days.  It can also be frozen for up to a month.
Preheat oven to 340 degrees F or 170 degrees C.
Bring the dough out of the fridge 30 minutes before rolling.  Once the dough is workable, roll to desired thickness (I like mine between 3 and 4 mm). Cut as many cookies out as possible.  Place on a parchment lined baking sheet, about 3 cm apart. Combine scraps and re-roll.  If possible, re-roll just one more time.  If the dough is too soft, place in the fridge for a few minutes.
Bake for 10-15 minutes, depending on size. The cookies are done when the top is golden brown and the bottom a little tan.