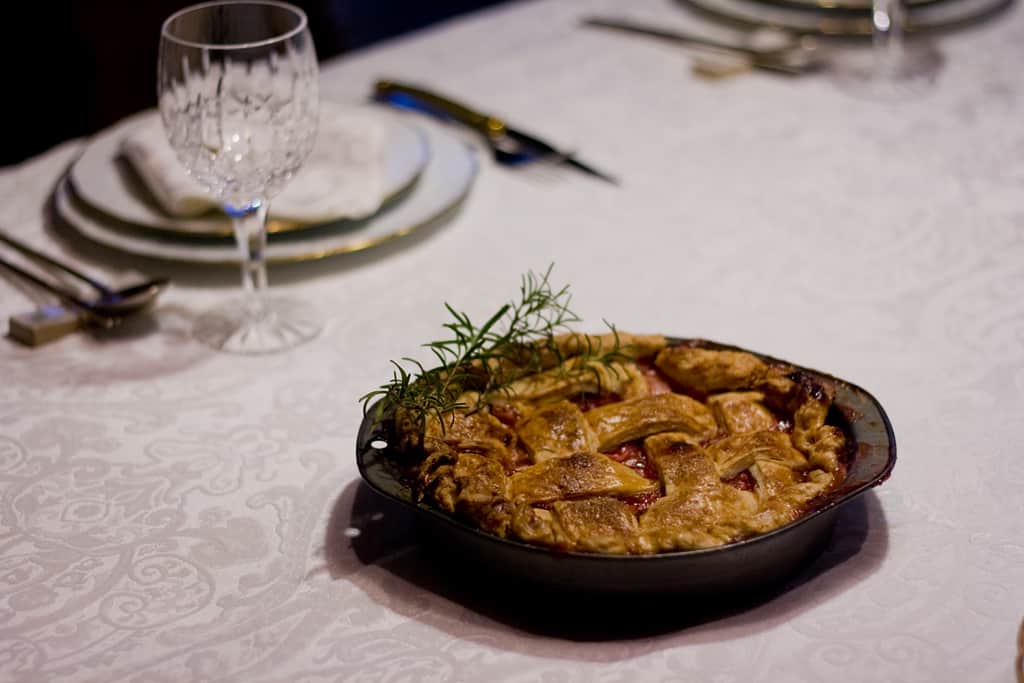 A big part of my  job has to do with (re)searching.  I'm constantly looking for new ideas, looking at other shops for inspiration, and checking a variety of sites to see what's going on around the food-o-sphere… in other words I do a lot of web surfing.  There are quite a few threads and trends going on right now, but one that has really come into full storm is pie, specifically pies by this shop. I had read a couple years ago that pies were going to be the next "it" thing and that time definitely feels like right now.   Oddly enough,  until this post I had never made a pie before.  I know!  Never made pie before.  There have been tarts, cakes, and cookies, but never pie.  I think subconsciously I was a bit scared about attempting this dish. Pie is so all-American, and I am so not.  I've lived in the states for a good portion of my life, but I've never really felt like I was fully a part of that community. I kind of float around somewhere between American, or rather North American and Korean. Neither one defines me completely. Pie dough also seems way harder than making a tart shell.  Tarts are more sable cookie-ish while pies are flaky and crisp, much more difficult to achieve!  The list can go on, but as those two thoughts dominated the idea of pie in my head I randomly came across The Four & Twenty Blackbirds Pie Book.  I'm a big believer in fate and "things happening for a reason," so I took it as a sign. Subconscious pie fears must be conquered!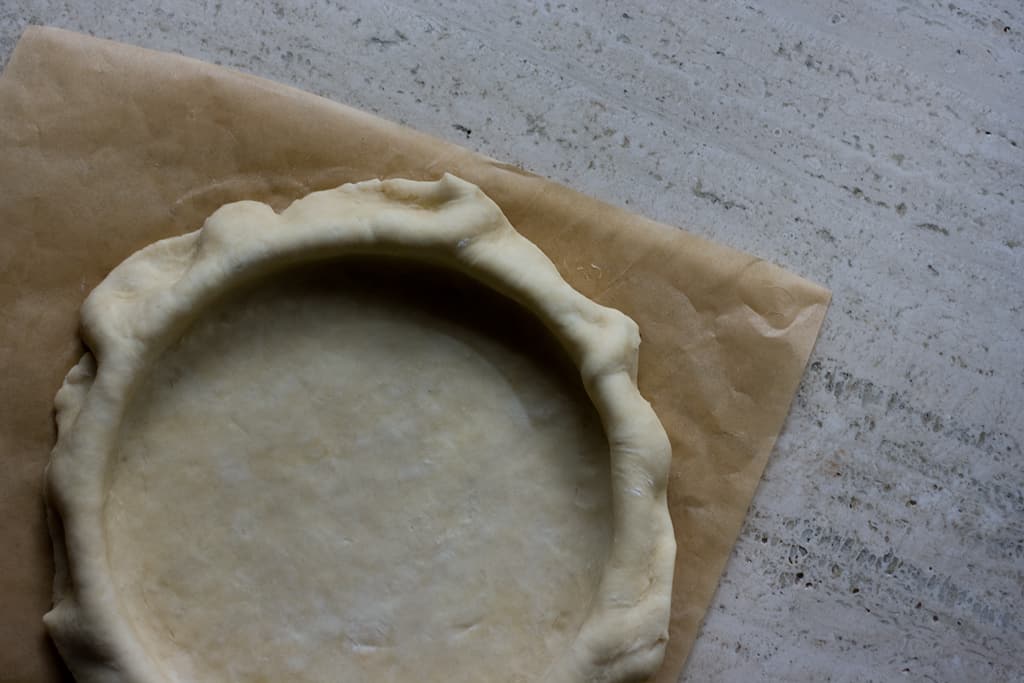 The attempt was…kind of a success. Visually I think it hit the mark.  Lattice top and caramelized edges scream rustic, which by the way is another trend at the moment.  But somehow the flavors and crust didn't fall through for me.  I think the recipe is good, but my execution was off. For starters, I had to make the crust twice, because the first time it came out too sticky, almost soggy. I did the exact thing the book told me not to do, use a food processor.  The second time around I made it by hand and it turned out fine. I also made the rookie mistake (or maybe not even rookie, just dumb) of  lining my bottom crust in a tart ring. I should've realized that pie dishes exists for a reason…I underestimated the amount of juice in the filling. I had to transplant my pie mid baking into a round cake pan because the juice drainage was just getting out of control. It sort of messed up my cooking time, which resulted in a sub par pie crust.  Which is the worst, because the crust is my favorite part! But aside from that, I also made the mistake of decreasing the sugar content. There are times when unsweetened desserts are appreciated, but not with pie. Pies need to be super sweet!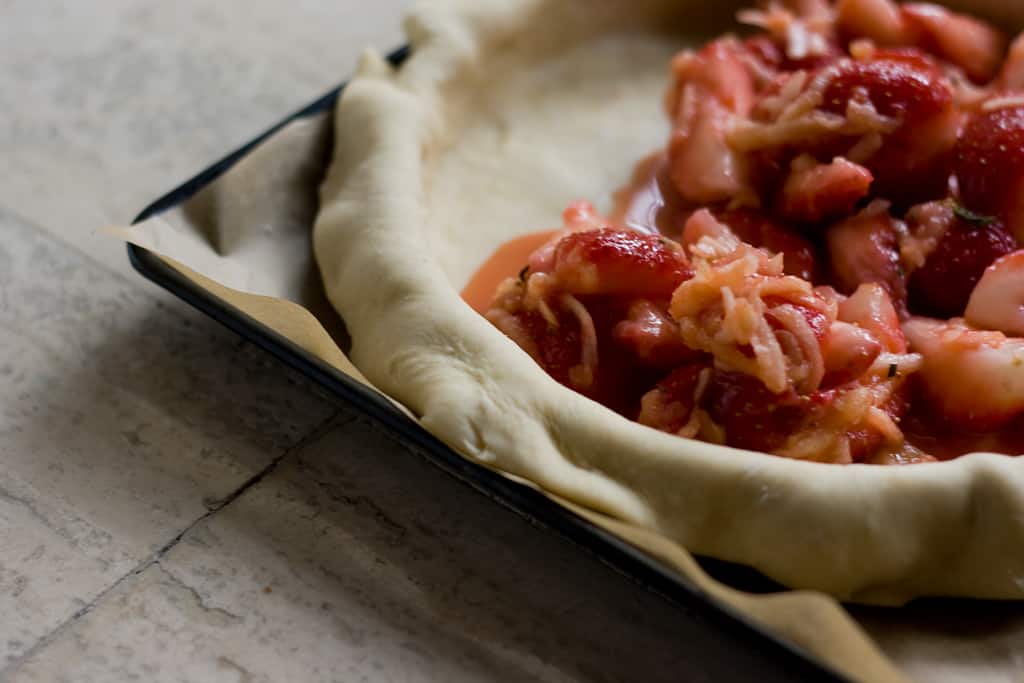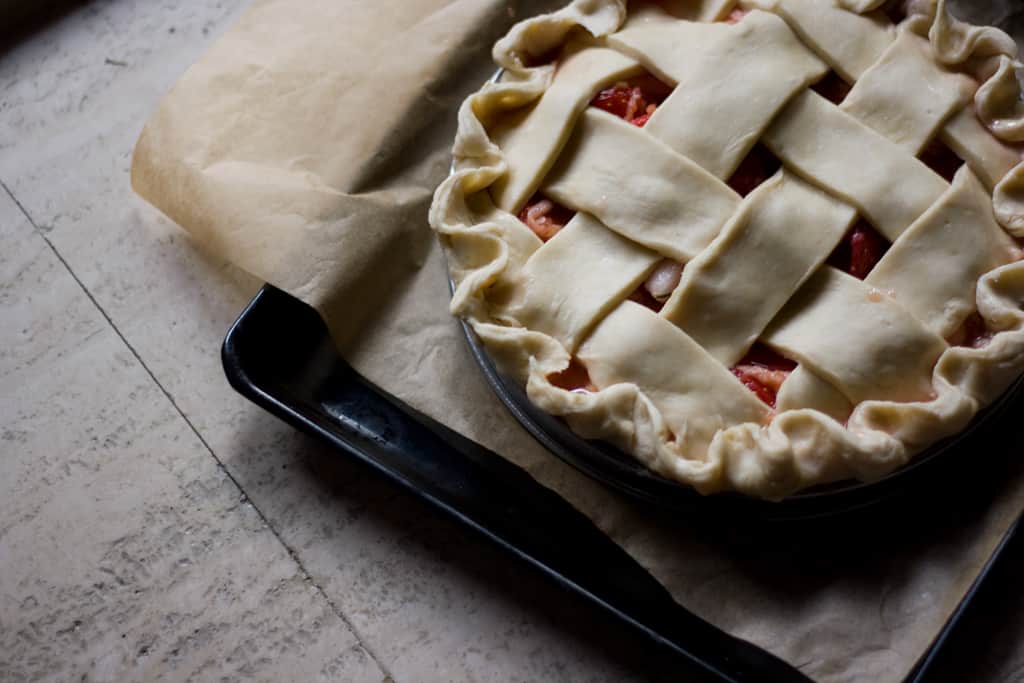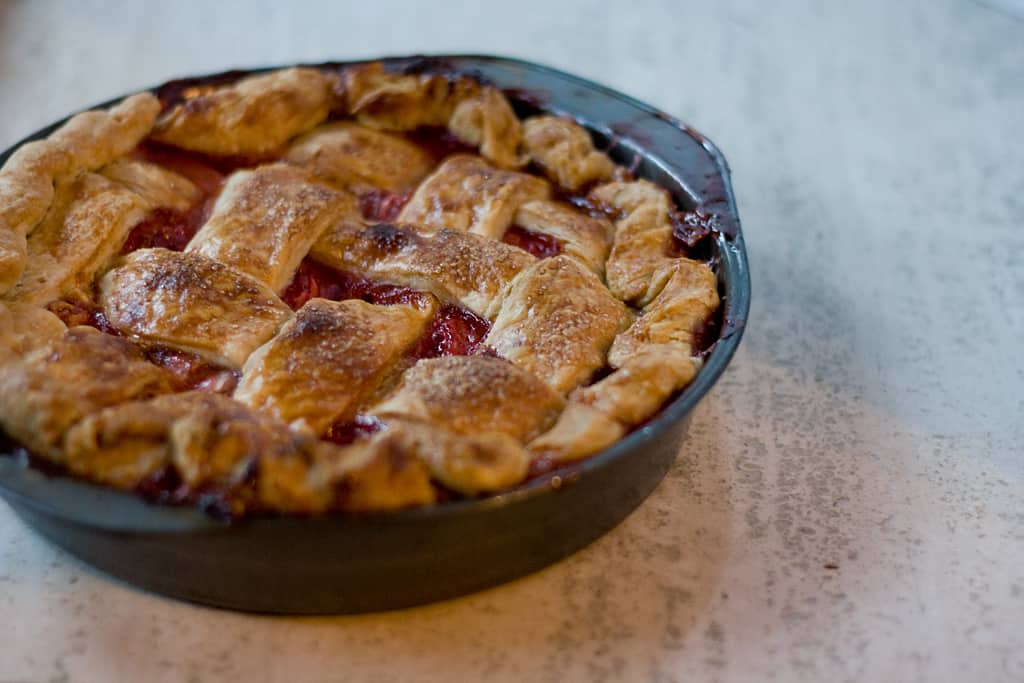 The pie was a 60% at best, but I learned a very valuable lesson.  When in doubt, follow the recipe.  I have the tendency to tweak recipes, most of the time with success, but since pie is new to me, I should have just listened to what those Blackbird girls were saying! I don't know what I'm doing.  But despite the results, I'm totally hooked.  I love pies! I love the way they look and I love the whole process of putting it together…and I love how they should taste.  Making the pie made me feel very old school and rooted in tradition.  Although not a part of my own, it is something I can greatly appreciate. I can't wait to make my next pie.  In the meantime, I have a really super duper sticky pie dough waiting to be dealt with in the freezer. Help! What to do?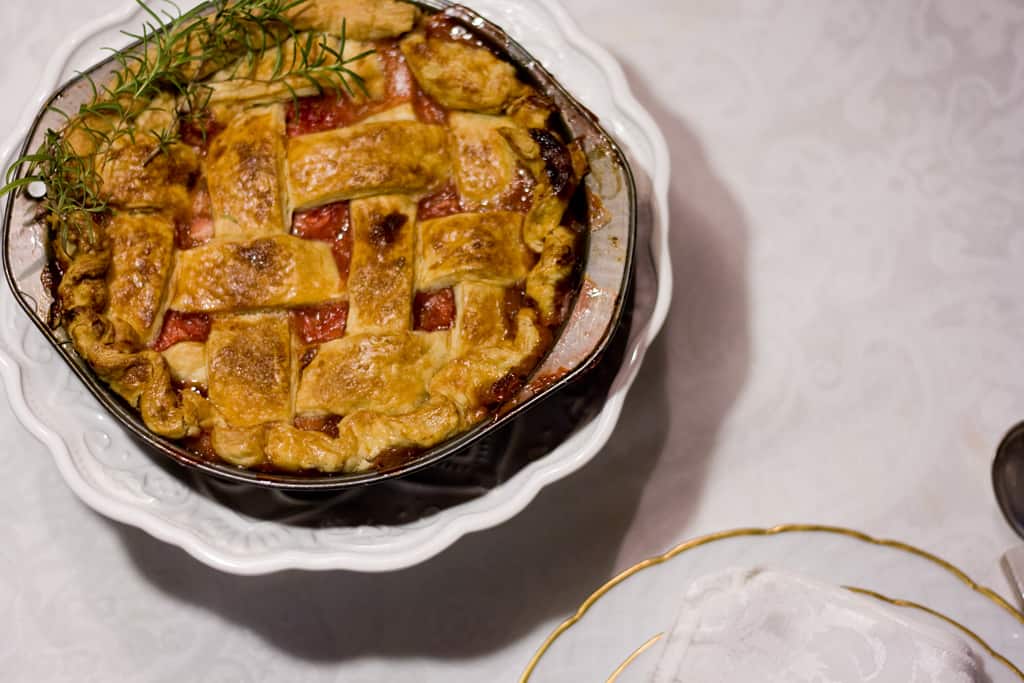 In case anyone was wondering, I included the measurements that I used for my 60% strawberry ginger pie.  The only change that I made to the recipe that I think is worth keeping is the addition of rosemary.  I thought it gave good support to the strawberry and ginger flavors.
All Butter Double Crust Pie
Adapted from Four and Twenty Blackbirds
Makes one 9-10 inch double crust pie
425 g all purpose flour
4 g salt
12.5 g sugar
226 g cold, unsalted butter cut into 1 cm pieces
120 ml cold water
30 ml fruit vinegar
4-5 ice cubes
Whisk flour, salt, and sugar together in a bowl. Add the butter and coat with flour. Using a scraper, pastry blender, or fork cut the butter into the flour. Work quickly so the butter doesn't start to melt.  The flour and butter are combined when the mixture becomes sandy in texture.  A few large pieces of butter can remain.
Combine water, vinegar and ice in a small bowl.  Add water mixture to the flour mixture two tablespoons at a time, using the scraper to incorporate.  Slowly add the water until the dough forms into a ball.  More or less water may be needed. Divide the dough in half, form into a disc, and wrap in plastic. Refrigerate for at least 1 hour or up to 3 days. Can be frozen for 1 month.
Using one of the discs, line a 9-10 inch pie dish.  Prepare the other disc for top crust.
Strawberry Ginger Pie
Adapted from Four and Twenty Blackbirds
Makes one 9-10 inch pie
30-50 g + 37.5 g sugar
900 g strawberries, rinsed and quartered
100 g apple, peeled and grated on large holes of box grater
30 ml fresh lemon juice
65-85 g light brown sugar
10 g minced ginger
25 g cornstarch
Pinch of salt
1/4 teaspon ground all spice or pinch of minced rosemary
Egg wash (1 large egg whisked + 1 tsp water + pinch of starch)
Demerara sugar or sugar for finishing
Sprinkle 37.5 g of sugar over the quartered strawberries. Gently mix together.  Let macerate at room temperature for 30 minutes-1 hour. Drain.
Mix the grated apple with drained strawberries. Add lemon juice.
In another bowl, mix together remaining sugar, brown sugar, cornstarch, ginger, spice/rosemary, and salt.  Gently fold the sugar mixture into the fruit mixture. Pour filling into the lined pie dish.  Place the second disc of pastry dough on top, arranging however you like (lattice, round, cutouts, etc).
Chill the pie for 10-15 minutes.
Meanwhile preheat oven to 220 degrees C (425 degrees F).  Once pie has chilled, brush with egg wash and sprinkle with sugar.  Place on the lowest rack of the oven.  Bake for 20-25 minutes, or until the pastry begins to brown. Lower the oven to 190 degrees C (375 degrees F), move the pie to the center rack and back for another 35-40 minutes, or until the crust is a deep golden brown and the juice are bubbling.
Cool completely on a wire rack for 2-3 hours.  Serve warm or at room temperature.
Keep at room temperature for 2 days or in the fridge for 3.