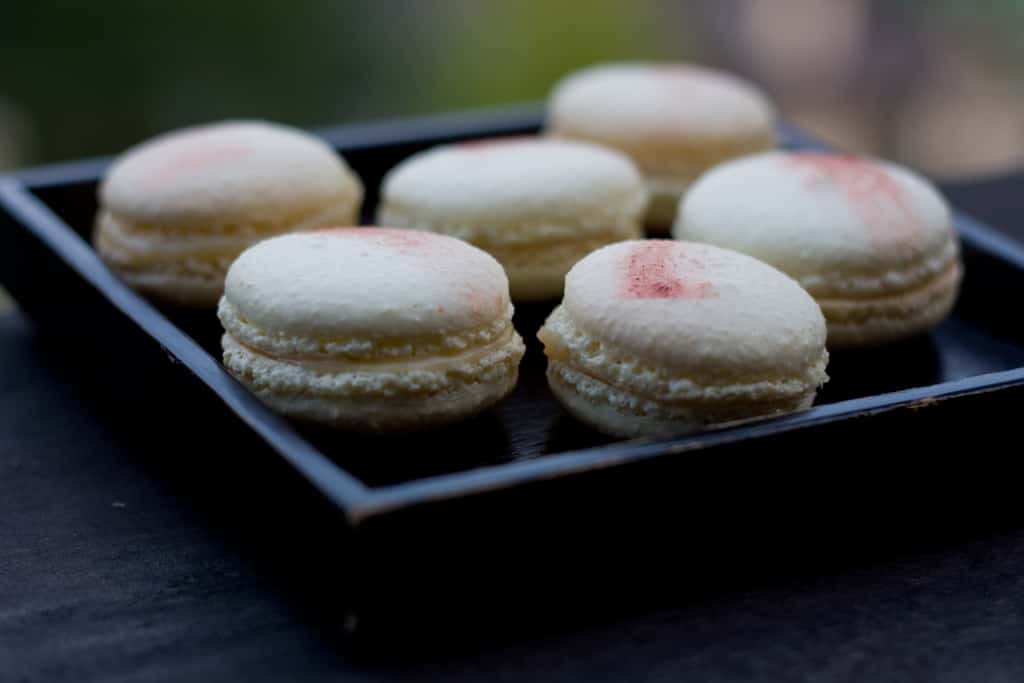 Since turning my foodie interest into a full time career I haven't looked back.  It was the first big decision that I ever made that was entirely for me.  No looking at what other people were doing, asking my family for advise, or following anyone else's lead.  It's brought a lot of happiness and vivacity into my life, something that I felt was lacking tremendously in the past.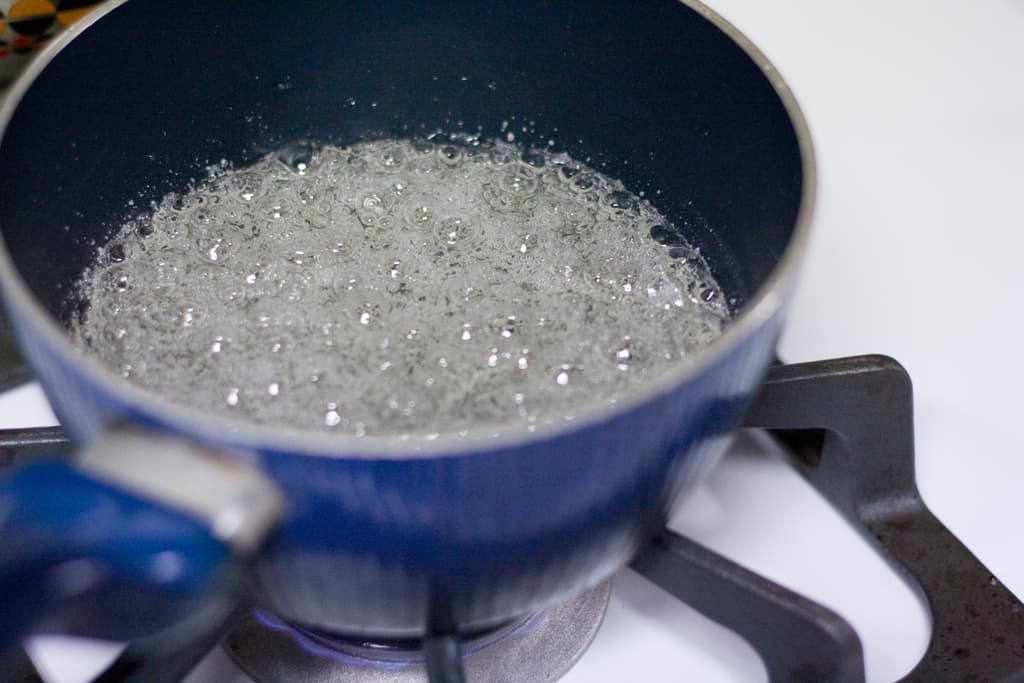 Before all of this, I didn't have anything I was really hungry for. I was always ok with being "pretty good". Being second/third/fourth/fifth best was never a big deal to me, and it still isn't, but my greed for knowledge and being on top of my work has surpassed anything I've done before. Sometimes it's still a bit overwhelming.  It kind of feels like the saying "the internet never sleeps;" this job, my life in food, never sleeps. My days off, time with my friends, in between times, all include food, which sometimes feel like I'm working nonstop. I'll meet friends at restaurants/cafes I want to research. My leisure reading is always about gastronomy, and almost everything I look at through my iPhone is about food!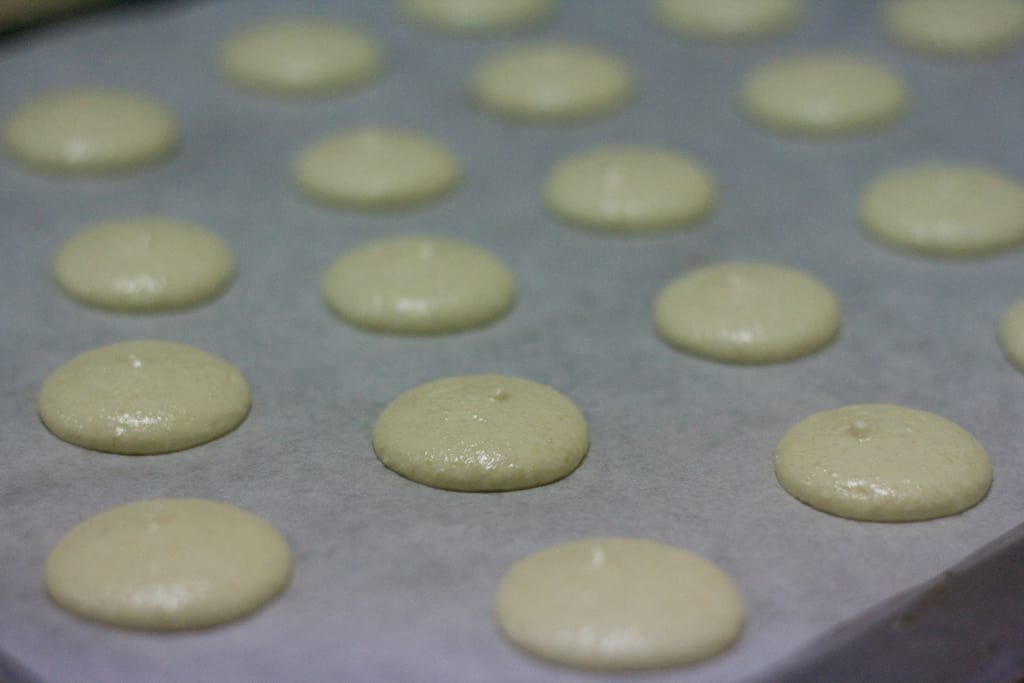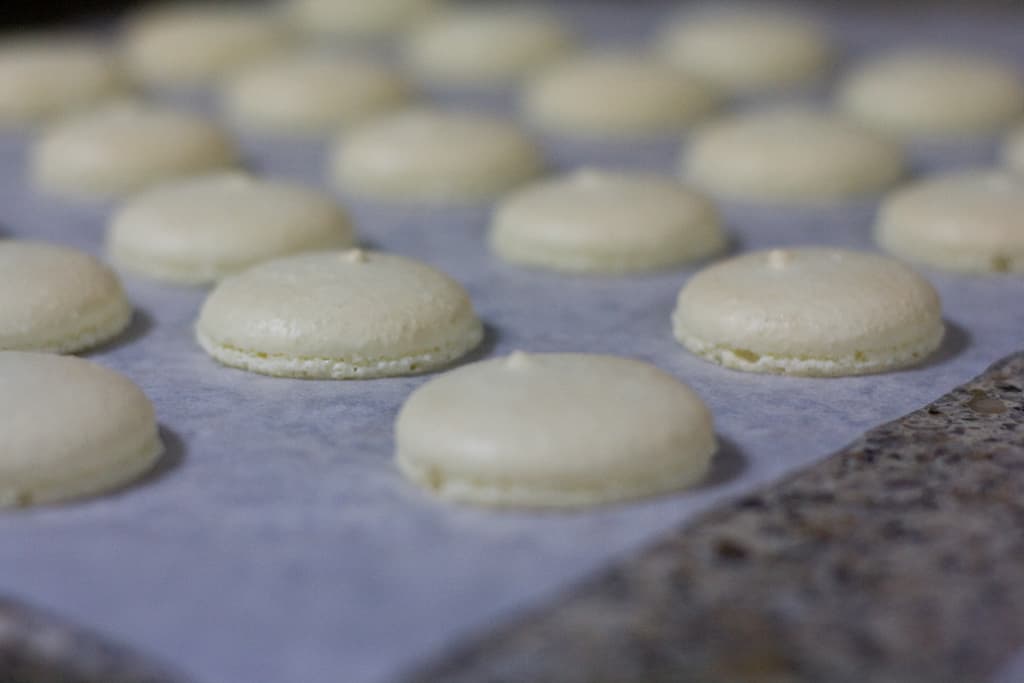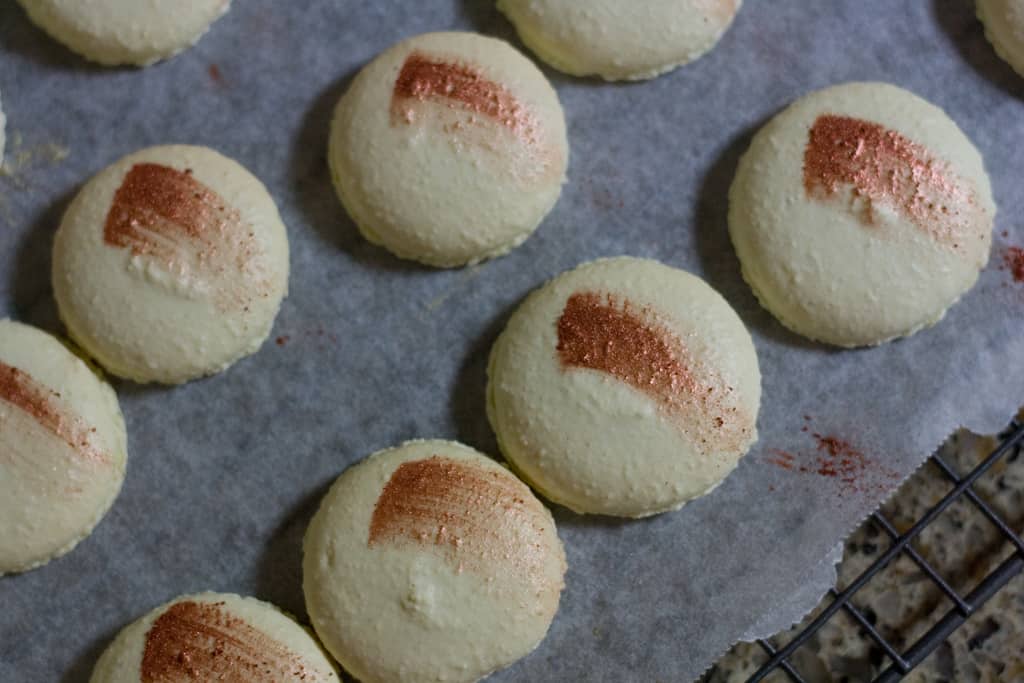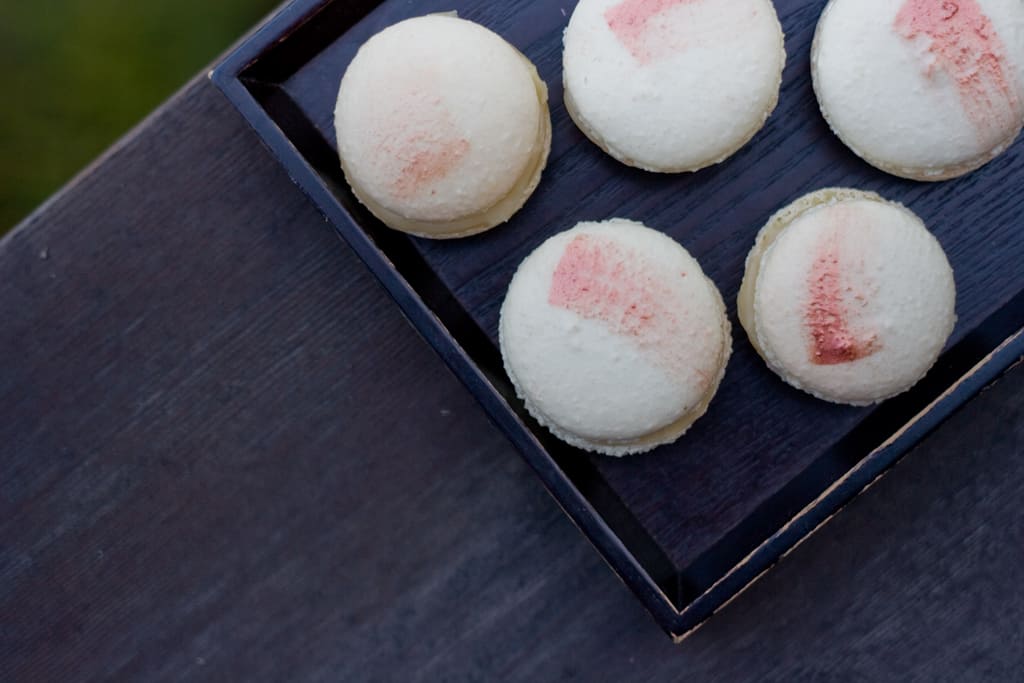 I guess this is what happens when a hobby turns into a career. I don't have any complaints, but standing on a gray line where work is pleasure and pleasure is work can be exhausting.  I've thought about how the two could be separated, but there really is no way.  Why would I meet a friend somewhere mundane when we could go somewhere new where both of us could experience someplace new.  It makes sense that I'm drawn to books with food words in the title, and I can't help that 90% of the people I follow on Instagram are fellow foodies!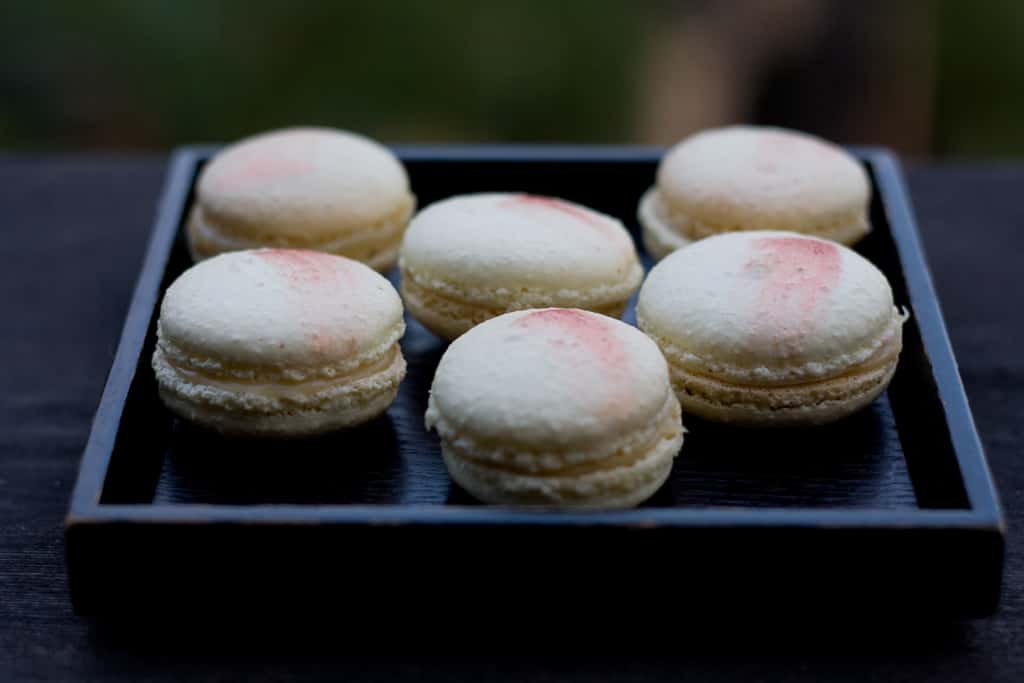 In a funny way these macarons completely sum up the way my life is running right now. I assisted in a macaron making class at work last month and ever since then I've been itching to make them at home. I've also been working on a tea seminar/tea time project that has been invading any free time I have. So when those two things collided I came up with the idea for these macarons. Once they were all baked and set, I packed a bunch and took them to work.  The circle of my life!  Sometimes I do wish I had an escape, and maybe someday I will, but for now I'm learning how to stay energized on the gray line. There's nowhere else I'd rather be anyways.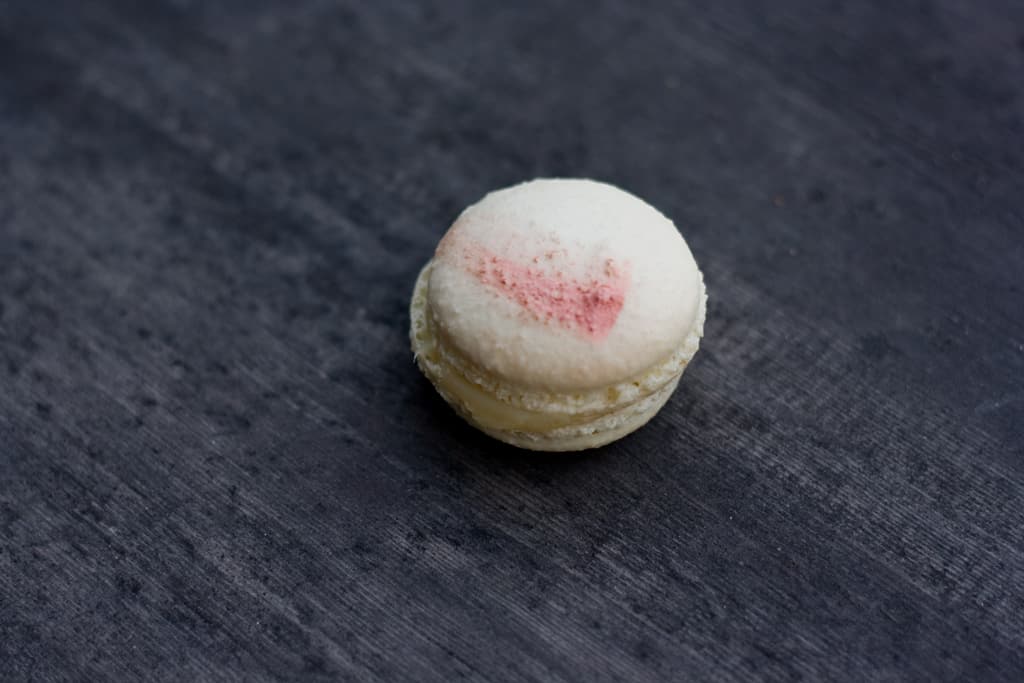 Darjeeling Tea Macarons with a Hint of Yuzu
Adapted from Pierre Herme
Makes about 74 macarons
Ganache Filling:
110 ml heavy cream
110 g white chocolate*
8 g Darjeeling loose leaf tea
20 g yuzu-honey syrup**
Macaron Shells:
300 g almond meal
300 g powdered sugar
110 g egg whites (from about 4 eggs)***
White powdered food coloring
Yellow powdered food coloring
10 ml water
300 g sugar
75 g mineral/filtered water
110 g egg whites (from about 4 eggs)
*I used Callebaut
**I used yujacha, which is a korean citron-honey preserve that is used for tea.
***It's best if you measure out the egg whites a few to 10 days in advance.  The macarons come out better when the whites have lost a little bit of moisture. Store the egg whites in a glass container, cover with plastic wrap with a few holes poked in.
Make the ganache one or a few days in advance. Melt the white chocolate in a water bath.  Set aside.  Heat the heavy cream until just simmering.  Add the loose leaf tea and let steep for 5 minutes.  Pass through a sieve.  Slowly add the warm cream to the melted chocolate.  Use a whisk to blend together. Add the yuzu-honey syrup and mix under thoroughly combined. Place into a shallow container. Cover with plastic wrap, making sure the film comes in contact with the ganache.  Set in the fridge overnight.
To make the macaron shells, pass the almond meal and powdered sugar through a sieve.  In another bowl mix together the water, egg whites, and food coloring (I didn't measure out the amount of food coloring I used.  I added very little yellow and a bit more white to come up with the slightly eggshell-like color).  Add the egg white mixture to the almond meal-powdered sugar mixture, combine and set aside. Place the second egg white measurement in the bowl of a stand mixer.  Place the sugar in a heavy bottomed casserole and add the water. Once the sugar has fully absorbed the water, place on medium heat.  Bring the sugar mixture to a boil.  When the sugar mixture thickens, start to beat the egg whites on medium high.  Cook the sugar until it reaches the soft ball stage (117-8 degrees C or 235-40 degrees F).  At this point, take the casserole off the heat, start beating the egg whites on high and slowly pour the sugar into the whites.  Continue beating until the Italian meringue mixture is about 50 degrees C or 112 degrees F ( about 1-3 minutes).  Add the meringue to the almond mixture in three additions. Fold the meringue into the almond meal until the mixture become shiny.   A good test to see if it is done is to drop a little dab of batter it into the mixture.  It should slowly spread and eventually lose its shape. Once it reaches this stage, stop mixing and place into a piping bag with a round tip attached (#11 tip). On parchment paper or silpats, pipe batter into 3.5 cm or 1.4 inch rounds. Leave to dry out for 30-45 minutes, longer if in a humid environment.
Preheat oven to 180 degrees C or 355 degrees F. Once the top of the macaron shells are dry to touch, place in the oven for 11 minutes, rotating the baking sheets once in the middle.  Once baked, remove immediately to a rack and cool completely.
To assemble place the ganache into a piping bag prepared with a round tip (I used #11).  Dust/decorate the macaron shells and turn half of them over.   Pipe in ganache and sandwich with the other half of macaron shells.  Place in the fridge for a couple of hours or overnight to set. Bring back to room temperature to eat.
The macarons can also be frozen in an airtight container lined with parchment paper.  They will keep for a few months. Thaw in the fridge first, then bring them to room temperature.