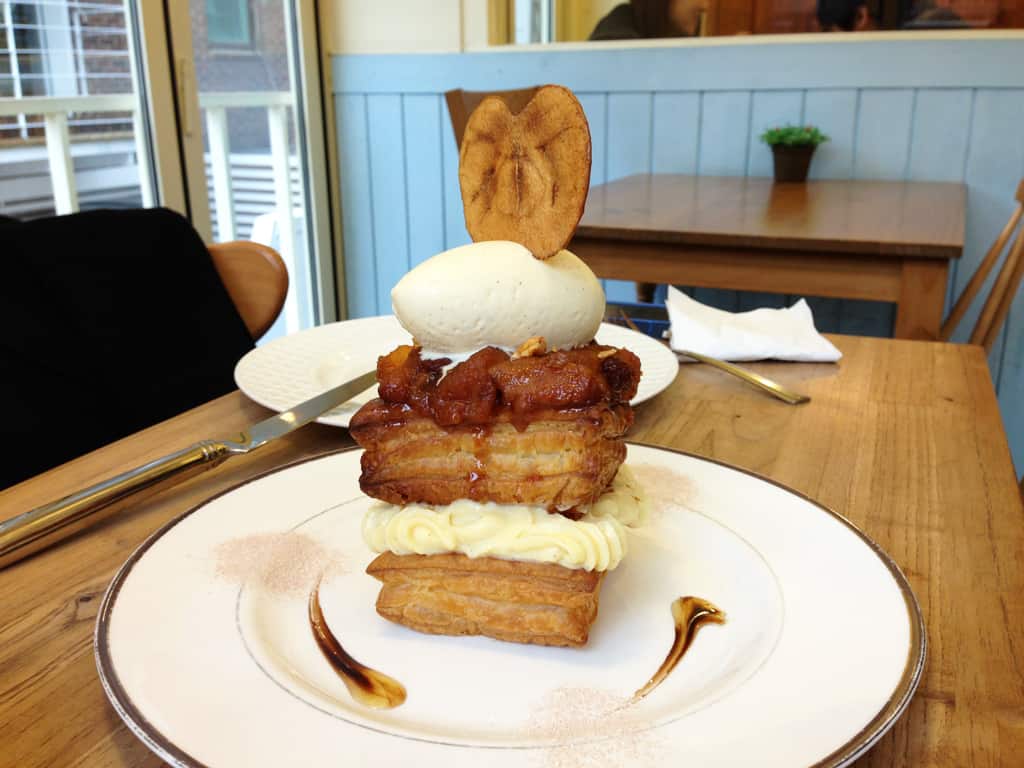 The start of a new year always feels like a pause between everything that happened in the past to all that lays ahead in the future.  There are regrets in what could have been but also hope for what can and will be. Usually I spend a lot of time suspended in this moment trying to neatly timeline my life in chronological order, but life is anything but neat and (chrono)logical.  Everything is intertwined, looping together from ahead, below, up, and behind. So instead of trying to unravel what will forever be tangled, I am deciding to focus on today, whatever knots it may hold from the past, present, or future.
There are still so many stocked up stories and trips I need to bring out, but today I want to share with you a little gem my cousin took me to the other day. You may recognize the photo from twitter or instagram, but this tarte tatin comes from a little dessert cafe in Seoul. I'm back in Korea (semi)permanently.  I'm still sort of in disbelief that I'm here, but it's slowly starting to settle in.  I'm not sure where my next foodie adventure will take me, but I'm looking forward whatever comes next.  There are a lot of exciting and fun nooks here that I have yet to explore, so I'm not too worried about it.
I was quite impressed with this chef's take on the tarte tatin.  Its rustic finesse captures the best of what this dessert is and who the dessert is made for.  The ice cream juxtaposed to the warm, à la minute puff pastry makes this dish appropriate for any time of the year. It was definitely appropriate on the snowy afternoon my cousins and I strolled in. Paired with my favorite tea, french blue, it almost felt as if France followed me here.
Be. Sweet On
339-3 Seogyo-dong
Map-gu, Seoul, South Korea
Subway: Hongik University, Line 2, Exit 8 or 9
Map