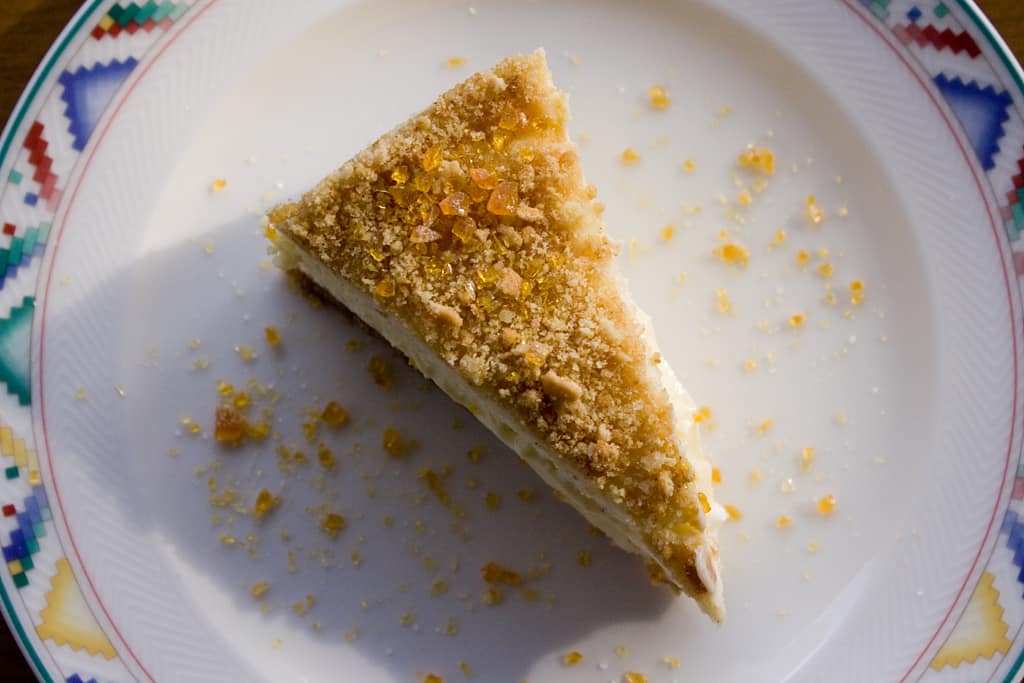 January may not be the best time to post a new cake recipe, especially with all those new year's resolutions to "eat healthier" and "lose weight." However, deprivation is anything BUT what this site is about. Detoxes and crazy wheatgrass diets have never helped me achieve those goals in the long run.  Aside from the obvious: exercise regularly and eat balanced meals, the best strategy I keep for myself is: glutton prevention. It may sound funny, but I can eat a lot.  I always get my money's worth at a buffet, and have at one point out eaten 99% of the people I know (adolescent boys included).  When I was 16 that was ok, but today not so much.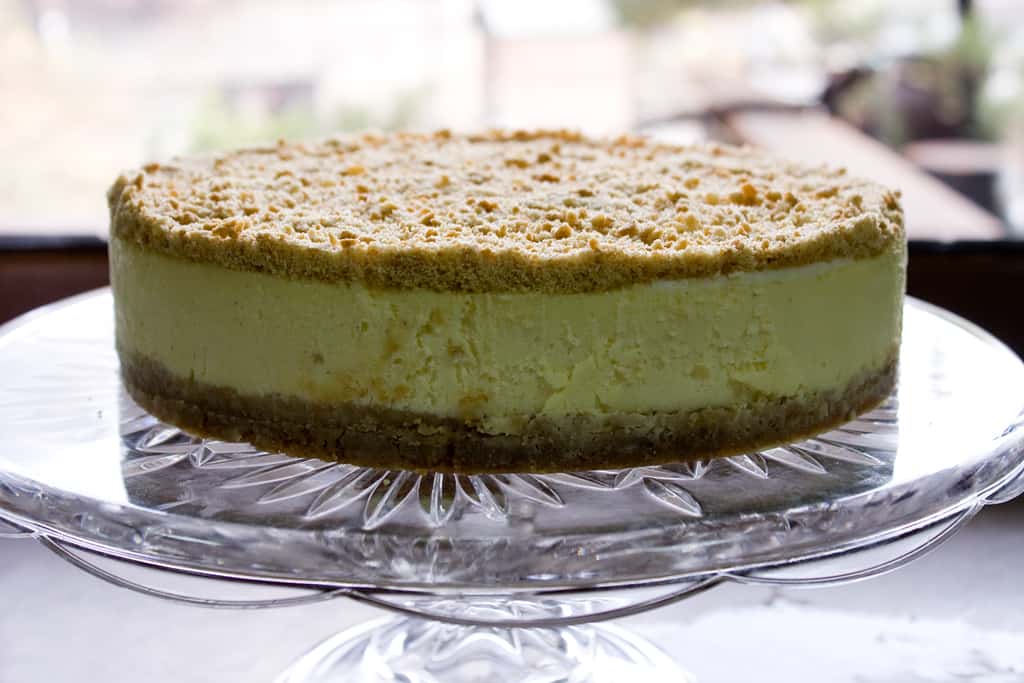 It's hard for me to cut out foods, because I have a sweet/savory/umami/whatever you want to call it tooth, and also because eating is an essential part of being in the food industry. So, instead of trying to "diet", I just try to eat a moderate amount; I eat enough to taste and enjoy something, but stop before out doing myself.  It may be hard at first to resist having second servings and one cookie instead of two, but through time it will become easier. This cheesecake is actually perfect for practicing the art of glutton prevention.  My brother described it as one of those cakes you have to have a slice of, but one is just enough.  A couple days with this cheesecake, and you'll be well on your way to mastering my weight maintenance strategy!
This cake made several appearances over the holidays.  Once for my brother's birthday and again on Christmas day upon special request from my dad.  My family loves cheesecake, so it's a dessert I come back to often.  I've tried a number of different recipes but have never found one that I truly liked until this one.  It has that thick density of New York style cheesecake, but without that cottonmouth finish.  It's creamy smoothness is almost like crème pâtissière but with a little more heft.  Not overly sweet, there is just the right amount of lemon juice to brighten the flavors without adding any extra citrus-y notes. It's hard for me to pick favorites, but this recipe is definitely a stand out.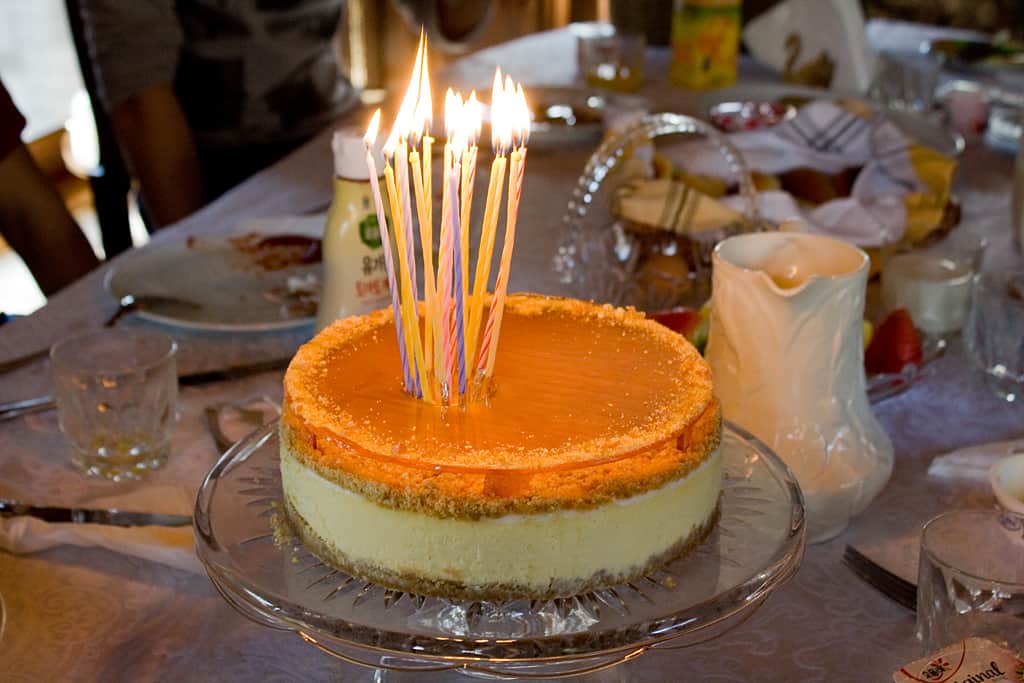 The recipe is quite easy and doesn't require a water bath or extra whistles.  The only thing to be careful of is overcooking.  If you keep true to the baking times it should come out perfectly.
Mascarpone Yogurt Cheesecake
Crust adapted from Dorie Greenspan, Cheesecake adapted from Epicurious
Crust:
6-8 digest cookies
35 grams sugar
Pinch of salt
60 grams melted butter
Cheesecake:
500 g cream cheese, room temperature
300 g mascarpone cheese, room temperature
190 g sugar
3 large eggs, room temperature
1 teaspoon vanilla
1 teaspoon lemon juice
Pinch of salt
Topping:
240 grams greek yogurt, room temperature
10 g mascarpone cheese, room temperature
60 g sugar
1 t vanilla
Slight squeeze of lemon juice
Pinch of salt
Preheat oven to 350 degrees F or 175 degrees C.
Foil wrap a 9 inch springform pan, or foil wrap a 9 inch ring mold and line the inside with a strip of parchment paper.  Use melted butter to help stick the parchment to the mold.
To make the crust break the digest cookies with a rolling pin.  For a thinner crust use 6 cookies, for a thicker one use 8. Mix in the sugar and salt. Add the melted butter and combine well.  The cookie crumbles should hold together.  If not, add a little more butter. Pour mixture into the mold and press the crumbs to make an even crust layer. Bake for 10 minutes or until golden brown.  Set aside to cool.
For the cheesecake, mix the cream cheese, mascarpone, and sugar together.  Add the eggs one by one, mixing in between until just combined. Add the vanilla lemon juice and salt. Once the crust is almost cool, pour the batter into the mold and bake for 25-30 min. The cake will not seem ready and cooked through, but don't worry.  As long as the outer edge is firm, it is ready.  Set aside for 30 minutes to set.
Meanwhile, make the topping by mixing all the ingredients together. Once the cheesecake has cooled for 30 minutes, spread the batter over the top.  Use a spatula to make an even layer, pushing the mixture right to the edge of the cake. Bake for 10 minutes.  Once out of the oven, run a knife between the cake and mold to prevent cracks from forming while cooling. Cool completely, then place in fridge for a couple hours or overnight.
*To decorate I made some extra crust crumble and sprinkled and even layer on top of the cooled cheesecake. Then I cooked sugar with a little corn syrup into a caramel and poured into a mold to form a disk to place on top.