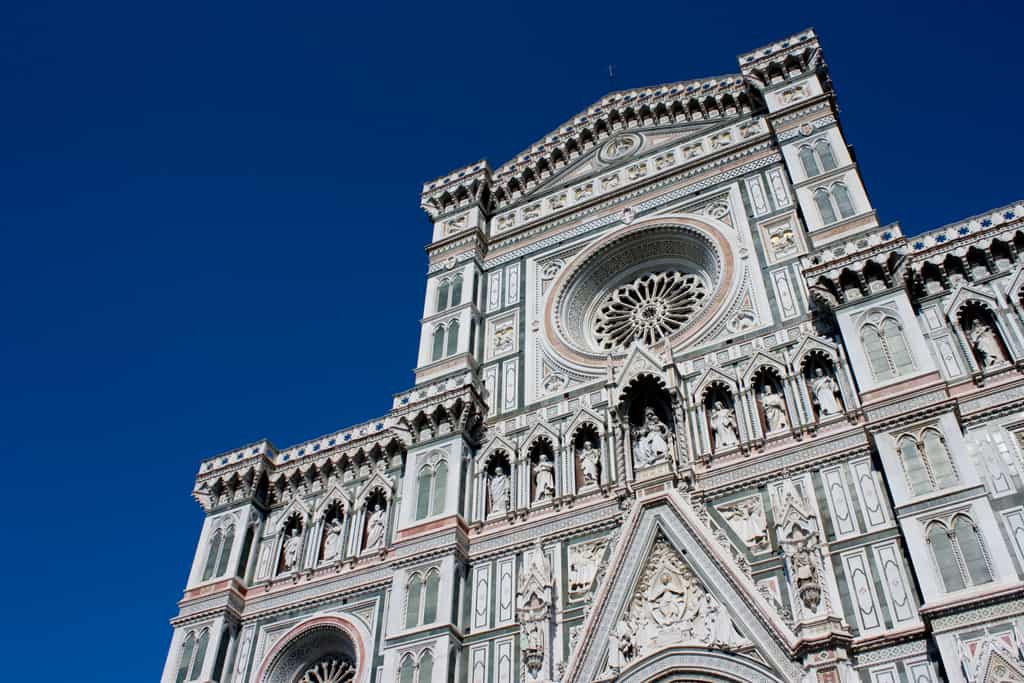 It's hard to choose favorites when it comes to all the different trips I've taken, but my trip to Bologna and Florence stands as one of the most memorable.  The sites were just as beautiful as I imagined them to be and the weather was even hotter than what my dad claimed Italian summers to be. But aside from all that, Italy was the most memorable because of all the gelato tasting we did!  32 flavors in three days between two girls (plus the daily three meals plus snacks and nibbles)…need I even state the obvious: we are gluttons!
The extra pounds were well worth the gelato splurge.  I had so much fun trying and comparing different flavors. There's no better way to appreciate the quality and value of a product until you have tried a range of products.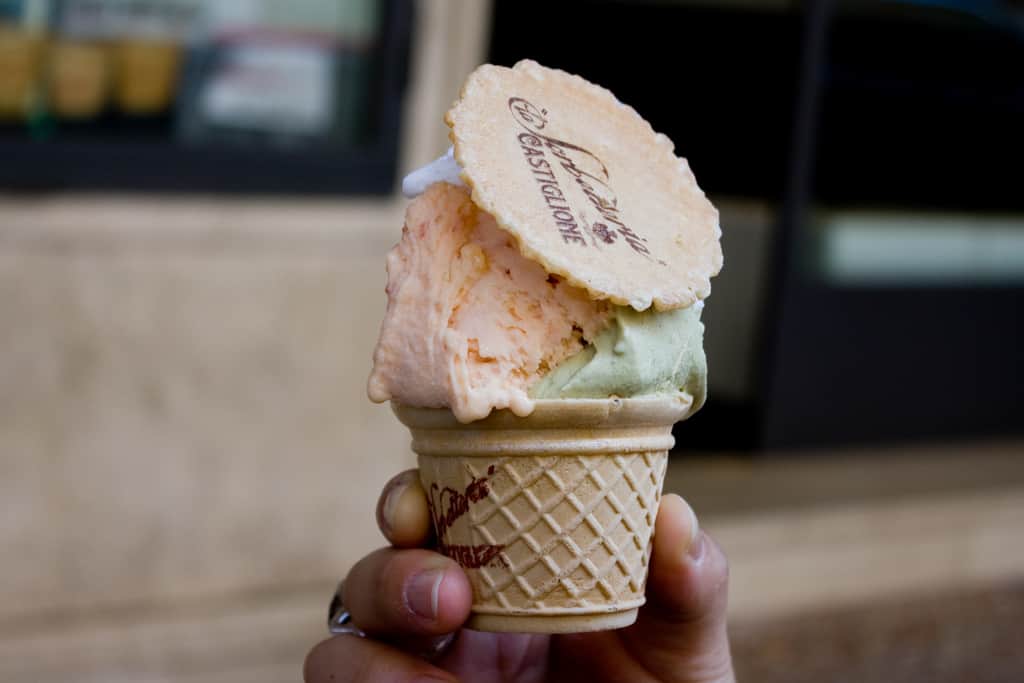 La Sorbetteria Castiglione is regarded by many as the best gelato shop in Bologna. Lots of flavors, traditional and creative, this place is all about quality and class. Despite the modern interiors, the ice cream feels dense with history. My friend's cestina was filled with a scoop each of pesca, peach, limone, and pistacchio. The peach tasted fresh and light with remnants of blended fruit pieces.  She gave the lemon an A+ for its superb balance between tart and sweetness. The pistachio was creamy with general usage of pistachio paste and extra nuts.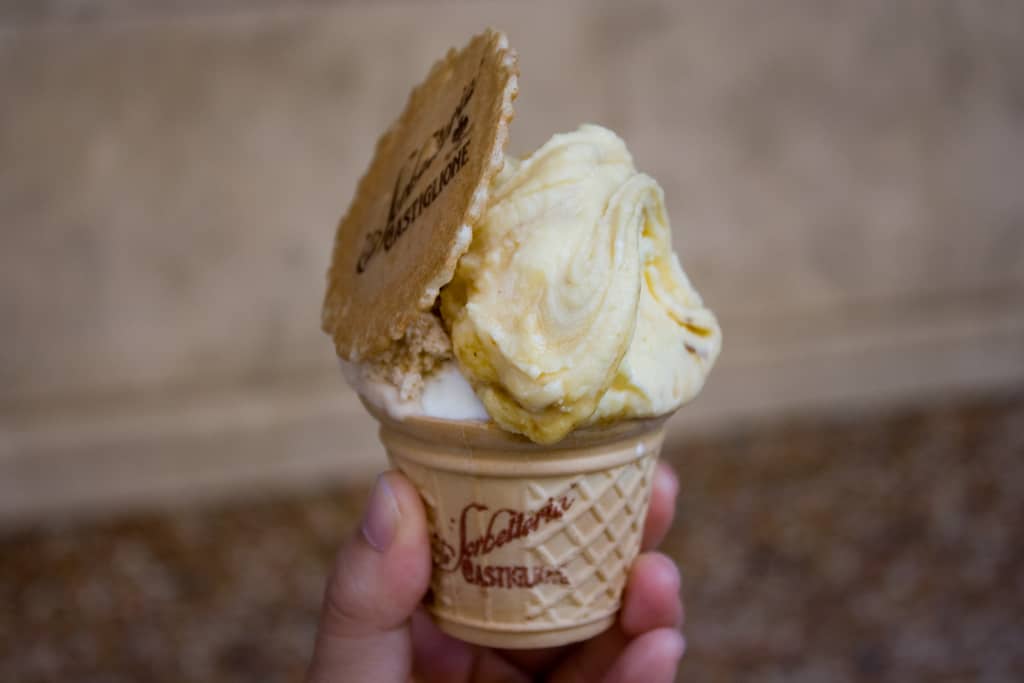 For me, I chose yogurt, nocciola, hazelnut, and Dolce Emma. Yogurt was by far my favorite amongst all the gelato I ate during this trip.  It was frozen yogurt tangy but with weight and creaminess, the best of both worlds. The hazelnut flavor was also quite nice, soft fragrance with a nutty-warm finish.  Dolce Emma was a ricotta and egg based ice cream with caramelized figs.  It was my favorite as the figs had a sort of alcohol taste to it, but the creativity was duly noted.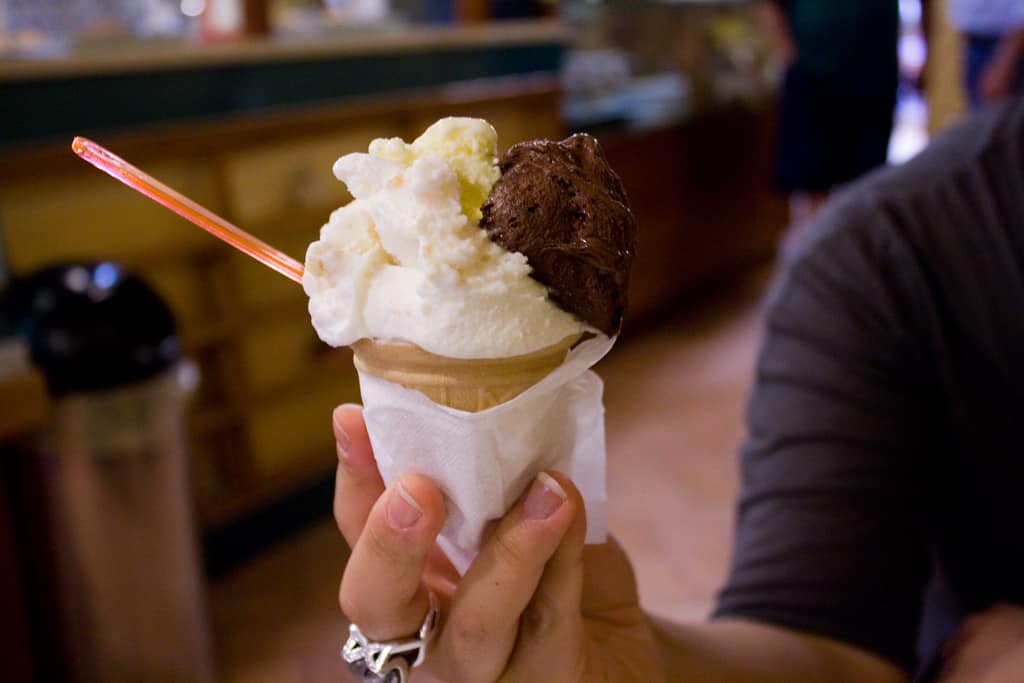 Il Gelatauro is another top contender for many.  The atmosphere is cozier and a bit more rustic-authentic which adds to the whole experience of Bologna. Vintage food books and print outs of food history adorning their walls show the types of foodies these owners are. Thoughtful and flavorful, the gelato here is of the highest standards.  For her tasting, my friend chose Il Gelatauro's famous crema, cioccolato, and Principe di Calabria.  The crema (which I chose as well), did not fail to impress.  It tasted like yellow cake batter that is licked clean off the inside of a mixing.  Rich with fresh eggs, put some sprinkles in there and it would be the best birthday cake ice cream. Cioccolato was also excellent, my friend described it to be just like those fudgesicles from our childhood.  She also loved Principe di Calabria, which combined her favorite tea flavors: earl grey and jasmine.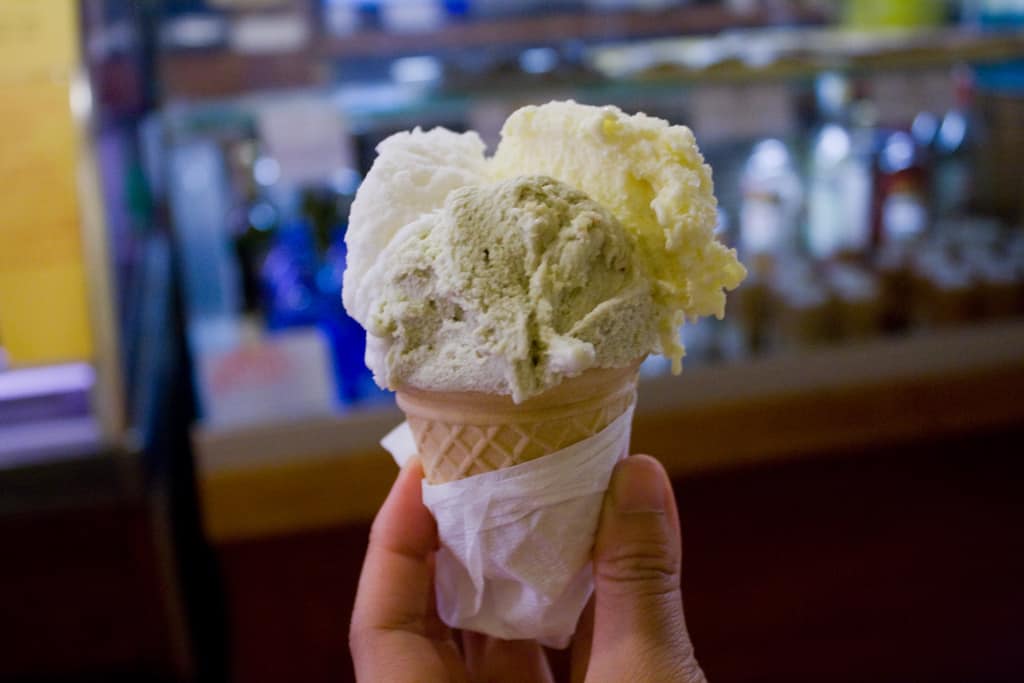 Along with crema, I chose limone and Regno delle due Sicilie which was a combination of pistachio, almond, and sponge cake. The mix between pistachio and almond resulted in a subtle, almost understated outcome, but the crumbs of sponge cake were lovely. Limone ended up being a sorbet, so it was icy and grainier than I wanted it to be, but good in flavor.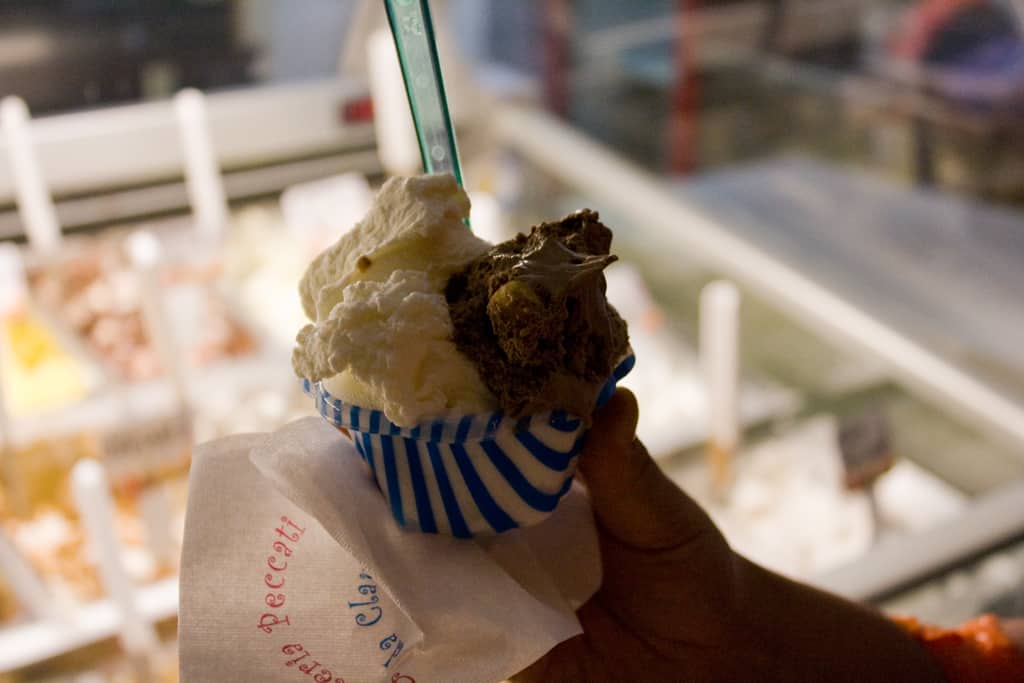 Gelateria Peccati di Gola was a random find after dinner one night.  It wasn't the best gelato we had, but the flavors are strong and robust. My friend got bacio, chocolate hazelnut, fior di latte, fresh milk, and cioccolata bianca.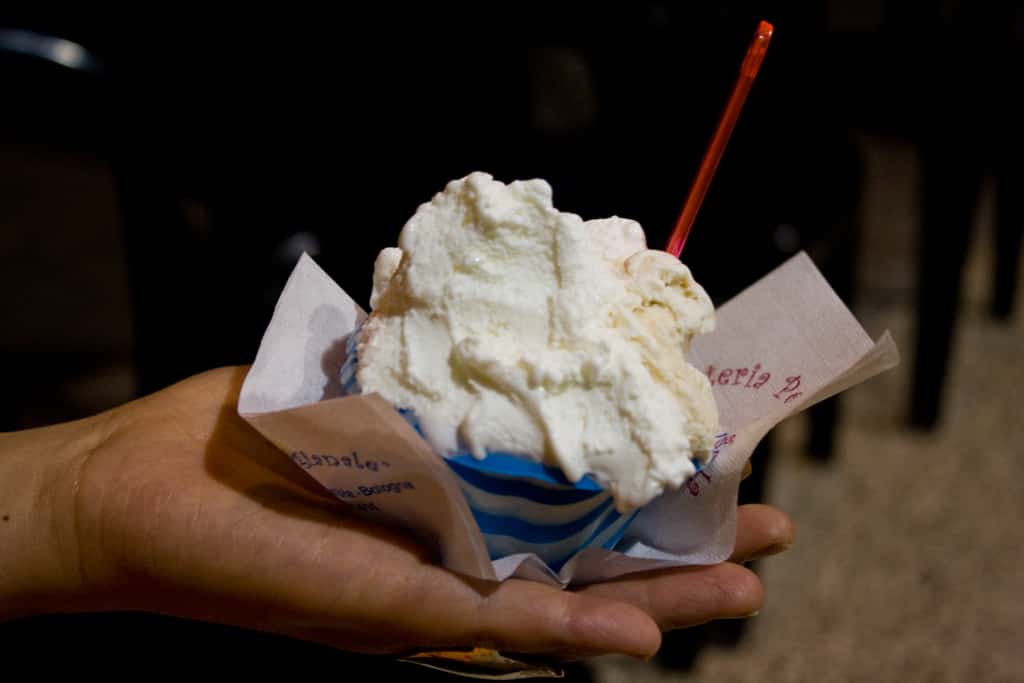 I opted for different shades of white: yogurt, cocco, coconut, and caramellato di mandorle, caramelized almond. The latter two came with flecks of coconut and almonds which I appreciated greatly.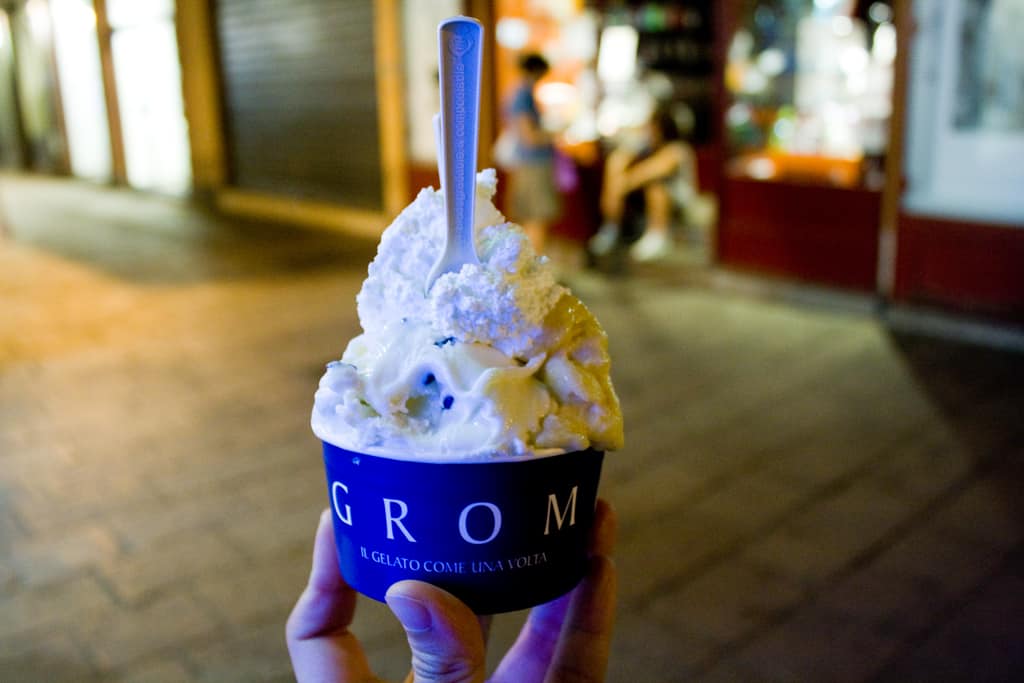 We also tried out artisanal franchise Grom.  We've both had it in New York and Paris but wanted to see if it was any different in its country of origin. They really do pay attention to quality control and continuity, because the gelato was just how I remembered it.  Here we shared a large cup with pistacchio, stracciatella, albicocca, apricot, and panna montata, whipped cream. The apricot was excellent, which tasted like a combination of fresh and dried fruits.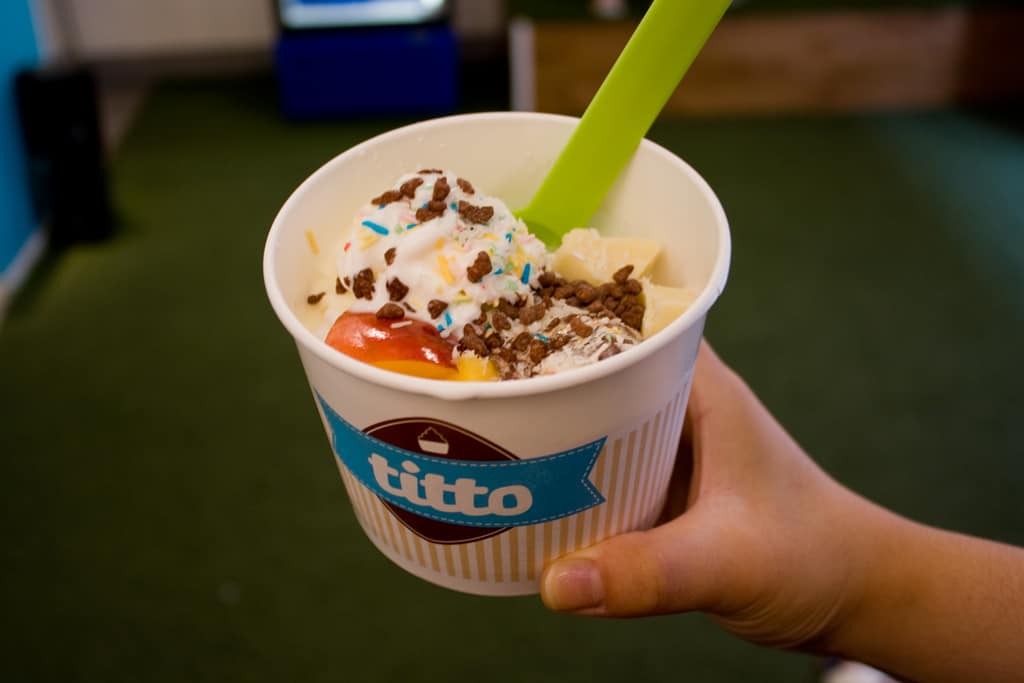 Fro-yo has also made its way over to Italy.  Here at Titto, everything is DIY.  You pump out your own ice cream (flavors: custard, chocolate, yogurt, cheesecake, peach, chantilly, cream…) and top with anything from fresh fruit to mini amaretto cookies to puffed cereal. Cost is done by weight. The shop is quite cute with faux grass steps that you can sit on  while you eat.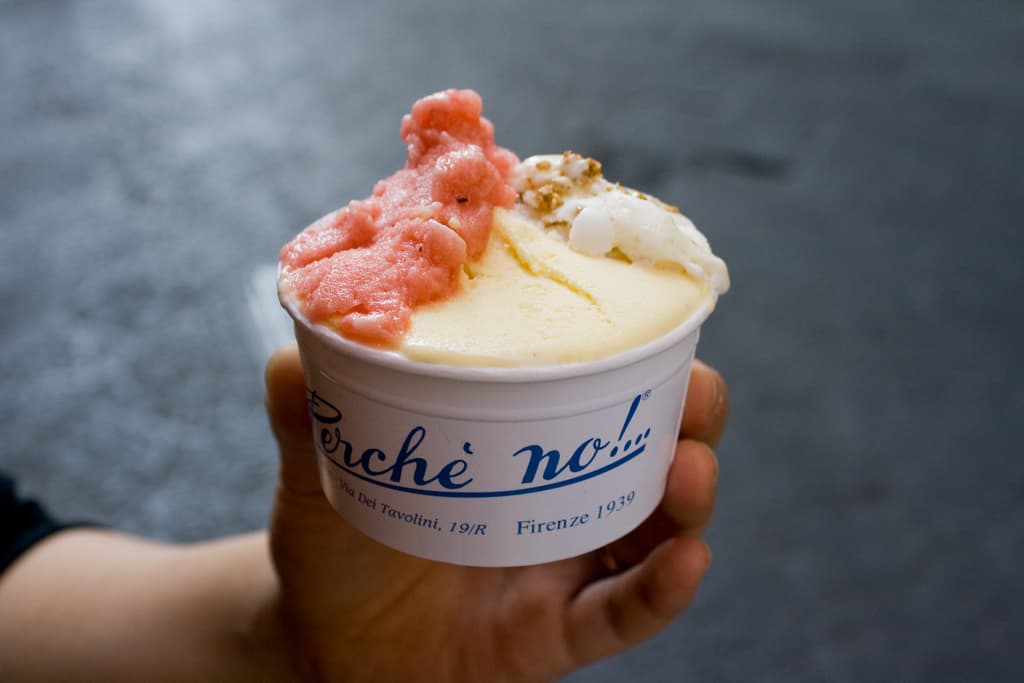 Bologna definitely has the best gelato, because what we had in Florence didn't quite reach the same standards. Perché no!… is one of the city's best and is definitely worth the visit if in Firenze. The flavors were quite nice, but the gelato wasn't as smooth and creamy as the ones we had in Bologna. My friend chose anguri, watermelon, crema, and fiore di latte con sesamo, fresh milk with sesame.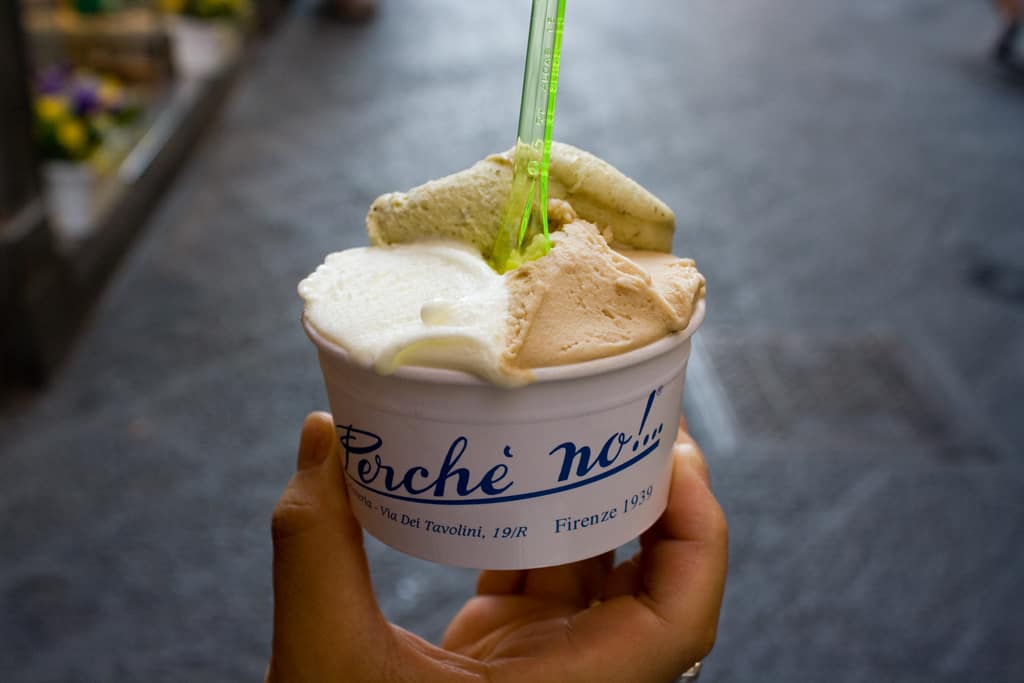 I chose pistacchio, nocciola, and yogurt (if you haven't noticed these are my favorite, go to flavors and the basis to how I judge if I like a place or not). The nutty flavors were nice, but not as memorable as I wanted them to be.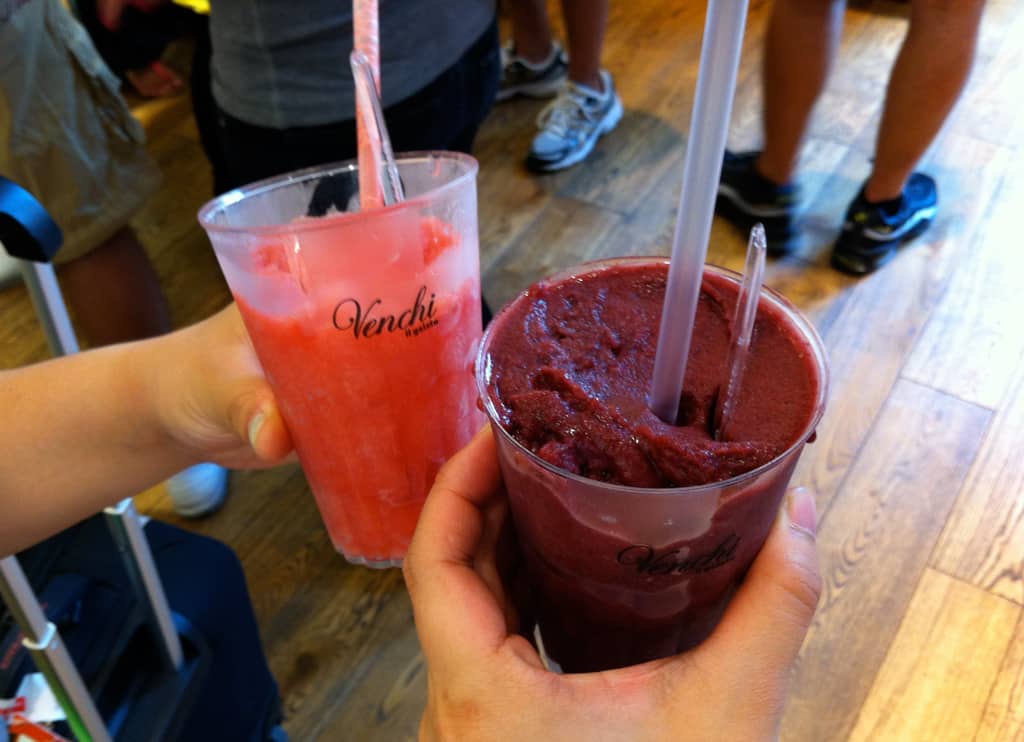 Not exactly gelato, but in the cold dessert genre, we tried granita at Venchi right before catching the train back to the airport (hence the suitcase in the background).  We tried anguri, watermelon and mirtillo, blueberry.  The watermelon was very refreshing and exactly what granita should be like, icy and slurp-able.  The blueberry was more like a very thick smoothie, almost like a blended popsicle bar. It wasn't bad, but with the hot Tuscan sun beating down on me and a heavy suitcase full of prosciutto and pasta, I wanted something a bit lighter.  Venchi also has gelato (and an outpost in Bologna).  If anyone ever gets a taste, let us know!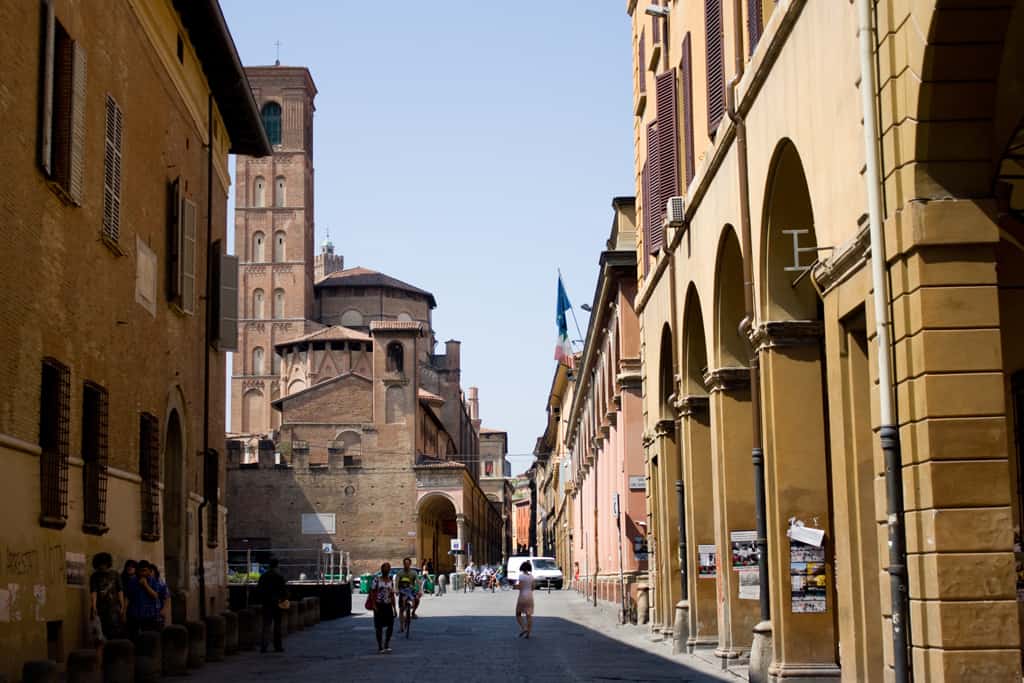 I don't usually like to visit one place more than once, but I'd love to go back to Bologna/Florence one day.  I don't think I got enough gelato the first time around!
La Sorbetteria Castiglione
Via Castiglione, 44
40124 Bologna, Italia
Map
Il Gelatauro
Via San Vitale, 98
40125 Bologna, Italia
Map
Gelateria Peccati di Gola
Via Augusto Righi and Via dell'Indipendenza
40126 Bologna, Italia
Map
Grom
Via Massimo d'Azeglio, 13
40123 Bologna, Italia
Map
Titto
Via Massimo d'Azeglio, 35
40123 Bologna, Italia
Map
Perché no!…
Via dei Tavolini, 19-red
50122 Firenze, Italia
Map
Venchi
Vicolo Calimaruzza, 18 (Piazza del Mercato Nuovo)
50122 Firenze, Italia
Map