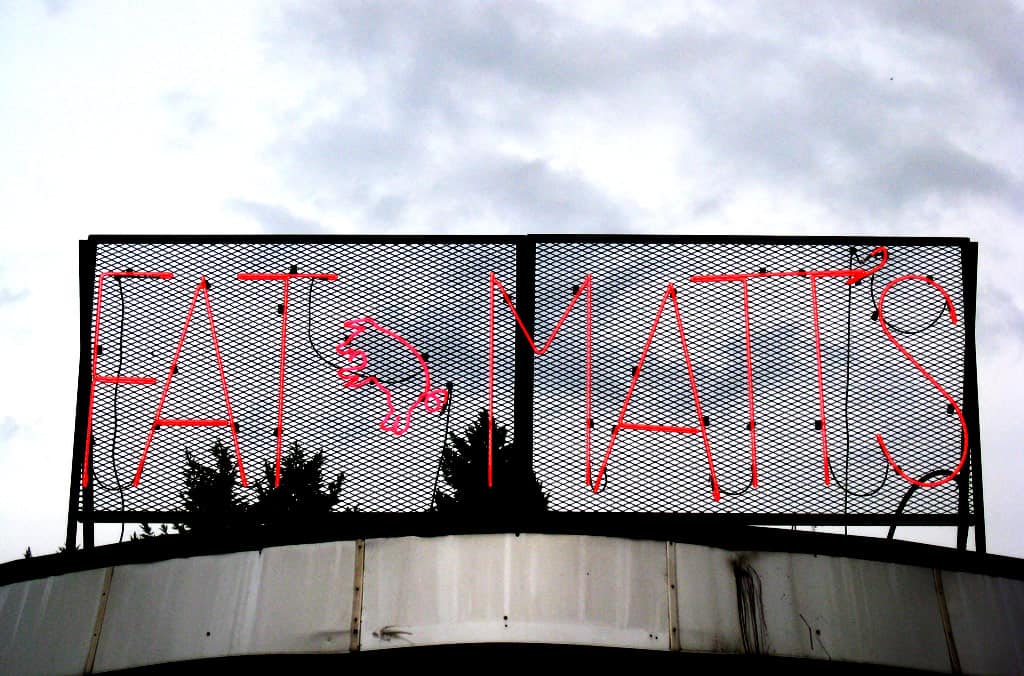 We have a guest post! By none other than my sister, Michelle.  She took a recent trip to Atlanta, Georgia, where she revisited old favorites from her college days and new finds from more recent openings.  Enjoy!
Thanks to a dear friend's wedding, a short jaunt to Atlanta was in order.  Now, Atlanta is home to southern hospitality (It's not a myth!), the Braves, Jimmy Carter, and my alma mater.  Having spent my formative adult years in Atlanta, it holds a special place in my heart, and I was excited to head south for the first time since graduation!  While Atlanta isn't known as a gastronomical hub like New York or Los Angeles, there are some culinary gems worth venturing to.  Case in point?  Fat Matt's Rib Shack.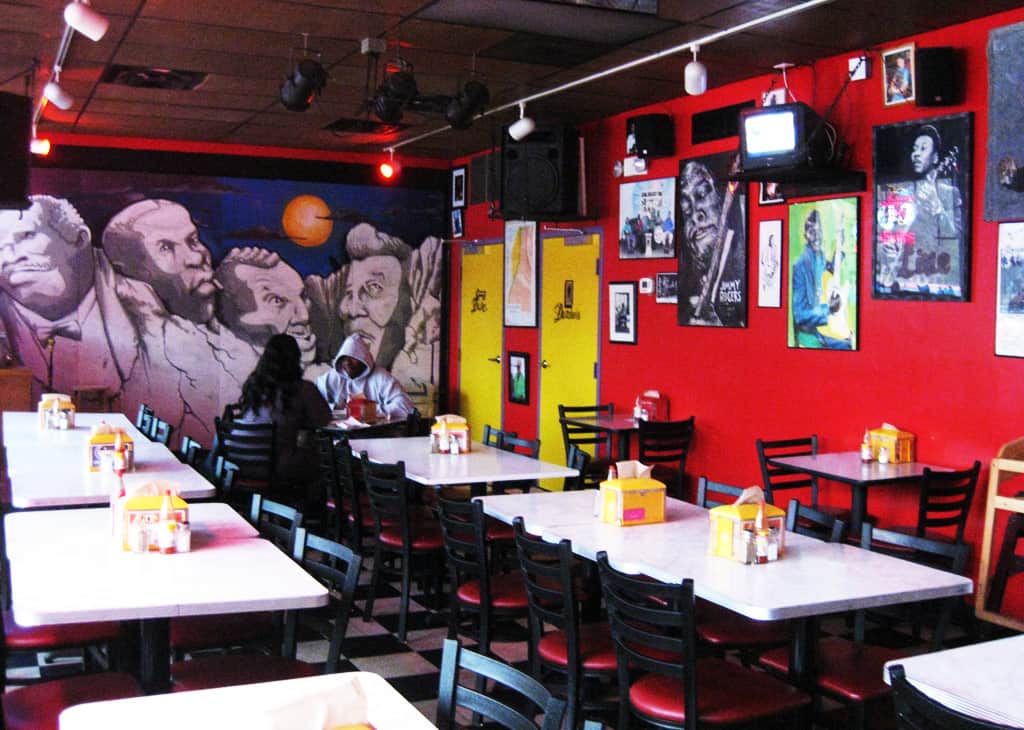 Fat Matt's is a local BBQ joint that doesn't f-around when it comes to good food.  What makes Fat Matt's click? Fatty dishes that would make Paula Deen proud, live music, and friendly waitresses who call you honey.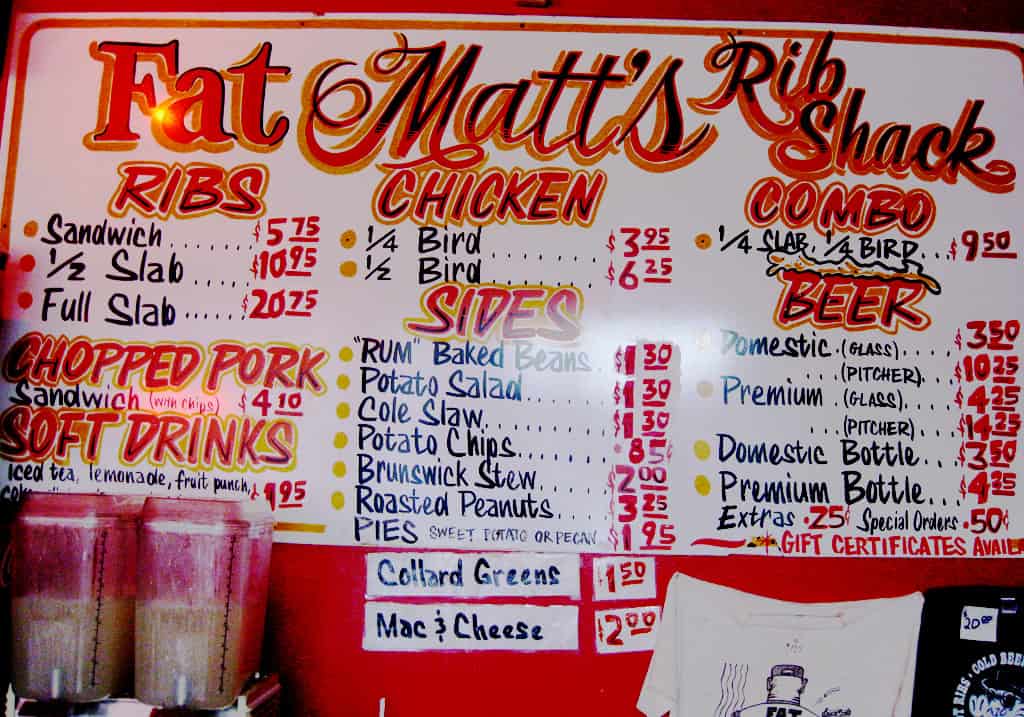 The menu is simple. Ribs, chicken, sides, and beer.  Yet, sometimes, innovation is rendered unnecessarily when classic flavors speak for themselves.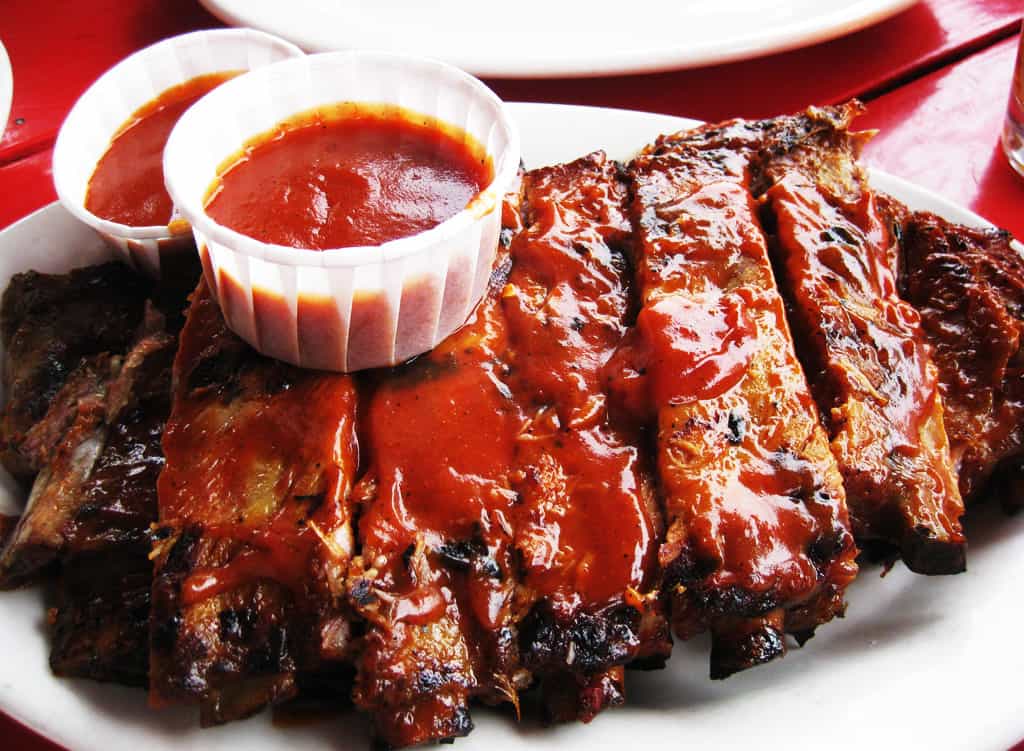 Definitely the highlight of the menu. Succulent ribs with a generous application of BBQ sauce, and heck, they give you extra sauce for ambitious eaters.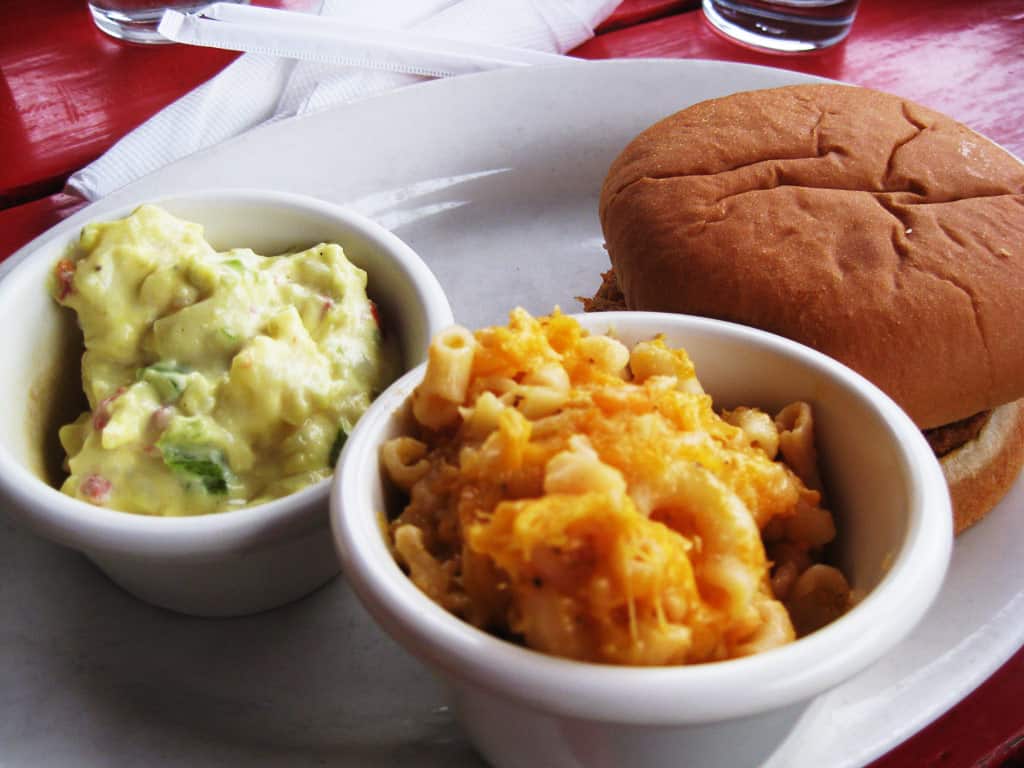 You can also get a neatly packaged reinterpretation of the ribs in a sandwich.  Yet, for the full effect, I would recommend getting your hands dirty in the ribs.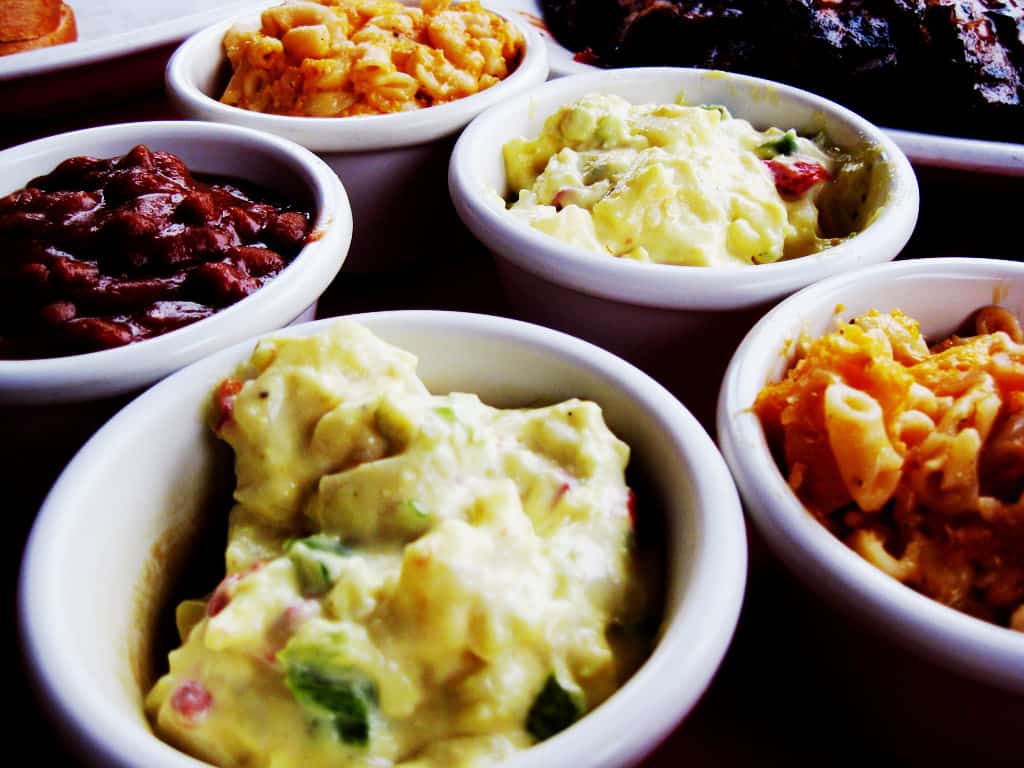 There are several sides to select from the menu, and we opted for the mac and cheese, potato salad, and beans.  2 out of the 3 were slam dunks.  The potato salad was a delicious concoction of tangy, mayo galore without being mayo overload.  While I'm not usually a fan of beans, the sweet beans were really addicting.  I was really looking forward to the mac and cheese, but I was a bit disappointed.  It was slightly lacking in flavor, dry, and desperate for some salt, or hot sauce, or both.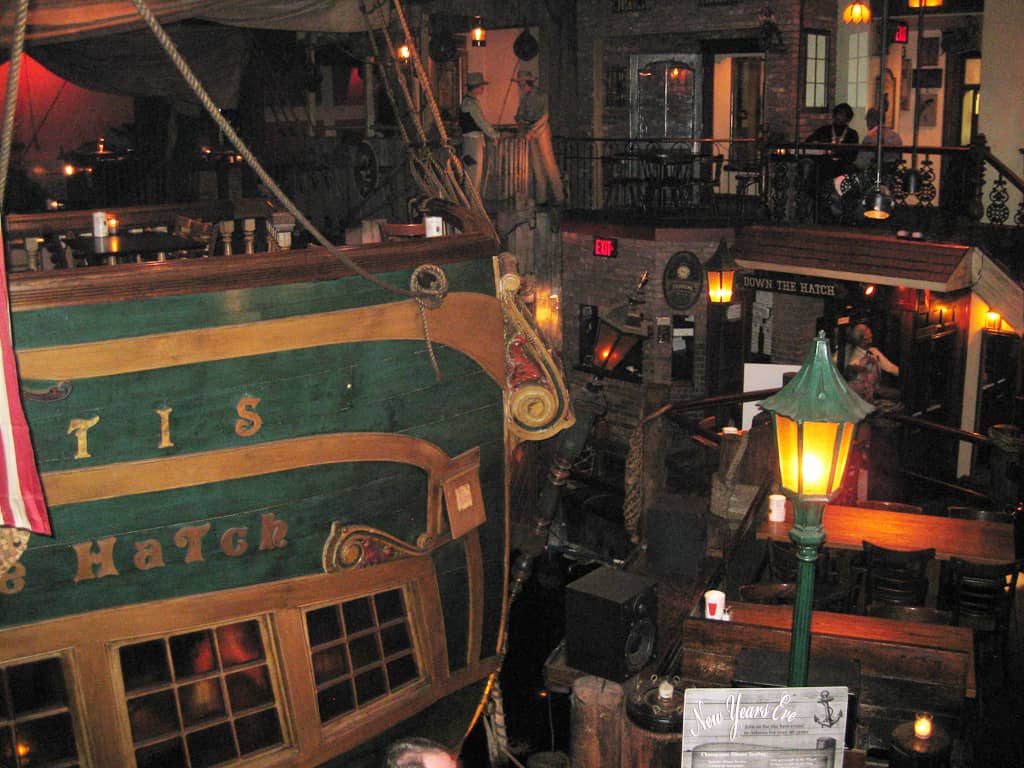 Dante's Down the Hatch is an iconic Atlanta restaurant that, I'll admit, I love more because of nostalgia than because of the food.  It's just a cool restaurant that's shaped like a pirate ship (Yes, there's an actual "ship" inside the restaurant) with live crocodiles (yes, real, live ones) and jazz music.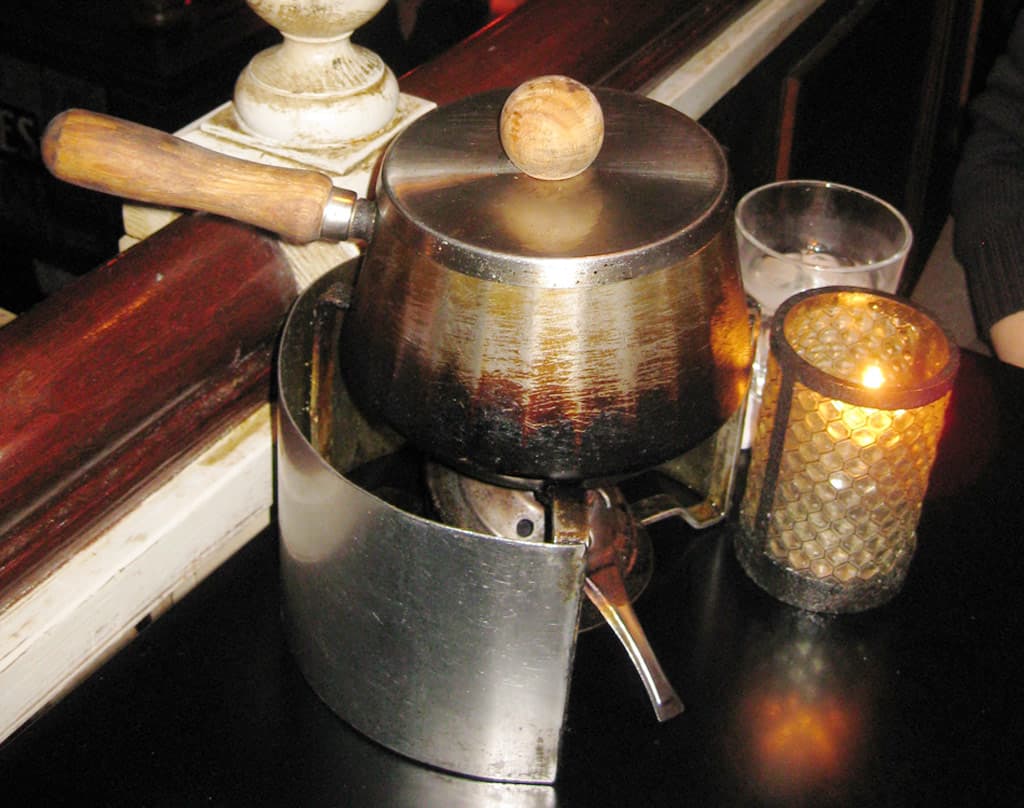 It's a fondue place (the first place I ever had fondue actually!), so your meal is cooked at your table.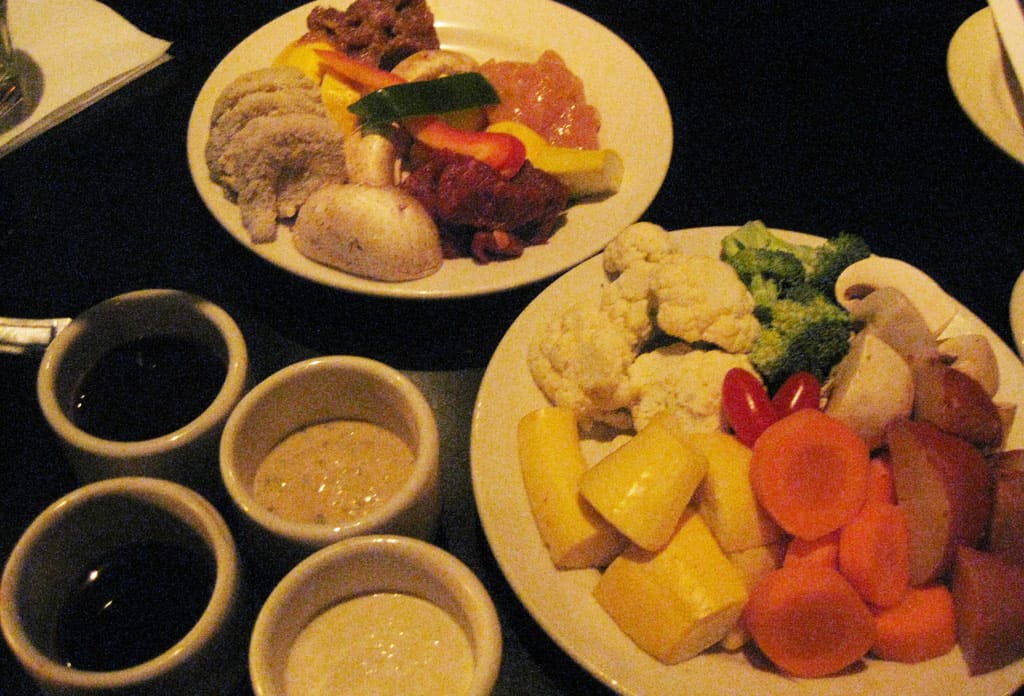 Apologies for the lousy picture quality!  The menu at Dante's is also quite simple with a selection of meats (shrimp, pork, chicken, and beef) and vegetables.  We ordered the sample plate so we could taste all the meats.  There are four sauces: teriyaki, sweet and sour, soy (I think), and horseradish.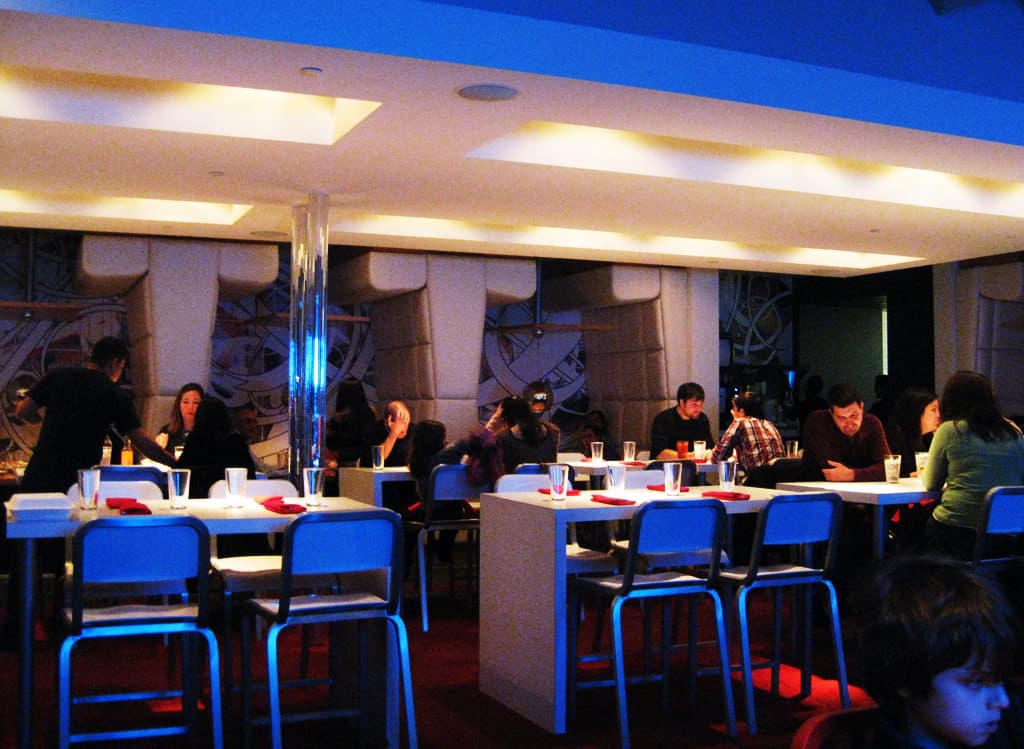 Remember the last time my sister dined at a Top Chef restaurant?  Well, let's just say I fared better with Richard Blais' Flip Burger Boutique in Atlanta.  Ever since watching Richard flaunt his cooking chops on Top Chef (Who else was ecstatic when he won All-Stars?), I have been looking forward to heading to Flip one day.  Well, one day came sooner than I expected.  Flip is a trendy burger joint with edgy decor and edgy food, but alas, I wouldn't expect any less from a Top Chef.  A note of caution for hearty eaters, the portions at Flip are small, so don't come expecting Southern proportions.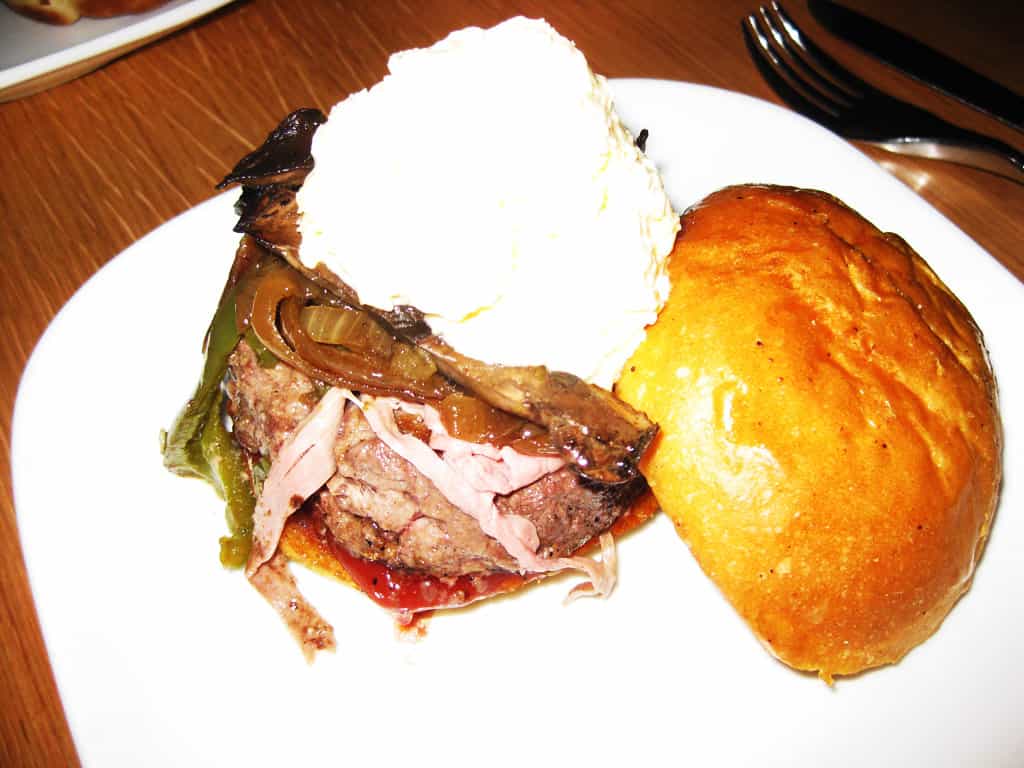 I ordered the Philly burger, which is Blais' reinterpretation of the Philly cheese steak.  It has sirloin coupled with caramelized onions, peppers, mushrooms, and homemade cheese wiz.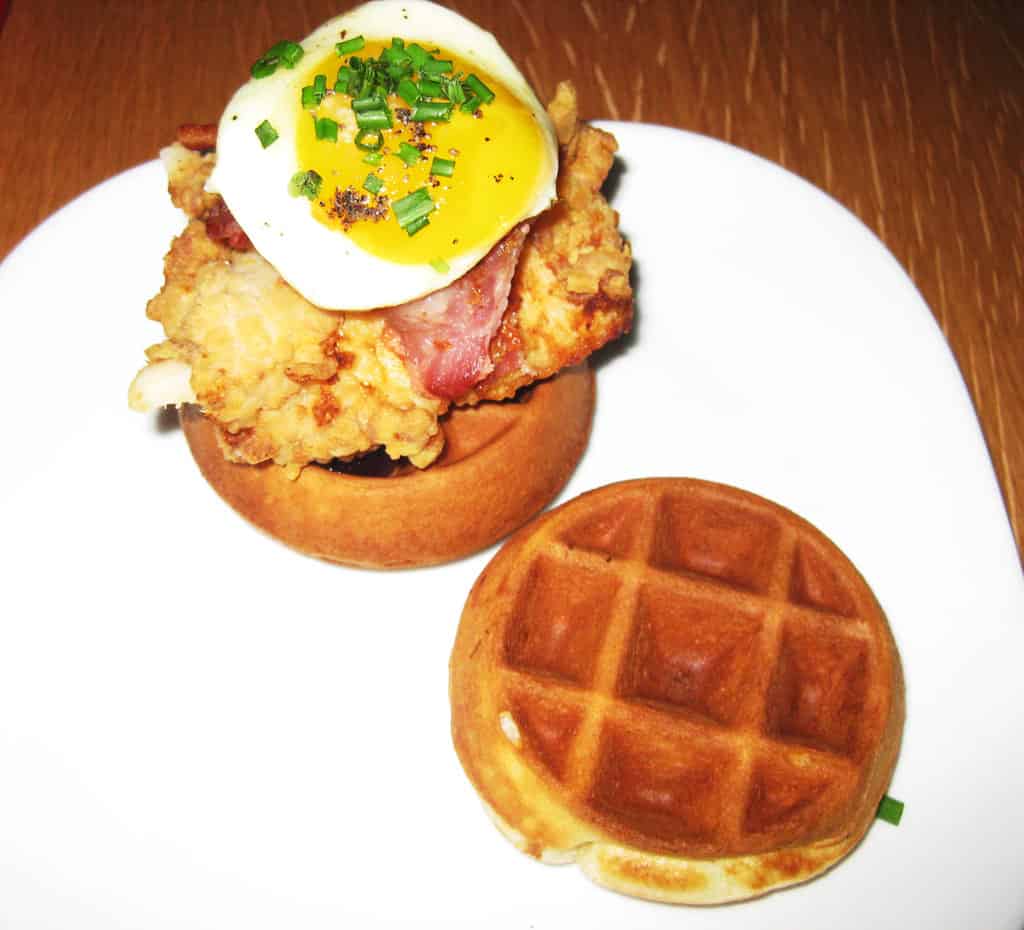 My partner-in-crime opted for the chicken n waffles burger, a rethinking of the quintessential southern pairing of, you guessed it, chicken and waffles.  This burger was just so fun to look at with the mini-waffle buns, but I thought my philly burger was tastier.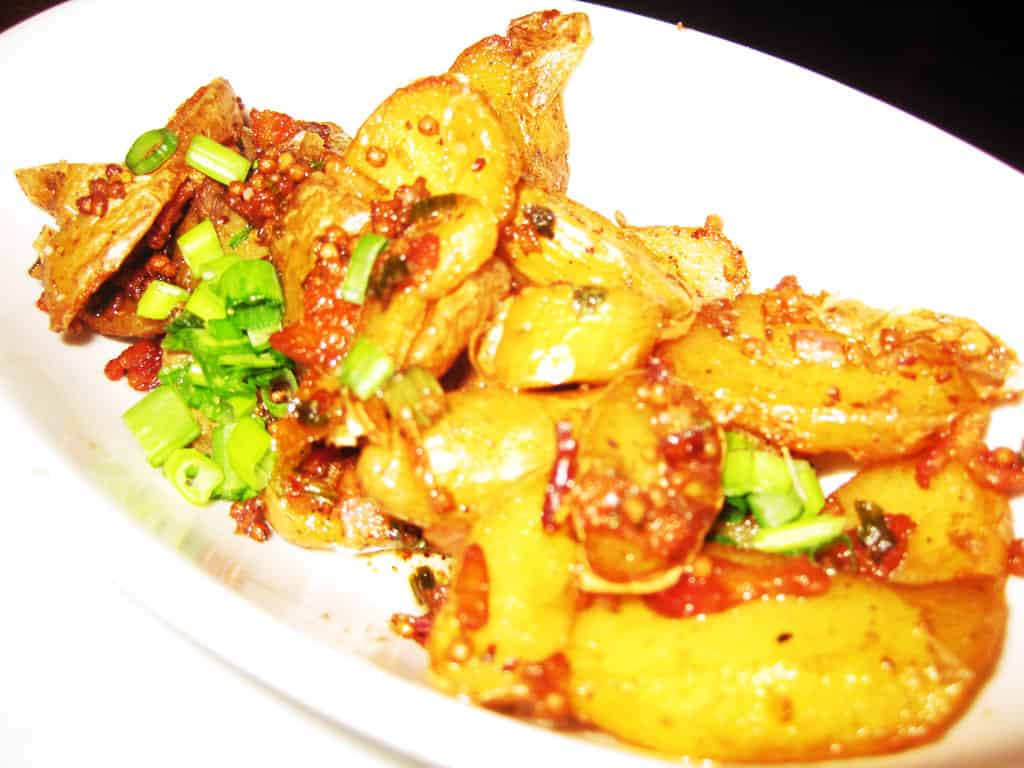 For our side, we ordered the Potato Salad.  I was expecting mayo and lots of it (similar to Fat Matt's side), but instead, we got a potato salad with fried wedges infused with sausage.  It was tasty, but I wanted cold MAYO!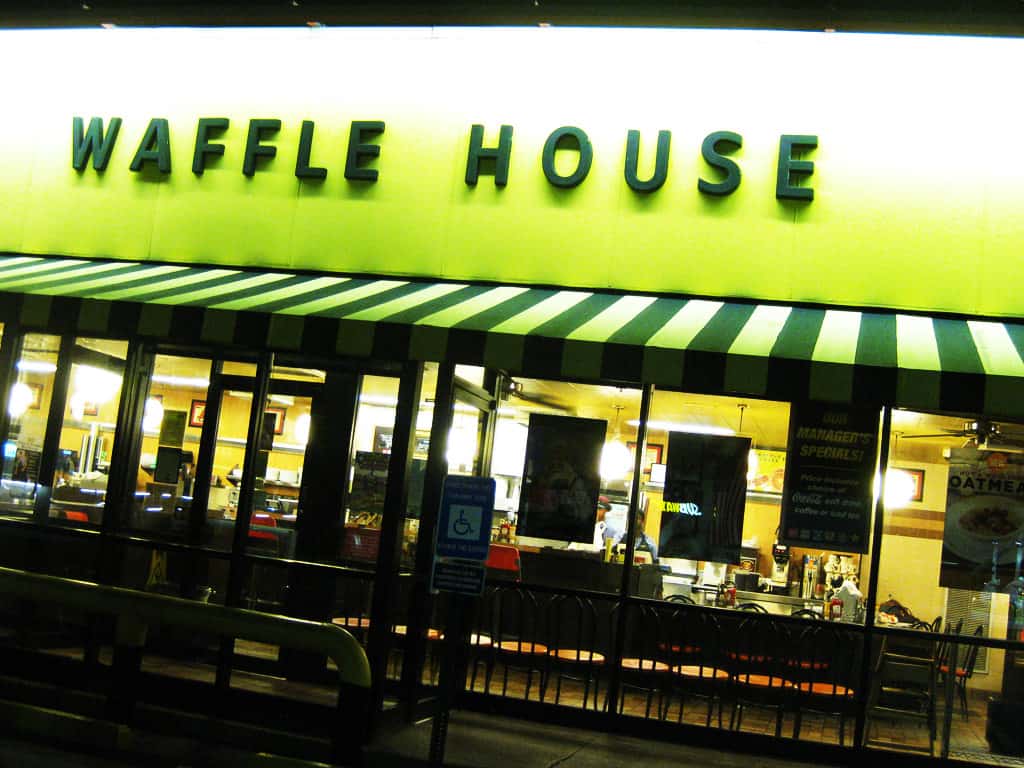 In college, I thought Waffle House was an Atlanta novelty… that special late night eatery that offers greasy food served with extra grease.  Yet, its actually a national chain that originated in Georgia, but now has over 1600 locations in 25 states.  Sadly, California is not one of the 25.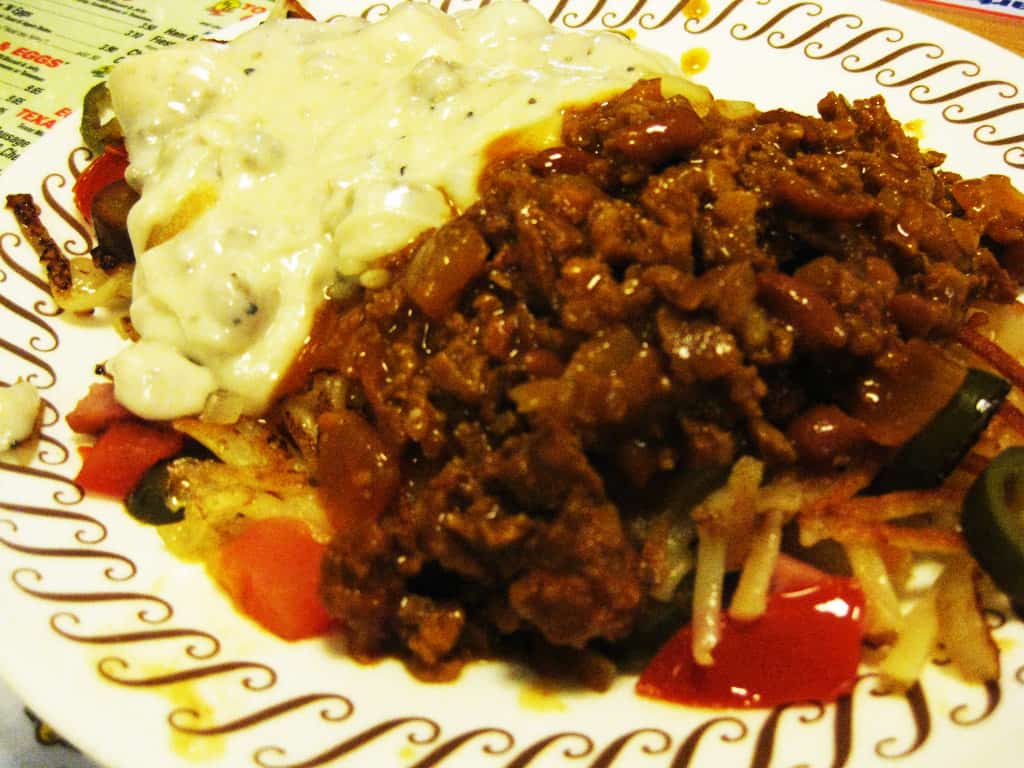 Waffle House is one of those great diners with a huge menu.  Screw minimalism when you can order everything and anything that was ever invented food wise.  You can customize dishes… like this baby.  I'm not sure exactly what was ordered, but hash browns with a billion topings.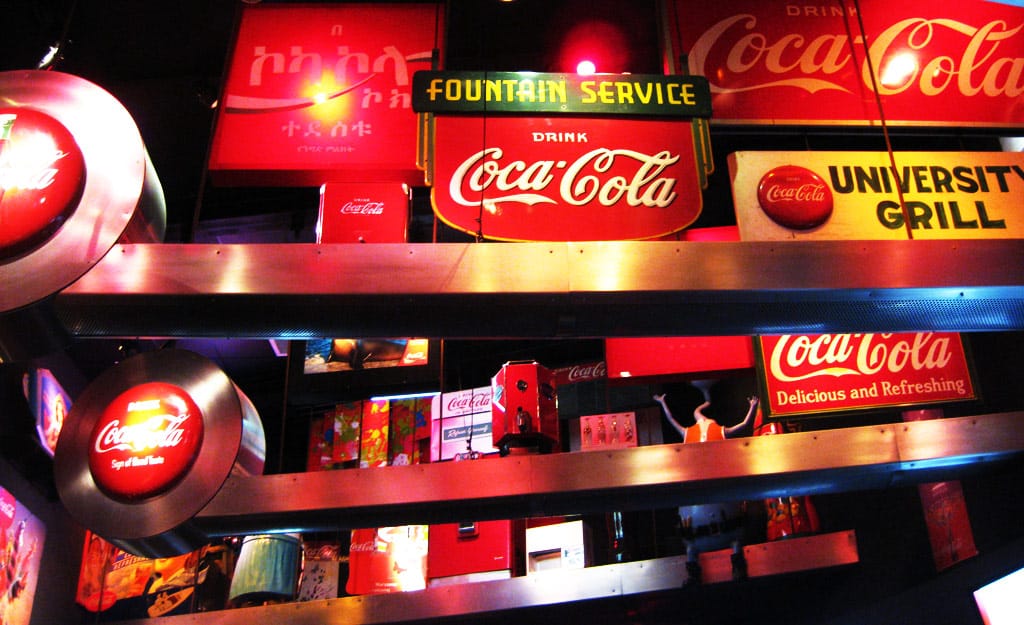 This wasn't a full-fledged culinary stop, and call me a cheesy tourist, but the World of Coca Cola was a must-visit on my to-do list, even though I had been there twice already.  (The museum had actually changed quite a bit since my last visit.)  The World of Coca Cola, affectionately known as the Coke Museum, showcases the iconic brand that has really transformed from a beverage created by a humble pharmacist to a multi-million dollar corporation and lifestyle brand.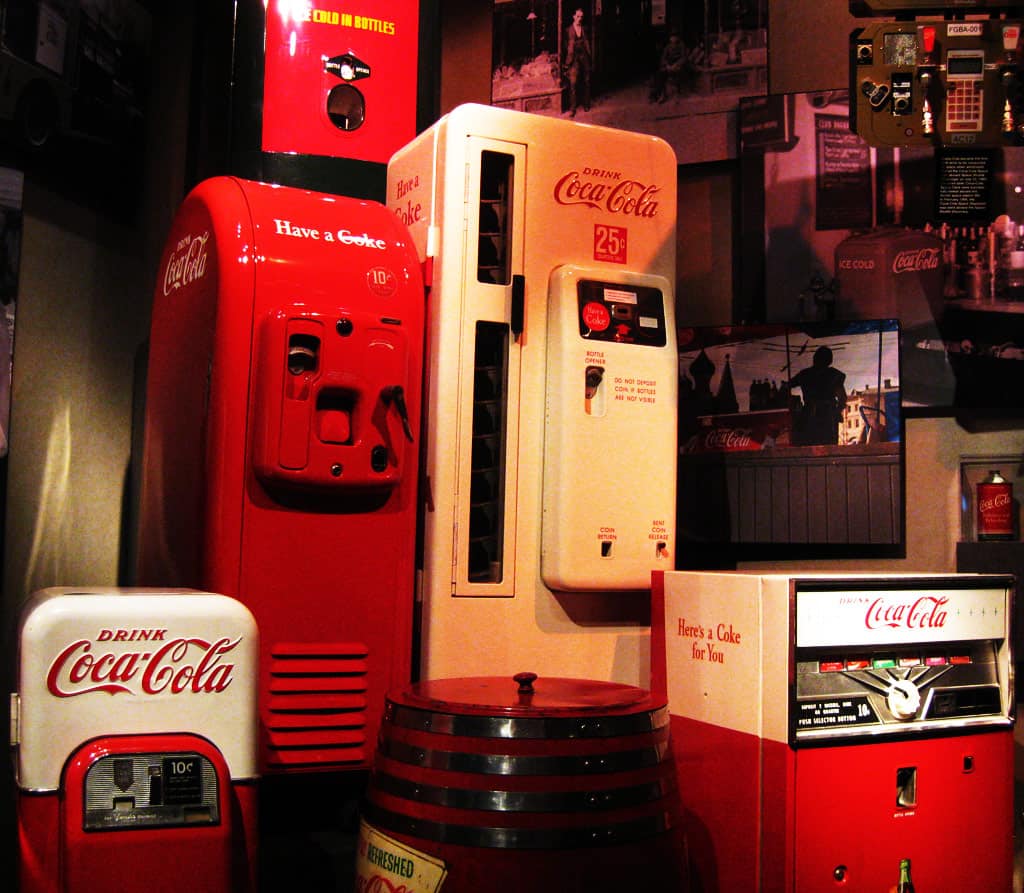 The Coke Museum features coke paraphernalia and vintage coke items, such as these old school vending machines.  Remember when cokes were .25?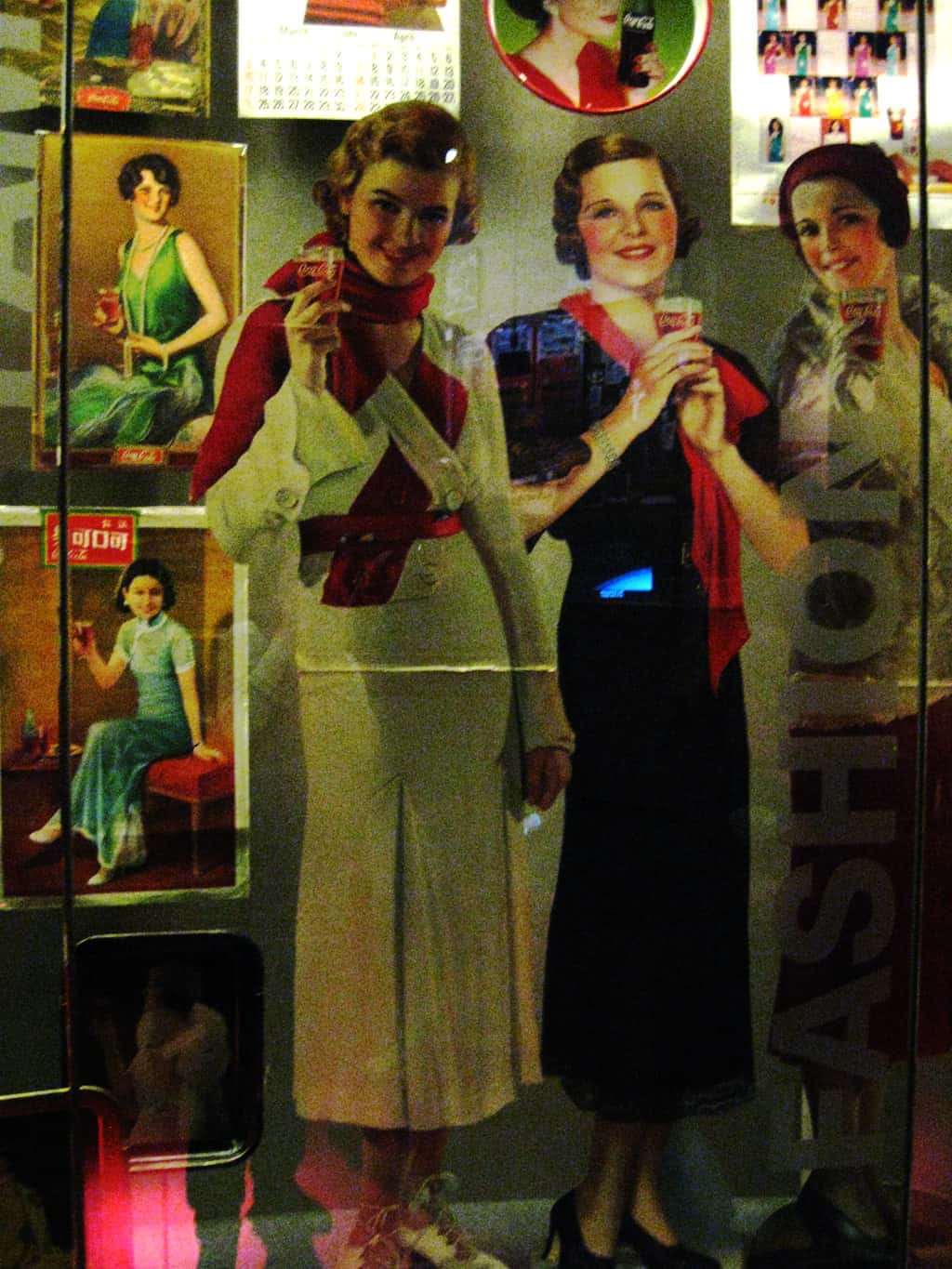 Vintage coke advertisements.  Ah, the good ole days when the ladies in ads were fully clothed!
Trivia and fun Coke knick-knacks are fun and all, but the real highlight comes at the end of the museum: the infamous tasting room.  The tasting room features over 100 flavors of coke from around the globe.  There are stations according to geography: Africa, North America, South America, Asia, Europe.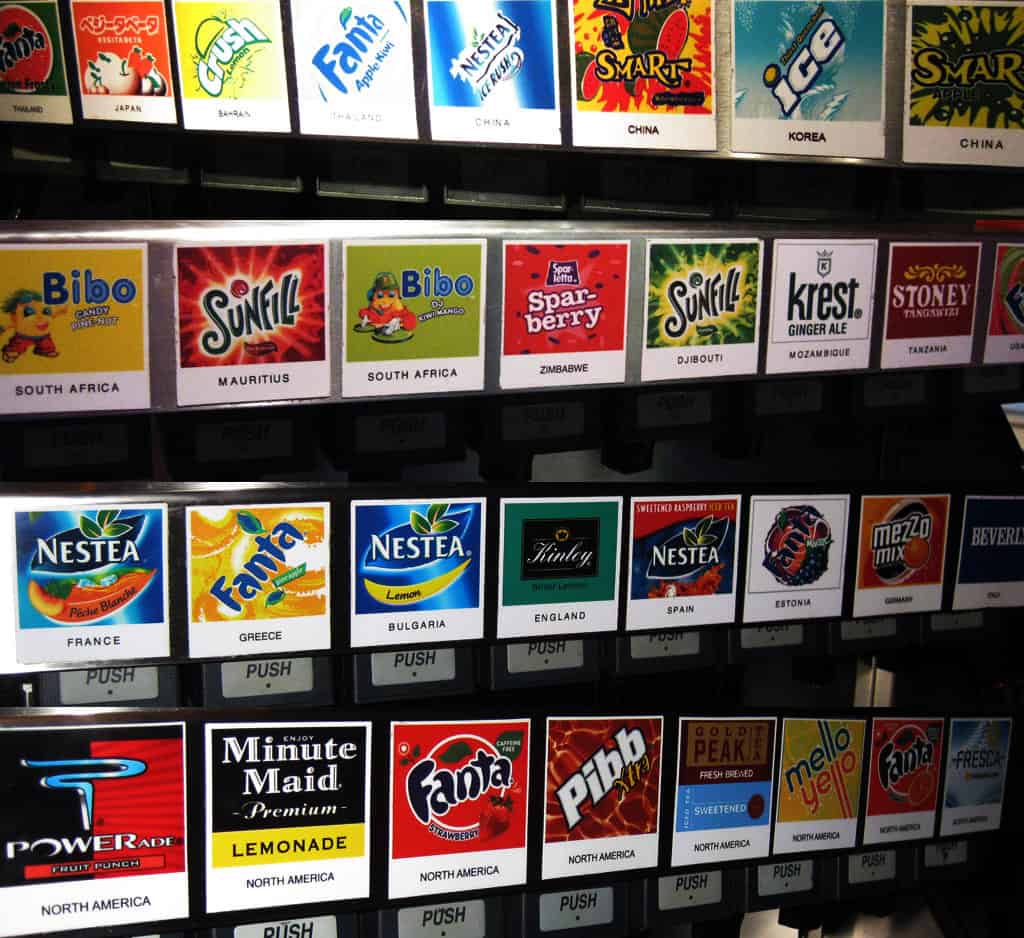 You can taste every flavor if you want, and I think I actually did!  Some highlights?  Apple Kiwi Fanta from Thailand, Melon Frosty Fanta also from Thailand, Pineapple Fanta from Greece.  Flavor to skip?  Definitely Beverly from Italy.  Also, odd, but in my 15+ years of calling Korea home, I have never seen this supposed "Ice" drink.
Fat Matt's Rib Shack
1811 Piedmont Avenue NE
Atlanta, GA 30324
Map
Dante's Down the Hatch
3380 Peachtree Road, NE
Atlanta, GA 30326
Map
Flip Burger Boutique 
2 locations in Atlanta- Buckhead and Midtown
Waffle House
Multiple Locations
World of Coca Cola
121 Baker St. NW
Atlanta, GA
Map