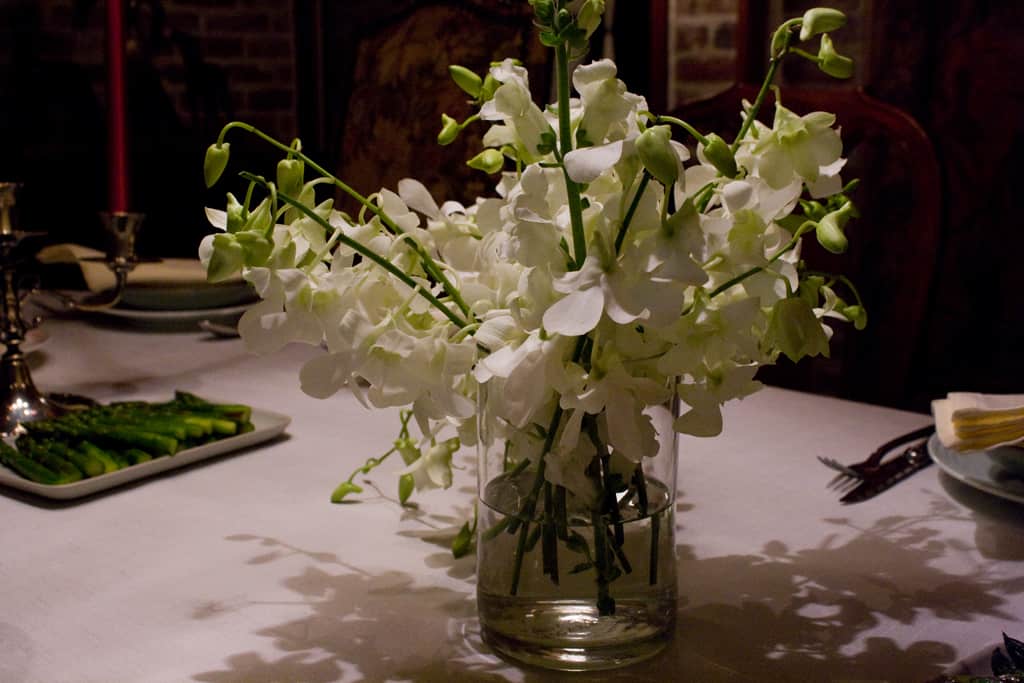 This month is my grandparents' 60th anniversary.  To celebrate we've planned a number of festivities, the first of which was a family dinner party.  They put me in charge of the menu, which was a big responsibility, especially because the other hosting candidates were professional caterers and fancy hotel restaurants, but I gave it my all and played the granddaughter card, which definitely scored me some extra points!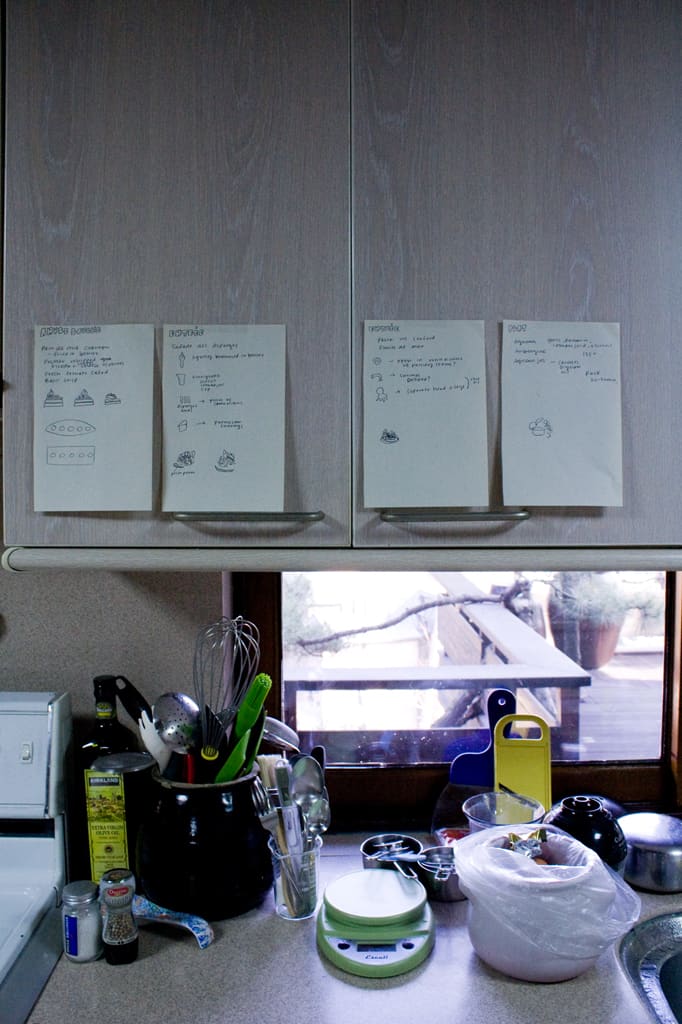 I put together a fairly complex course dinner, which failed to execute the way I planned, but came together humbly and deliciously in the end.  I had intended on plating all the food and sending dishes out sort of restaurant style…but halfway through prep I decided to abort that plan.  There just weren't enough plates to go through all the courses without having to run the dishwasher at least once, and I didn't have all the tools needed to trim the meat to plate the way I wanted to.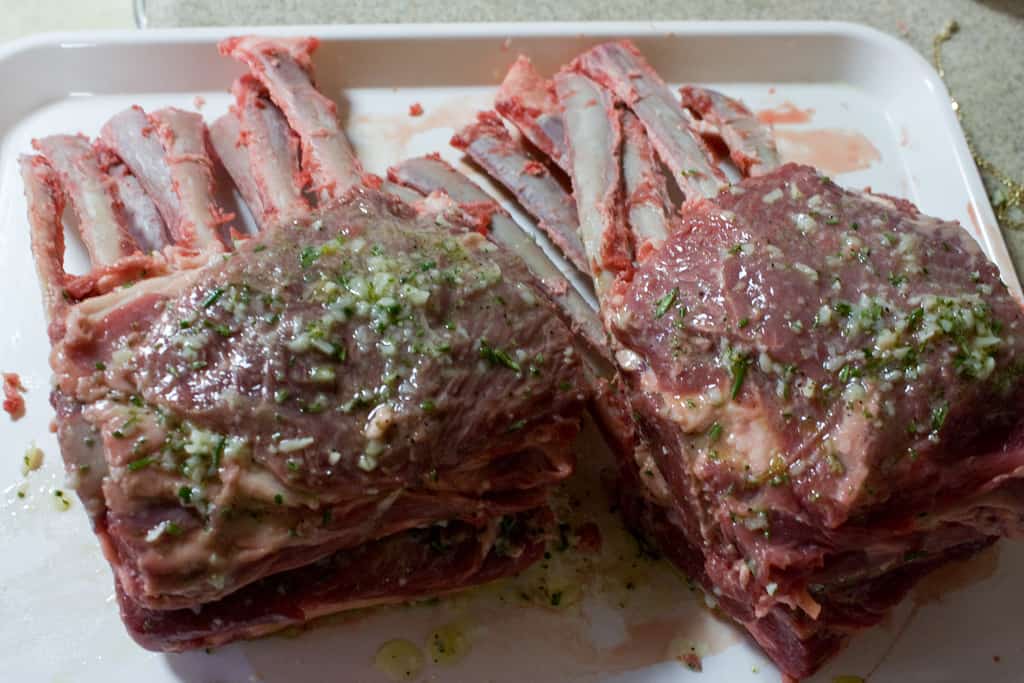 I also ended up getting a lot of help from all the mothers in my family.  All the ladies helped with the mise en place, specifically, rolling out the pasta dough. I didn't realize how long that would take, but we definitely wouldn't have been able to eat at a decent hour without their help!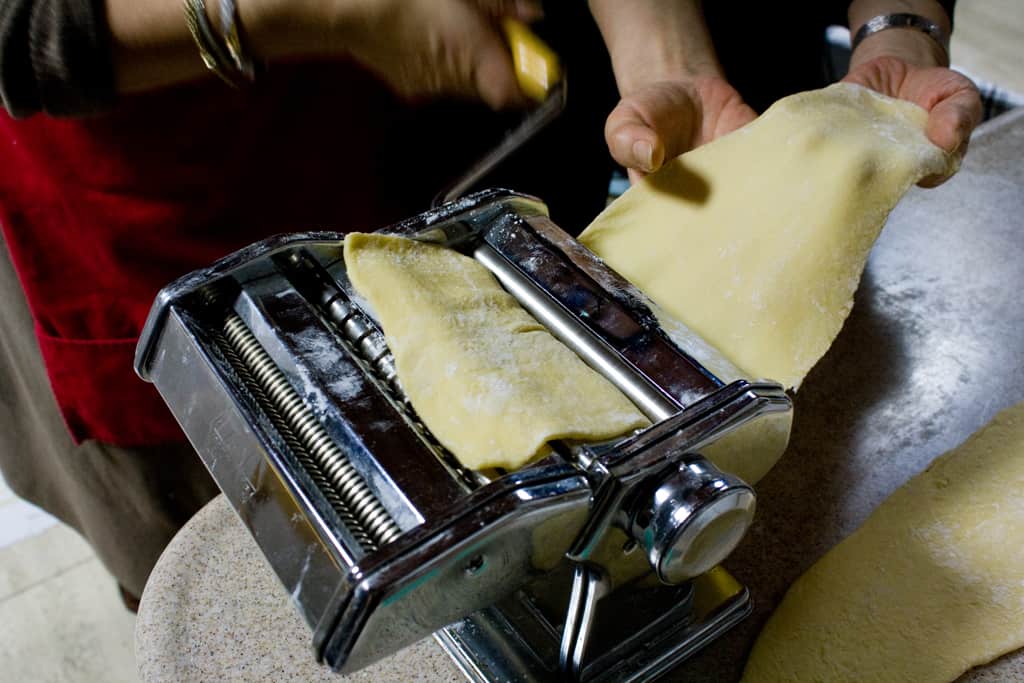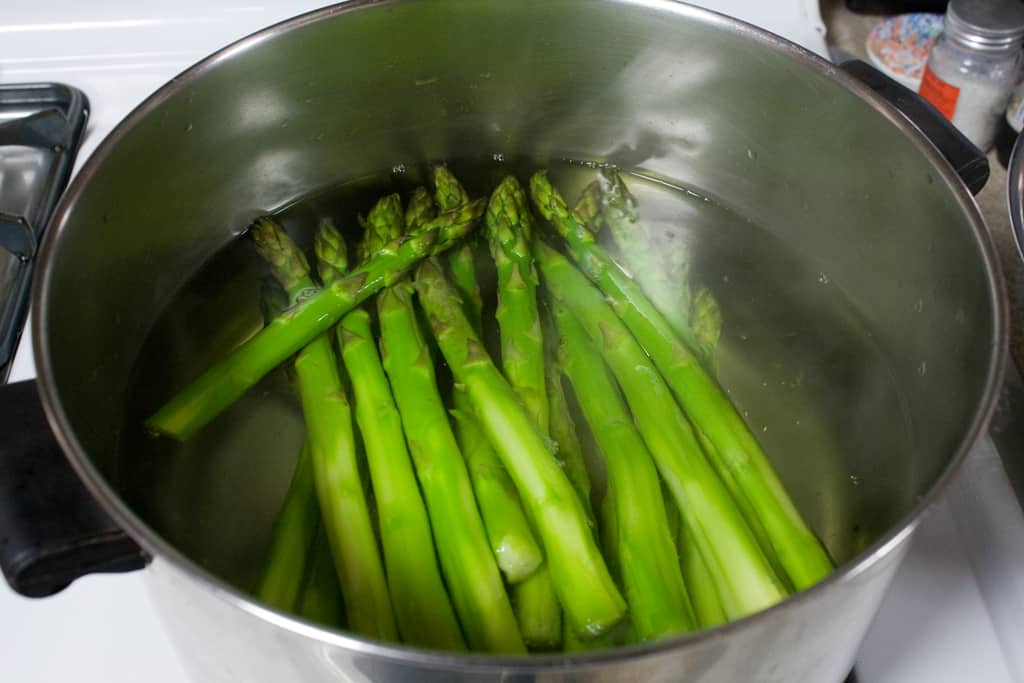 Because of all the unexpected difficulties and changes the dinner ended up being so much more fun and memorable.  It became more of a shared experience than just a sit down dinner, that I think everyone enjoyed themselves a bit more.  And it also didn't hurt that wine entered the picture somewhere between rolling and boiling the noodles.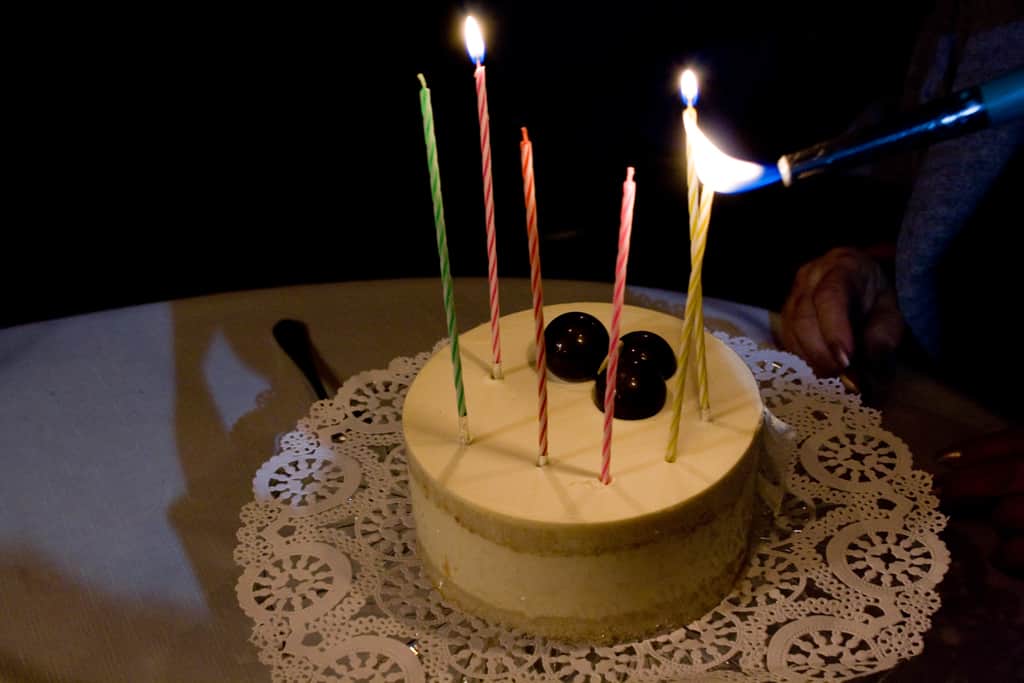 Here's a look at the menu:
Amuse Bouche: Croutons topped with whipped ricotta cream cheese with chives, tomatoes, and basil
Salade: Cooked asparagus with baby leaves and lemon-olive oil vinaigrette
Entrée: Homemade pasta with fresh seafood
Plat: Roasted rack of lamb and leg of lamb
Garniture: Roasted eggplant with dried tomato petals and cooked red and yellow bellpeppers
Dessert: Marron Entremet with Caramel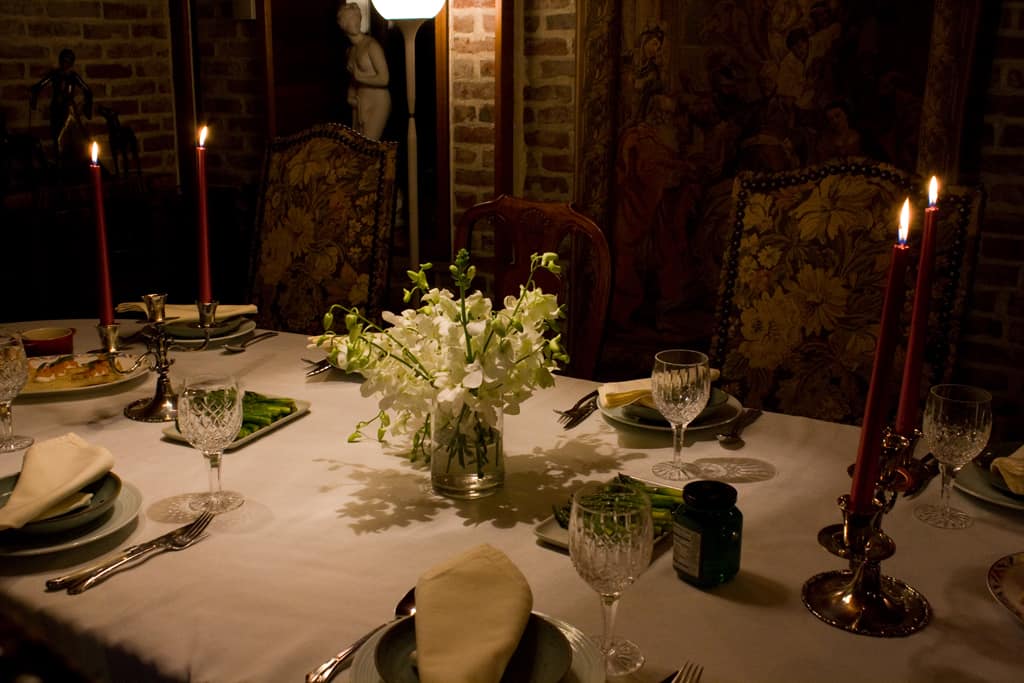 Included below are the recipes of the two highlights of the night.  The amuse bouche and main course (dessert was also a hit but more on that in another post!). The amuse bouche was actually one of the easier dishes to make on the menu, but it probably got the most votes for favorite item on the menu.  Never underestimate simple dishes!  As for the main, I roasted both rack and leg of lamb…because what can I say, my family really knows how to eat!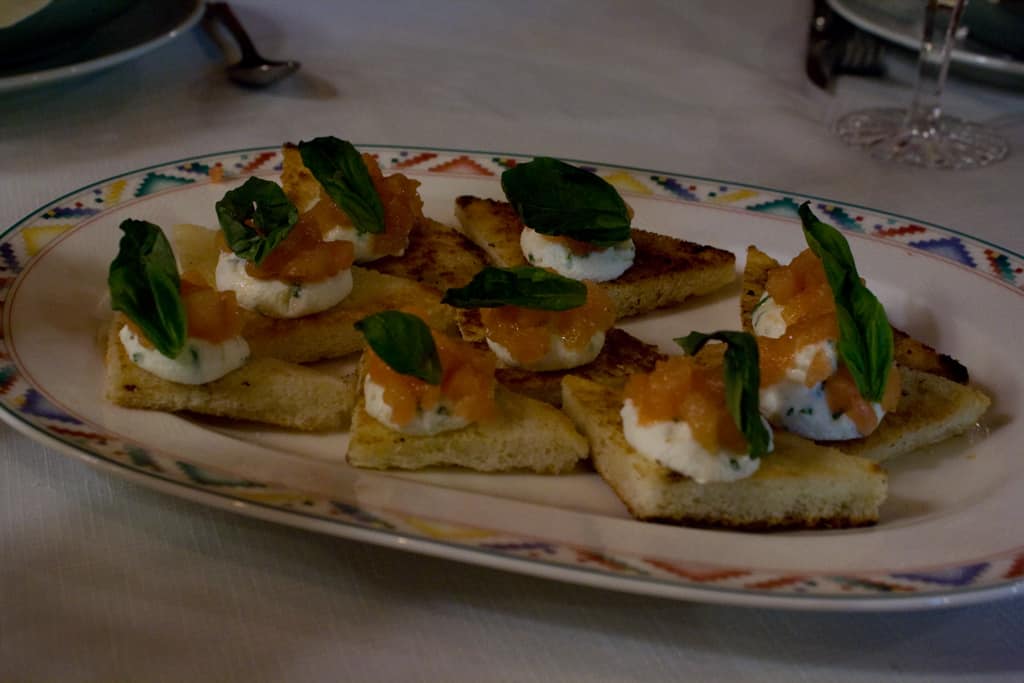 Croutons Topped With Whipped Ricotta-Cream Cheese with Chives, Tomatoes, and Basil
Makes 20
200 g homemade ricotta (from here)
50 g cream cheese
2 medium tomatoes, peeled, deseeded, and diced
1/2 bunch of chives
1 bunch of basil
5 pieces of pain de mie or sandwich bread
Butter
Salt & pepper
In a food processor, whip ricotta and cream cheese.  Cut chives into small pieces and mix into cheese mixture.  Season with salt and pepper. Cut each slice of bread into four pieces. Heat a nonstick pan over medium heat with butter.  Lightly brown the pieces of bread until golden.  Once the bread or croutons are done, top with whipped cheese, diced tomatoes, and basil.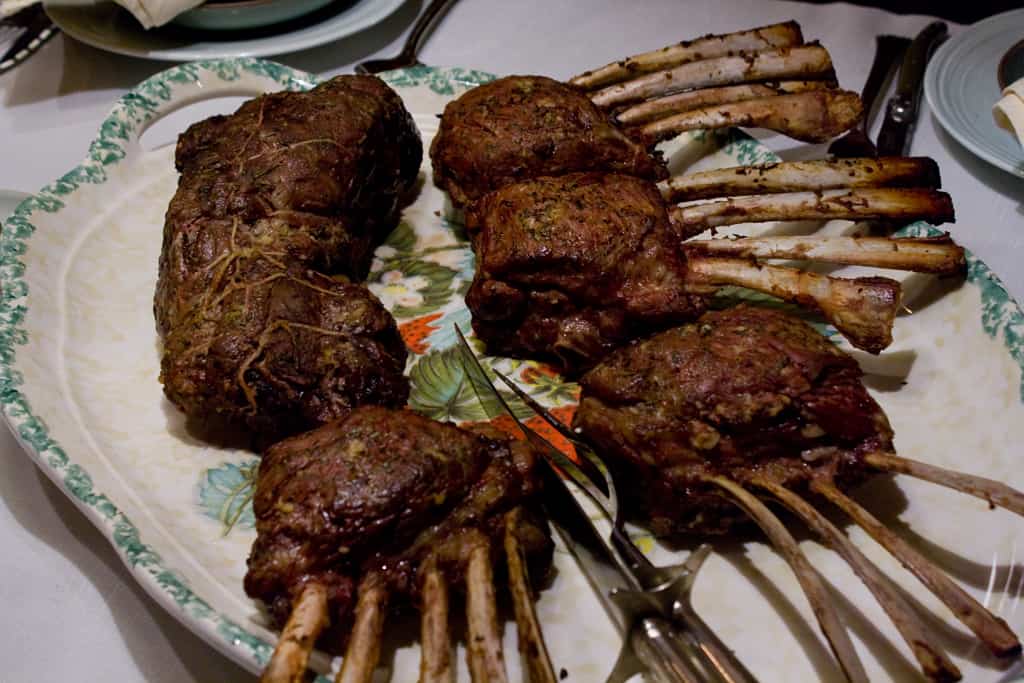 Rack and Leg of Lamb
Inspired from here
2 racks of lamb
1 leg of lamb, deboned
1/2 lemon, juiced
3 sprigs of rosemary, roughly chopped
1/2 tablespoon minced garlic
Olive oil
Salt & pepper
1/2 large onion, cut into cubes
1/2 carrot, cut into similar size as onion
1 sprig rosemary
1 Bay leaf
2 cloves of garlic, crushed whole
Fresh or dried thyme
Trim racks and leg of excess fat and silver skin. Reserve trimmings for jus. Cut each rack four boned pieces. With kitchen string, tie the leg of lamb.  Combine lemon, rosemary, and minced garlic together.  Add enough olive oil equal the amount of lemon juice.  Season with salt and pepper.  Rub the lamb pieces with lemon-olive oil marinade.  Leave at least 1 hour or overnight.
Leg: Heat the oven to 200 degrees C or 400 degrees F.  Place leg into a roasted dish and cook for 30 minutes. Then, reduce temperature to 180 degrees C or 350 degrees F and cook for 1 more hour, or until a thermometer reads and internal temperature of 58 degrees C or 135 degrees F for rare, 65 degrees C or 150 degrees F for medium rare.
Rack: When the leg has been in the oven for nearly an hour, sear the racks in a hot pan until golden brown.  Place next to the leg inside the oven for 20-30 minutes, or until the internal temperature reaches desired doneness.
Meanwhile, as the lamb cooks, prepare jus. Heat a pan (not non-stick) with olive or canola oil.  Brown trimmings well. Once they are browned, remove from pan into a sieve and reserve. Add the onion and carrot to the pan and sweat.  Once they are well sweated, remove vegetables into the same sieve with lamb to get rid of excess fat.  Lightly dab pan with a paper towel, but do not remove caramelized bits.  Return vegetables and meat to pan, add bay leaf, crushed garlic, and thyme.  Add a little water to deglaze pan.  Once deglazed and liquid reduced, add water to cover contents.  Transfer to a pot and bring to a simmer.  Once liquid has reduced significantly, pass contents through a fine sieve over another pot.  Place the pot over heat and continue to reduce until the liquid has become almost like a syrup.  Serve alongside meat.