The greatest light to the end of my stage tunnel was my sister's visit to Europe.  Her arrival meant freedom from the crazy patisserie life and ten days of nonstop sister talk and Euro food tastings.  Among the places we visited was Belgium, and let me tell you this is where the chocolate is at!  Between two cities and three days, the montage above only begins to scratch the surface of the amount of shops in Belgium.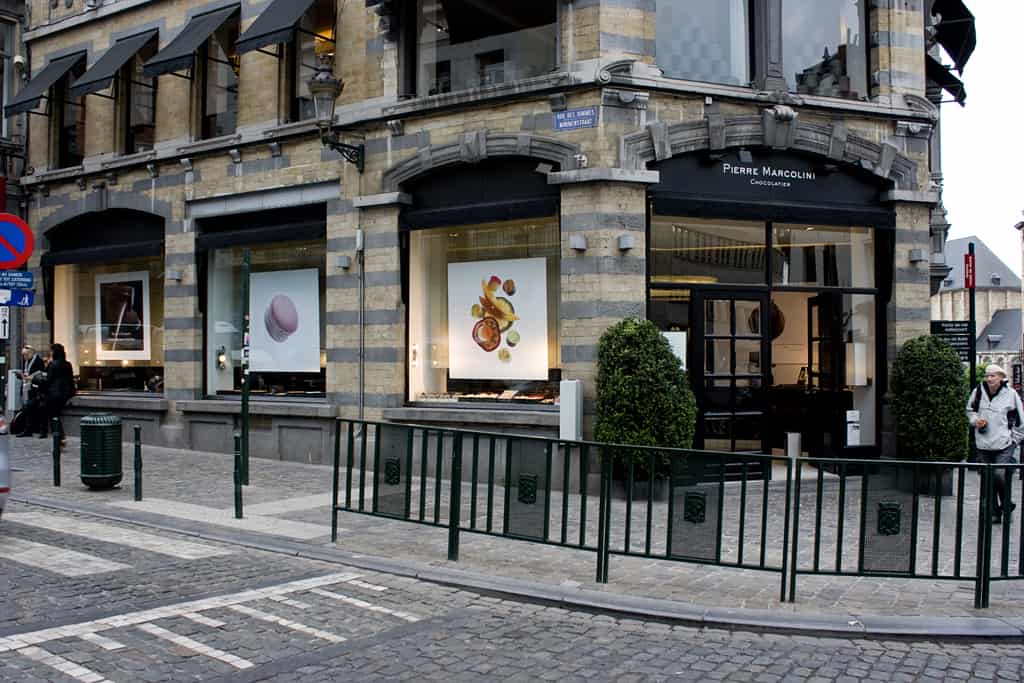 With hundreds of chocolatiers beckoning tourists to their doorstep, one of the most prestigious is Pierre Marcolini. His artisanal chocolates are made bean-to-bar  and celebrated for their quality and flavors. We bought a couple of boxes as gifts and tried two of his macarons, which were disappointing and not worth the cost (duh! Can anyone outdo the French when it comes to macarons? What was I thinking!), but the chocolates are superb. Three boxes I recommend are the "Saveurs du Monde," an assortment of grand cru chocolates from different provenances, "Palets Fins," which for me was a variety of caramel filled chocolates, and the chocolate covered caramelized almonds.  (No pictures unfortunately).
Other chocolate shops which I found notable were Neuhaus, which was the first shop to make filled chocolates, Cote d'Or, which kind of seems like a Hershey-esque company with chocolates easily found in grocery stores around Europe.  However they have interesting flavor combinations like fig and almonds or Advocaat (which I had to wikipaedia).  A notable artisanal shop is Mary, who handcrafts all their chocolates, and of course Godiva.  Fresh truffles are no match to the packaged ones!
Pictured below is a compilation of all the sweets bought after day one.  Can you also spot the following random inclusions: bottle of wine, biscuits, sour candy ribbons, and a bag of cheese?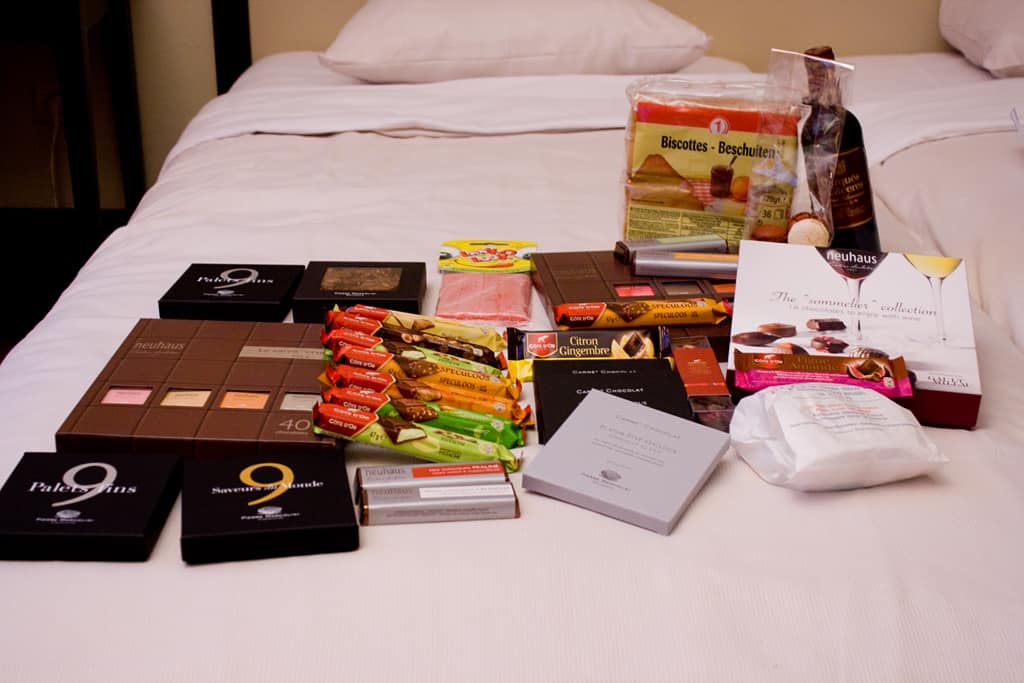 Pierre Marcolini
1 Rue des Minimes
1000 Bruxelles
Metro: Gare de Bruxelles-Chapelle
or
75 Avenue Louise
1050 Bruxelles
Metro: Louise
Map
Neuhaus
25 Galerie de la Reine
1000 Bruxelles
Metro: Bourse
and various others
Map
Cote d'Or
1 Kleine Zavel
1000 Bruxelles
Metro: Porte de Namur, Louise, or Gare de Bruxelles-Chapelle
Map
Mary
73 Rue Royal
1000 Bruxelles
Metro: Madou
Map
Godiva
48 Grote Zavel
1000 Bruxelles
Metro: Bourse or Gare Centrale
Map