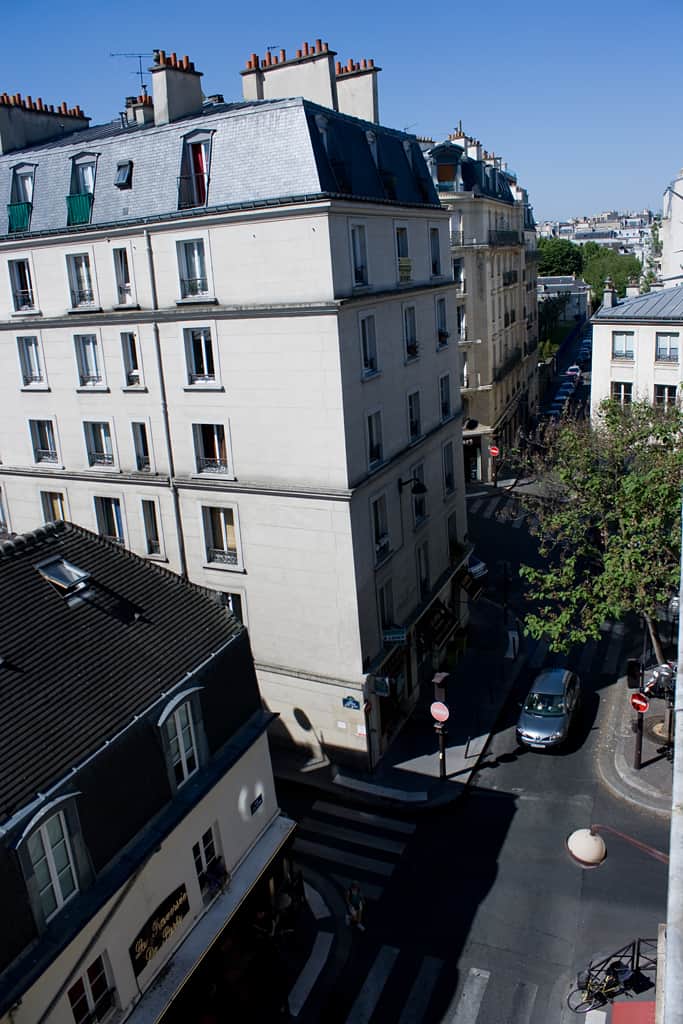 I haven't cooked in my "new" kitchen yet.  There have been plenty of other foodie distractions and interests that have kept me away from the apartment.  I'm actually hoping that I can keep on eating out so that I don't have to face the kitchen. It was so utterly disappointing to walk into my new life as a to-be pastry chef only to find that the "kitchen" was actually the laundry room with two hot plates and a microwave almost as old as I am.  I just had to laugh because it felt like one of those moments when a kid gives you a hunk of mud and calls it food.  I'm being negative.  At least it's kind of adorable when a kid does that.  I'm just trying to ease my way into that part of the house.  It's only been a week since I arrived, so I'm giving myself another seven days to get over the hot plates and try frying an egg.
In the meantime, I have many restaurants and cafes I can write about to show how I've been avoiding you-know-what.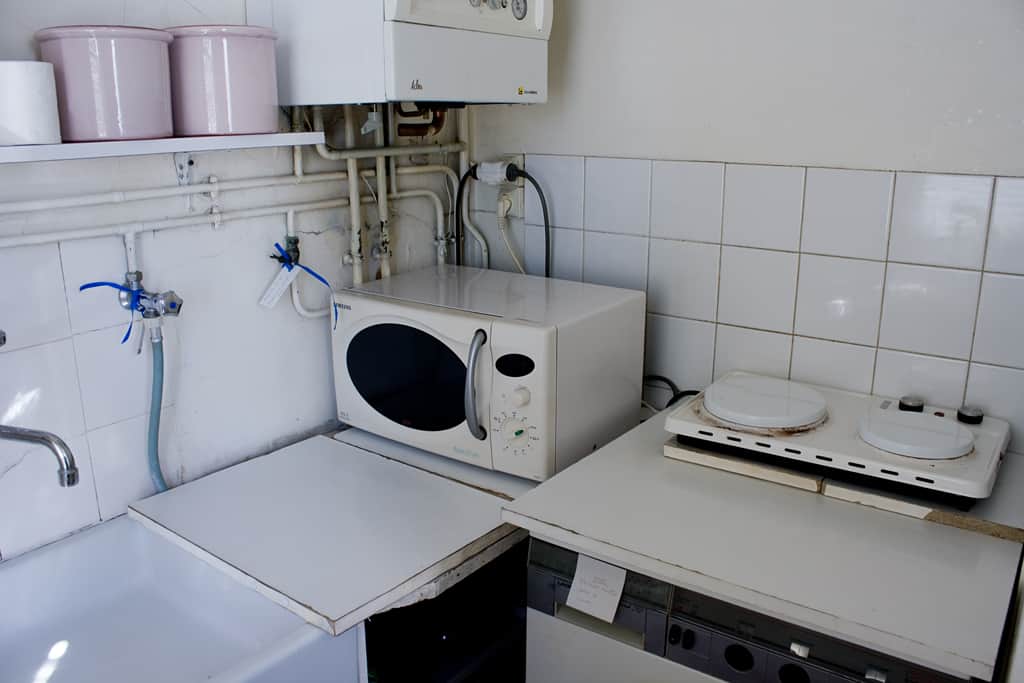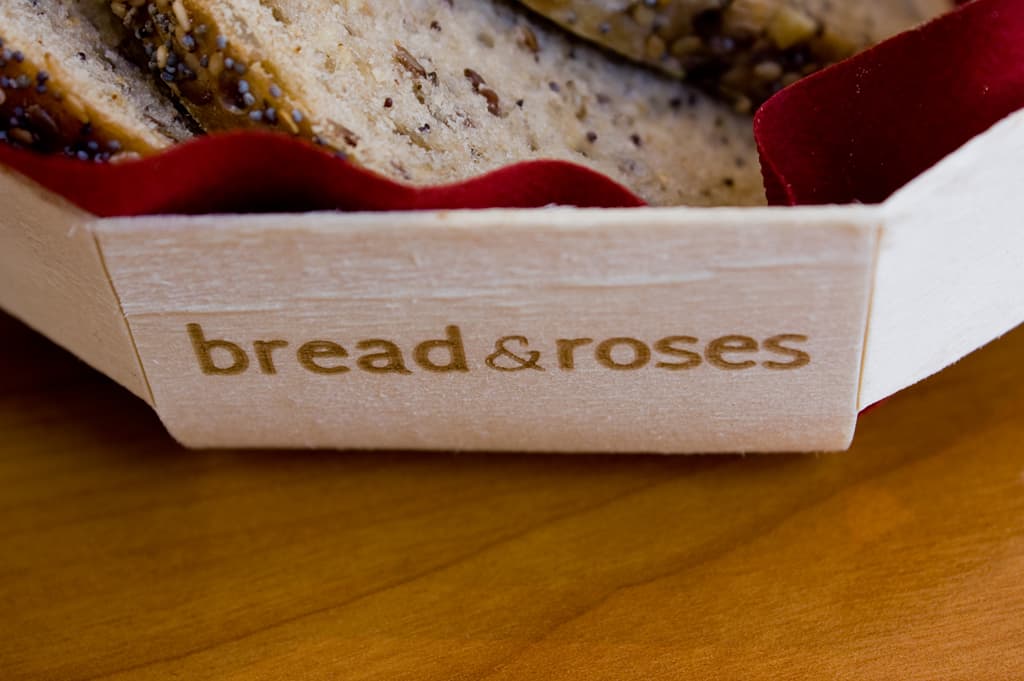 Bread & Roses was actually the first place that I ate at in Paris.  It was just a few blocks from the metro station my friend and I had decided to meet.  We had both read about it and thought it would be appropriate to have our first lunch at a place that celebrated the art of bread.  It was actually a nice place to start Paris.  Located in a quiet part of the 6th arrondissement, it is close to the Luxembourg garden on a very quaint street. It was perfect for a light but filling lunch for two jet lagged girls.
We shared two plates: Scottish smoked salmon with a large piece of toast and an assortment of salads.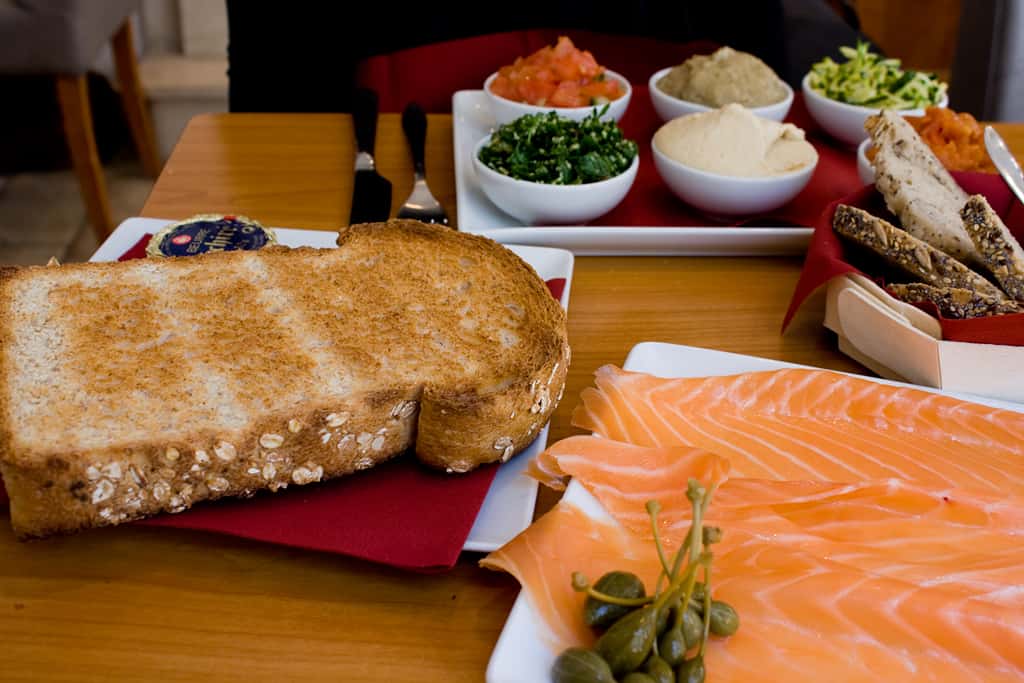 The smoked salmon was deliciously fresh and excellent with a slather of french beurre and perfectly toasted bread.  We both got a kick out of how huge the slice of bread was.  The menu did not lie when it said "grand toast."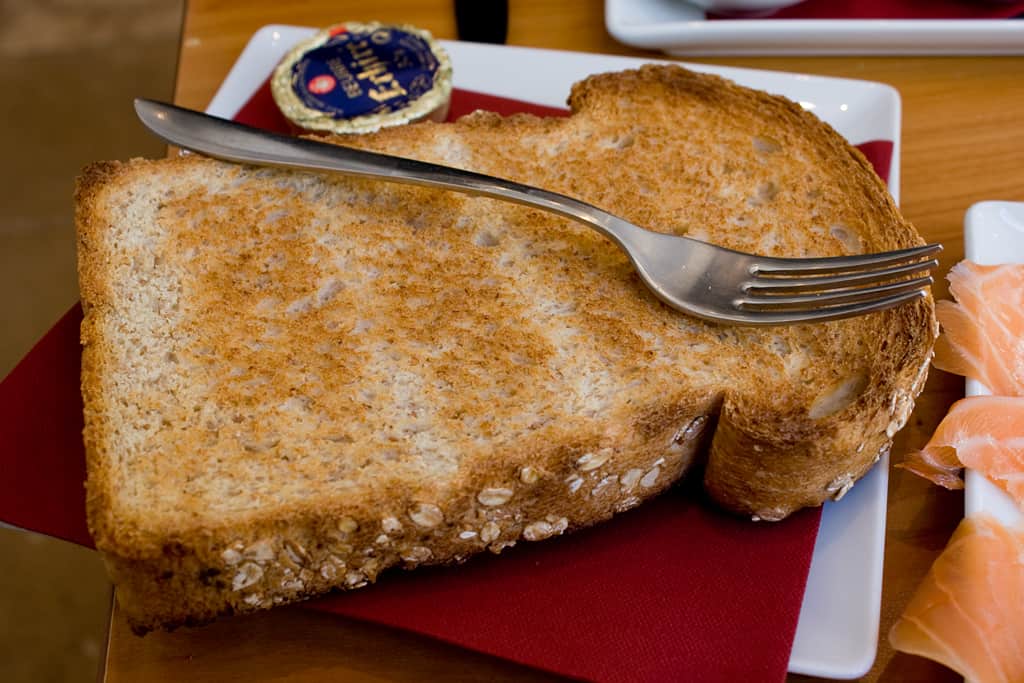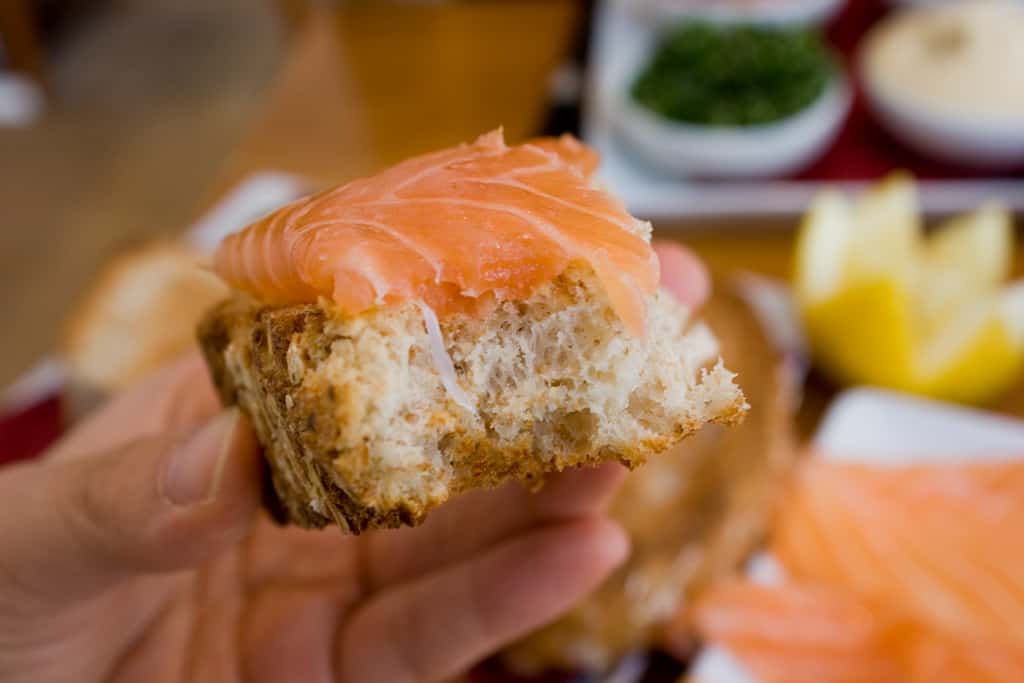 The salad turned out to be a tray full of dips and spreads to be eaten on multigrain bread.  There were six kinds: bruschetta type diced tomatoes, roasted eggplant puree, seasoned zucchini, tabloueh-esque greens, hummus, and a roasted tomato puree.  My favorite was the seasoned zucchini.  They were subtly sweet and salty, while being soft with a slight crunch.  It was both good on its own and on the bread.  The salad seemed to be quite popular as many tables around us had ordered it too.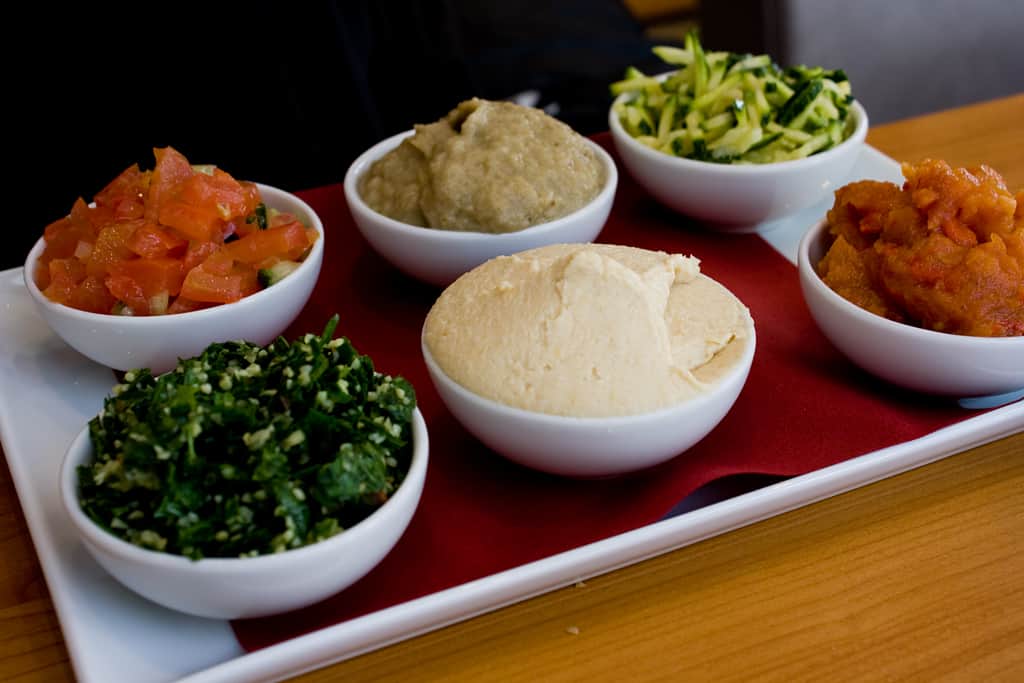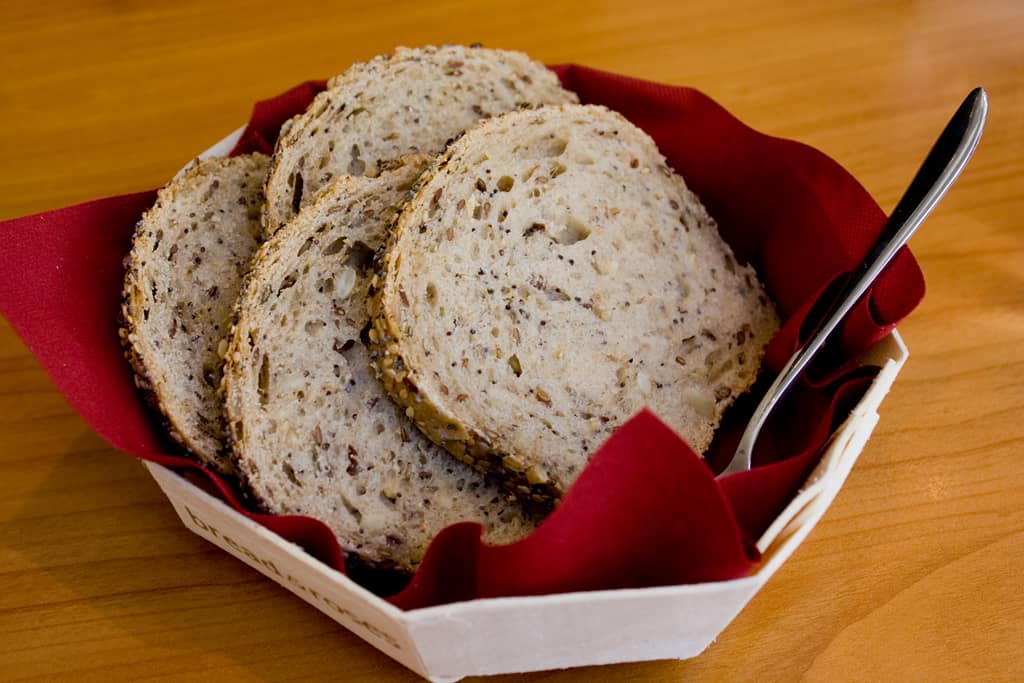 Both dishes were thoughtfully composed to highlight the bread.  The flavors and textures of the salmon and dips perfectly complemented the accompanying bread.  I definitely want to return to try their other dishes like the tomato, onion, and anchovy tart or sun-dried tomato and goat cheese tartine, or even just to try other loaves of bread.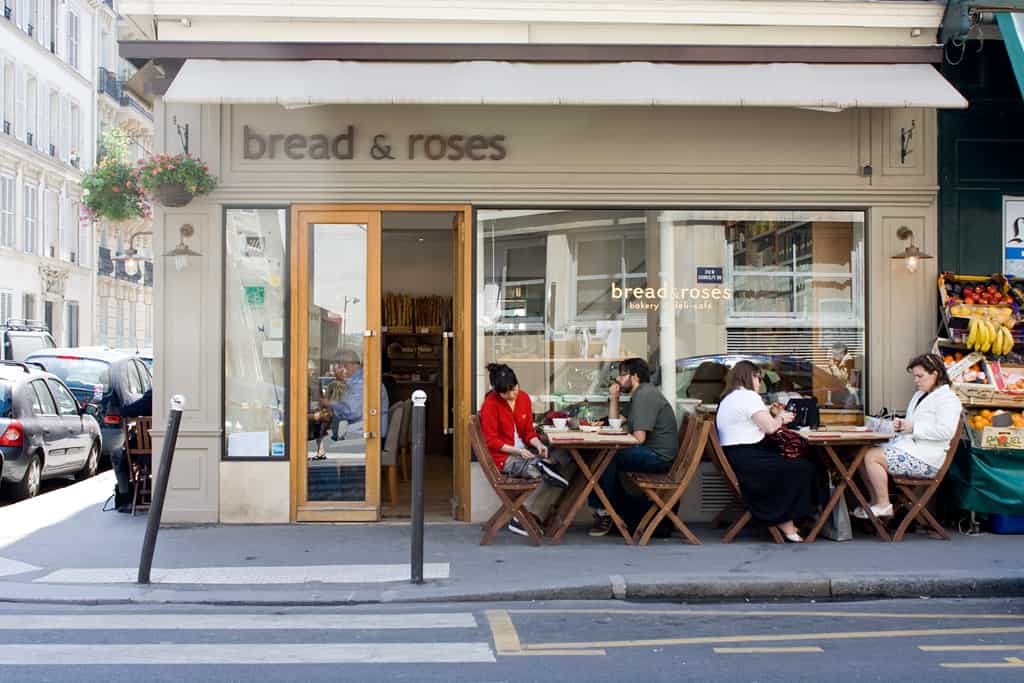 Bread & Roses
7 rue de Fleurus
75006, Paris
M° Rennes or Saint-Placide
Map