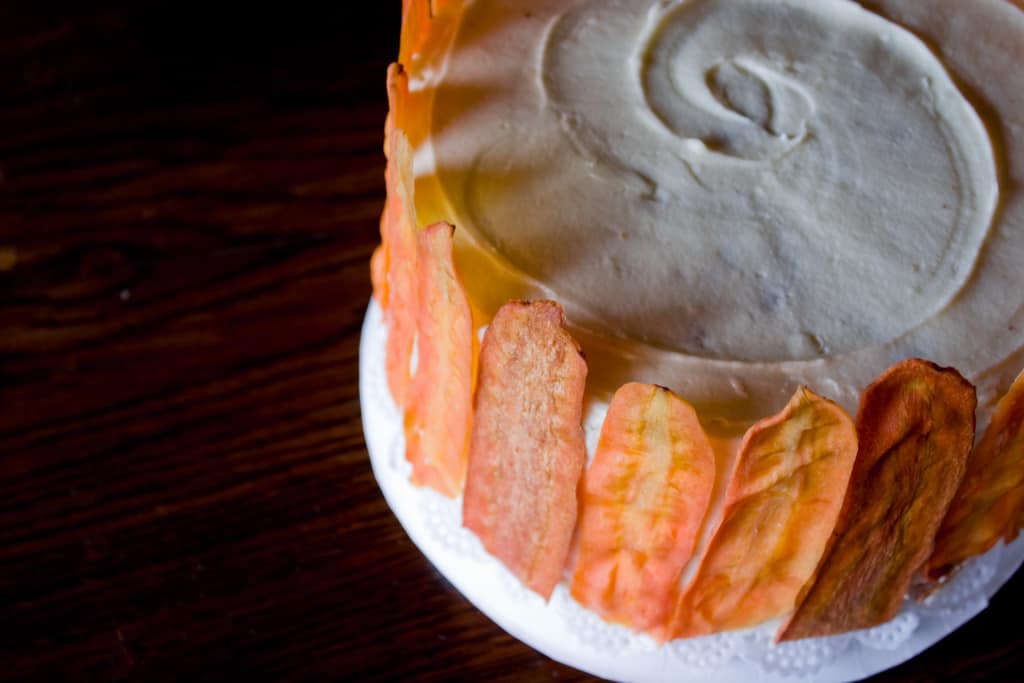 I've always been quite reserved when it comes to picking favorites.  When people ask me what my favorite restaurant, movie, book, or ice cream flavor is, I'm always stumped for an answer.  I definitely have long lists of likes (and very short lists of dislikes), but it's hard for me to pick just "the one."  It's probably because I take it too seriously.  After all, "What is your favorite blank?" is used mostly during small talk conversations and with acquaintances.  I highly doubt my opinion would make a profound impact on someone I just met, or that they would even think twice about it.  I know it's not a big deal, what I say today can change tomorrow, tastes evolve, and trends will turnover, but for some reason I still feel the need to be brutally critical and a little bit too thoughtful when it comes to this favorite business.
With that said, it can be duly noted that when I say carrot cake is my favorite cake, I truly mean it.
I love carrot cake for its earthy, rustic flavors.  It isn't fussy and works in any occasion.  I also love it because it's the only cake my mom really baked from scratch.  My mom wasn't/isn't much of a baker, but to her credit she did try incorporating that homemade goody stuff into our childhood once in awhile.  We always had a box of yellow cake mix in the pantry and a set of Christmas cookie cutters in a kitchen drawer.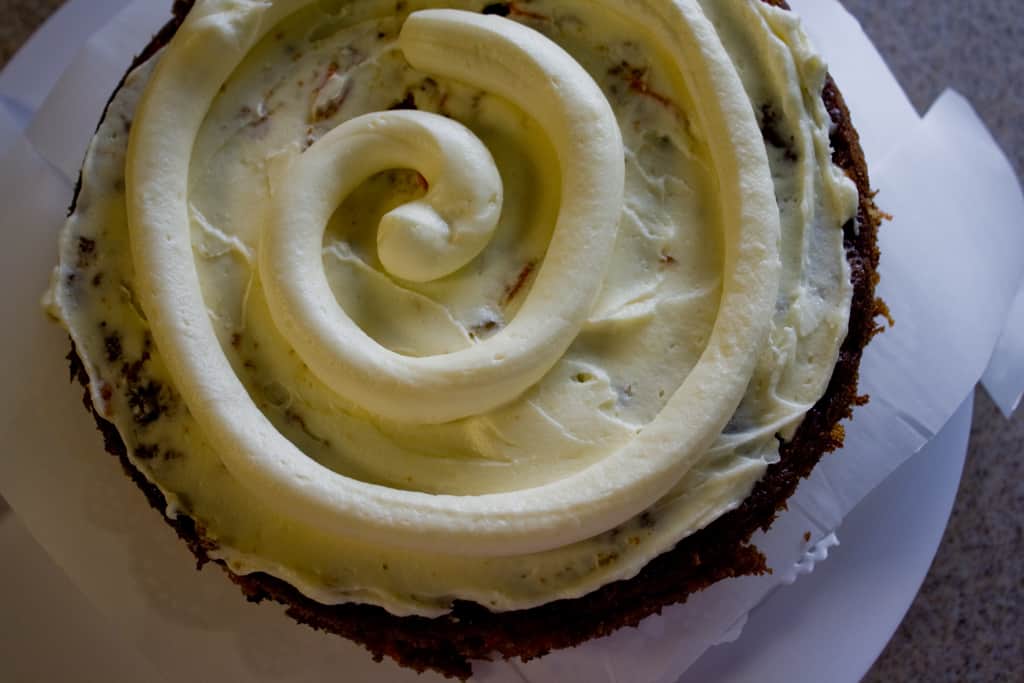 I have my mom's recipe, which is wonderful and absolutely foolproof.  It is most delicious in its humble form: plain and made as a loaf cake.  I've never made any other carrot cake, so I decided to try something new for my friend's birthday. Enter Ina Garten.  Her recipe is luscious and decadent with thick swashes of frosting.  I wouldn't replace it for my mom's, but it's definitely being added to my repertoire.  The curious addition of pineapple turned out to be perfect.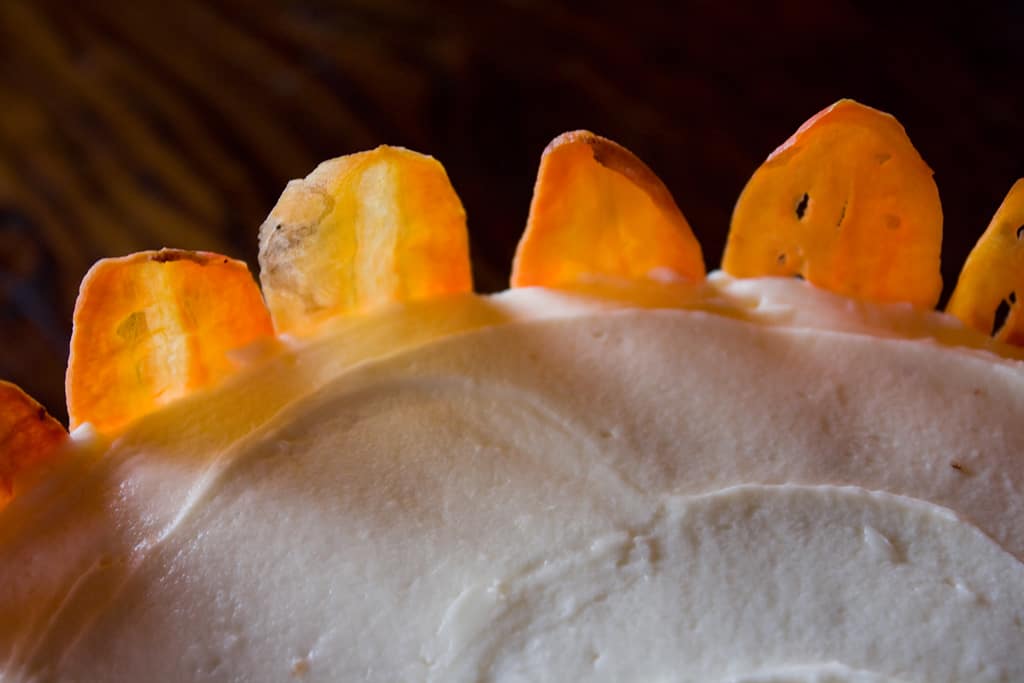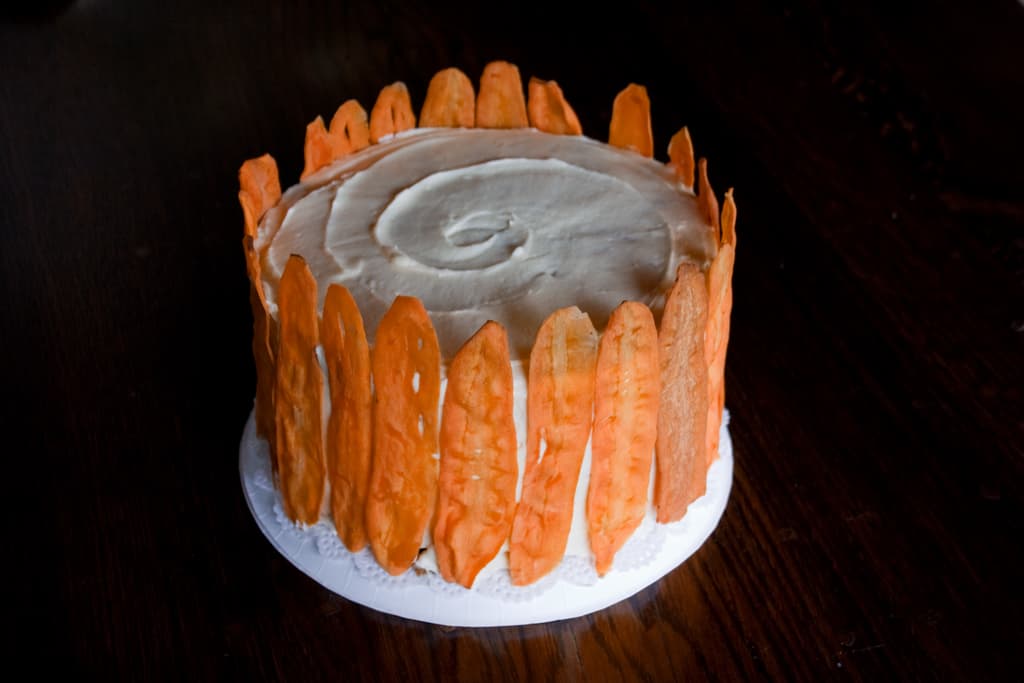 Other recipes with Pineapple:
Pineapple Upside Down Cake
Carrot Cake
Adapted from Ina Garten
Cake Layers:
370 g granulated sugar
240 ml vegetable oil
3 large eggs, room temperature
1 teaspoon pure vanilla extract
325 g all purpose flour
4 g ground cinnamon
14 g baking soda
5 g kosher salt
130 g chopped walnuts
450 g carrots, grated
100 g diced fresh pineapple
80 g pureed and drained fresh pineapple
Filling & Frosting:
340 g cream cheese, room temperature
225 g unsalted butter, room temperature
1 teaspoon pure vanilla extract
300 g confectioners' sugar, sifted
Preheat oven 175 degrees C or 350 degrees F.
Butter two 8-inch round cake pans and line with parchment paper.
In a bowl, beat sugar, oil, and eggs together until light yellow.  Add vanilla and drained, pureed pineapple.  Sift flour, cinnamon, baking soda, and salt into wet ingredients.  Mix.  Toss walnuts with a little bit of flour.  This will prevent them from sinking to the bottom.  Fold walnuts and carrots into batter.
Divide batter equally between two pans and bake for 55-60 minutes, or until an inserted toothpick comes out clean.  When done, set pans on a wire rack and cool completely.
To Make the Frosting:
Beat cream cheese, butter, and vanilla until just combined.  Add sugar slowly and mix until smooth.
To Assemble:
Place one layer upside down on a cake stand or plate.  Spread a portion of the frosting and place second layer on top.  Frost the sides and top.  Garnish with candied carrots.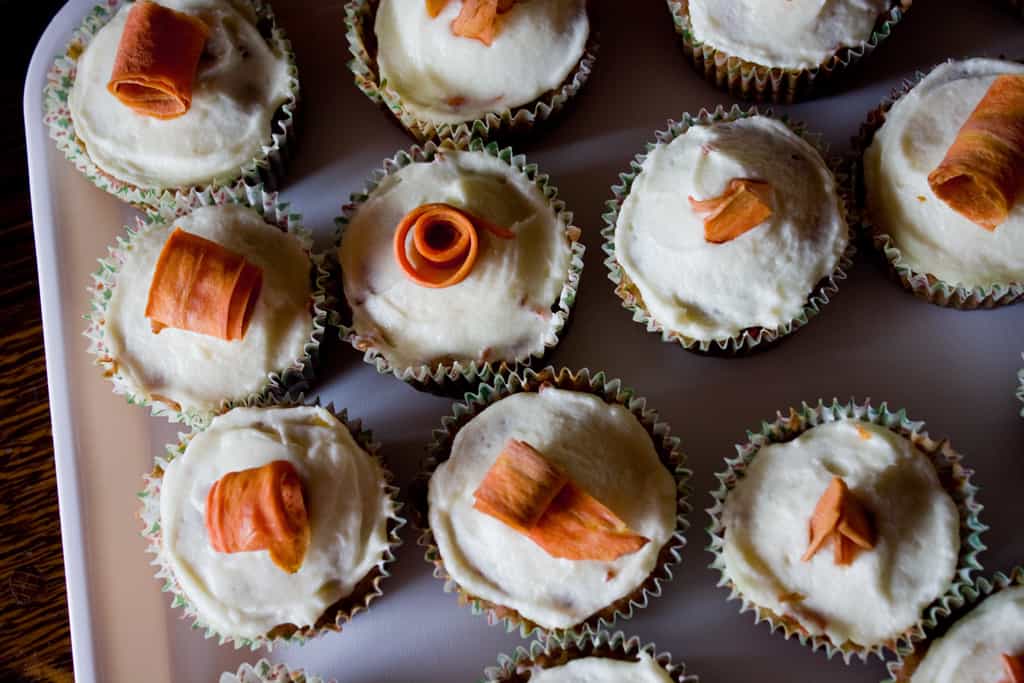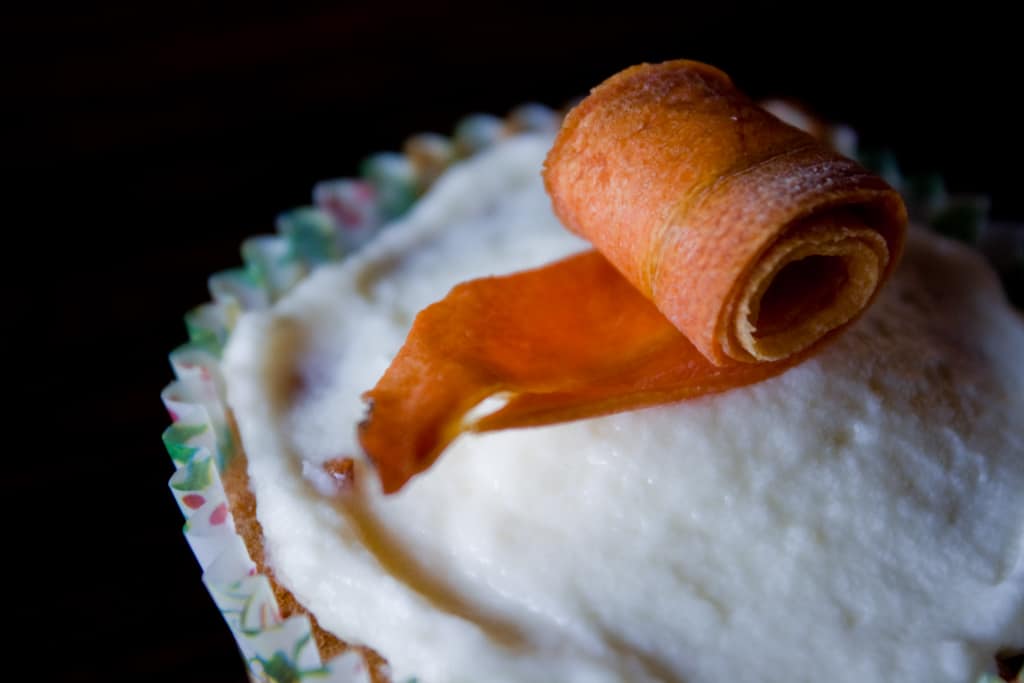 Candied Carrots
Adapted from Gourmet
I've been wanting to make these ever since I saw them in Gourmet over two years ago.  They turned out to be better than I imagined.  Sweet, crispy, and fun!
2 large and fat carrots
1 cup water
1 cup sugar
With a mandolin or vegetable peeler, peel thin layers lengthwise.
In a small to medium saucepan, bring water and sugar to a boil.  Stir until all the sugar has dissolved.  Add carrot strips and simmer, uncovered for 15 minutes.  Strain and discard syrup.  Let rest for 15 minutes.
Preheat oven 225 degrees F.
Line two large baking sheets with parchment paper.  Place candied carrots and bake for 30 minutes.  If curling carrots, roll into a loose spiral.  Return curl to baking sheet, place seam side down, and bake for another 30-45 minutes or until crisp and dry.
Cool completely on baking sheet.
Garnish cake right before serving.
*Can be made 5 days in advanced and kept in an airtight container.