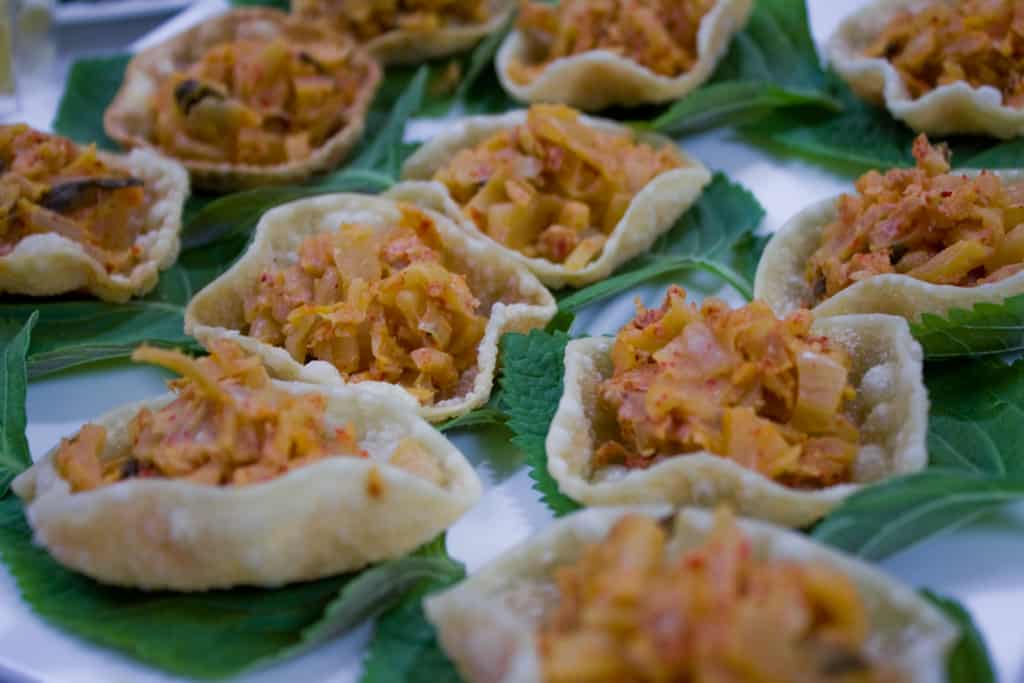 I had the most fun making these three appetizers because I found them interesting and new.  Each dish was an interpretation of something more familiar.  I thought they would provide an element of surprise and intrigue to the diners.  I can't take credit for creating these dishes, but I think I did a good job executing them, because they were a hit!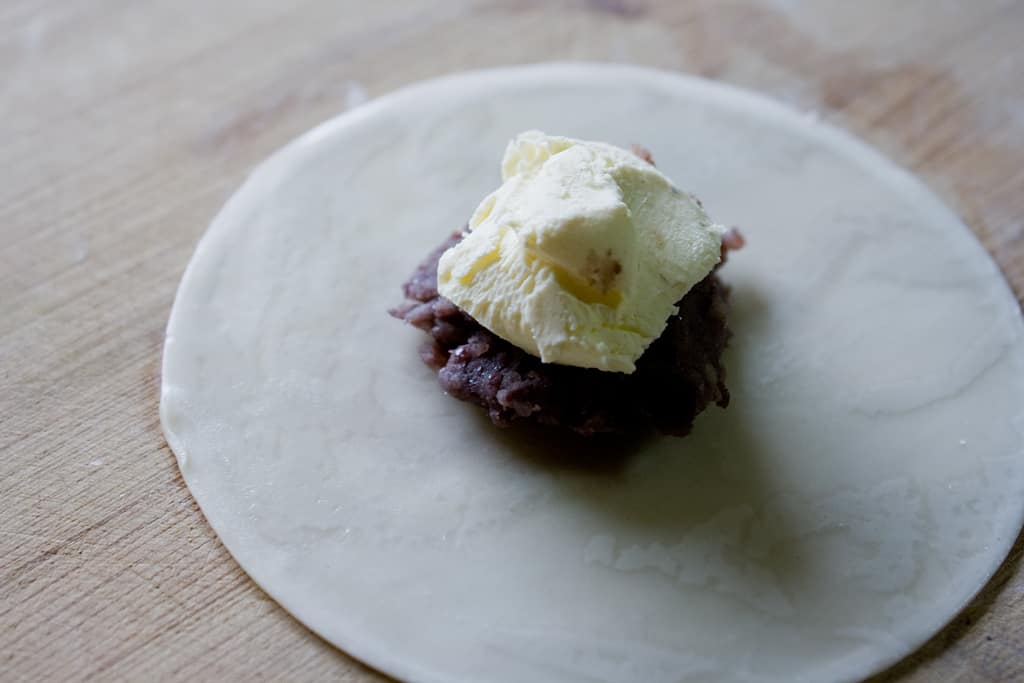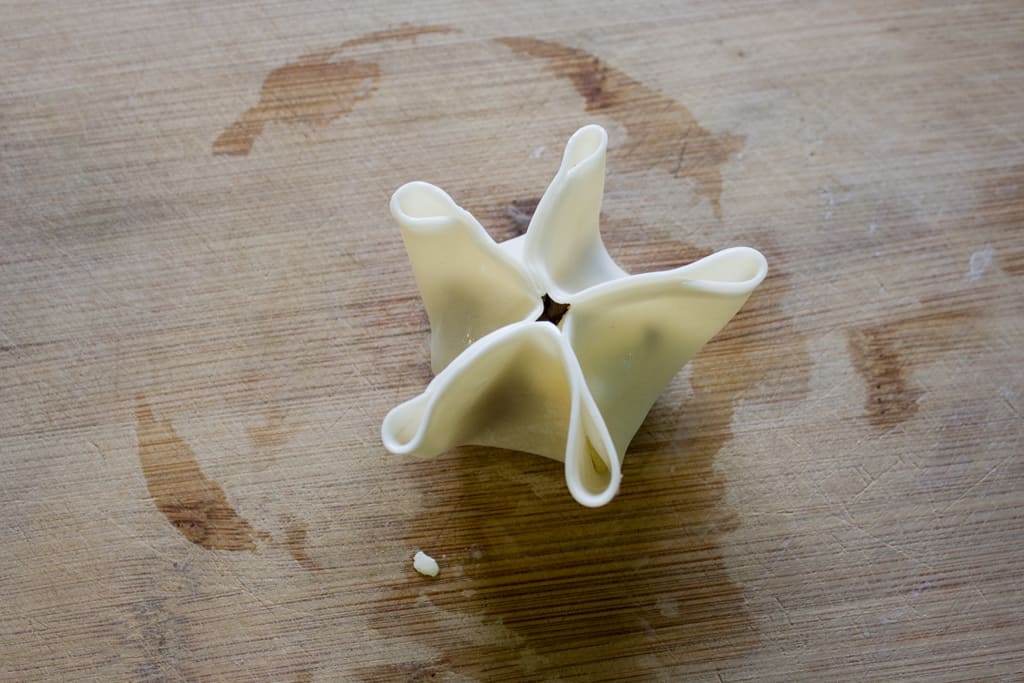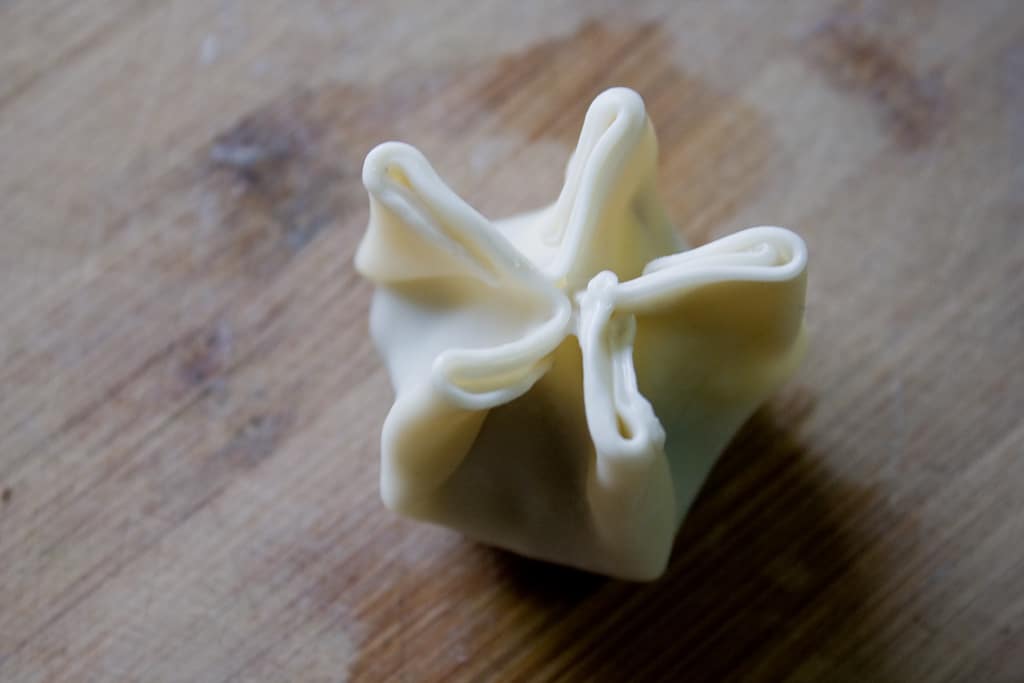 The adzuki cream cheese dumplings come from my old roommate's childhood.  She made them for me one time when she was craving her mom's comfort food and I fell in love with them.  Within the crispy exterior of a wonton shell, the sweet adzuki beans and the tangy cream cheese meld together perfectly.  I always imagine dumplings to be savory, but this sweeter version is delicious in its own way.  I served them as an appetizer but they can just as well be eaten for dessert.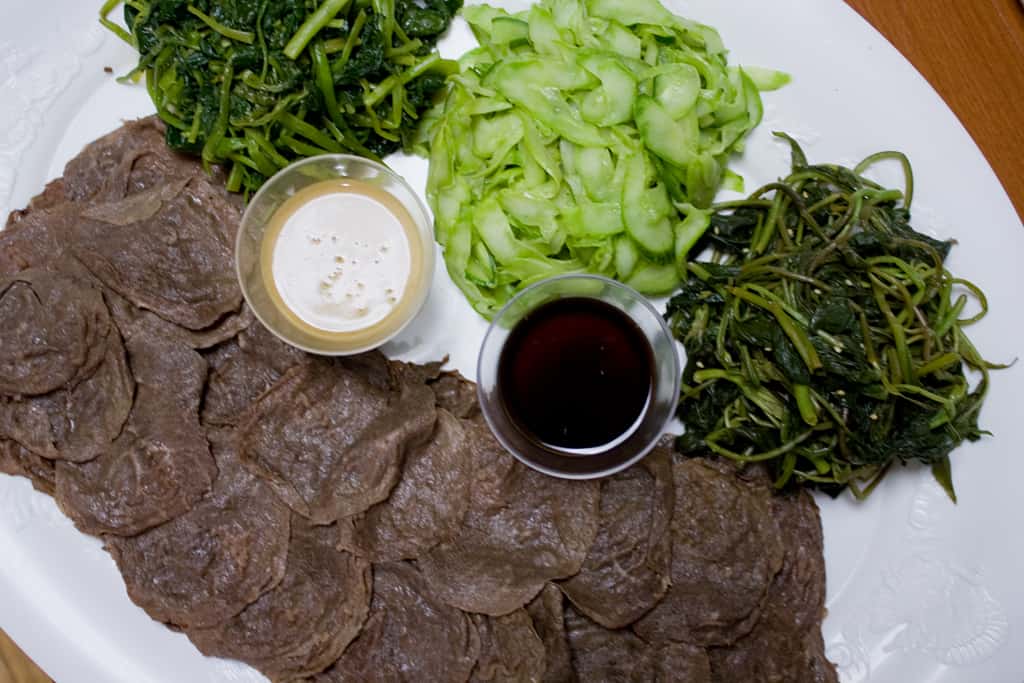 The beef wraps are a sort of play off of a traditional Korean dish called Gu-jul-pan, 구절판.  Gu-jul-pan consists of 9 elements: mini flour crepes and 8 different vegetables and meats.  The crepes are filled with a combination of the 8 fillings and eaten as mini wraps.  Here, I reduced the number of elements to four and used thin slice of cooked beef as the crepe.  For the fillings I seasoned three types of local vegetables.  I loved this dish because it was really connected with traditional Korean food but an all together new creation.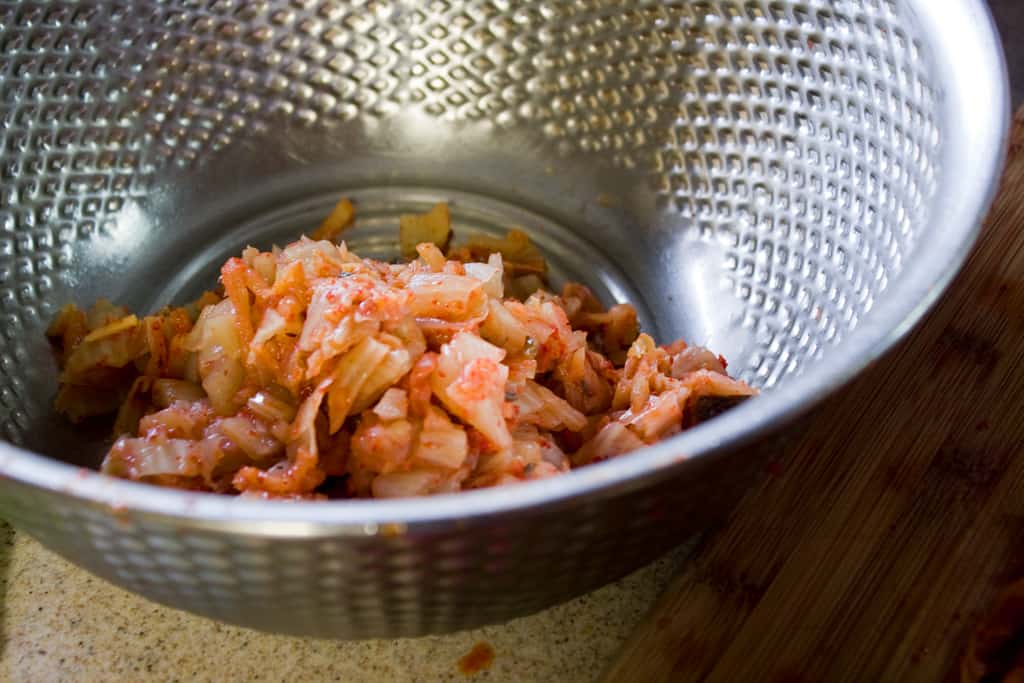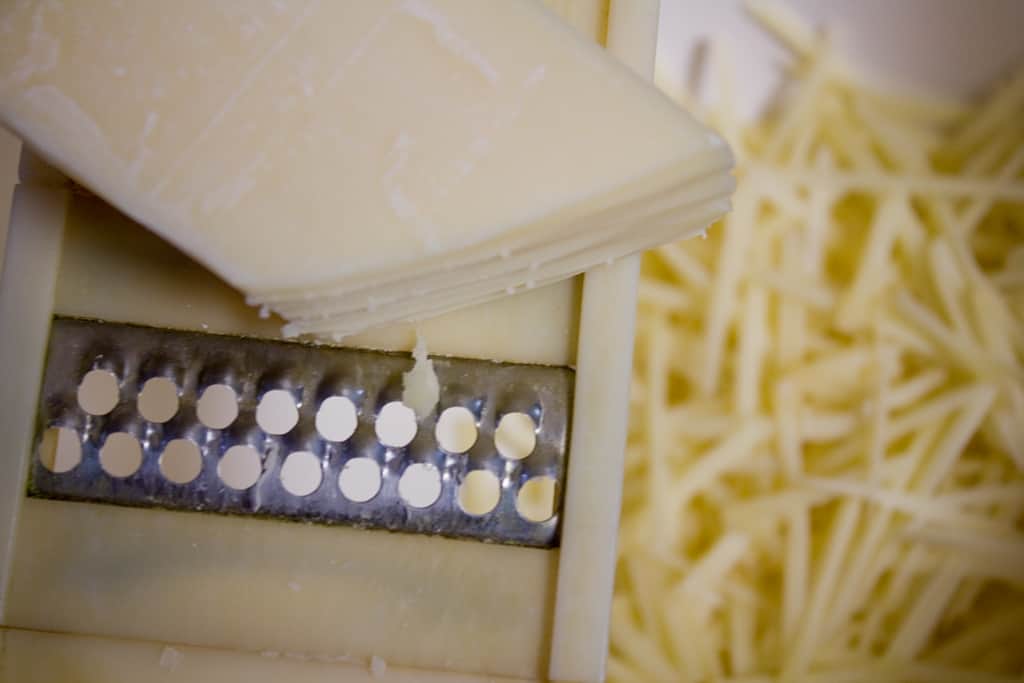 There has been so much press and talk about Roy Choi's Kogi Truck that when I saw a recipe for his Kimchi Quesadillas I knew I had to try it.  I wanted to work word for word off of his recipe, but it didn't really transfer well for a catered party.  Instead of making quesadillas, which are best eaten as soon as they're made, I topped crispy, fried wonton shells with a cheese kimchi stir fry.  The final dish is different from what the recipe called for, but the key flavors are the same.  I have yet to meet someone who has actually eaten there, but my sister is soon moving to L.A. so JDP might get to see a review sometime in the future!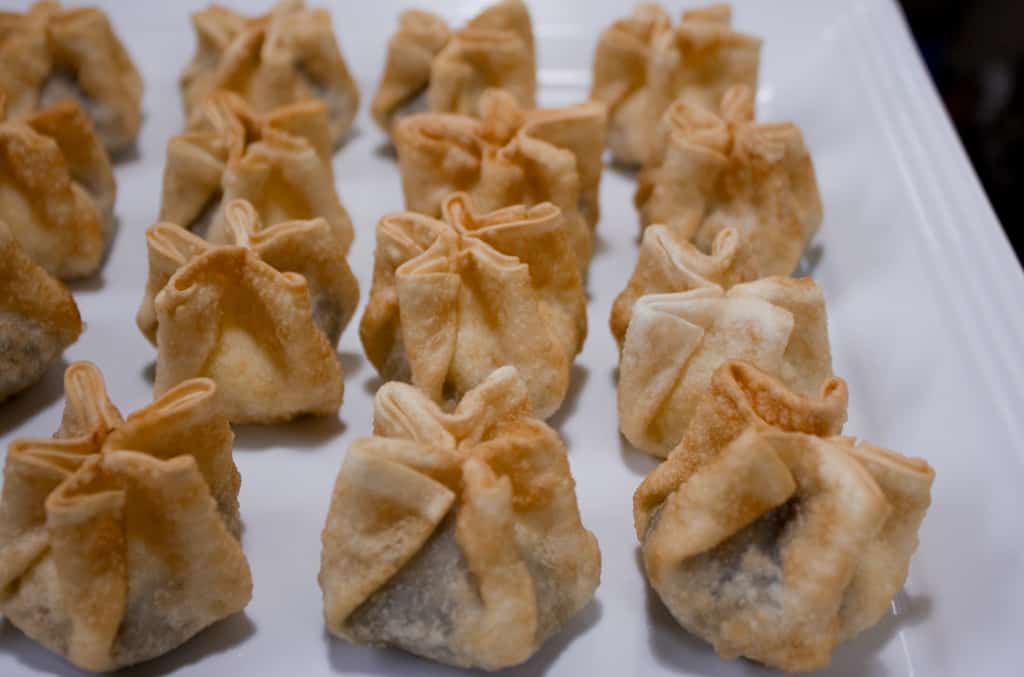 Adzuki Cream Cheese Dumplings
Makes 30
1 1/2 cups sweetened adzuki beans, recipe as follows
6 ounces cream cheese
1 package large wonton wrappers, storebought
Vegetable oil for frying
Place a damp towel on wonton wrappers to keep moist.  Place 1 teaspoon each of sweetened adzuki and cream cheese for each wonton.  To seal dumplings, brush water around the edge of wrapper with your finger.  Seal and make into desired shape.  The dumplings can be made ahead of time and kept in the refrigerator for a few days.
In a deep pot, pour enough oil so that the dumplings can be fully submerged while frying.  When the oil is hot enough, place 5 or 6 dumplings and fry until golden.
Serve warm.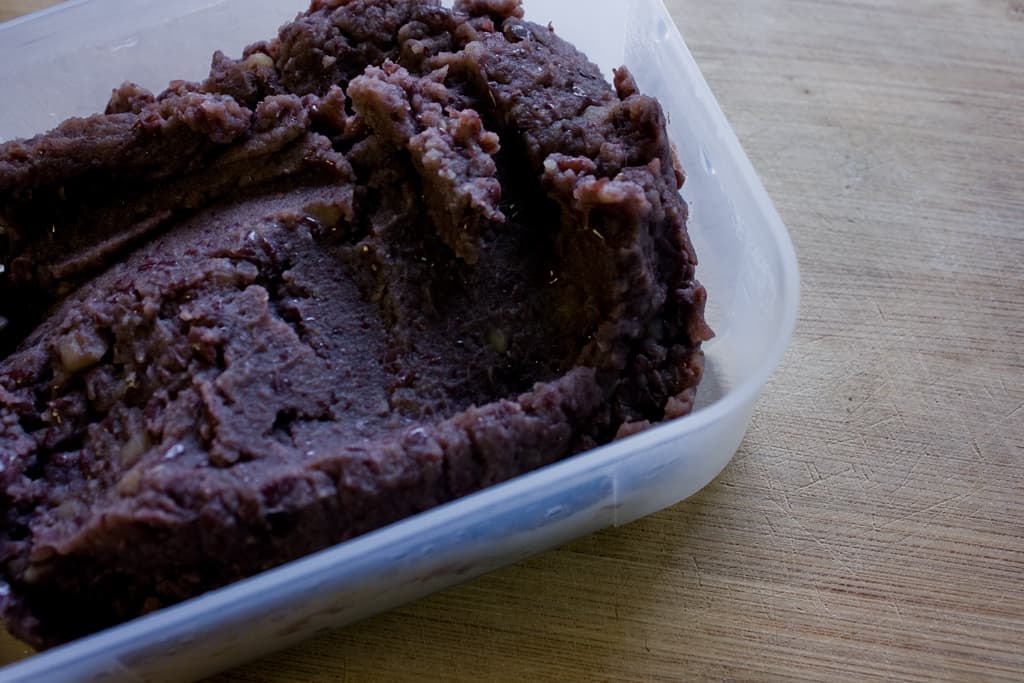 Sweetened Adzuki*
Makes about 2 cups**
1 cup dried adzuki beans
1/2 teaspoon salt
1/4 cup sugar
2 1/2 tablespoons corn syrup
8 cups water
In a large pot place adzuki beans.  Pour enough water to cover and bring to a boil.  Once it has started to boil throw water out and place 8 new cups of cold water.  Cook at a simmer for about an hour or until the beans are fully cooked.  When done, transfer beans and water to another bowl.  When the water is cool enough, break the beans with your hands.  Then pass through a sieve.  Then place beans in a towel and squeeze to get rid of some of the moisture.  Next, place beans, salt, sugar, and corn syrup in a pan and mix over low heat until ingredients and melted together.
* I made my own sweetened adzuki beans, but they can easily be bought in an Asian grocery store.
** I used 1 1/2 cups for the wontons and 1/2 cup for the Green Tea Layer Cake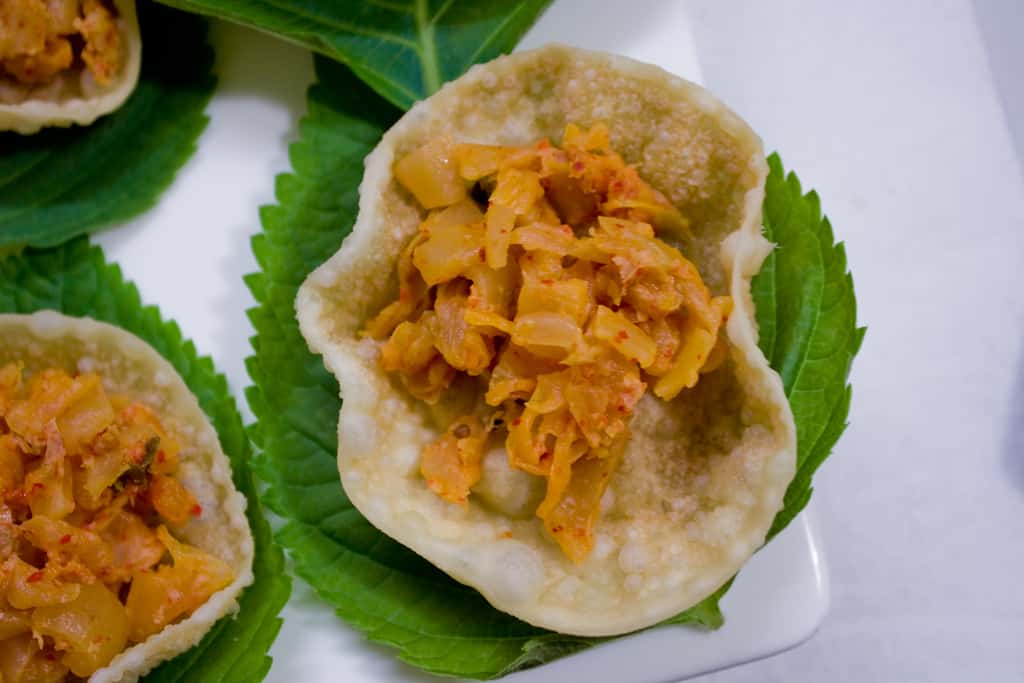 Kimchi Taco Crisps
Adapted from Gourmet
Makes 15
2 tablespoons butter
1/4 of a large onion, chopped
2 1/2 cups cabbage kimchi, chopped
3/4 to 1 cup gruyere cheese, grated
15 perilla leaves
15 wonton wrappers, fried*
In a large pan melt butter.  Add onions and cook for 2 or 3 minutes.  Next, add kimchi and cook for 5 to 6 minutes, or until edges are golden.  Turn heat off and add cheese.  Mix until combined and melted.
To serve, place wonton shell on top of a perilla leaf.  Place a few tablespoons of kimhi mixture in the wonton shell.  Serve warm.
*To make the crispy shell, fry wonton wrappers in oil until golden.