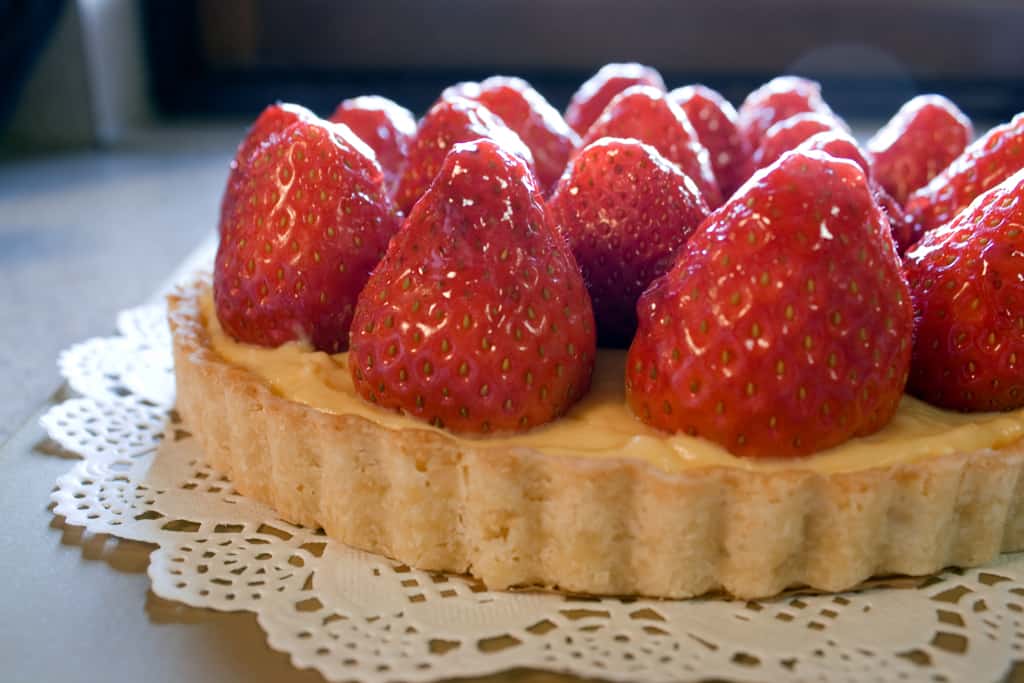 Finally, the last of the birthday pie desserts is this strawberry tart.  It is probably my favorite amongst the three (pumpkin-pecan and peanut butter mousse).  The flavors are simple, clean, and familiar but in a surprising and dazzling way.  Contrary to what it seems, it's a no fuss dessert.  The tart shell and pastry cream can be made ahead of time, then assembled a few hours before eating. It's great for dinner parties and casual family dinners. I've made this tart a few times since the birthday party and it's been a hit with everyone.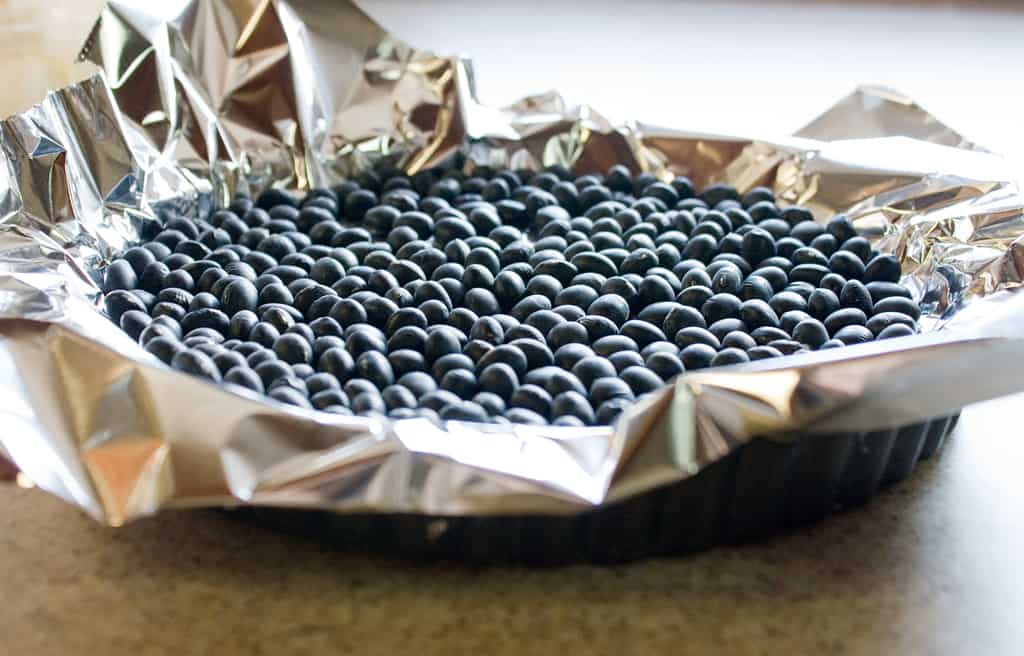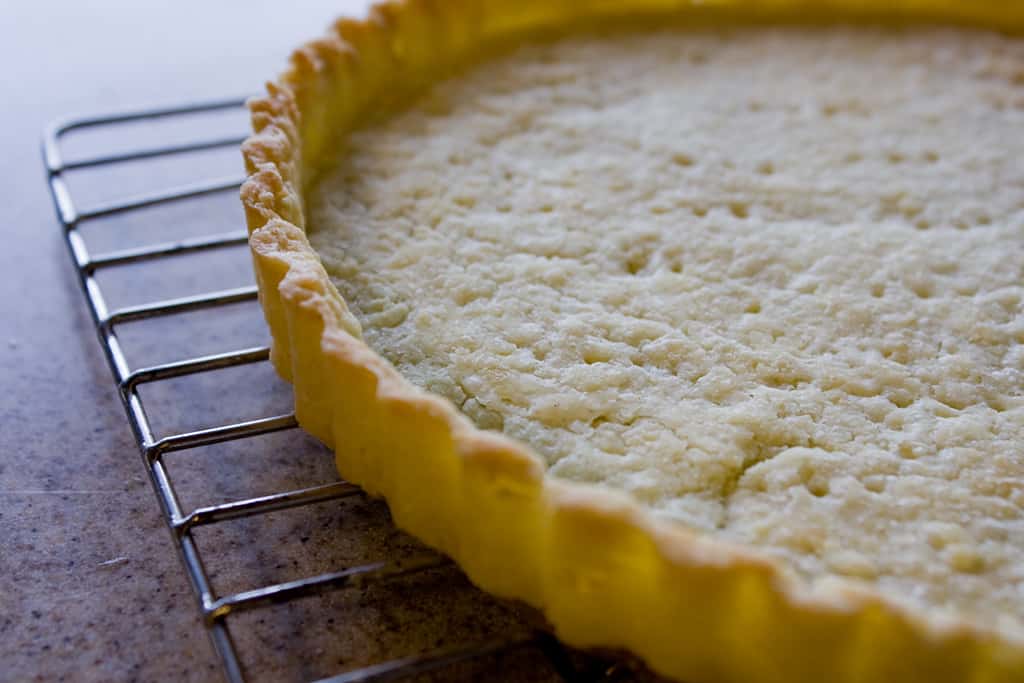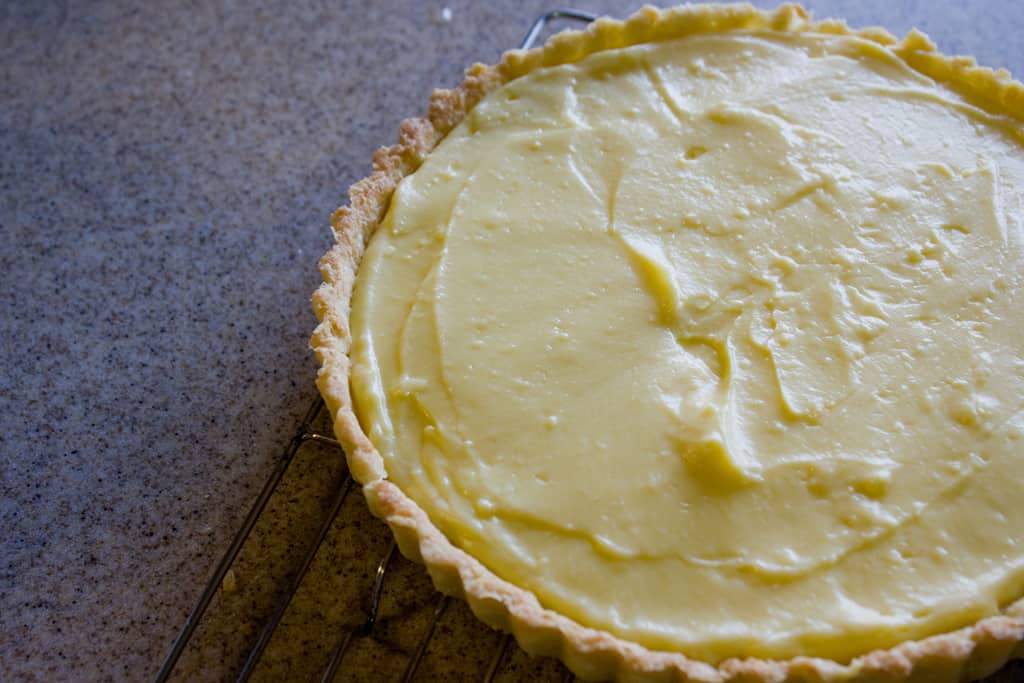 You can use different berry combinations with equally delicious results. However, I really like the way strawberries take the stage on this tart.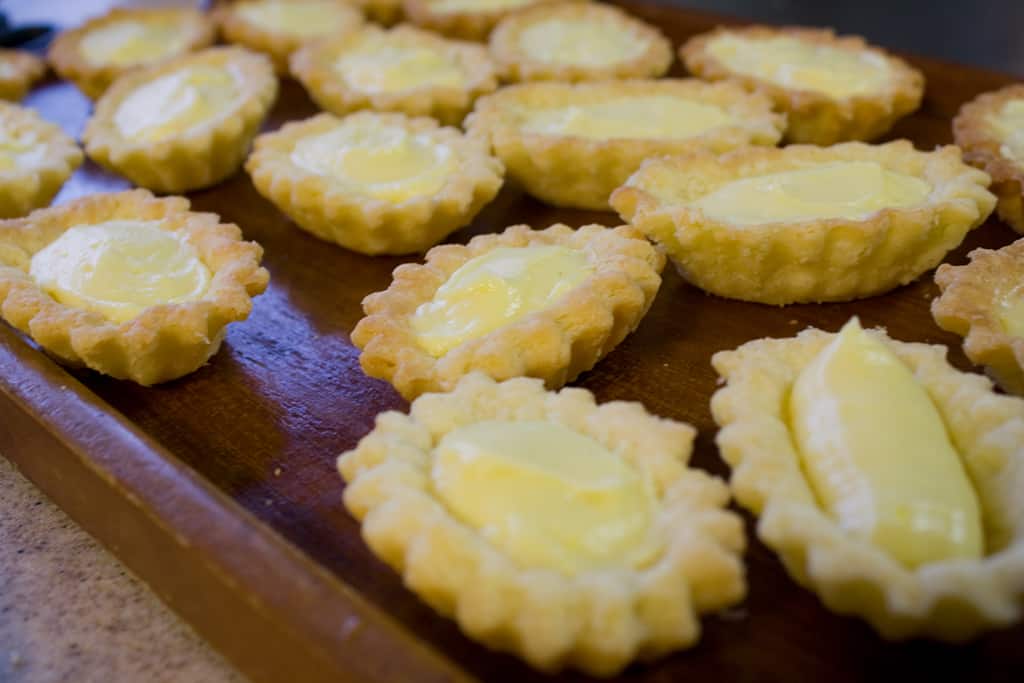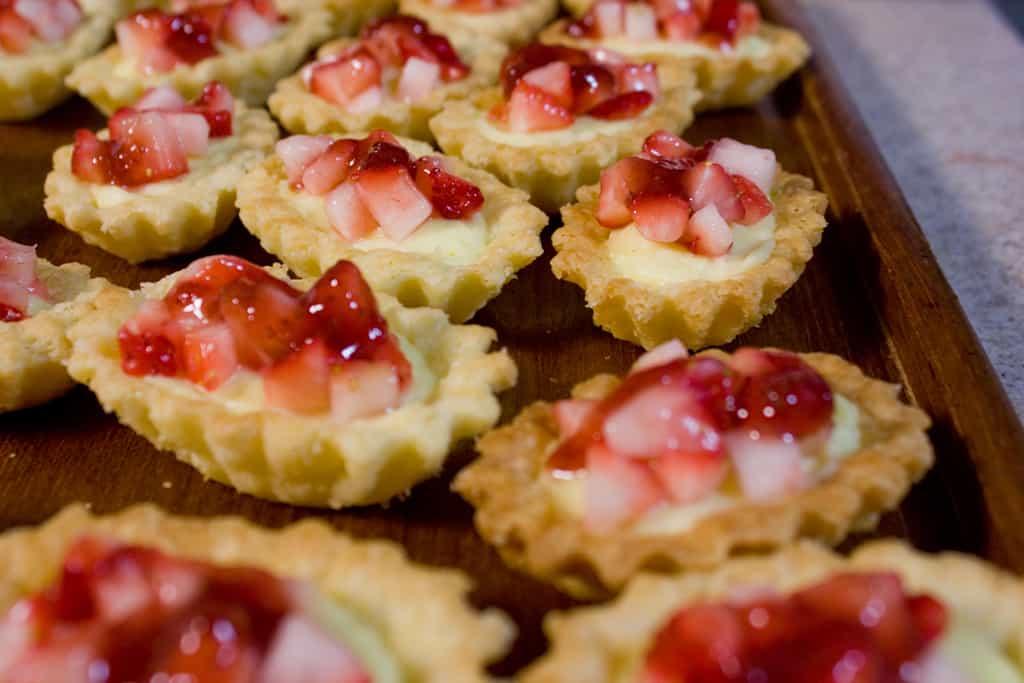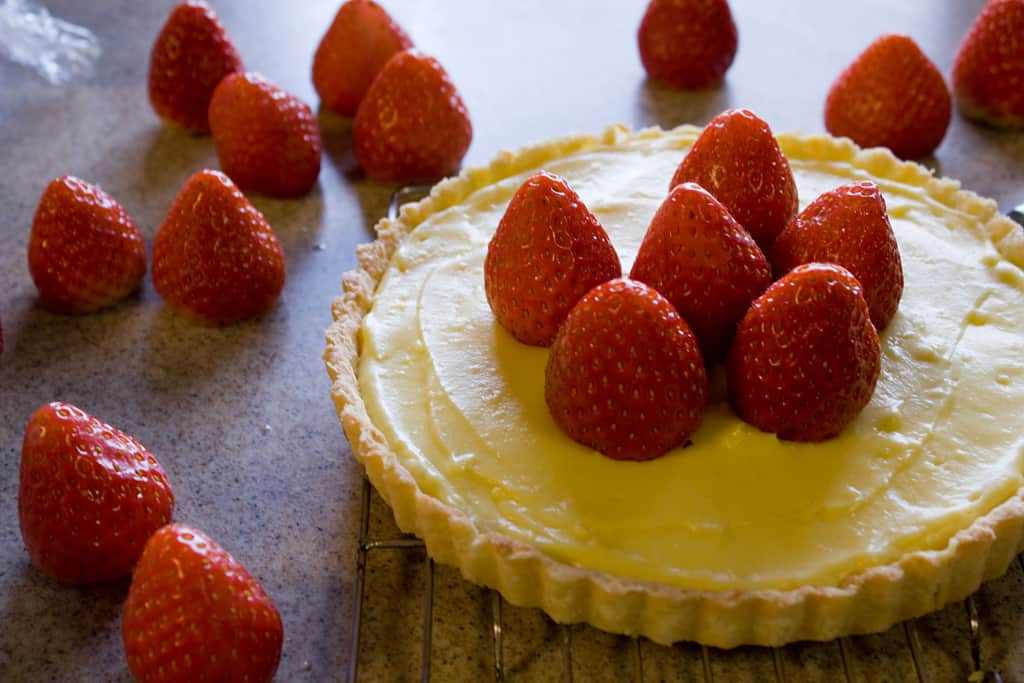 Pate Sucree
Adapted from Martha Stewart's Cooking School
Makes two 9-10 inch round tarts
2 ½ cups all purpose flour
3 tablespoons sugar
¾ teaspoons salt
1 cup, 2 sticks, cold unsalted butter
2 large egg yolks, lightly beaten
¼ cup ice water, plus more if needed
In a food processor pulse flour, sugar, and salt together.  Cut butter into small pieces.  Add to flour mixture and pulse a few times.  The mixture should be sandy and crumbly.  Add egg yolks and pulse just to combine.  While machine is running, slowly add ice water until dough is moist and a little sticky.  The dough should not come together or form into a ball.  Divide dough in half and shape into disks.  Wrap in plastic and refrigerate for 1 hour, overnight, or freeze for up to 1 month.
On a lightly floured surface, one disk of dough 1/8 inch thick.  Transfer to a tart pan with a removable bottom.  Gently press dough into pan.  Cut excess dough off by pressing thumb into the edge of the pan.  Place in freezer for 30 minutes or chill for 1 hour.
Meanwhile, preheat oven to 375 degrees F.  When ready, press a sheet of aluminum foil over chilled tart dough.  Fill with pie weights or dried beans.  Bake for 25 minutes.  Then remove aluminum and beans.  Bake for another 8 minutes or until golden brown.  Cool on a wire rack.
*To make tartlettes, bake in a 350 degree F oven for 8 minutes with aluminum and pie weights, then 5-7 more minutes until golden brown.
Pastry Cream
Adapted from Baking: From My Home to Yours
Makes 2 cups
2 cups whole milk
6 large egg yolks
½ cup sugar
1/3 cup cornstarch, sifted
1 ½ teaspoons pure vanilla extract
3 ½ tablespoons unsalted butter, cut into small pieces, room temperature
In a small saucepan, bring milk to a boil.
In a different, medium sized saucepan whisk yolks, sugar, and cornstarch together.  While whisking, pour ¼ cup hot milk into yolk mixture.  This will warm or temper the yolks and prevent them from curdling. Continue to whisk while adding the rest of the milk.  Place pan over medium heat and continue to whisk vigorously.  The mixture will start to thicken.  Bring to a boil and continue to whisk for another 1-2 minutes.  Remove from heat and whisk in vanilla.  Set aside for 5 minutes.  Then add butter and whisk until melted and blended.
Transfer cream to another bowl. Press plastic wrap onto cream and refrigerate until cold. Can be made 3 days in advance, refrigerated and kept in an airtight container.
*If making tartlettes, halve the amount of pastry cream.
To Assemble:
2 pints strawberries, washed and hulled
1/3 cup red currant jelly or jam, plus 1 teaspoon water
Pour chilled pastry cream into cooled tart shell.  Press strawberries into cream.  Melt jelly/jam with water in a microwave.  Brush strawberries with glaze.
*For tartlettes, cut strawberries into a small dice.